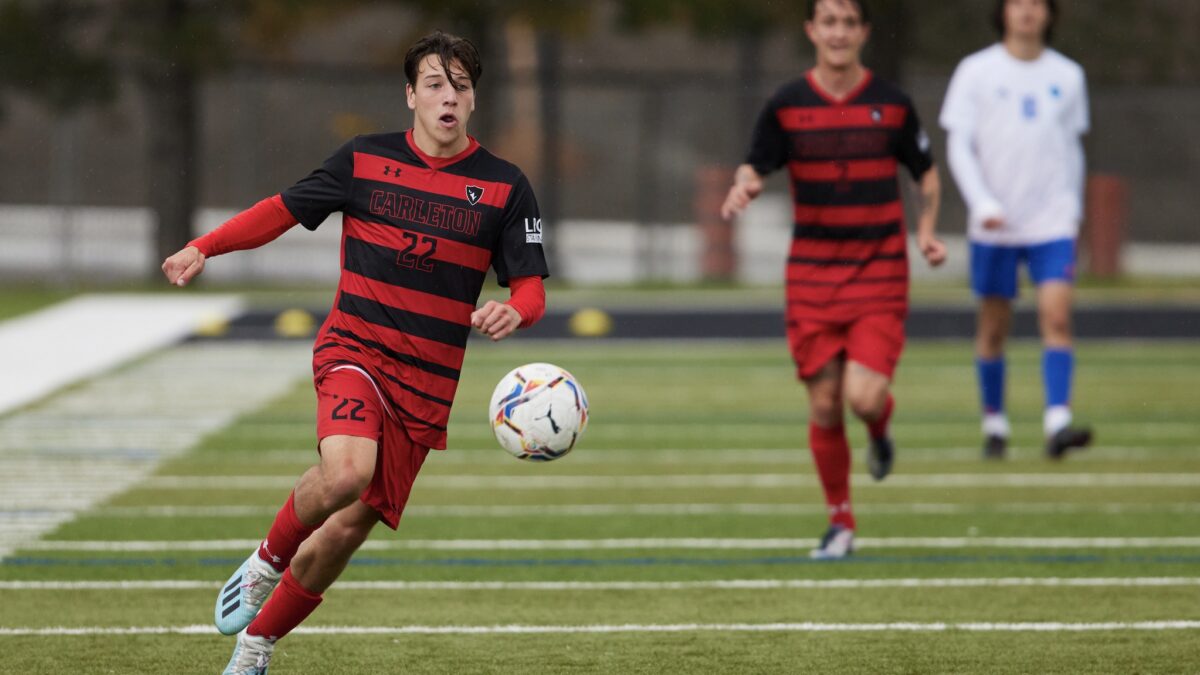 When a perfectly weighted long ball from defender Tareq Hamad found Matteo de Brienne at the top of the opponent's 18-yard box, the young Carleton Ravens' attacker knew exactly what to do with it.
It was a critical, late-October game against the York University Lions. Carleton trailed 1-0 with time running out as Hamad's pass sailed toward the Ravens' rookie sensation.
"In training, we try to give each other the most perfect balls in our finishing drills," said de Brienne. "And I just thought, this one here, it wasn't going to get any better than that. So I took a risk. I took a hit, and I was fortunate enough to connect on it."
The result – a viral wondergoal.
De Brienne converted Hamad's long kick with a perfect mid-air volley that found the back of the net behind the Lions' all-star keeper George Tzimas.
The best goal de Brienne has ever scored?
"I have to say yes."
It's safe to say the 19-year-old from Ottawa found his footing with the Ravens men's soccer team in 2021 after several stops with clubs across Canada, including the Vancouver Whitecaps Academy and, more recently, the pro soccer Canadian Premier League's Atletico Ottawa.
De Brienne has made a habit of scoring goals – leading the Ravens with six in 10 regular-season games – a stat that helped him earn the Ontario University Athletics East Division Rookie of the Year honours in November.

De Brienne was also named to the 2021 U Sports All-Rookie Team, as well as being runner-up for the OUA overall Rookie of the Year prize.
At the U Sports national championship in late November in Ottawa, de Brienne was named to the tournament all-star team for his performances, which included a goal in the final game between Carleton and the winning Université de Montreal Carabins.
"The overall group that I have supporting me are incredible," said de Brienne. "It's been a great environment. I've enjoyed it a lot so far."
De Brienne first took to the pitch at Carleton in late September. But there was a long journey between his early playing days in Ottawa and his arrival back in town to play for the Ravens.
"It was (Carleton head coach Kwesi Loney) who had reached out. He'd been radaring me since I was 14," said de Brienne. "Since I made that jump to Vancouver, he's been in contact very frequently. Dario Conte is one of the players who drew me in. We'd always go to the field together when I'd be back (in Ottawa) and he always tried to convince me to pop out to a training session and contact Kwesi."
For de Brienne, getting back to playing meaningful minutes in a competitive environment was key — an opportunity that wasn't available with the Whitecaps, or more recently with Atletico Ottawa.
"I see it as a great opportunity to get minutes because the quality of U Sports is very good, especially coming into nationals or into the final four and playoffs," said de Brienne, who is taking undergraduate law at Carleton, specializing in business law.
"It's no Canadian Premier League, but I think of this as a way to get yourself back into the game," he said. "This is a great stepping stone for certain players who are taking the opportunity, or those who could receive development contracts and then end up going back to school."
De Brienne's problem is not unique. It's one that many young Canadian soccer players have faced. Before the recent creation of the CPL, there were few options for competitive playing time, and very little domestically.
"The biggest issue for these young players of taking that step from kids' football to adult football is finding a club that will give them a chance," said Paul Harris, long-time technical director at Ottawa South United, where de Brienne began playing at the age of 3.
"It's difficult for the CPL because there's only so many franchises and they're new and they're developing," said Harris. "Hopefully the league grows and has more teams and more opportunities and maybe reserve teams to keep the kids playing, because that's the only thing that I think is missing."
It was with the Ottawa South United where De Brienne developed, including his U13 season when he scored 44 goals in 20 games in the Ontario Player Development League.
Harris has overseen player development at the club for 10 years.
"I remember seeing Matteo as a little nine-year-old and we did a camp at the RA centre," Harris recalled. "At lunchtime, everybody else went and had their lunch and his dad came over to me and introduced me and said, 'Do you mind if you did some work with (Matteo)?' I said no problem, and we were doing some finishing at lunchtime."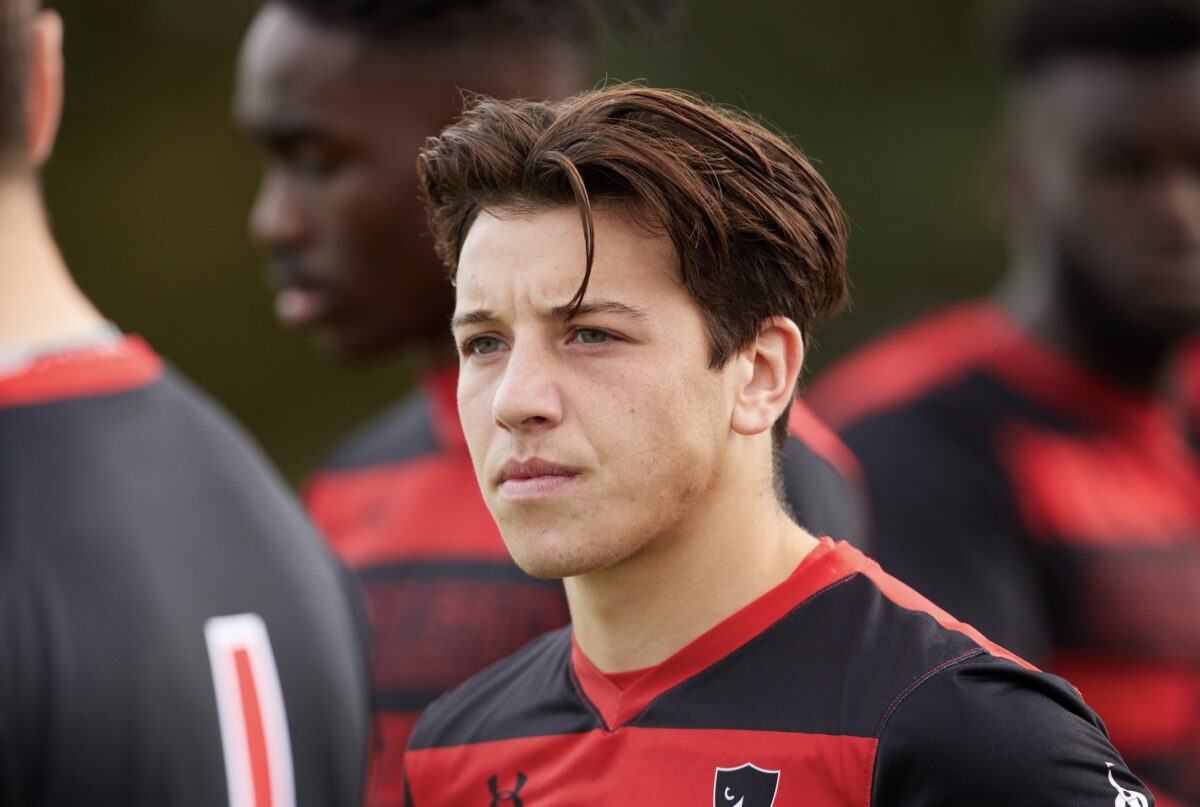 He added: "Straight away, you kind of knew that Matteo had that drive, desire, hunger, that was a little bit different from most players."
De Brienne's attacking prowess stood out from the start.
"He's got attacking tendencies and he's got great creativity," said Harris. "He's got great quality, especially off his left foot. Goal scorers are the people that change games. Everybody's looking for that — that game-breaker who can provide quality in the final third."
At 14, de Brienne left OSU and joined the residency program of Major League Soccer club Vancouver Whitecaps FC.
"At that age, I wasn't really thinking much," said de Brienne. "I didn't really realize that there was a lot of pros and cons of going across the country, having to leave my family at a very young age."
He added: "I think that opportunity, if I didn't take it, I might have been in a different situation playing soccer right now. So I'm glad that I took that opportunity, because I think it's really shaped me as a player and as a person."
In 2020, de Brienne returned to Ottawa to join the CPL expansion squad Atletico Ottawa for its inaugural season in the pro league.
De Brienne was told he wouldn't get a contract, but he played his way into one by the end of training camp.
Although he didn't get his first professional minutes during the season, de Brienne said he had a positive experience.
"it was a great group of guys that really just took me under their wing," he said. "They kept me accountable for my actions and they were always there to support me and make me better. It was a great brotherhood to be around for my first year pro."
Before suiting up for his first season at Carleton, de Brienne even made a stop with FC Manitoba of the USL2 this past summer. Manitoba didn't play in its league because of the COVID-19 pandemic, but the team took part in a series of exhibition matches.
"Traveling is beautiful," said de Brienne. "And playing on different teams is incredible, but it's just the fact that, you know, I'm there for one focus. I'm not there to really, you know, have fun . . . stargaze everywhere. I'm there for the focus of playing soccer and, hopefully, making it as far as I can make it."
De Brienne is eligible for the 2022 CPL-U Sports draft and would welcome another chance in Canada's pro league as the next step in his career.
"I always have the hopes of making it as far as I can," he said. "If I'm fortunate enough to get drafted into the CPL, then hopefully I can take that opportunity and make the most of it — use that as a stepping stone for myself so I can continue to progress."
A natural goal scorer, de Brienne isn't likely to shy away from the type of sensational strike that puts a smile on your face – even the face of some of his more stoic teammates.
"Usually I try to not celebrate goals, especially if they're mid-game, because I like to keep my focus and not celebrate early," said Hamad, referring to de Brienne's highlight-reel tally against York.
"But that goal was very hard to not celebrate," added Hamad. "When I crossed it to him, I didn't expect him to hit it first-time before even touching down. It was kind of a surprising goal, I wasn't expecting that from him at all. But that shows you the quality of the player."
---
More Stories