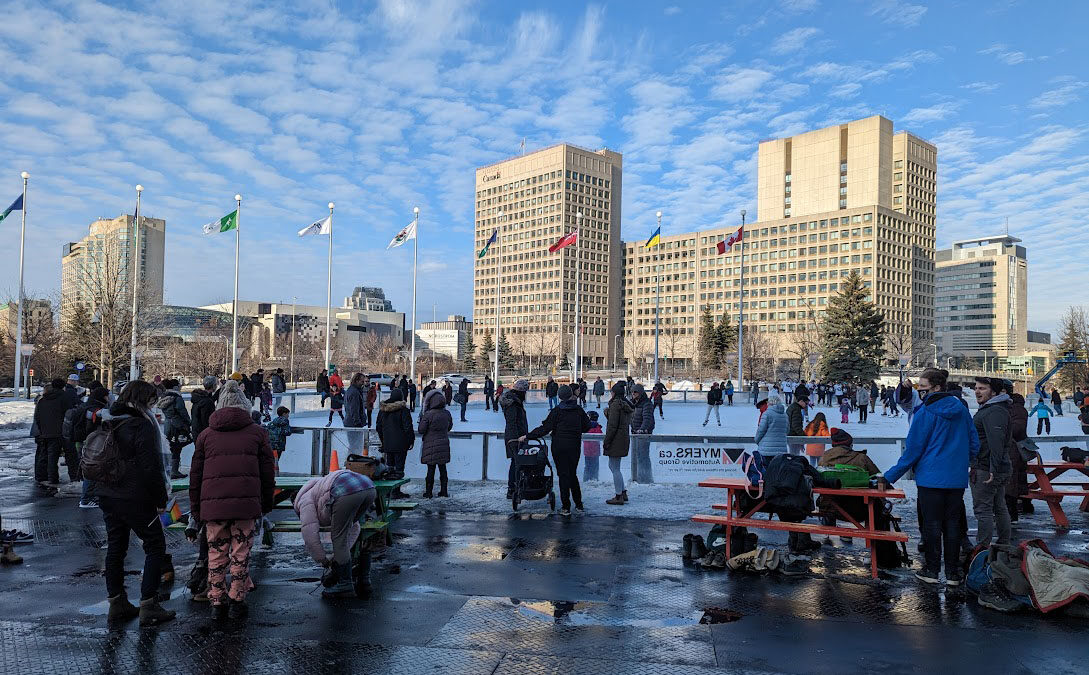 Despite a recent protest over Winter Pride's "Drag Storytime" at the National Arts Centre, Ottawa's 2SLGBTQI+ community and allies came together in solidarity at a celebratory "Ice Party" event on the Rink of Dreams outside City Hall on Feb. 12.
Capital Pride held the outdoor dance party to make up for the cancellation of the organization's Ice Parade — billed as Canada's first-ever Pride parade on ice — after warm weather closed the Rideau Canal Skateway for the second straight weekend of Winterlude.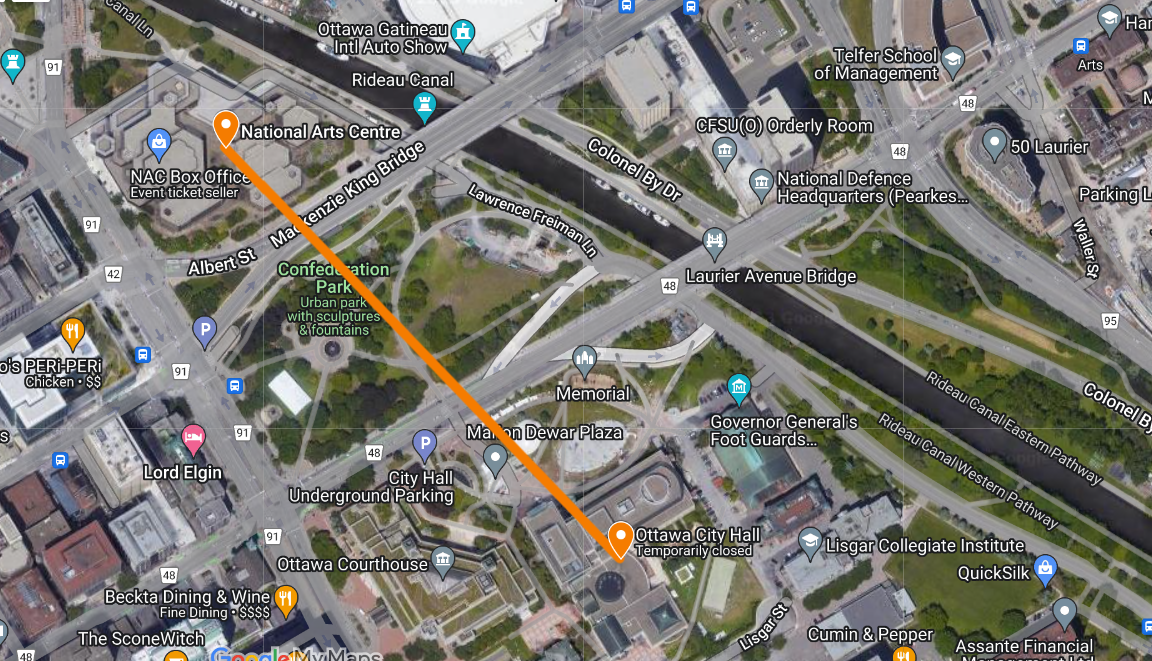 A few days before the Ice Party, on Feb. 8, a few dozen protesters had gathered outside the nearby NAC to demonstrate against Winter Pride's storytime event featuring drag artists China Doll and Cyril Cinder. But the protesters were vastly outnumbered by some 200 supporters of the event.
It's been an eventful season for Winter Pride. But Francesco MacAllister-Caruso, secretary of the board of directors of Capital Pride, said even without the Ice Parade, the dance party had a wide range of activities for members of the community to celebrate their Winter Pride.
"We were really sad that we had to cancel the Ice Parade because of the weather, but we are hoping that the events we've put on in its stead will be very exciting for community members to partake in," MacAllister-Caruso said after the scuttling of the parade. "We have a diverse range of programming, from drag shows to community family events here on the rink."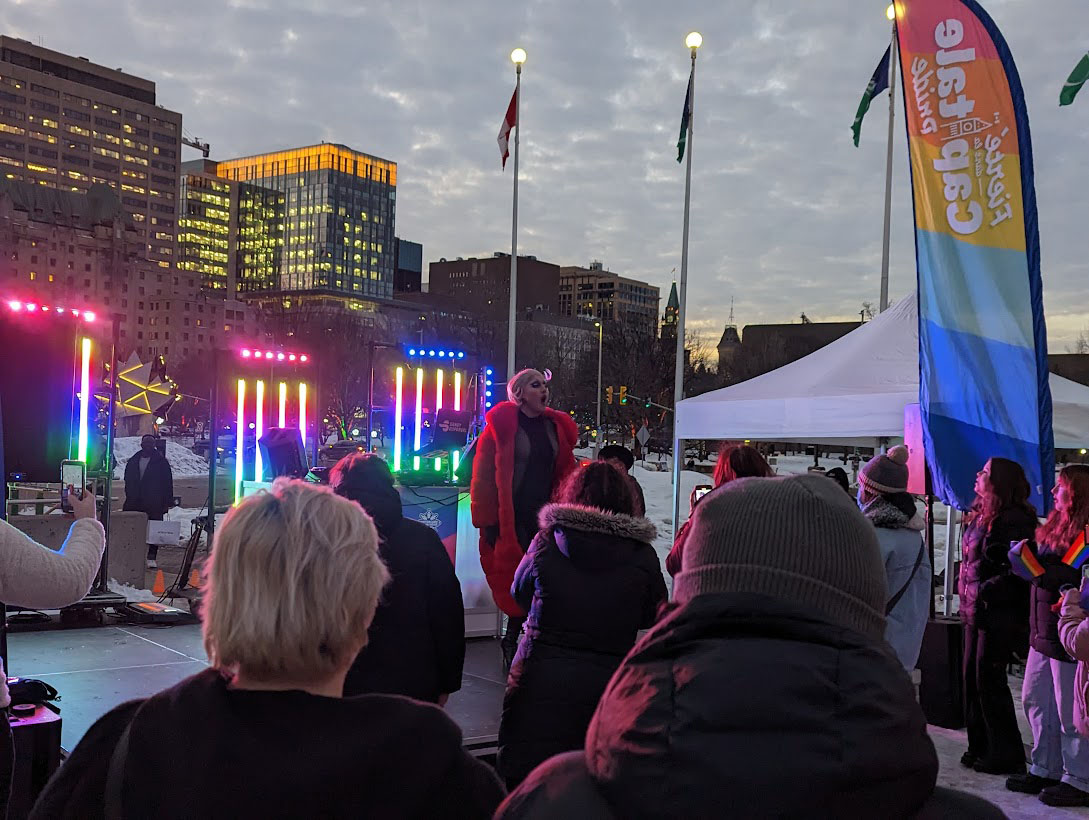 While the Ice Party was planned as a new feature of Winter Pride, Capital Pride has worked for four years with Winterlude organizers to host various events and boost year-round advocacy for the 2SLGBTQI+ community.
"Winterlude has partnered with Capital Pride to highlight 2SLGBTQI+ culture, history, and Pride," said Caroline Czajkowski, a spokesperson for Canadian Heritage, which oversees Winterlude. "Our winter unites us; by sharing our stories and traditions, we learn more about ourselves and develop a sense of belonging."
However, despite the increased recognition of Pride in Ottawa and across the country, there has also been a significant rise in reported hate crimes targeting people's sexual orientation between 2020 and 2021.
According to a 2022 Statistics Canada report, the number of reported hate crimes targeting sexual orientation increased year-over-year by 64 per cent, from 258 in 2020 to 423 in 2021.
MacAllister-Caruso said he believes the community support and solidarity among 2SLGBTQI+ members at Winter Pride events are crucial to combatting hateful sentiments faced by many.
"We've seen in the past year across Canada and even in Ontario — Ottawa — that there has been a growingly vocal anti-LGBTQ movement that's tried to put down our community and make sure we don't feel safe in public spaces," said MacAllister-Caruso. "And I think events like Winter Pride are a really good opportunity to put our foot down and show not just our community but the people that agree with us that we are here to stay."
'The fact that we can assemble and it's not spectators looking at me. I am among the spectators. I am in the group. The group is with me. We are all meshing together, and I think it's really beautiful.'

— Caligula, Ottawa drag artist
Other partygoers agreed that the Ice Party was a step forward for the 2SLGBTQI+ community in the National Capital Region.
Caligula, a 22-year-old Ottawa drag artist and featured performer with Capital Pride, said even though they would have enjoyed the Ice Parade, the Ice Party allowed people to dance and celebrate — no matter what they look like or how they identify — in a time of heightened bigotry.
For this community, Pride is not only a celebration of resilience and community, but also achieving love in themselves, as well.
Elena Blain-Ely, a volunteer for the Ice Party, said she enjoyed lending a hand for her first time after coming out as bisexual last April, and she looks forward to being more involved in Winter Pride next year.
"When you come out, and you hear about Pride events, don't be shy. Come on in. It's a very friendly community, and people are going to talk to you," said Blain-Ely.
Despite the weather challenges faced during Winterlude, Capital Pride organizers said they are excited about Winter Pride celebrations in the years to come.
"We haven't finalized plans for next year's Winter Pride, but we would certainly love to try and host the Ice Parade again in the future," said MacAllister-Caruso. "No matter what, we are looking forward to future editions of Winter Pride and the many different events that come with it, including and beyond our Ice Parade."
---
More Stories