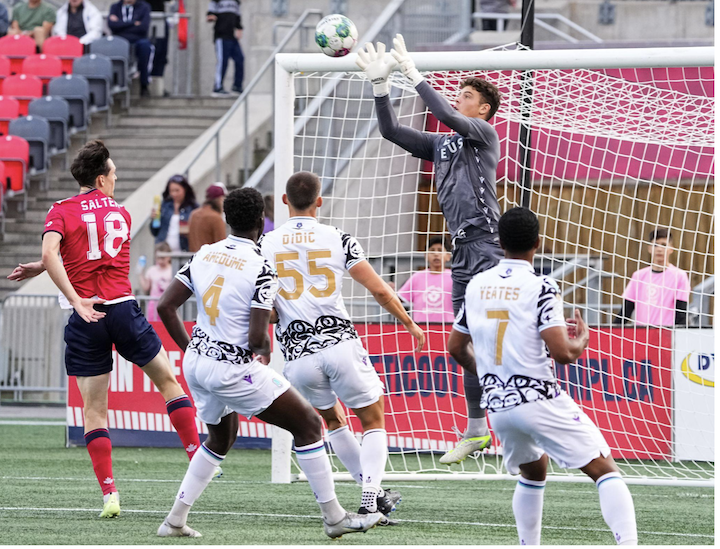 Dark gray clouds loomed over TD Place on Wednesday, as Atlético Ottawa continued their race for a playoff spot in the Canadian Premier League. In what felt like a high-intensity playoff match, Ottawa earned a critical point in a back and forth 1-1 draw against Pacific FC.
It was a huge result for Ottawa after conceding late winners in their last two games, that saw them miss out on two valuable points at least in a tight playoff race that sees the second and sixth place teams separated by five points. Cavalry is six points ahead second place Pacific FC.
"It's been crunch time for a few games now. We dropped valuable points in our last two games with goals that ultimately we're on the wrong end of. So we wanted to (play a more disciplined game down the stretch to) correct that today," Atlético left back Maxim Tissot said after the match.
Atlético sits fourth place in the CPL, with a record of 9-6-9 (33 points) ahead of fifth place Halifax (8-9-7, 33 points) on goal difference. Atlético is three points back of third place Forge and one point ahead of sixth place York United.
Despite the good result, the match did not start according to plan for Gonzalez's side.
Pacific dominated the first 30 minutes with a staggering 70 per cent possession. Atlético sat back and defended against Pacific's relentless attack. Pacific's strong press also made it extremely tough for Ottawa to play out from the back and attack in transition, one of their biggest strengths. With Atlético on their back heels, the team would rely once more on their keeper, Nathan Ingham, to bail them out.
It wasn't not a reliable tactic on Ottawa's part, as Pacific's midfielder Steffan Yates controlled a gorgeous pass from teammate Kekuta Manneh before spinning past two Atlético defenders and placing a shot over Ingham's outstretched arms and just under the crossbar. It was Yates' first goal of the season.
"It feels good to score, it's been long overdue," he said post game.
By half time it seemed Pacific was on the way to three points and further solidifying their spot in playoff contention.
At the break, shot attempts were even at five a piece but shots on target totaled 2-1 in Pacific's favour. Pacific had more than 60 per cent possession and controlled the match. They had played on the front foot for almost the entire first half, creating passing lanes with their intricate overlapping runs down the flanks and creating numerous quality scoring chances with their quick, accurate passing. They had an astounding 42 final third entries to Ottawa's 10, showing how much of the first half they spent attacking compared to Ottawa.
"I think we were a bit flat footed in the first half. I don't think we came out well, I think our press was a bit rusty, they had a lot of time on the ball," Tissot said. "Once Ollie, Malcolm and Sam began to step up a bit higher toward the end of the first half, we followed them with our press and that created more scoring chances for ourselves."
Atlético came out hot in the second half, with a strong run into the box by Maxime Tissot to win his team a penalty. Atlético's superstar midfielder, Ollie Bassett, stepped up to take it with a chance to expand his lead atop the CPL Golden Boot Race.
For the first time in his CPL career, however, he failed to convert. Ottawa's Sam Salter got his foot on the rebound, but was again denied by Pacific's Emil Gazdov.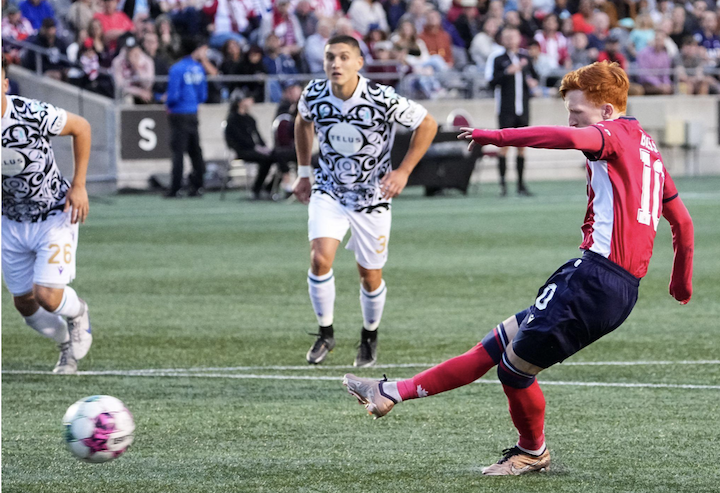 Less than four minutes later, Ottawa went back on the attack with a low, powerful shot from Malcolm Shaw. It took some deflections before heading towards the goal. A tremendous clearance by Pacific midfielder Sean Young ended the threat.
Atlético's relentless attack continued, and by the 65th minute it paid off. A stellar free kick by Tissot curled into the top right corner of Pacific's net, and put his team even.
The game didn't slow down. Another crucial save by Ingham's fingertips were just enough to brush the ball onto the crossbar. It ensured his team could walk away with a point — a 77th-minute save of the season so far for this team.
For the last 15 minutes, the teams exchanged quality scoring chances, but to no success. Ottawa finished the game outshooting Pacific 11-7 (7-3 on target), with only 42 per cent possession.
Atlético has dropped crucial points as of late. The team lost their prior two matches to stoppage time winners against Cavalry FC and Vancouver. Entering the final minutes of this game, Atlético Ottawa head coach Gonzalez made sure everyone was aware of these critical, final moments to ensure his team wouldn't make the same mistake again.
"[In our last two games] we've lost important and vital points in the final minutes because of our exceeded ambition," Gonzalez explained after the match, noting his team's slow start to the season. "That is the result of a bad beginning that made us have to be more ambitious in these moments."
Gonzalez expanded on his thoughts about this match. He has a split perspective. "I think that if you focus only on the first half it's a point we gained. If you focus only on the second half, it's two points we lost." He emphasized his team's second half was much stronger than the first half in which they looked flat footed.
Pacific's coach, James Merriman, had his thoughts to share too. "Today was a must win game for us and we didn't take care of business. We need to stay in control, we need to stay composed."
Merriman did still admire his team's dominant first half hour, but admitted there is a growing problem about how the team handles games after the first goal.
"That's the part that we need to be more mature and more controlled because I think we were very much in control the first 30 minutes and in transition moments we could've taken care of the ball better and maybe put the game away if we were ruthless in those moments," Merriman said. "This is something that we've been challenged with a lot this season."
Time is running out, and each game is becoming increasingly important. If anyone knows that, it's Atlético's Tissot.
"It's been crunch time for a few games now. We dropped valuable points in our last two games with goals that ultimately we're on the wrong end of. So, we wanted to correct that today," he said.
"We had the mindset against Calgary and Vancouver to go get the win and that bit us in the end. Today, I felt we're a bit more conservative but we'll take a crucial point."
Gonzalez and Tissot say Atlético's mentality changed immediately after conceding.
"I feel like everyone was more on the front foot. We started to press a bit higher, move the ball better, and were more clinical in the final third. And then we brought that into the second half which was huge," Tissot said. "I wished we could've started this way, but I liked the team's reaction after conceding."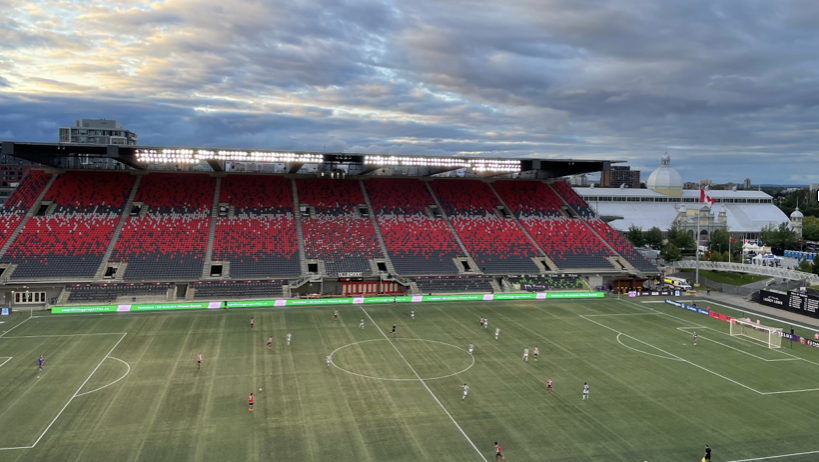 Atlético attempt an attack in transition under a cloudy sky at TD Place. Photo @ Devon Tredinnick
Atlético now sits in fourth place in the CPL, with a record of 9-6-9 (33 points) ahead of fifth place Halifax (8-9-7, 33 points) on goal difference. Atlético will visit Halifax on Sept. 18 to play the Wanderers in a critical match with gigantic implications for both teams playoff aspirations. Ottawa has a 1-1-1 record against Halifax this season.
Of interest
Atlético Ottawa's sponsor for the Pacific match was Coding for Veterans, an organization that "provides accessible, accelerated, and industry-recognized accreditation to Canadian Armed Forces Veterans and their families, seeking sustainable employment within the tech industry's cyber security professions."
Jeff Musson, President of Coding for Veterans, explained in its fifth year of operation, they recently enrolled its 500th student. The program, run online through the University of Ottawa, provides military veterans the industry skills to succeed in various IT industries and the tools to enter the workforce.
"What better way to thank them for the service than to provide them with a good education and a great career," Musson said. "It's really satisfying to see the difference you've made in people's lives, the positive impact on their mental health that comes with receiving a well-paying, stable job."
In the next five years, the organization plans to expand to the United States and offer job-specific training courses for family members of veterans in addition to the veterans.
---
More Stories