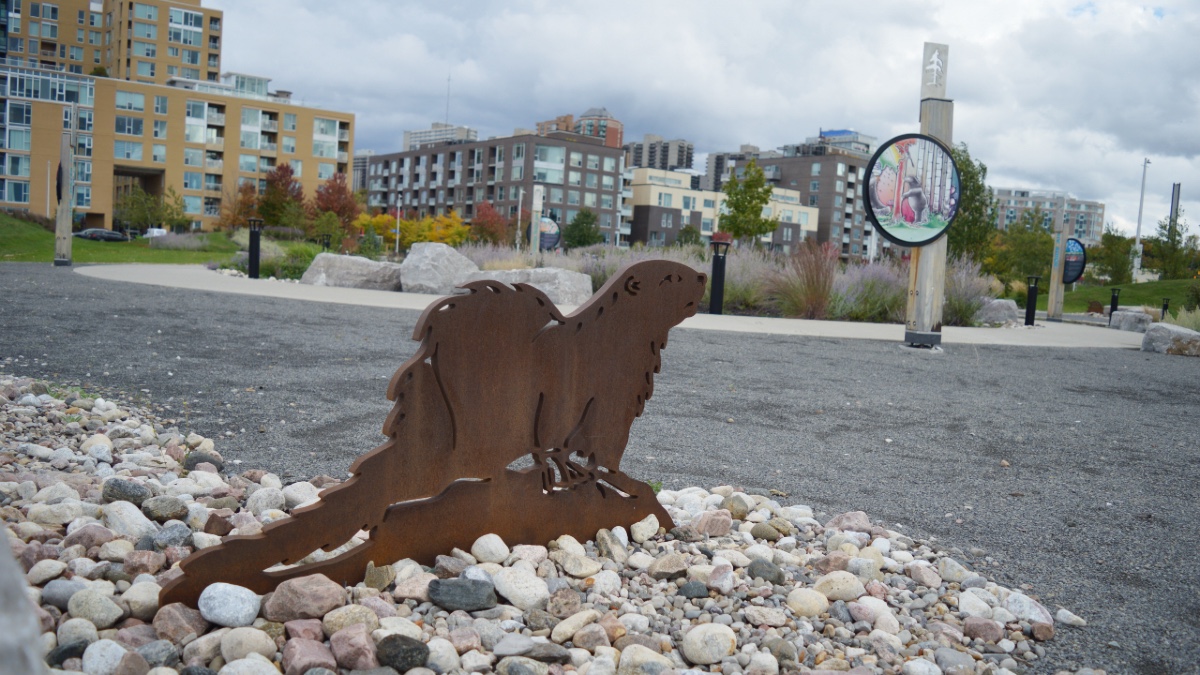 The lack of Indigenous language programs troubles Juliana Strickland, a Mohawk and Grade 9 student at Canterbury High School.
Language is not only a form of communication, Strickland says, it is also something that preserves and reclaims culture.
In 2019, the Indigenous Languages Act received Royal Assent. The act, "is intended to support the reclamation, revitalization, maintaining and strengthening of Indigenous languages in Canada," reads its website. But that initiative is not necessarily being felt on the ground.
"My family lost the [Mohawk] language in four generations, and currently, I'm trying to learn it back, but I don't have many resources," said Strickland. "[An indigenous language program at school] would really help me learn back the language and help with reconciliation for future generations and other people who are in my position."
"If I could take an indigenous course at school, I would be teaching my entire family, it would be wonderful," she said.
Strickland emphasized that Indigenous language programs should be offered to all students without being mandatory. She says a Mohawk language course would help her identify as Indigenous.
"I don't really know anybody else who's Indigenous, so I feel kind of alone," she said. "I don't just want to be the person with the Indigenous DNA—I want to be the person who lives the culture, and the language is a great way for me to do that."
According to Kyl Morrison, the Ottawa Carleton District School Board does not offer any Indigenous language courses. The Board is, however, seeking Anishinaabemowin and Inuktitut teachers for possible Saturday classes.
Morrison is a member of the OCDSB's Indigenous Education Learning Team, as well as an Indigenous Graduation Coach at Gloucester High School.
The Inuuqatigiit Centre for Inuit Children, Youth and Families knows all about the Indigenous language education gap in Ottawa. They've been trying to trying to fill that gap.
Youth manager Daniel Fyfe, said the centre has tried to get the schools to give their students a credit for learning Inuktitut as a substitute for the core French language requirements currently in place, but has not been successful so far.
Because of COVID-19, the centre implemented an "educational hubs" program, Fyfe said, which consists of small cohorts in which students can learn Indigenous languages in person, among other things.
"Language has been a big piece of what we do at Inuuqatigiit," Fyfe said. "We try to incorporate as much Inuktitut as possible, but the problems that we've run into is fluent speakers who have the time and space to teach it."
More space needed
At present, 43 students are registered and 10 students are on a wait list, but the centre hopes to create more spaces to accommodate everyone who is interested in participating.
"They're going to be coming here to do their learning, but not only that, they're going to be surrounded by other Inuit students, an Inuit cultural educator, and also receive Inuit cultural programming," Fyfe said. "The hope is that they can deepen their understanding and be more engaged and connected to their culture."
The program is supported by federal government funding under the Inuit Child First Initiative.
According to Fyfe, it is important the program produces results since it only has funding for this year. However, he hopes the academic progress of students will help it continue.
According to Statistics Canada, the number of students enrolled in Indigenous language programs has been rising since 2014/15.
A step towards reconciliation
John Kelly, an adjunct research professor in journalism at Carleton University, said there is an increasing need for Indigenous language programs in post-secondary institutions.
Kelly is from Haida Gwaii, an unceded territory off the British Columbia coast.
Carleton students can register to study Anishinaabemowin, an Ojibwe language.
Categorized as a language "less commonly taught," students must register for the course under language studies. This type of registration differs from other languages courses offered at the university.
Course selection for less commonly taught languages varies annually. In the past, Carleton has offered Indigenous languages, such as Cree, Inuktitut and Algonquin.
According to Kelly, Indigenous language courses should be offered based on the local languages in which the school is situated. So at Carleton that would include Mohawk, Algonquin and Anishinaabemowin.
"Many of the languages are losing speakers," Kelly said. "It really only takes two people to save a language — one to learn and the other to teach."
Learning a language is a way to appreciate cultures and a big step towards reconciliation, Kelly said.
"Never underestimate the power of speaking your own language," he said. "Your culture is inherent in language and you learn more about the people by learning what the language has to say."
---
More Stories