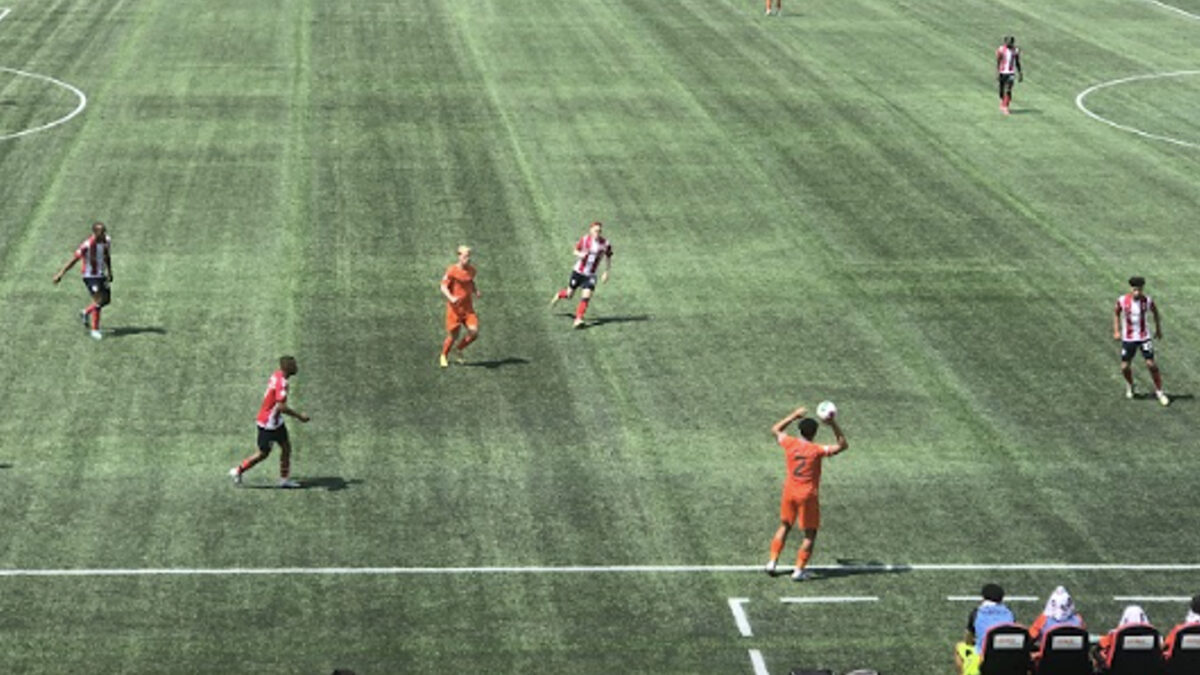 It took a brilliant, stoppage-time strike by Forge FC forward David Choinière to defeat Atlético Ottawa 1-0 on Saturday at TD Place, a devastating loss to Hamilton after one of the home club's best games of a frustrating 2023 Canadian Premier League season.
Choinière's shot from the near post inside the six-yard box found the back of the net in the game's 91st minute, finally ending a scoreless struggle while keeping Forge undefeated and on top of the CPL standings with a 4-3-0 win-draw-loss record and 15 points.
The Atlético's May 27 defeat to the defending CPL champions dropped Ottawa to a league-last eighth place with just five points and a 1-2-4 record so far this season.
It's been a disappointing contrast from last year for Ottawa. In 2022, Atlético finished first in the regular season standings before losing the playoff final to Forge.
The CPL awards championship trophies to both the top finisher in the regular season and the playoffs, and in '22 both Atlético and Forge FC earned qualifying spots in the CONCACAF Champions League, competing against top teams from all over North America, Central America and the Caribbean for a berth in the FIFA Club World Cup.
Forge — and specifically Choinière — have a solid record of success against their Ontario rivals. In October 2022, he scored the insurance marker to double his team's lead in the CPL final on Ottawa's home turf. His game-winning goal on Saturday once again dashed the hopes of Atlético fans.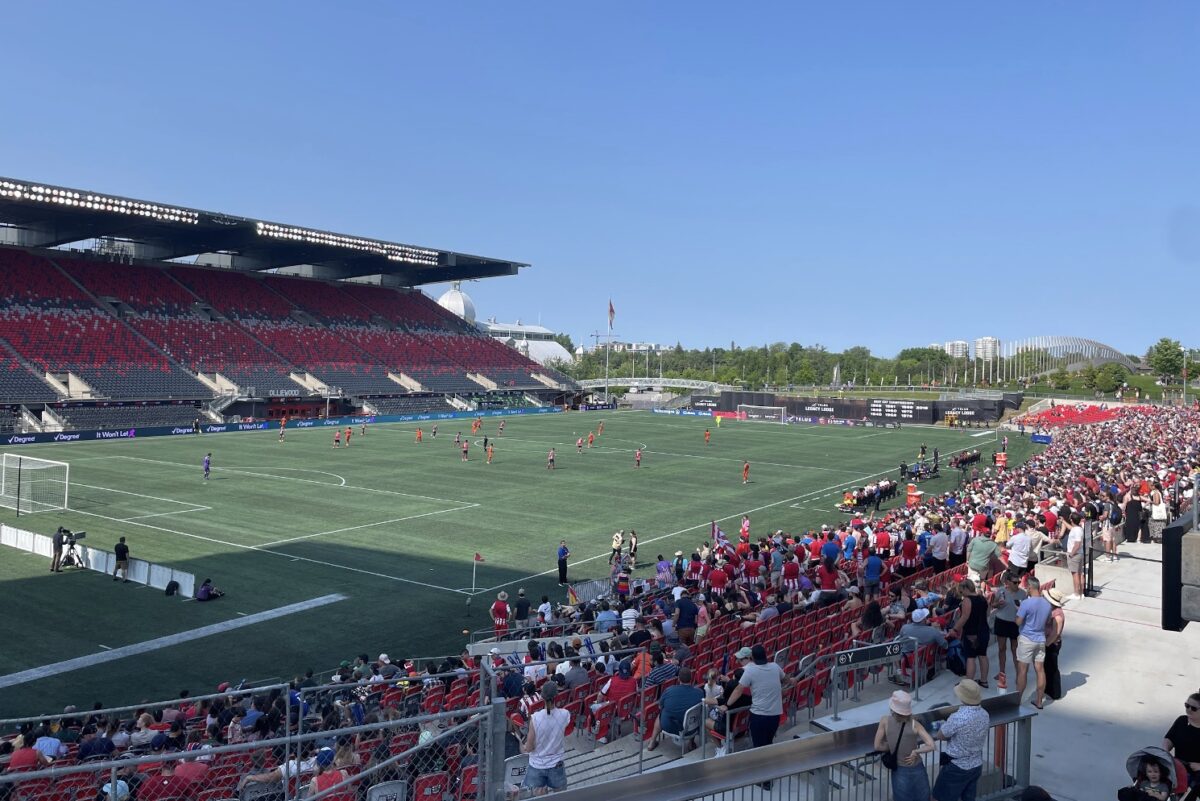 That said, Atlético put up an excellent fight and dominated the second half of the match. Despite their strong performance, though, their home woes continued. The club is now winless in nine consecutive home league matches (lost four, drew five) dating back to Aug. 17, 2022 when they defeated the Halifax Wanderers 3-2.
Not only is the team still searching for a win at home this season, Atlético fell to dead-last in the CPL standings after Halifax notched a 1-1 draw on Saturday against second-place Pacific FC to move past Ottawa into the league's 7th spot.
Atlético's slow start against Forge gave the visitors plenty of chances to capitalize. Hamilton controlled possession and created multiple quality scoring chances, including a sixth-minute cross into Ottawa's box. The dangerous attempt was cleared off the line by goalkeeper Sean Melvin.
Atlético's constant defending, errant through passes, and subpar linkup play all hindered their ability to use their speed to attack in transition and create good chances. The team only had the ball a third of the time in the first half, and created just a single shot attempt that landed off target.
A big reason for Forge's first-half dominance was head coach Bobby Smyrniotis' tactical decision to switch from a 4-3-3 formation to a 3-5-2 as a counter to how Atlético play.
"A lot of times with Ottawa's shape there tends to be a pocket between the centre-backs and their two midfielders in Bassett and Acosta," Smyrniotis said after the game. "We thought maybe plugging a player in like Jensen to be in that area, maybe trying to pin Dos Santos, Assi or whoever (the wider players were) a bit further back, (would) give us more ball tempo into what we were doing."
The adjustment helped Forge match up better against Ottawa, and Smyrniotis also rotated the club's lineup after their mid-week Canadian Championship semi-final game. It all worked wonders in the first half and frustrated Atlético, who couldn't maintain possession for very long, or attack in transition.
Ottawa's pattern of playing better in the second half this season after a sluggish first half was repeated again, as Atlético came out of the locker room after half-time rejuvenated and firing on all cylinders.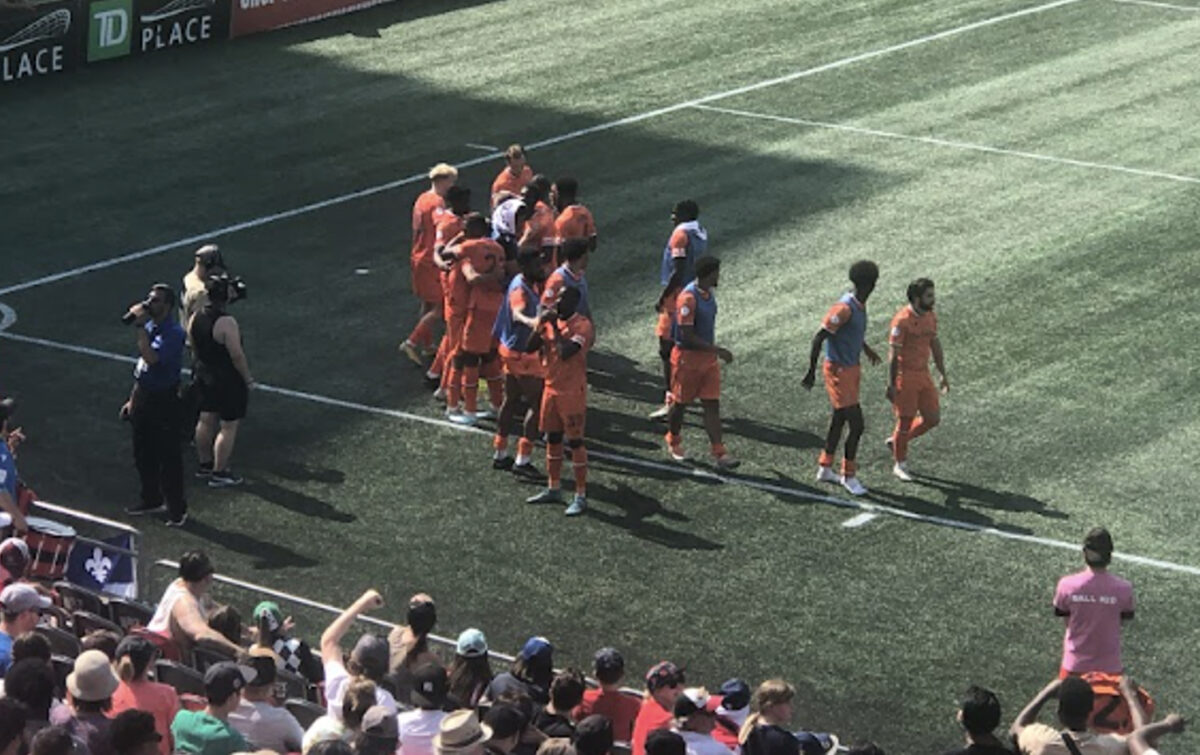 Atlético dominated offensively in the opening 25 minutes of the second half. They were dangerous in transition, connecting several long passes downfield. Atlético also had the lion's share of possession and created several high-quality scoring chances as a result of their sustained possession, swift ball movement and clever decision making.
Much of their movement and decisiveness came from their team's back line. Atlético started the game in a 3-5-2 formation, but switched to 4-4-3 after halftime. This helped them create and exploit open spaces throughout the second half.
Atlético has experience with a back three and a back four; but the 4-4-3 left wingback Maxim Tissot dropped down to a more defensive role when out of possession. Karl Ouimette controlled the right side of the defence while initiating the counterattacks by passing to the more offensively-minded wingback/midfielder Jean-Aniel Assi, as well.
An aggressive style of play from their wingbacks helped Ottawa create many good scoring chances at the start of the second half, but still resulted in Atlético being caught too high up the pitch on Forge's counterattacks. This ultimately hurt them on Choinière's winner in extra time.
Regardless, Atlético had eight shots, six of which were on target, to Forge's none in the first 25 minutes of the second half.
However, no matter how much promise they showed, they couldn't solve Forge goalkeeper Triston Henry.
Atlético was able to get behind Forge's back three, but Henry's six massive saves — some requiring elite balance and lightning reaction time — kept Atlético from capitalizing on the sustained momentum they created.
Keeping his team alive and the game scoreless despite Atlético's best efforts also meant Henry would finish the match with a career high eight saves in a brilliant showing, earning him a clean sheet and Man of the Match honours in Forge's 1-0 win.
Being unable to put one past Henry was particularly frustrating for Atlético, considering the team created so many strong scoring chances and had an Expected Goal rating of 1.04 compared to Forge's 0.65.
But the team isn't accustomed to scoring much this season. Atlético ranks fourth in the league with eight goals, five of which came in a single match.
The team has struggled to be clinical in the final minutes of their matches and score goals at crucial times. Yesterday was no different.
Despite not being able to secure a positive result, Atlético head coach Carlos Gonzalez said Saturday's match was one of his team's best performances of the year, and to come away with nothing is disappointing.
'My feelings are that we couldn't do much more to win the game.'

— Carlos Gonzalez, head coach, Atlético Ottawa
"My feelings are that we couldn't do much more to win the game," he said in a post-game press conference.
Gonzalez added that his team did a lot right, but that doesn't guarantee a win.
"This is football sometimes," he said. "You create, you dominate in certain moments, you defend well, but in one detail — probably in the only chance in which we made a couple of mistakes in the same action — they score and they punish us in minute 91."
Gonzalez credited Henry for being key to Forge's win.
"I think that Henry (kept) them in the game," he said. "Probably if Henry wasn't there today, it would be at some moment 2-0 easily, because I can remember five, six chances quite clear."
Atlético ended the game with 42 per cent possession, 13 shots to Forge's 12 and eight shots on target to Forge's three. But it all added up to the team's fourth loss of the season.
Atlético will host the Halifax Wanderers (0-6-1 and six points) at TD Place on Saturday, June 3 — a chance to move out of the CPL basement against the team just above Ottawa in league standings.
---
More Stories