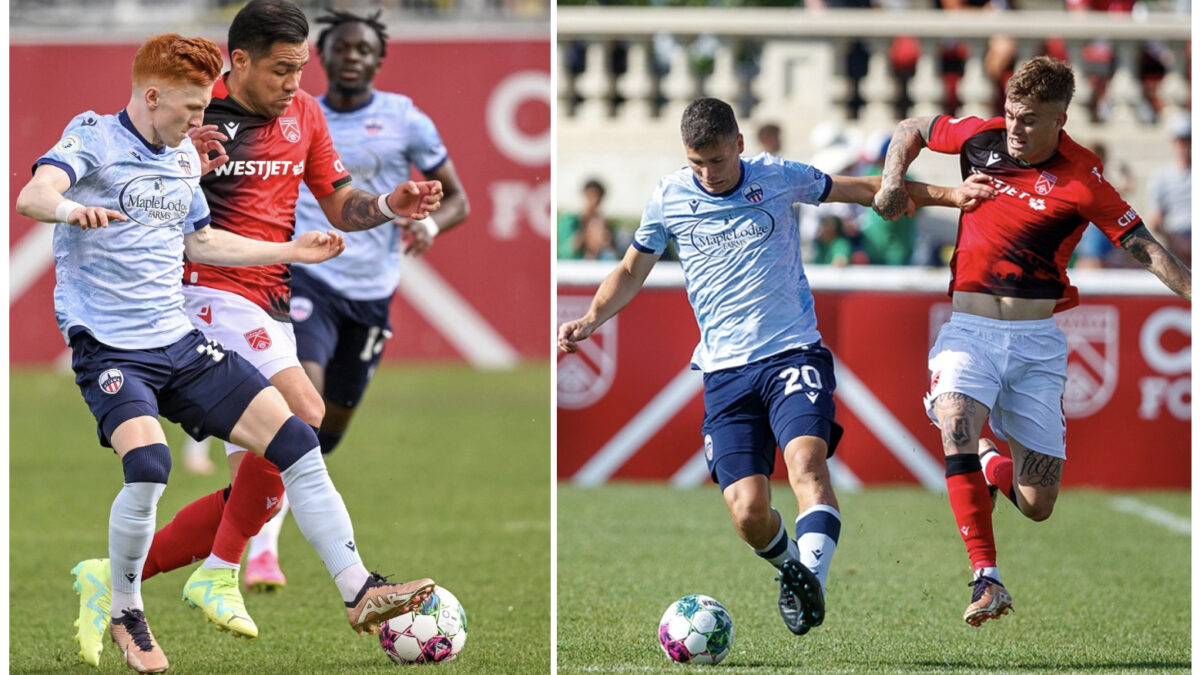 After finally notching their first win of the season on May 13 — a record-setting 5-0 triumph over Vancouver FC, the largest margin of victory in team history — Atlético Ottawa failed to capitalize on the momentum in their next match, a 2-0 loss to Calgary's Cavalry FC on Sunday, May 21.
A victory would've propelled Ottawa into third place in the Canadian Premier League standings. Instead, Cavalry jumped into third with a win-draw-loss record of 1-5-0 (eight points) and remain the CPL's only undefeated team this season besides first-place Forge FC of Hamilton (3-3-0).
Meanwhile, Ottawa falls to seventh with a 1-2-3 record and five points.
For the fifth time in six league matches, Atlético conceded the first goal to its opponent. Once again, Ottawa started the match slowly and allowed Cavalry to dominate possession, create higher quality scoring chances and dictate the pace of the match.
Atlético had seven shots, but the only one on target came from a long-distance free kick in the eighth minute that was confidently caught by Cavalry goalkeeper Marco Carducci. Other than that, Atlético were invisible offensively.
There was very little intensity from Atlético, who had trouble escaping their defensive-focused formation whenever they won the ball back, failing to effectively launch transition attacks.
'We had trouble getting out when we won the ball. Because we were sitting deep at times, guys maybe weren't in the proper positions to help us get the ball forward and then try to create something from there.'

— Max Tissot, defender, Atlético Ottawa
"We had trouble getting out when we won the ball," Atlético defender Max Tissot said in a post-game press conference. "Because we were sitting deep at times, guys maybe weren't in the proper positions to help us get the ball forward and then try to create something from there."
Tissot lamented the number of risky attempts to advance the ball after gaining possession.
"I feel like our first pass out was a low-percentage pass, which complicated things for us," he said.
Meanwhile Cavalry — which opened the season with five consecutive draws — secured their first win and first clean sheet of the season in a particularly strong defensive performance that yielded only one shot on target.
Cavalry had 65-per-cent possession in the game, forcing Atlético to defend rigorously for much of the match to try to withstand the Calgary club's consistent onslaught of attacks.
Quick, accurate, back-and-forth passes in the midfield helped Cavalry keep the ball, stay composed and create chances in transition. They completed almost 85 per cent of their passes and created open spaces by baiting Atlético's strong defensive press.
Cavalry had nine shot attempts with two on target — both of which were goals.
The difference in the match was Cavalry's ability to be clinical in the final 30 minutes, something Atlético have struggled to do at various points during the season.
Atlético is tied for third in the league with eight goals this season, five of which came in one match. In their other five matches, they scored a combined three goals. Atlético need to consistently finish more of their scoring chances if they want to contend for another regular season title.
Ottawa's defence also needs improvement. They rank tied with Vancouver and York for last in the league with nine goals conceded.
Last year, Ottawa gave up only 29 goals all season, the second fewest in the league behind Forge FC. In 2022, Atlético prided themselves on a strong defence that shut down opponents and created good scoring chances in transition.
The 2023 version of the team still has work to do.
Atlético's strong midfield was also essential in last season's success. They controlled possession, supported the backline and advanced the ball effectively upfield to create scoring chances.
Ottawa has many new faces at midfield this year, but they have yet to play to their full potential as a unit.
Meanwhile, Cavalry was firing on all cylinders offensively from the opening kickoff. They got their first quality scoring chance in the 15th minute when Sergio Camargo controlled a well-placed pass from Ali Musse and split through two Atlético defenders before ultimately shooting over the crossbar.
Atlético's defence has looked uncoordinated and disorganized on a handful of occasions this season, allowing opponents to carve right through it. Too often it has led directly to Atlético conceding a goal. It happened against Valour FC on April 22 and three times in Ottawa's 4-1 loss to Pacific FC on May 6.
Seven minutes after Calgary's first good chance, Cavalry got on the board in the aftermath of a set-piece, another area in which Atlético's defence needs to improve.
Fraser Aird's free kick from the left of the 18-yard box was initially cleared out by an Ottawa defender, but the ball didn't get very far. It didn't even make it outside the box before Camargo slotted a powerful strike neatly into the bottom left corner of the net to give the home team a 1-0 lead.
Cavalry nearly scored again before halftime, thanks to a brilliant run by Camargo down the right flank. He placed an accurate cross to a wide-open Myer Bevan, but he waited too long and his shot was blocked by Diego Espejo.
In the 52nd minute, Cavalry thought they'd doubled their lead after a brilliant attack down the right side. But the goal was disallowed due to an offside by Bevan in the build-up.
Fifteen minutes later, after constant Cavalry attacks that led to several other scoring chances, Calgary finally did double their lead. Another brilliant free kick by Aird connected at the back post with Musse, who headed the ball across the goal line before Daan Klomp confidently tapped it home.
Atlético were unable to mark either Musse and Klomp and were punished.
Atlético did wake up in the final 20 minutes of the match. Six of their seven shot attempts came within the final 10 minutes of the game, but none were a problem for Carducci, who secured his first clean sheet of the campaign.
Once again it was too little, too late for Atlético Ottawa's offence. Their attack was almost non-existent in the first half and didn't begin to look threatening until the game was essentially lost.
Not playing a full 90 minutes offensively has cost Ottawa over and over again this season — and did again against the victorious Cavalry.
And it may be hard for Atlético to get back on track in their next game. Ottawa faces first-place Forge FC on Sunday at TD Place.
---
More Stories