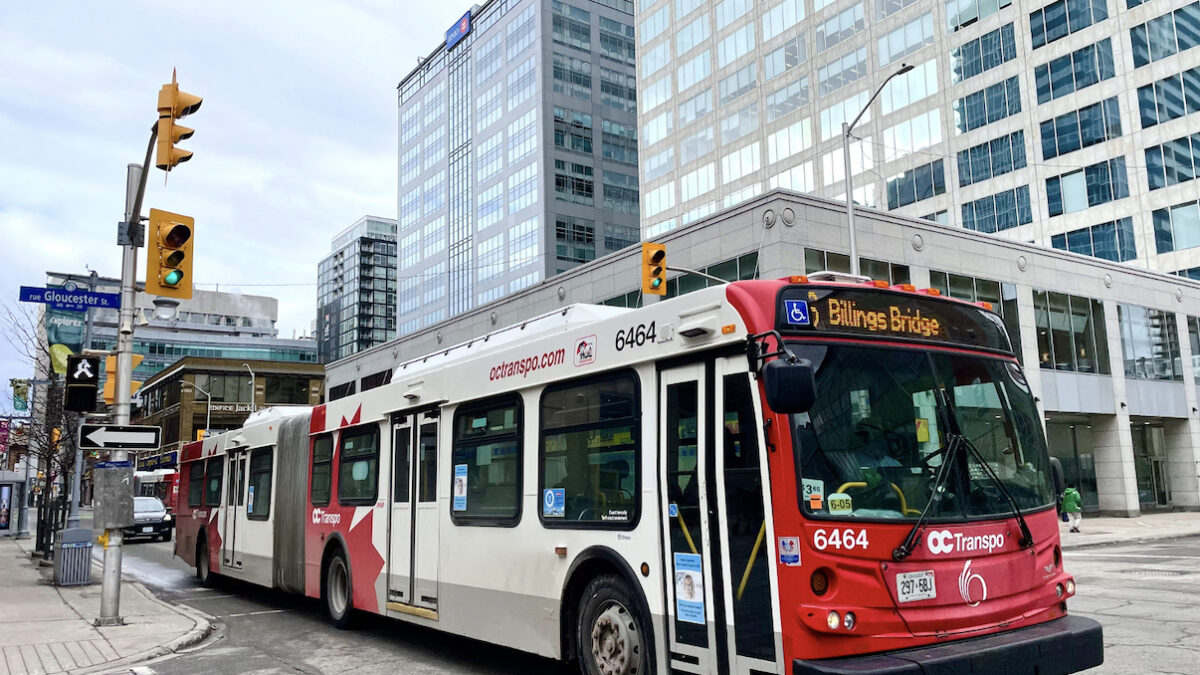 With just a few days remaining in a fare-free month of transit service in downtown Ottawa, transit-reform advocates are stepping up their campaign for the permanent elimination of transit fares in the city.
Because of the disruption to public transit caused by the "Freedom Convoy" occupation of Ottawa from late January through most of February, OC Transpo announced on Feb. 25 that travelling on downtown bus routes and the Confederation Line LRT between Tunney's Pasture and Blair stations would be free of charge until March 26.
A similar fare-free month was offered in December after of a seven-week shutdown of LRT service caused by a Sept. 19 train derailment and subsequent safety concerns.
"Transit is a public service, not a commodity," said Nick Grover of Free Transit Ottawa, a group that has been arguing since 2017 that Ottawa bus and light-rail users should have free transit all year long.
"If we eliminate fares, that's not only going to be more equitable from the perspective of mobility and accessibility, but it's also going to mean that the city has to look for permanent operational funding."

— Nick Grover, Free Transit Ottawa
Free Transit Ottawa says the city charges some of the highest fares for transit in North America and is on track to continue increasing fares by 2.5 per cent per year.
As an initial goal, Free Transit Ottawa says the city should immediately eliminate fares for people on social assistance.
Debates over transit fares have been happening for many years in Ottawa. Capital Coun. Shawn Menard pushed for free transit during the 2018 municipal election campaign and has had Twitter exchanges with Ottawa Mayor Jim Watson over the issue.
"I just found it odd that throughout your campaign, you never told people how much it would cost for 'free' transit — it's a 12 per cent tax hike on top of all the other increases," Watson tweeted in April 2019. "I believe users of the system should pay along with taxpayers, not just taxpayers."
Grover said many Ottawa residents believe the city should consider at least an additional month of free transit because of the disruption caused by the trucker occupation of the urban core.
"My bus basically didn't show up for an entire month due to the convoy bus detours," said downtown resident Kate Wilson. "It's nice that we're receiving free transit, but further assistance would be beneficial for many residents in Centretown".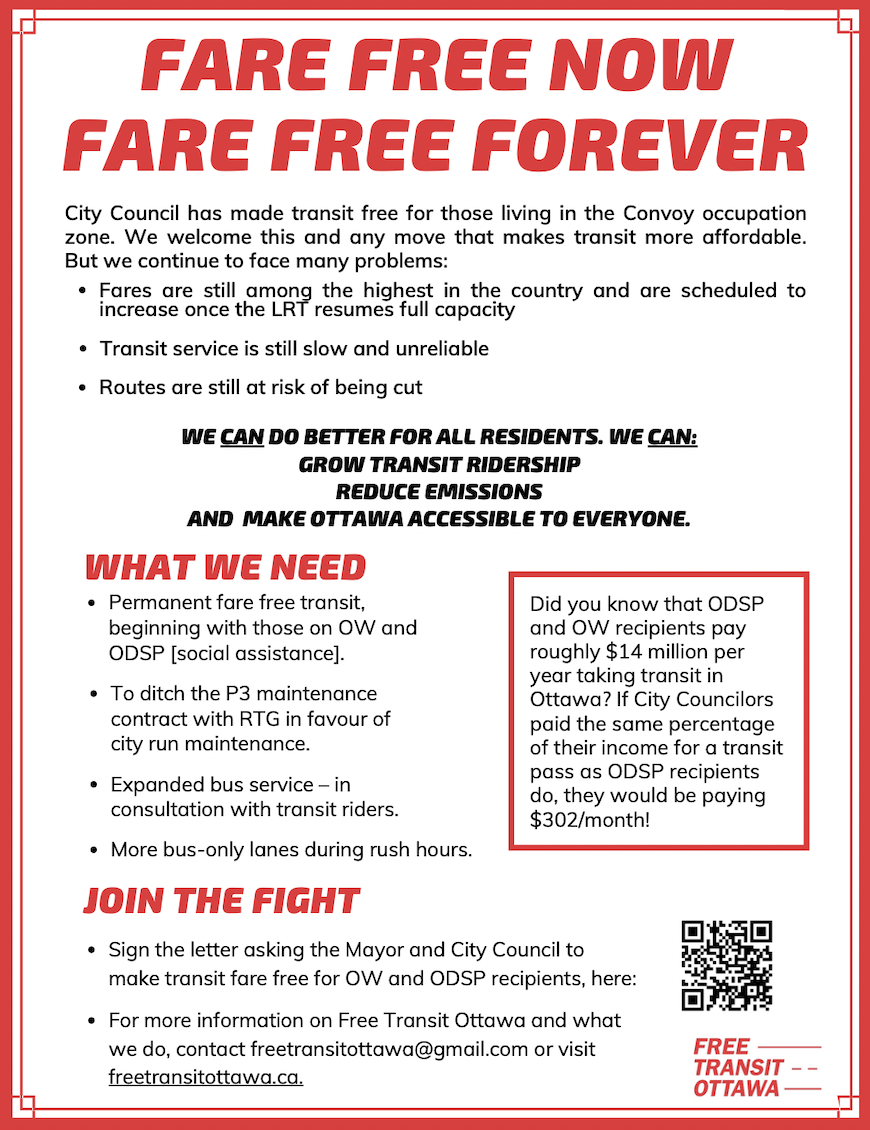 According to an OC Transpo spokesperson, city residents are expressing satisfaction with the month-long charge-free service to make up for detoured buses in late January and February.
Alex Carr, the City of Ottawa's acting director for transit customer systems and planning, said "OC Transpo received positive feedback from its customers regarding the no-charge transit program in December and is receiving similar feedback during the no-charge transit offering currently underway."
For Free Transit Ottawa, these charge-free months don't fulfill the group's desire to secure free transit for city residents. Their latest campaign, "Fare Free Now, Fare Free Forever," encourages Ottawa residents who wish to obtain free transit to sign a petition demanding that Watson and city council make transit fares free immediately for recipients of payments from the Ontario Disability Support Program and Ontario Works.
"City council has made transit free for those living in the Convoy occupation zone," states a Free Transit Ottawa campaign leaflet. "We welcome this and any move that makes transit more affordable. But we continue to face many problems: fares are still among the highest in the country and are scheduled to increase once the LRT resumes full capacity; transit service is still slow and unreliable; routes are still at risk of being cut."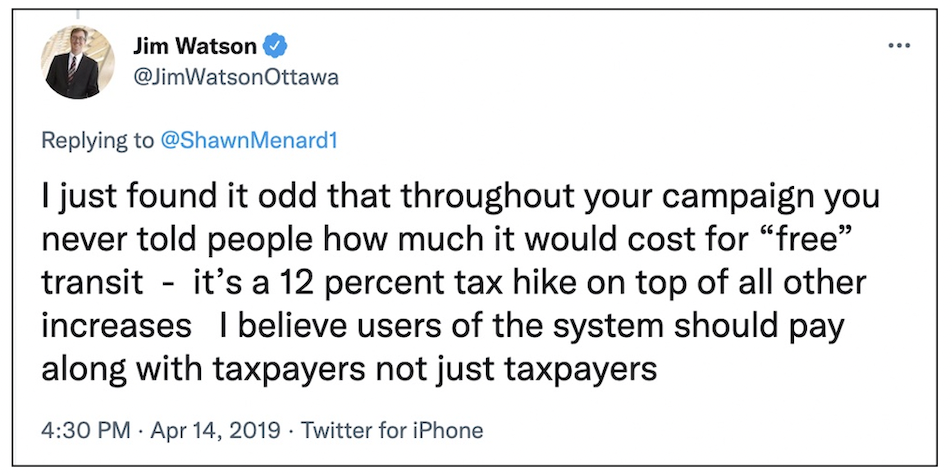 The leaflet highlights the need for "permanent fare-free transit" in Ottawa.
"Funding a transit system through fare is a liability" said Grover. "Transit planners are waiting for ridership so that the revenue can increase and then invest in service quality. That's totally backwards. People take the bus based on how good the service is."
Fare Free Now, Fare Free Forever is organizing events to promote the cause and Free Transit Ottawa. Along with regular events, Free Transit Ottawa petitions have helped put pressure on city councillors around the issue of transit fares, said Grover.
"We want more input from riders and operators," said Grover. He said the group is also pushing toward potentially "getting more stable funding that can improve the service, which would come with more dedicated bus lanes and reliable buses."
"If we eliminate fares, that's not only going to be more equitable from the perspective of mobility and accessibility, but it's also going to mean that the city has to look for permanent operational funding.
"Right now, mostly people who do not take the bus, are making decisions about bus service."
---
More Stories