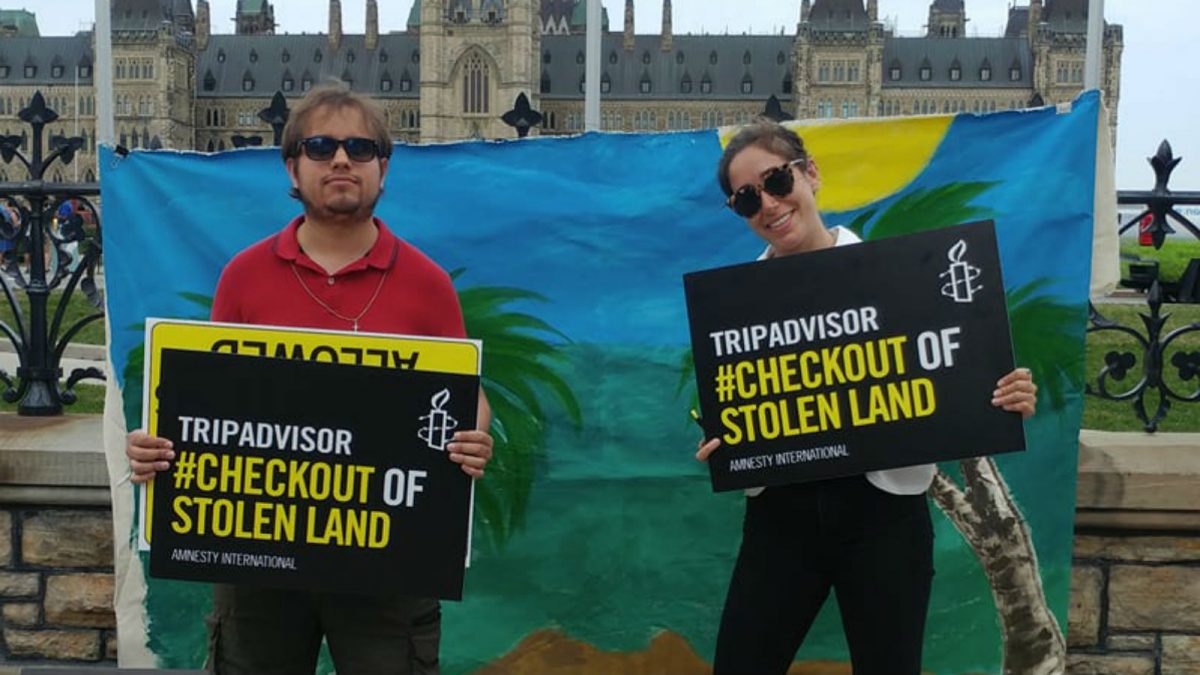 A human rights group in Ottawa protested outside TripAdvisor's regional office in Ottawa on Monday, for its listings in the Occupied Palestinian Territories.
Amnesty International is the largest human rights organization in the world with chapters across various countries.
Janan Arafa, a spokesperson with Amnesty International Canada, said TripAdvisor has over 70 attractions on Israeli settlements — settlements that have been declared illegal under international law. The group wants these listings to be removed.
Article 49 of the Fourth Geneva Convention states: "The Occupying Power shall not deport or transfer parts of its own civilian population into the territory it occupies."
Israeli settlements defy that law.
"They're promoting essentially activities that are illegal," she said. "They're helping the Israeli settlements' economy."
In a statement, TripAdvisor said these claims are misleading.
"TripAdvisor's aim is to provide travellers with an apolitical, accurate and useful picture of all travel and hospitality businesses that are open for business, anywhere in the world," the statement read.
TripAdvisor also said the listing of a property or business on their website does not represent their endorsement of it or the region's policies. Therefore, they don't remove listings that are active or open for business.
Janan said they were trying to engage with employees and pedestrians.
She said, at one point she had to change her strategy from asking people if they work at TripAdvisor to simply asking them if they know about the listings in Israeli settlements.
A few employees stopped and signed the petition — an open letter addressed to the CEO of TripAdvisor — while others took the open letter and said they'll look into it on their own, said Janan.
Janan is a Palestinian-Canadian, but she said as a lawyer, she tries to base her position on facts.
"As a lawyer, that's how we function. We just look at fact and how does that apply to the law, and what Israel is doing is absolutely legal and what TripAdvisor is doing is contributing to these illegal activities."
TripAdvisor said it will continue to monitor how other travel and internet search companies list information about properties in regions like Israel and the Palestinian Territories, as they "aim to deliver a consistent experience to all of our users across the globe."

---
More Stories