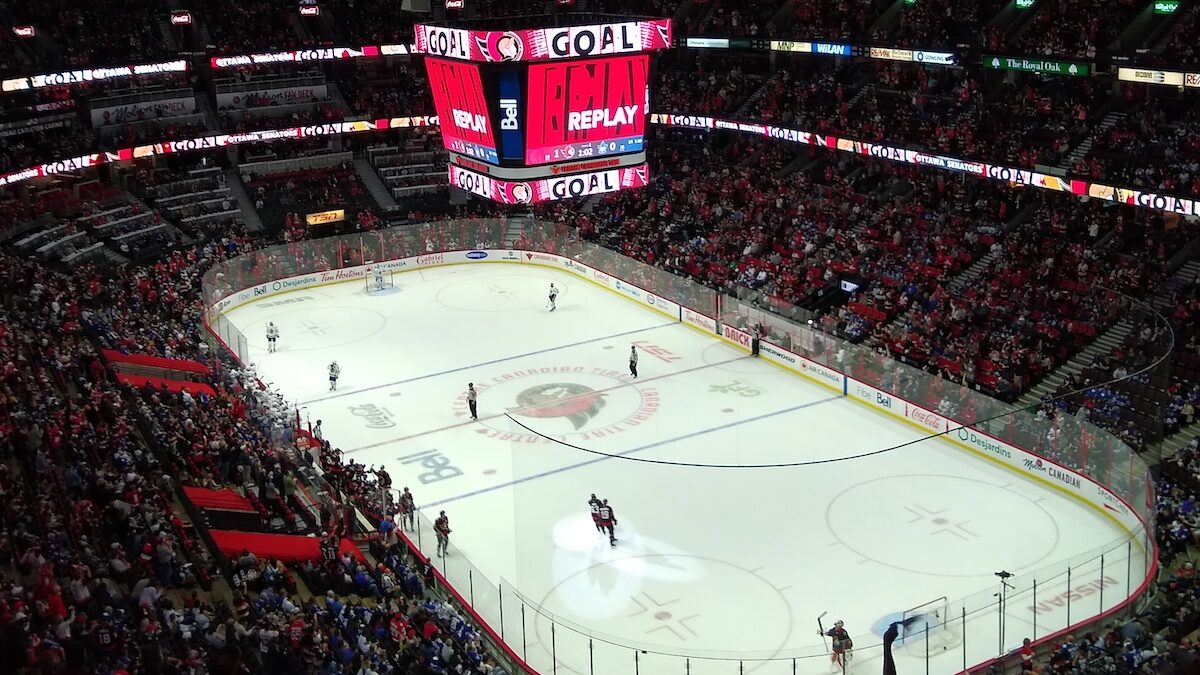 Hockey fans returned to the Canadian Tire Centre this past Thursday evening for the first time since COVID-19 lockdowns shuttered the building to see the Ottawa Senators skate to a 3-2 victory over the Toronto Maple Leafs in their first home game of the season.
"It was so much fun," said Becca Atkinson, who attended. "It was really lively. It was loud. People were just really happy to be back inside watching hockey."
More than 15,000 fans were in attendance – about 80 per cent capacity of the arena – after the Ontario government announced on Oct. 8 that it was lifting all restrictions on the number of patrons that could attend large indoor venues, including arenas used for live sports and concerts.
The move paved the way for fans like Atkinson to return to the Canadian Tire Centre, and bring her two young children with her for their first live NHL game.
"They got kind of a little bit of everything," she said. "They got to see the music beforehand. They got to meet Sparty outside," she added, referring to the Senators' mascot Spartacat. "We watched the warm-up, and they had a sign that said, 'It's our first Sens game,' and [Ottawa Senators forward Tim] Stützle gave them a warm-up puck."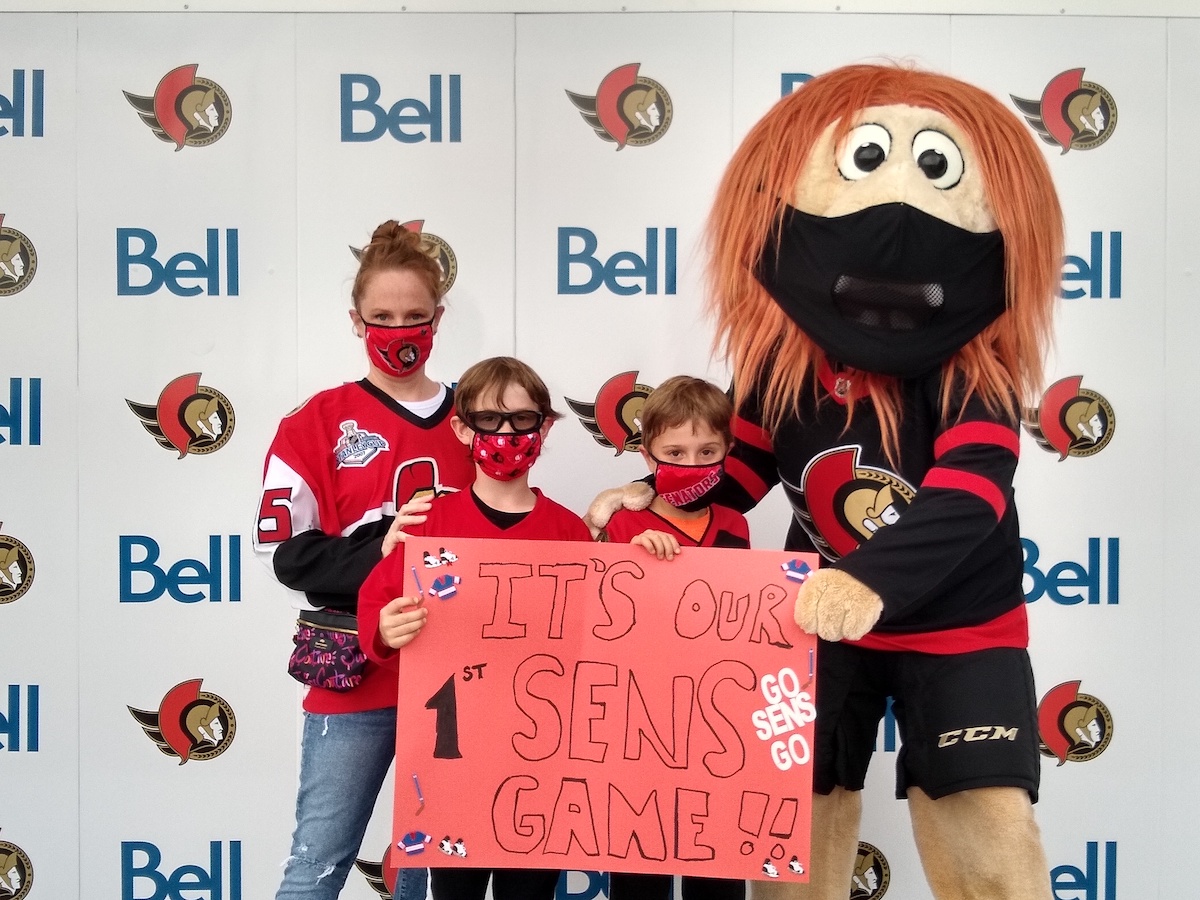 Several government-mandated health protocols remained in place, including requirements for all patrons to show proof of vaccination and wear a mask. The Ottawa Senators also introduced contactless ticketing, cash-only transactions and had installed a new $8-million air filtration system in the arena.
Kevin Lee, who has been going to games for at least a decade, said most aspects of the health protocols went smoothly when he attended Thursday's game.
"Outside the building entrance, they pretty much gated it off, and they have checkers in front of the gate to check vaccine passports," said Lee. "Then you make your way inside and do the existing security check they had pre-COVID, so I don't think it's actually slowing down much, because they still have that queue of people having to wait for security anyway."
Lee said that, once inside the arena, he noticed there was one health policy that could have been better enforced.
"They didn't have enough ushers I think to really enforce the mask policy fully," said Lee. "You're only supposed to have the mask off if you're actively eating or drinking. But at the same time, knowing that you need vaccines to get in, it just gives you a bit more confidence around the safety level."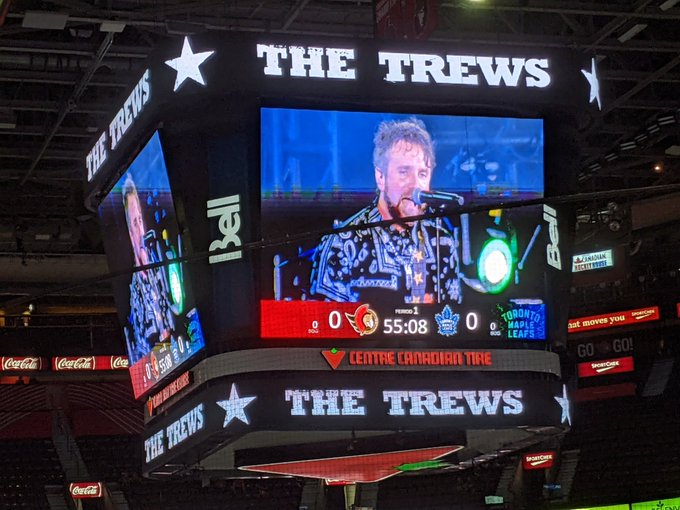 To celebrate the return to live hockey, the game opened with a special performance from the band The Trews, which last played before a Senators home game in the spring of 2007, during the team's first and only appearance in the Stanley Cup Finals.
As usual, Thursday's game drew large numbers of Leafs fans to the arena alongside Sens fans, but Lee said it was fun to see that rivalry resume in person.
Fans from both teams shared in the joy of returning to a live NHL game, but there was one moment that gave Sens fans an extra reason to cheer.
Hours before the game, the Senators had re-signed star player Brady Tkachuk to a seven-year contract, ending weeks of uncertainty about his future with the team. While the deal didn't come in time for Tkachuk to lace up his skates that evening, early in the first period, the fan favourite made an unexpected appearance in the stadium.
"From social media the impression was Brady wouldn't be able to make it to the building in time, because he's flying," said Lee. "We had the commercial break and all the sudden they announce that Brady's in the building and he pops up on that stage."
"I think a lot of people felt like crying. I think I did." said Atkinson. "We're back, it was the first game, we were winning, we'd gotten that first goal, he was signed. It just felt good."
---
More Stories