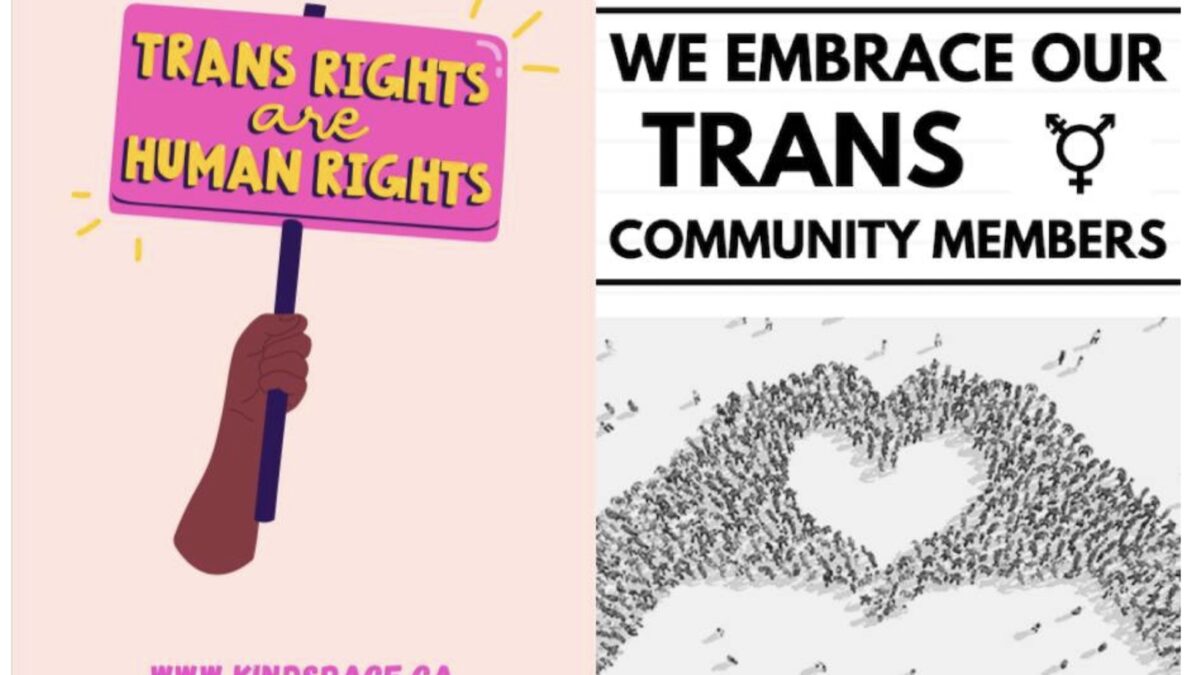 Six advocacy groups are calling on the City of Ottawa to take a stand against recent anti-trans rhetoric.
OCTEVAW, the Elizabeth Fry Society of Ottawa, Wisdom2Action, the Canadian Centre for Gender and Sexual Diversity, Horizon Ottawa and Kind Space have officially submitted their calls to action to the municipal government and are awaiting a response. 
The advocacy organizations came together when anti-trans posters and stickers were put up in downtown Ottawa and in surrounding neighbourhoods. The posters were noticed as early as March, according to Fae Johnstone, executive director at Wisdom2Action, a national social enterprise and consulting firm specializing in community engagement, and equity, diversity and inclusion. 
The hateful posters perpetuated the myth that dangerous men will use trans-inclusive policies to invade spaces for women and prey on them, common rhetoric used to exclude trans people and marginalize them further.
The posters seemed to have been a co-ordinated campaign by an anti-trans group that was postering in major cities around the world, including – quite persistently according to Johnstone – in Ottawa. 
"They were noticed by the community on Twitter. People started posting photos of these posters on Twitter and tearing them down," said Jaime Sadgrove, the lead organizer with the group from Horizon Ottawa. 
In response, two organizations, the Canadian Centre for Gender and Sexual Diversity and Kind Space — formerly known as Pink Triangle Services, an advocacy and service organization for Ottawa's 2SLGBTQ+ community — developed their own trans-inclusive posters. They were posted around town as a response.
"Through that postering campaign, the transphobic and trans-misogynistic posters were still popping up," said Debbie Owusu-Akyeeah, executive director of the CCGSD, "and so there has been dialogue on Twitter specifically to call for more attention from City Council and in particular our mayor to speak against the fact that this is happening."
As a result, members of these local advocacy groups – including 2SLGBTQ+ led groups – felt the need for a public forum to speak against the hate while outlining specific responsibilities the city should take in creating a safer community for trans people.
Organizers wrote calls to action for the City of Ottawa, said Owusu-Akyeeah, with gender diverse and transgender individuals playing a crucial role in ensuring the messaging resonated and spoke from lived experience.
"We put our heads together and scoped out, based on some other initiatives that we know are under way in the city, such as the women's bureau and the women and gender equity strategy, to craft out particular asks for trans and gender diverse communities and LGBTQ people more broadly," said Johnstone.
In addition, a virtual panel organized by these groups was held on Sept. 22. Panelists included both members from the involved advocacy groups and gender diverse and transgender individuals from Ottawa.
"The panel came together very much with a desire to name the connection between these events (anti-trans postering) and the ways in which these posters and anti-trans rhetoric contributes to everyday violence against trans people," said Johnstone.
The calls to action, outlined online by the advocacy groups, demand that the City of Ottawa:
Publicly and unequivocally denounce anti-trans hate, rhetoric, and violence in the City of Ottawa
Respond to the recommendations identified in Wisdom2Action's report with a clear plan for implementation
Create a designated 2SLGBTQ+ Secretariat within the City of Ottawa
Establish a municipal 2SLGBTQ+ advisory council with community members and representatives from local 2SLGBTQ+ organizations, to inform and guide municipal efforts on 2SLGBTQ+ health, safety and rights
"The first step is to denounce violence and the second step is to put concrete recommendations and policies in place to address that violence," said Johnstone.
One of the demands is to establish a designated 2SLGBTQ+ Secretariat within city hall that would help guide strategy surrounding 2SLGBTQ+ issues, said Owusu-Akyeeah, whether it pertains to bylaws, funding or housing. It would allow for trans and queer concerns to be heard in a forum where direct change can be made in communities.
The group submitted their demands on Oct. 6 and hoped to see not only a public response from city officials, but also a willingness to take the necessary steps to move forward with making Ottawa safer for 2SLGBTQ+ people.
Johnstone said the advocates hoped that city council and especially Mayor Jim Watson would make statements denouncing anti-trans hate and violence in Ottawa.
"On Twitter we've seen engagement from two city councillors, Councillor Menard and Councillor McKenney," said Owusu-Akyeeah, "but nothing else really, which is why we're going to continue with the official submission of our demands."
Despite the initial weakness of the response, the group remains hopeful city council will seriously consider their demands and take action.  
Capital Current reached out to councillors Shawn Menard and Catherine McKenney, both of whom were unable to comment on the anti-trans posters or proposed calls to action prior to publication.
The worry for the alliance advocates is that if nothing changes, there could be additional consequences for the trans community.
"If the city doesn't denounce these acts of violence, it will be silent permission for that violence to continue," Johnstone said. "silence from the city and our elected officials, in my books, is only reinforcing and giving more space to anti-trans organizing in this city."
---
Cis Folk Harassing Us:
An interactive map with accounts of transphobic harassment in Ottawa-Gatineau. Contact @fruzz on instagram to have your own story added.
An interactive map tracking incidents of trans hate in Ottawa created by Maëlys McArdle.
The recent trans-hate in Ottawa allows for an unwelcoming and unsafe environment for trans and queer people. But Sadgrove explained hate and violence are a continuum that needs to be exposed and eradicated for a community to be safe for marginalized people.
"I don't want to be a fear-monger and say that if nothing changes transphobic posters will directly lead to violent crime against trans people," said Sadgrove. "But I think if that kind of transphobia is allowed to go unchecked, then people who are predisposed to commit violent acts against trans people are going to think the community is on their side and they're not going to face consequences."
An official denunciation from the city would help, advocates argue. The groups are asking for a safer city for everyone, including marginalized folk.
"If our city cannot be bold enough to speak against this, it will just continue to embolden people who think this way," said Owusu-Akyeeah. "We need safer communities, and if our city can't stand up for that, then what can they stand for?"
---
More Stories