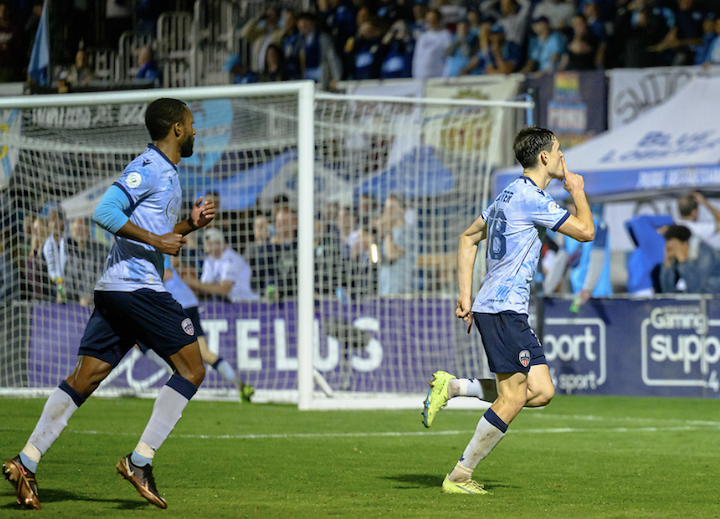 Despite two goals from forward Samuel Salter, Atlético Ottawa missed out on three more crucial points Monday in a tight Canadian Premier League playoff race. Once again, Ottawa conceded a winning goal in stoppage time, losing 3-2 against playoff rival, Halifax Wanderers.
Halifax improved to 36 points, overtaking Ottawa (at 33 points) for fourth place in the standings in the process. Ottawa's poor run has seen them draw three and lose two of their last five games. Their last win was in August.
Ottawa's match against Halifax was a tale of two halves.
Ottawa looked starved for a win at the start. They were aggressive offensively and played on the front foot, nearly opening up scoring in the first five minutes with a header from Sam Salter. The attempt was ruled offside, however.
Still, it was a sign of good things to come. A few minutes later, midfielder Ollie Bassett sent a pass to Salter before darting up the left flank. Bassett received the ball back before calmly sending a cross to the top of the box. Salter controlled it nicely with his chest before volleying it toward goal.
The shot trickled through the gloves of Halifax goalkeeper Yann Fillion before rolling across the goal line: 1-0 Atlético.
Despite being out-possessed 63-37 per cent, Ottawa still controlled the first half, outshooting Halifax 10-2 (3-1 on target). Atlético defended well and created quality scoring chances in transition with their speed and accurate passing. They led 1-0 at the break, but should have had more because of missed chances.
Three Halifax players — Riley Ferrazzo, Massimo Ferrin and Aidan Daniels — gave the ball away 10 or more times in the first half alone, and the team's passing was accurate only about two thirds of the time.
Halifax's head coach Massimo Ferrin's message to his players at the half was clear: a draw wasn't enough.
"We're not here to just grab a goal and get a point," Ferrin said after the match. "We want to go and score two, or if it takes three, four, whatever; we want to go win this game. Obviously with so many teams being so close together, these games when you play one of the teams that's one above you or one below you in the standings, there's more incentive to really get that result to either get a little bit of breathing room or catch another team above you."
The Wanderers took that message to heart. They came out of the locker room with a vengeance, scoring twice in 10 minutes. They continued to dominate possession and create open passing lanes with intricate runs down the flanks. Halifax had no trouble setting up camp in Ottawa's half, creating several quality scoring chances with their accurate and quick passing.
Massimo Ferrin tied the game four minutes into the second half with a powerful shot and seven minutes later, Jordan Peruzza gave the home team the lead after he headed home an immaculate lob pass from Lorenzo Callegari.
Being 2-1 down, hope seemed lost for Ottawa. Atlético tried to fight back into the match, but Halifax shifted into a lower block as the second half progressed, making it tougher for Ottawa to move down the pitch, link up passes in the final third and create open shooting lanes.
After taking the lead, Halifax defended well, closing down spaces for Ottawa to attack and pressing Ottawa high up the pitch to speed up Ottawa's decision making and force turnovers. Ottawa's passing became sloppier, and as the Wanderers pressed higher, they had more trouble getting out of their own half, giving the ball away with greater frequency.
Halifax did everything they could to preserve the lead and even showed signs of looking for an insurance marker in transition.
That was until Salter, the former Wanderers' forward, thought he rescued a crucial point for his team in stoppage time.
His second goal of the night tied the match 2-2, only for a defensive breakdown less than one minute later to lead to Halifax's pivotal match winner.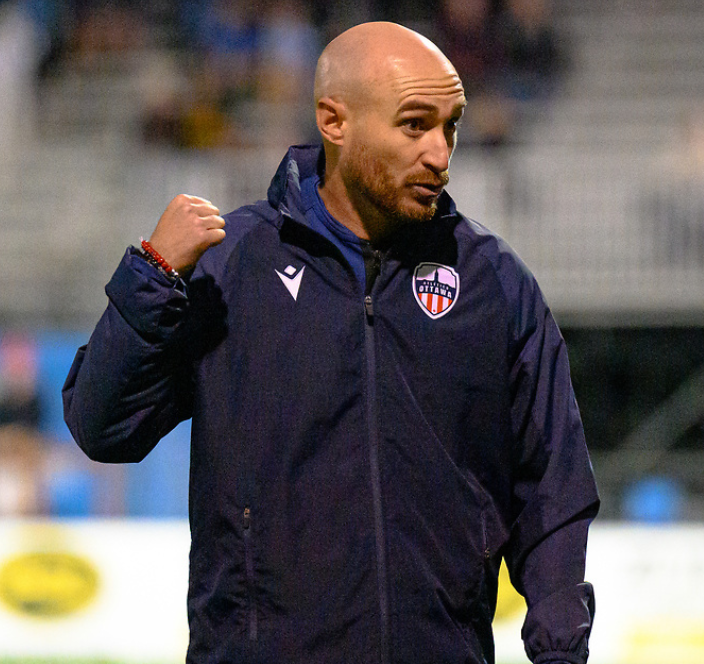 Technically, Ottawa lost in stoppage time, but even if Salter's goal would have stolen a point for Ottawa, Manager Carlos Gonzalez still would not have been pleased about his team's lacklustre second half.
He said he thought the match was lost in the first 10 minutes of the second half.
"We made big mistakes in situations that we corrected in halftime, that we were speaking about, because the only threats we were having from Halifax were those situations, inside passes and diagonal runs. If you don't give steps forward it's very difficult," Gonzalez said after the match.
The 1-1 equalizer was an inside pass that Ottawa fended off better in the first half and the 2-1 goal was the result of Peruzza's diagonal run where he cut behind Luke Singh.
Gonzalez made some drastic substitutions in the final half hour in an attempt to score twice to secure a win including bringing on Malcolm Shaw to play as a second striker and taking off player of the year candidate and Golden Boot leader Ollie Bassett for a third striker in Ruben del Campo.
"We were looking for energy and Ollie didn't have energy in that moment," Gonzalez said, talking about his changes. "We were looking for more targets that we could reach in more vertical ways (through crosses into the box), and find spots of dangerous situations in a faster way."
He added he knew the game might become unbalanced with so many attacking players, but said it was a risk they had to take. It didn't work out as planned, and Atletico have lost for the third time in four games to a stoppage time winner.
Despite conceding the equalizer in the 91st minute, Halifax's resilience didn't allow them to be deflated. Instead, they picked their heads up and started hunting for the match winner.
Late into stoppage time, Zach Fernandez made a brilliant run down the pitch, running past an Atlético defender before slotting a pass to Armando Wilson. Similar to Atletico's first goal, the two-man partnership between Fernandez and Wilson – which had been excellent all night – was at the heart of this goal.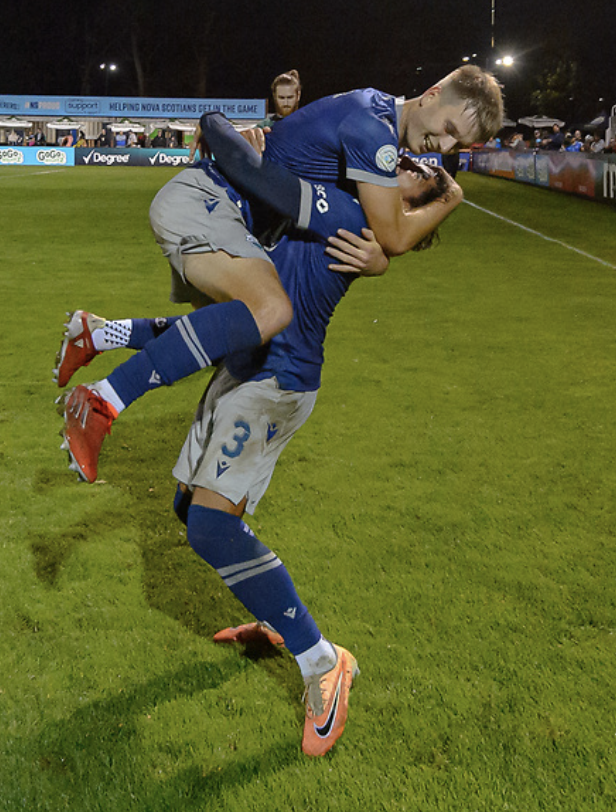 Fernandez darted past a defender toward the box and received the ball just outside the left side of the box. He avoided a tackle to get around an Atlético defender, before sending a cross inside the six yard box. The whole stadium held its breath. Seconds later, utter elation.
Two Halifax teammates celebrate their team's late stoppage time winner which helps them leapfrog Ottawa in the standings and gives them the upper hand in the playoff race. Photo: Trevor MacMillan / Halifax Wanderers FC.
20-year old Tomas Giraldo did well to find open space in the six-yard box before meeting the ball with his foot to all but secure the win for Halifax and in the process, he scored the biggest goal of his career and arguably in Halifax's history if the club can secure its first home playoff game.
Ottawa will play their final home game of the season on Sept. 24. It's essentially a must-win game against Valour FC if they want to secure their spot in the postseason and have any chance of hosting a home game.
---
More Stories