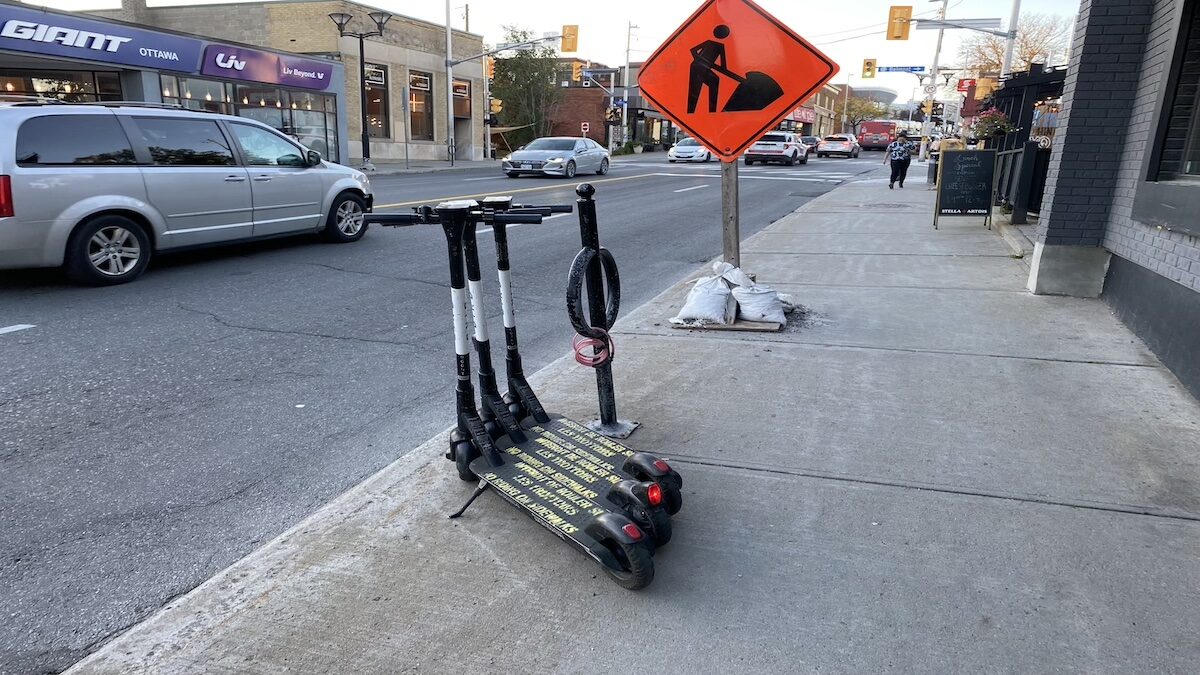 The City of Ottawa's e-scooter pilot program will soon roll into its third year after a fierce debate over the impacts of improper use of the devices on those living with disabilities.
The city's accessibility advisory committee recommended against renewing the program because of many complaints over the first two years of the program about e-scooters being parked or driven recklessly on sidewalks and pathways, posing a hazard for many citizens with mobility or visual impairments.
A motion passed in March said that "the results of the 2020 and 2021 pilot projects demonstrate that, despite efforts by City staff and e-scooter providers, the safety risk posed by e-scooters cannot be properly managed or regulated." The motion added "e-scooters are inherently dangerous to disabled pedestrians and seniors in Ottawa."
But after a parade of public delegations slammed e-scooters for their impact on accessibility, a council eventually renewed the project, adding conditions and tightening rules around use.
The Ontario government is entering the third year of its five-year e-scooter pilot program permitting e-scooter companies, such as Lime and Bird, the opportunity to rent their scooters in different cities.
In municipalities such as Ottawa, renewal of the program must be voted on by city council each year.
E-scooters, while convenient and emissions-free for people using them to make short trips instead of driving or taking transit, can pose a serious accessibility hazard for those in Ottawa living with disabilities.
Capital Coun. Shawn Menard said e-scooters can travel at up to 35 km/h and are quiet posing a significant danger to the visually impaired. While riding on sidewalks has always been prohibited in the City of Ottawa, some riders are breaking this bylaw.
Another problem was riders parking the scooters on sidewalks and pathways, where they pose as an obstacle to pedestrians. It's an more serious hazard for individuals with disabilities.
"One of the things I have put forth to try to help with the parking situation is to have parking spaces converted into scooter spaces," said Menard. "One parking space can hold 10 to 20 scooters. It would be a much better use of those parking spaces and gets the scooters out of the right of way and the sidewalks."
He noted the pilot program was approved for this summer on the condition that the scooter companies put in place better technology for riders, such as geofencing to keep riders off public sidewalks.
Menard said any failure to follow parking and riding rules will result in fines against the scooter companies.
Phillip Turcotte, chair of the city's accessibility advisory committee, emphasized that the past two years of the e-scooter pilot program have not shown enough progress on safety issues to satisfy the concerns of disability advocates.
He said this summer is going to be a "make or break" trial for the program in Ottawa.
In a memo sent to councillors after the program was approved, the accessibility advisory committee set out recommendations they said the municipality should implement to ensure that e-scooters do not continue to pose a serious risk to those with disabilities.
One of AAC's main recommendations is to ensure that all concerns and complaints regarding e-scooters are addressed within 15 minutes of the complaint being made to ensure prompt action is taken. The advisory committee also recommended that there be a "three-strike rule" for riders who improperly park their scooters.
In a statement, the City of Ottawa said "trip data and public feedback gathered in 2021 showed that shared e-scooters provided a convenient mobility option that some residents used to replace short car trips.
"Demand for e-scooters increased last year, both in total trips taken and average daily trips. Most customers used the service to run errands or to get to social activities, appointments, stores, restaurants and work," the city statement added.
"Changes proposed for 2022 would address the most common complaints of sidewalk riding and improper parking, and improve reporting, monitoring and enforcement. Staff would report back at the end of the 2022 pilot season with recommendations for the future of the program."
Melodie Cardin, a professor specializing in disability issues in the media at Carleton University, said the benefits of the program do not outweigh the accessibility drawbacks.
"Ultimately I would suggest that moving towards having more downtown spaces being closed to cars would create plenty of room for e-scooters, and also for people in wheelchairs and people with limited mobility."
---
More Stories