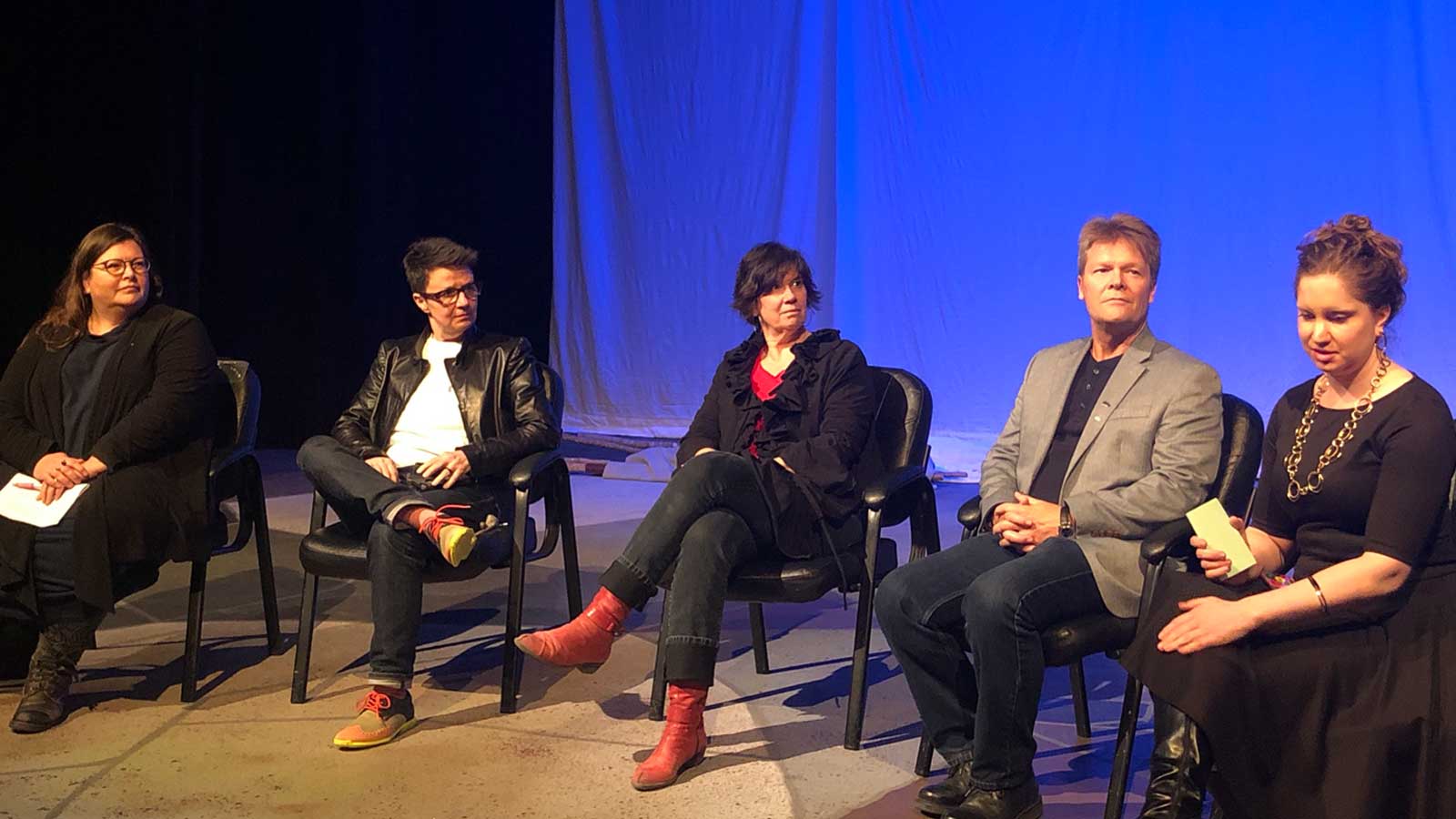 On a recent chilly Wednesday afternoon, a group of young adults and senior citizens all sporting red toques surround the Heritage Building at City Hall. With a blaring megaphone, their voices echoed all the way down Elgin Street. Curious pedestrians passed by, some ignoring the rambunctious affair, while others signed a handmade petition using a fire hydrant as a makeshift desk.
Corey Daniels, an older woman with an Annie Lennox silver hairdo and a puffy red jacket, was avidly speaking to anyone walking by.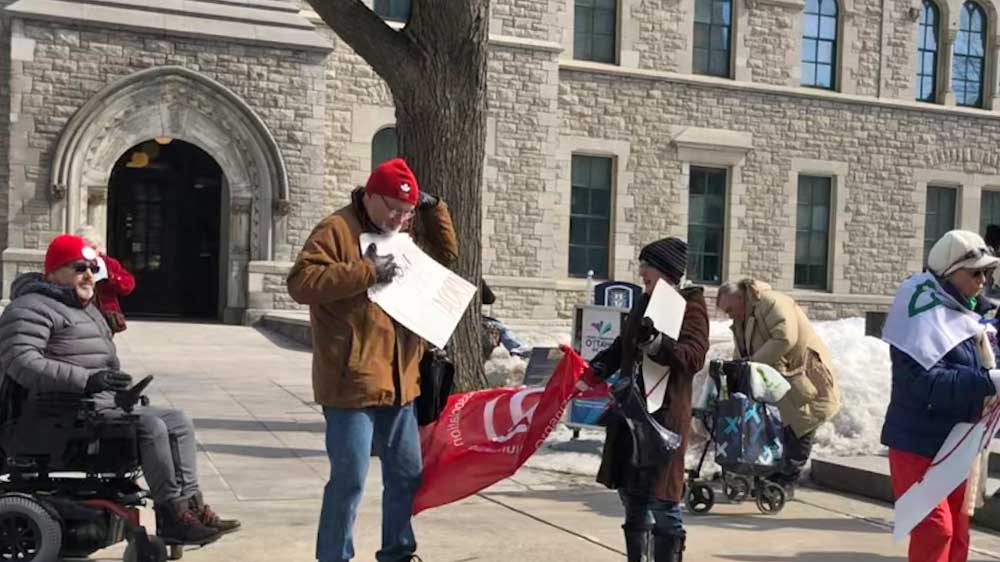 "This man here, this man right here!," she shouts to the protestors. "We've got someone here who wants to sign!"
The group want the federal government to address the growing need in Ottawa for affordable housing. That includes many seniors.
They are also calling on landlords and property developers to stop preying on low-income households.
"This is the reality, OK? The government is lying to us," says Daniels. "The man in office breathes the same air that we do. He will probably live as long as we do. Yet, at the end of the day, he gets to fill his coffin with coins."
Daniels is no stranger to having difficulty in making ends meet. Living in Ottawa and taking care of three sons, she says she has reservations about paying high rent.
"I'm not paying $1,400 a month. I'd honestly rather live in a sack as small as a bus stop for less," she says. "But some people like in Heron Gate are being told by condo developers to just leave and go out on the streets. How do you deal with something like that?"
Many seniors are suffering in substandard accommodation, says Marie-Josée Houle. The executive director of Action-logement, a francophone organization in Ottawa that helps find affordable housing for at-risk individuals, was speaking at a public panel at the Gladstone Theatre.
"We've been seeing abuse when seniors are paying real money to live in sub-par conditions, and they're suffering. People are profiting from that misery," says Houle. "And there's not much bylaw enforcement to help people who are paying money to live in squalor."
Houle says targeting low-income seniors is an "overt violation of human rights."
"Seniors are being discriminated," she says. "Landlords can ask, 'What do you do? What's your income? Oh sorry, we don't take people who don't work.'"
Houle says in a climate of falling vacancy rates and rising rents seniors are having difficulty finding and keeping a place to live. In 2017, her organization alone had more than 10,500 names on a waiting list to find proper housing. Most people, she says, will wait between five to 12 years.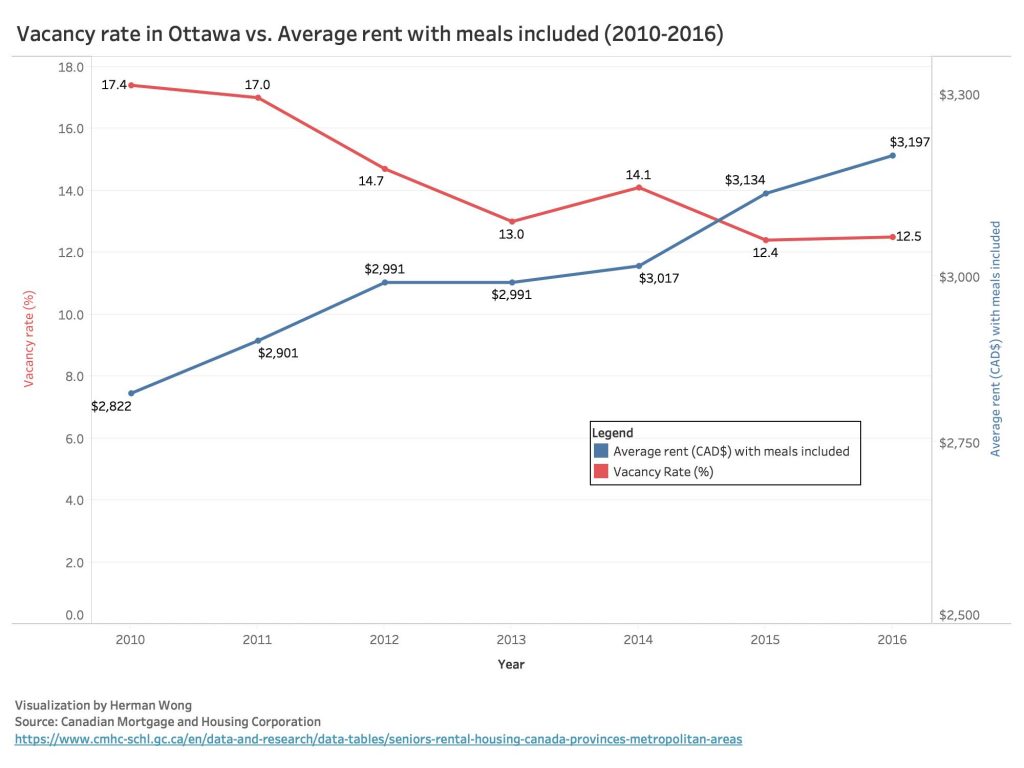 "We've had reports for a long time, and my team is burnt out. But seniors are losing their health, their homes and going bankrupt," says Houle. "Right now, people that come to our doors are desperate. And they're feeling in a squeeze by being let down by a social system that is not finding the solutions."
On March 19, the federal government allocated $10 billion to support the availability of affordable housing. And in early March, Ottawa city council also announced they would spend an extra $15 million for housing.
However, how the money will be spent is unclear. For city councillor Catherine McKenney, the city's 10-year Homelessness and Housing Plan that began in 2014 already needs a revision. Now at the half-way point, she says Ottawa needs to revamp the plan that "has targets, but no action items to get there."
"It's far too easy to walk away from a plan and come back four years later," says McKenney. "What exactly are we going to do to shorten that wait list by 50 per cent, for example? What is the actual evidence?"
McKenney says the city can greatly benefit from the input of organizations like Houle's that work "in the trenches" with seniors.
"I think we need to take a step back," she says. "We need to build trust back with the city and tap into the real expertise — the people there in the organizations and in the community."