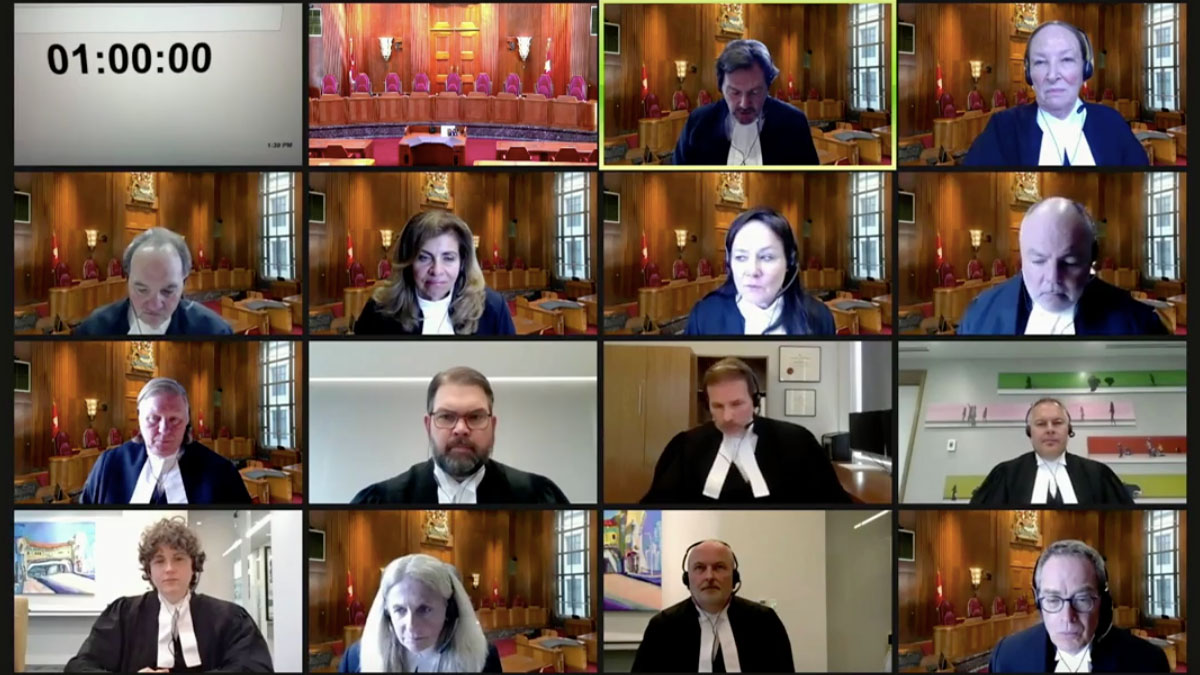 The Supreme Court of Canada made history on Tuesday, hosting its first remote video hearing.
The hearing, which took place over Zoom and was streamed live through the court's website, began with an opening statement by Chief Justice Richard Wagner, who acknowledged the potential stumbles that could come with the new format, which was prompted by the COVID-19 pandemic.
"None of us have ever done this before," said Wagner. "There will be hiccups, there may be even unexpected visits by children and pets. That's OK. There are things that are beyond our control, like the COVID-19 pandemic."
The appeal involved a lawsuit over the financial arrangements between a Burnaby, B.C., office complex and the company running its parking lot.
The proceedings weren't interrupted by puppies or babies, but by technical difficulties.
After Wagner's introductory remarks, the court heard from Stephen Hamilton — one of the lawyers arguing the case — whose presentation was cut short due to internet glitches that prompted an unscheduled 18-minute break.
The first-ever fully virtual hearing of the Supreme Court of Canada has concluded. #SCCVirtualCourtroom hearings will continue for the rest of the week. Watch live each day on our website: : https://t.co/Fcu2dJHQB2 pic.twitter.com/JmLhPMuLL6

— Supreme Court of Canada (@SCC_eng) June 9, 2020
After the hearing resumed, it unfolded like an online business meeting with lawyers presenting information while the judges and other lawyers — along with members of the public — observed from their homes or offices.
All nine justices wore their black robes and white bands, and each displayed the red-leather chairs from the Supreme Court as their background photo.
Kenneth McEwan, representing the appellant, gave his remarks from behind a podium, similar to a courtroom setting.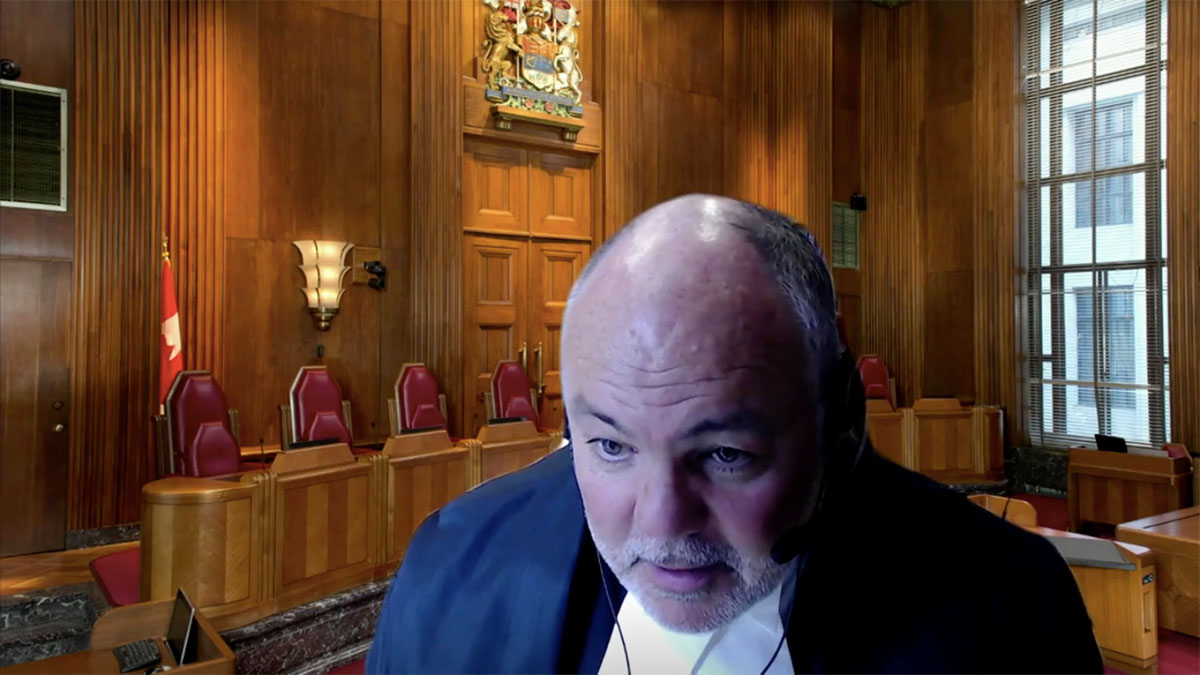 "Just remember that we are here for your arguments — not the angle of your camera or your facility with the mute button," Wagner stated at the beginning of the hearing.
Even though no one had issues with their mute button, lawyer Wes McMillan — representing a homeowners' association — had video glitches. His arguments could be heard, but he could not be seen.
"We are adapting, but nothing is perfect the first time," Wagner had accurately predicted.
Kyla Lee, a Vancouver-based criminal lawyer who has appeared before the court, told Capital Current in an email that the Supreme Court's new virtual reality is a positive development.
"For a lot of people, a hearing at the SCC is cost-prohibitive because it involves flights, staying in Ottawa, and physically attending a court in person," wrote Lee.
"This opens the door to greater access to justice and easier mechanisms for people of limited means who have important issues to be heard to bring those cases forward."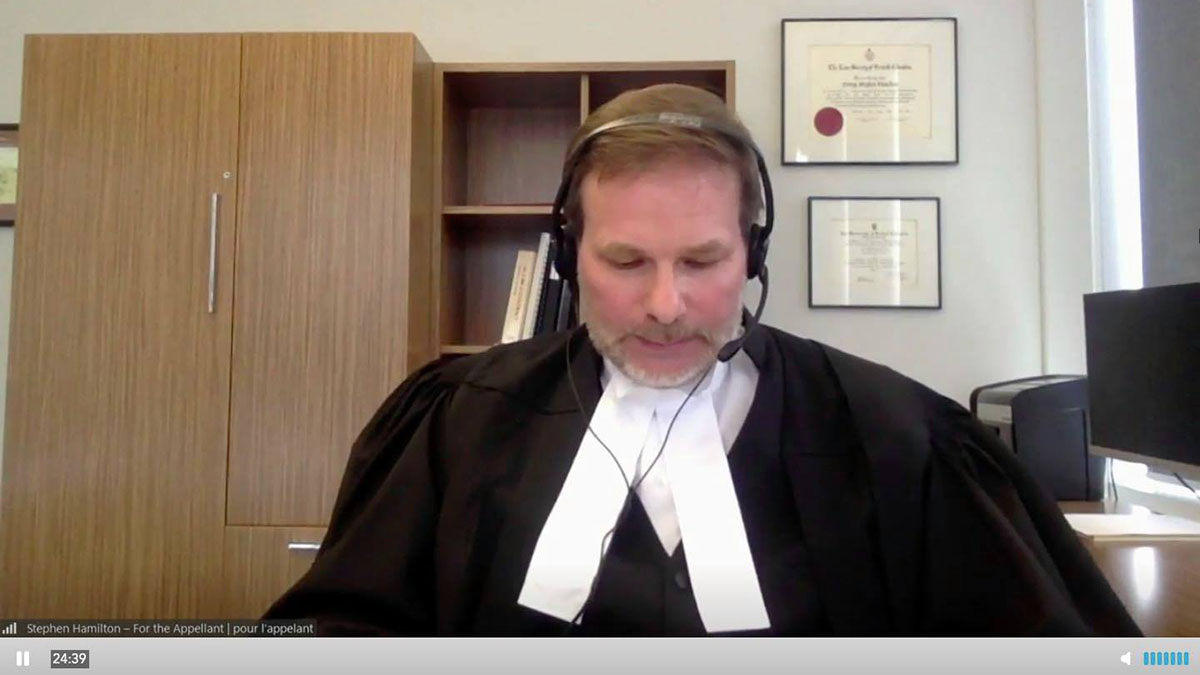 The pandemic has caused courts across Canada to change their practices. The Ontario Superior Court of Justice, for example, has moved from operating with paper documents to electronic files.
Tia Bélisle, a former student intern at Ottawa law firm Engel & Associates, said electronic filing will simplify procedures in the courts.
"I needed to make three copies per document and get each stamped at different places and then go back and submit them all," said Bélisle. "Filing electronically will be way quicker."
However, the change has stirred up concerns about transparency and privacy issues that frequently arise with the use of electronic platforms.
These concerns are being address by the E-Hearings Task Force, the mandate of which is to look at establishing best practices for virtual hearings and identifying a suitable electronic platform at the Ontario court.
The Supreme Court plans to hold three more hearings this week via video conference, the next one is Wednesday at 9:30 a.m.
---
More Stories