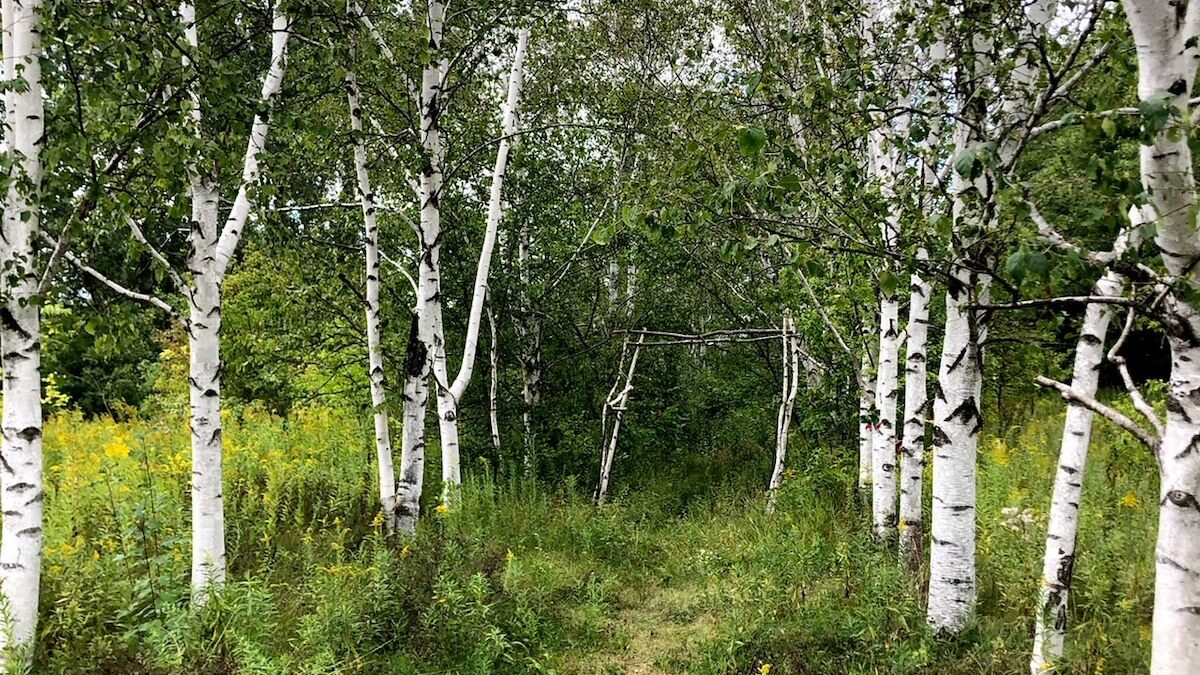 Two Ottawa communities will soon be home to healing forests, thanks to a new partnership between the David Suzuki Foundation and the National Healing Forests Initiative.
On the eve of the National Day for Truth and Reconciliation, the organizers announced that the Navan Healing Forest and Birch Path Healing Forest in Gloucester, along with 14 other projects across Canada, had been chosen from dozens of applicants. They will each receive grants of $2,000. These funds will help each group in the creation of their healing forest — a natural space aimed at honouring residential school victims and survivors and promoting reconciliation, healing and education.
"The beautiful thing about healing forests is that they can be any size and location," said Jode Roberts, rewilding communities manager at the David Suzuki Foundation, in a press release.
"What's important is that they bring people together to learn about this country's past, spend time in nature, and work towards reconciliation."
Already established in the Ottawa area are Manotick's Misiwe Ni Relations Healing Lodge, created in 2016, and a healing forest on the western end of Richmond Road created by the All Saints Summer Sunday School in 2019. Healing forests have also been established in Perth and Toronto.
Since launching in 2015, the NHFI has supported the creation of 10 other healing forests across the country.
'Taking up the torch' of knowledge
Kassondra Walters was with her mother at the Mohawk Institute in Brantford, Ont. — one of Canada's oldest residential schools — to mark the first National Day for Truth and Reconciliation in September 2021.
Walters, who is Oneida from the Six Nations of the Grand River, said her family is connected through intergenerational trauma. Her mother's family and her aunts went to the Mohawk Institute when it was still operating as a residential school, Walters said.
"When my mom and I stood there on that land, she said to me, 'I really want to learn about my family history, I just don't know where to start,' " Walters said.
It was then that Walters decided to "take up the torch" and learn about her family's history. As part of that mission, she became chair of the steering committee for the Birch Path Healing Forest in Ottawa's Blackburn Hamlet. 
"The journey of the healing forest — stepping into this role, taking up that torch of learning and connecting with traditional knowledge — has been a healing journey for me, my mother, my cousins and my extended family," Walters said.
Located on the 150-acre Just Food Community Farm, the healing forest currently consists of a stand of birch trees. Root in Nature, the therapeutic horticulture company that Walters works for as outreach coordinator, houses the forest on a community plot that's stewarded by the farm.
The actual construction of the healing space within the birch forest is yet to begin. But Walters said she has a vision of cedar benches in the formation of a medicine wheel and various types of native medicines planted throughout the forest.
With the help of the David Suzuki Foundation's partnership, Walters and the rest of her eight-member committee hope to partner with an Indigenous elder to consult on the creation of the space.
"We want to respect the traditions of this land and we would like to connect with an Algonquin elder who will help guide us so that we don't do any damage to the land," Walters said.
'When my mom and I stood there on that land, she said to me, 'I really want to learn about my family history, I just don't know where to start.' "

— Kassondra Walters, steering committee chair, Birch Path Healing Forest in Ottawa's Blackburn Hamlet
Tree planting organization Capital Forest will also be partnering with Root in Nature and the Just Food farm on this project. Walters said she's hoping for a spring completion date.
"We are just going to respect … our number one priority (of) connecting with our elder or knowledge keeper before we proceed," she said. "That being said, we're hoping and aiming for a spring dedication ceremony."
'An awareness project'
Meanwhile, in Navan, another healing forest is taking shape.
Last fall, Navan resident Catalina Clifford heard co-founders Patricia Stirbys and Peter Croal of the NHFI talking about their project on CBC.
"I thought it was such an amazing idea," Clifford said. "I went home, Googled it and started learning all about the different projects across Canada."
To Clifford, the idea seemed like a "no-brainer," primarily because of the Truth and Reconciliation Commission's 94 calls to action.
Despite receiving the grant, Clifford is still looking for a place for Navan's healing forest to call home. She has run into some barriers with unreturned phone calls and private land, but she's optimistic about a particular municipal park in the heart of Navan.
"Let's say you … take your dog for a walk. You can stop at the park, have a moment to yourself and just contemplate life or contemplate the reason behind this project," she said.
Clifford said she envisions wooden benches and stones for sitting on, as well as circular patterns and teachings of Indigenous culture. To collaborate on the design and creation of the forest, Clifford is anticipating an introduction to an Algonquin elder who can help guide her.
Partners include the Navan Community Association, District A4 Lion's Club, Friends of Mer Bleue, Ottawa Catholic School Board, City of Ottawa and a variety of community groups.
This forest, Clifford said, is her way of doing her part in recognizing the past and reconciling with Canada's Indigenous people. She's hopes the project can be completed in two or three years, allowing ample time to work with the municipality to bring her vision to life.
"(The forest) resonates a lot with the history of Canada," Clifford said. "I want this to be an awareness project. … I want people to be to have a responsibility to be aware, to know and to respect."
---
More Stories