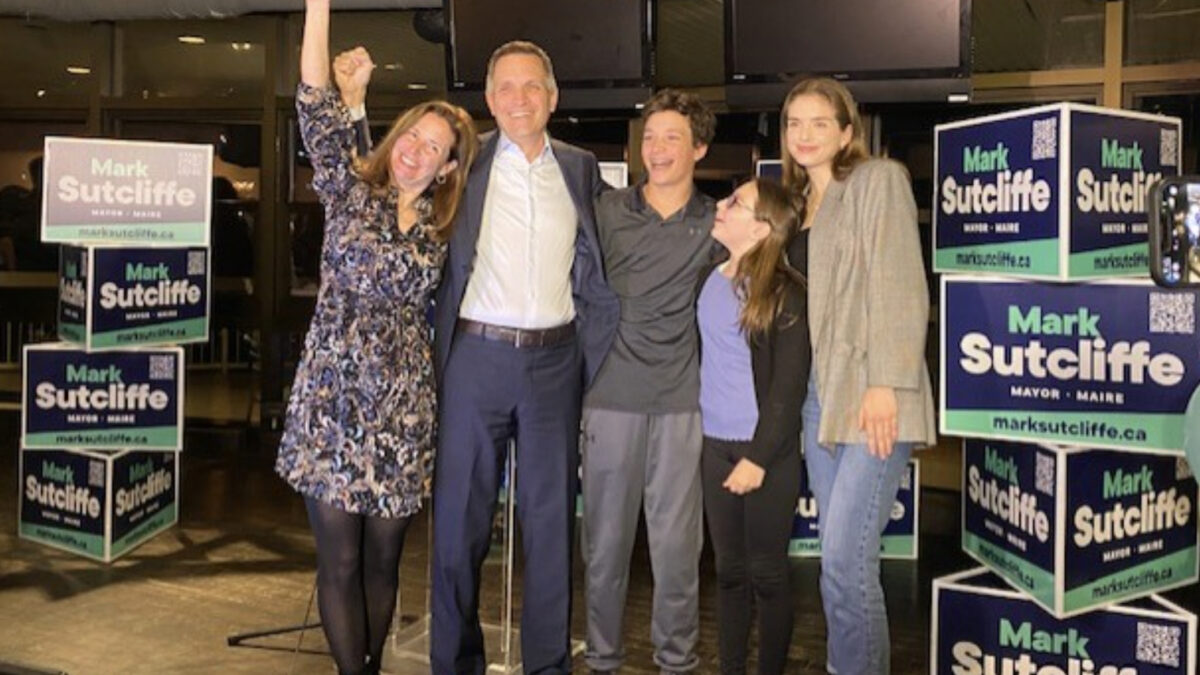 Ottawa voters delivered a resounding victory to centrist mayoral candidate Mark Sutcliffe on Monday, disappointing supporters of downtown councillor Catherine McKenney — the frontrunner for months until polls showed a tightening of the race and finally a dead heat in the final stretch of the campaign. ­
Sutcliffe, a well-known Ottawa radio and television broadcaster, newspaper columnist, entrepreneur and charity backer, had attracted dozens of high-profile endorsements during a campaign that emphasized fiscal restraint as a counterpoint to McKenney's proposed spending on major cycling infrastructure and other progressive projects.
"I am feeling a lot of emotions right now — humility, excitement, joy, relief," Sutcliffe said during his victory speech at Lago, a banquet hall on at Dow's Lake in south-central Ottawa. "But most of all I am feeling incredible gratitude. I'm so thankful for the experience that Ginny and I have had throughout this campaign. And I'm especially grateful for the tens of thousands of people who support our vision for the future of Ottawa."
He added: "Tonight the people of Ottawa made a clear decision. You voted for positive change. You voted for compassion and fiscal responsibility. You voted for a safer, more reliable, more affordable city. You voted for an approach that works for all of Ottawa . . . It is time for a change — that is what the people of Ottawa wanted — but it is also a time for unity."
Sutcliffe also heaped praise on his chief opponent in the mayor's race.
"I have always admired and respected Catherine, and every day during this campaign, I gained even more respect for them," "Catherine is a trail blazer. Catherine is an incredibly passionate advocate for the most vulnerable. And Catherine has an unequalled ambition for what our city can be."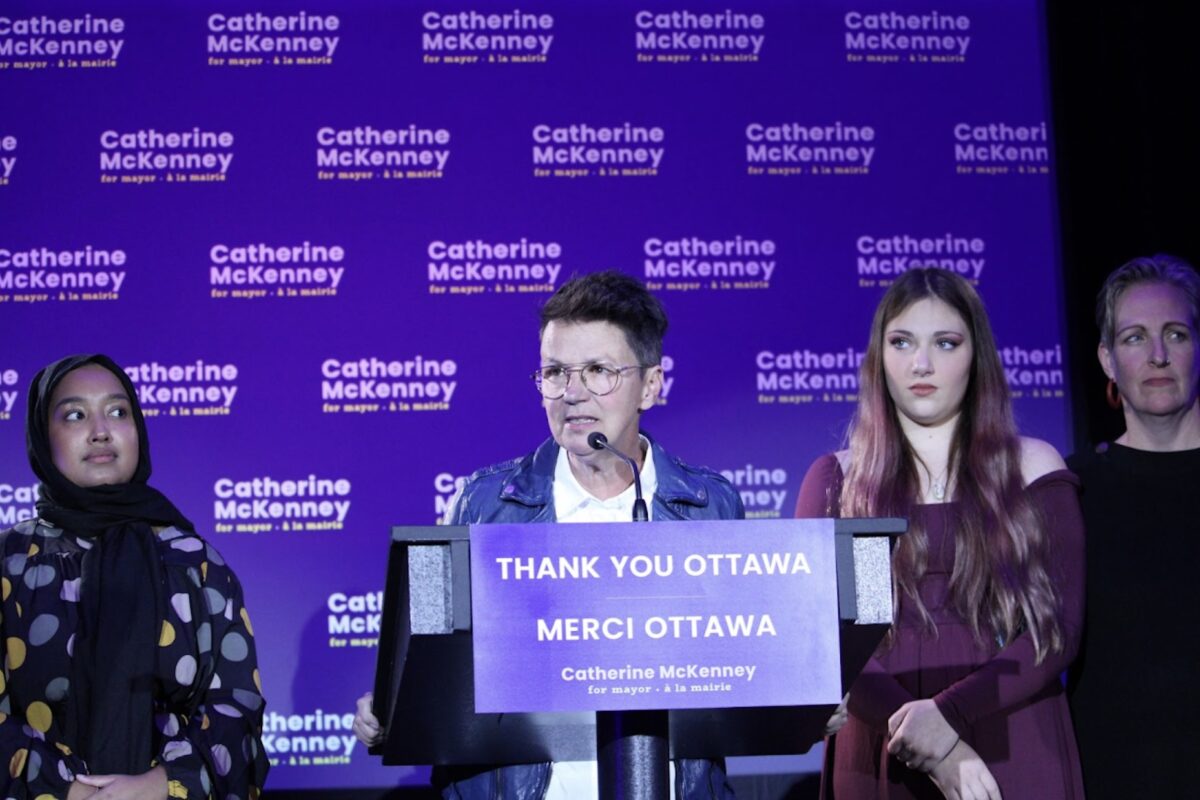 As early results came in, Sutcliffe appeared to be capturing more than 50 per cent of the votes in a field of 14 mayoral candidates, with McKenney drawing about 35 per cent and third-place finisher Bob Chiarelli — a former Ottawa mayor and ex-Liberal MPP — garnering less than six per cent.
By 11:30 p.m., the City of Ottawa's official election site had Sutcliffe with 51.37 per cent support, McKenney with 37.88 per cent and Chiarelli at 5.08 per cent. The total votes at that time for the top three candidates were: 161,679 for Sutcliffe, 119,241 for McKenney and 15,998 for Chiarelli.
"This is not the result we had hoped for. It's tough and it's disappointing, but we are going to move forward," McKenney said during their concession speech at All Saints Event Space in Sandy Hill, where hundreds of their supporters had gathered to watch the results come in.
"Tomorrow we will get back up," McKenney added, "and keep working to create the city we deserve."
Answering questions from reporters, McKenney said the election presented "two very clear and different visions for the city and one was chosen over the other. It's as simple as that. That's the way especially municipal politics goes down."
They added: "Obviously, I'm gonna move on from municipal politics. I had a great run at it."
For the first time in nearly two decades, Ottawa's race for mayor did not include an incumbent. And as voters headed to the polls on for the Oct. 24 balloting, a tight, two-way race for the top job in the city highlighted a watershed election that would also see about half of city's council seats go to newcomers.
The mayoral campaign had McKenney and Sutcliffe leading the race for the position vacated by long-time mayor Jim Watson. Chiarelli was well back in the polls, typically hovering around 10 per cent but gradually lost support as the campaign headed toward its conclusion.
McKenney, two-term councillor for Somerset Ward encompassing Centretown and the city's downtown business district, led a campaign that resonated with the views of many in their ward and surrounding communities. Sutcliffe's campaign was aimed more at residents of the city's suburban and rural areas where most of the city's population and council seats are located.
"I promise I will be a mayor of all of Ottawa," Sutcliffe said pointedly in his victory speech.
One issue the frontrunners repeatedly went head-to-head on was transportation.

McKenney's financial plan emphasized a campaign-defining goal to fast-track safe cycling in the city, allocating $250 million over four years to biking infrastructure.
With improved and extended bike lanes mainly impacting Ottawa's downtown, Sutcliffe was focused elsewhere. He insisted he would not "declare war on cars," and questioned the wisdom of McKenney's spending pledges in a late-campaign mayoral debate, criticizing his rival's plan to dip into city reserves for a portion of the financing.
"I think it comes down to who the taxpayers of Ottawa are going to trust going forward with their finances," Sutcliffe said.
Sutcliffe's financial plan was highlighted by a strategic review of city spending to uncover $35 million to $60 million in "efficiencies." This money would go towards initiatives such as improved public transit and maintaining low taxes, he said.
Sutcliffe promised to cap property tax increases at 2.5 per cent for the next two years and suggested that some staff positions will be cut. McKenney had promised a maximum tax increase of three per cent yearly.
The two candidates clashed over policies addressing the climate crisis, housing affordability, the so-called "Freedom Convoy" and policing. McKenney drew attention to a column Sutcliffe wrote for the Ottawa Citizen during the trucker occupation of Parliament Hill and surrounding Centretown in which he blamed the federal government for driving a "wedge" between Canadians rather than seeking a negotiated solution.
McKenney, meanwhile, emerged as a leader of grassroots resistance to those who blockaded the capital for more than three weeks.
Just days before the Oct. 24 vote, McKenney and Chiarelli called on the Ottawa Police Services Board to delay its decision to appoint a police chief until the new council is sworn in on Nov. 15. The candidates said the elected mayor should have a say in who heads the police force after a controversial year in which former police chief Peter Sloly abruptly resigned in the midst of February's convoy occupation debacle.
The board did not delay the hiring and named Eric Stubbs, who is leaving his post as an assistant commissioner with the RCMP in British Columbia, to head the city force.
Sutcliffe supported the board's decision to appoint the new chief. Police board chair Eli El-Chantiry is an honorary co-chair in Sutcliffe's campaign.
McKenney and Sutcliffe received high-profile endorsements. Backing McKenney were former Bank of Canada governor Mark Carney and former Ottawa Centre Liberal MP and federal environment minister Catherine McKenna.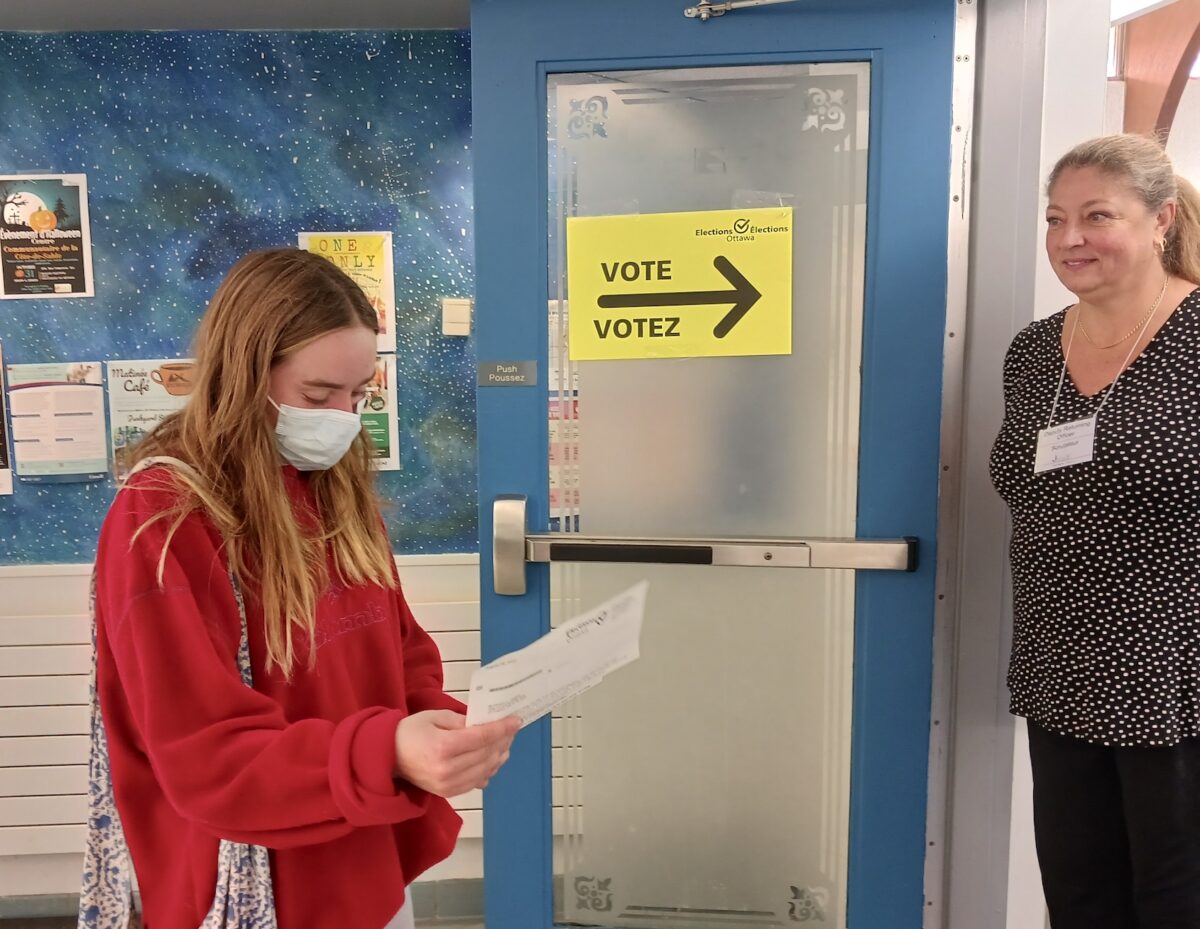 Sutcliffe's list of endorsements included former mayors, provincial and federal cabinet members, as well as the Ottawa Citizen's editorial board.
Other mayoral candidates included Nour Kadri, Brandon Bay, Bernard Couchman, Graham MacDonald, Ade Olumide, Param Singh, Mike Maguire, Celine Debassige, Gregory Guevara, Zed Chebib and Jacob Solomon.
In the 2018 municipal election, just 38 per cent of eligible voters cast ballots. More than 56,000 voters took advantage of advance polls in the vote four years ago.
This election, nearly 85,000 residents voted at advance polls, which appeared to be an early indicator of greater voter turnout.
As of 11:30 p.m., voter turnout was running significantly higher than in 2018 at 43.79 per cent, according to Elections Ottawa. Of the 722,227 eligible voters in the city, 316,260 had cast ballots in the election.
Ottawa City Hall will welcome 11 new city councillors. Ten incumbent councillors chose not to run for re-election, and the new Barrhaven East Ward will see its first councillor.
All 13 incumbents running for re-election were successful in reclaiming their council seats, according to unofficial results as of 10:30 p.m.: Matthew Luloff (Orléans East-Cumberland), Laura Dudas (Orléans West-Innes), Cathy Curry (Kanata North), Glen Gower (Stittsville), Theresa Kavanagh (Bay), Tim Tierney (Beacon Hill-Cyrville), Rawlson King (Rideau-Rockcliffe), Jeff Leiper (Kitchissippi), Riley Brockington (River), Shawn Menard (Capital), Catherine Kitts (Orléans South-Navan), George Darouze (Osgoode) and Allan Hubley (Kanata South).
The 11 newcomers who were elected to council according to late but unofficial results are: David Hill (Barrhaven West), Wilson Lo (Barrhaven East), Clarke Kelly (West Carleton-March), Laine Johnson (College), Sean Devine (Knoxdale-Merivale), Jessica Bradley (Gloucester-Southgate), Stéphanie Plante (Rideau-Vanier), Ariel Troster (Somerset), Marty Carr (Alta Vista), David Brown (Rideau-Jock) and Steve Desroches (Riverside South-Findlay Creek).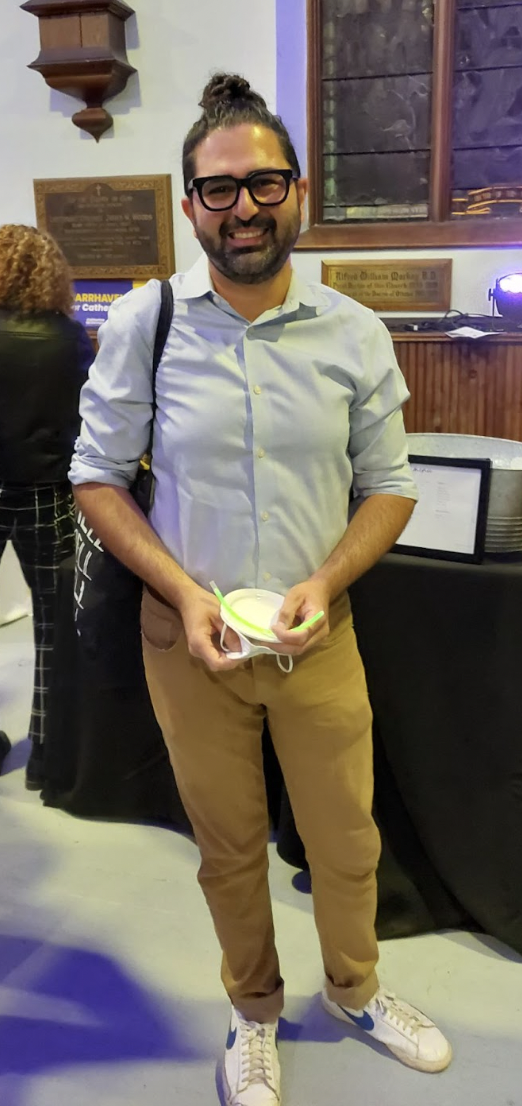 Kiavash Najafi was a volunteer for McKenney's campaign and gathered with other supporters of the candidate on election night at the All Saints Event Space in Sandy Hill. He said that although he and other McKenney backers were feeling some "anxiety about the results" before the polls closed, he felt "very proud of the fact that the campaign has been mistake-free."
"It's been an amazing campaign, it's been a true inspiration to watch the community rally behind Catherine's vision for a better city," he said.
At the Sandy Hill Community Centre, one of the main polling stations in Rideau-Vanier (Ward 12), about a dozen residents were lined up to cast their ballots before the 10 a.m. start of voting on Monday.
Those exercising their franchise early in the day were treated to an unseasonably warm, sunny autumn morning as they headed by foot to the community centre on Somerset Street East — walking past front yards with lawn signs variably showing support for top mayoral candidates Catherine McKenney, Mark Sutcliffe and Bob Chiarelli, as well as contenders for the local council seat.
Along with the political messaging displayed in front of many homes were half-buried skeletons, ghosts dangling from trees and "R.I.P." tombstones marking the approach of Halloween exactly one week after election day.
As in many other wards in this year's municipal election, Rideau-Vanier incumbent councillor — 37-year-old Mathieu Fleury, who had held the seat since 2010 — decided not to seek re-election. Ten candidates ran to replace him.
The main headline on the pre-election issue of the neighbourhood newspaper, Sandy Hill Image, highlighted a range of solid contenders: "Many qualified candidates are seeking election to represent us." Among them were the two perceived frontrunners: federal public servant Stéphanie Plante, an activist with the local community association who teaches a course on municipal governance at the University of Ottawa, and Laura Shantz, a cycling advocate who has also served as a board member with Ottawa Transit Riders.
Plante won a narrow victory. More than 12,000 resident of the ward cast ballots and Plante captured just a few hundred more than Shantz. The two top finishers gained 37 and 34 per cent of the votes respectively.
Ballots in Rideau-Vanier also listed six candidates vying to become the Zone 6 trustee with the Ottawa-Carleton District School Board, which covers Rideau-Vanier and neighbouring Rideau-Rockcliffe Ward to the east.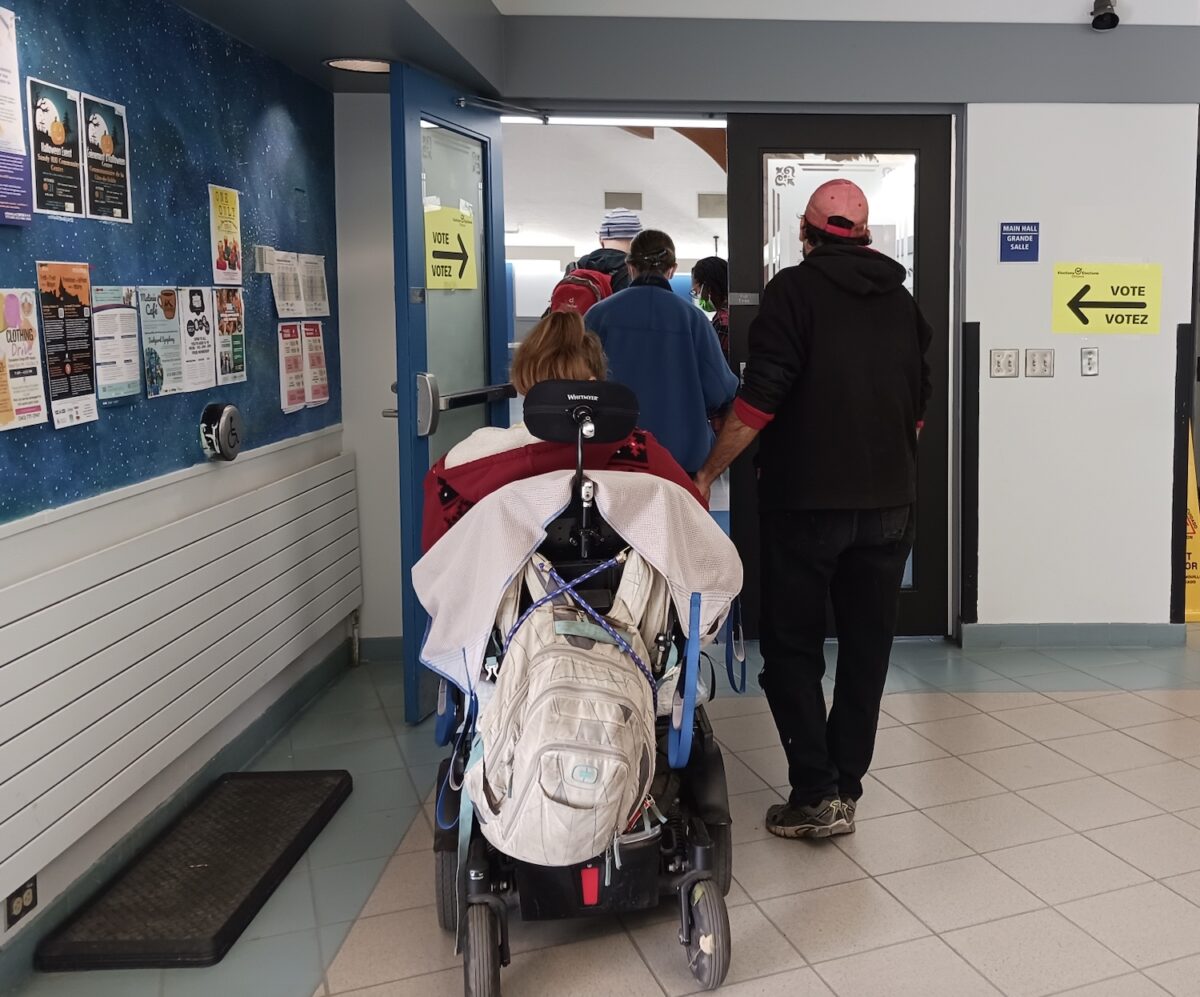 Lyra Evans — first elected to the English-language public school board in 2018 and seeking re-election on Monday — became the first trans school trustee in Canada when she topped the balloting four years ago.
That trustee race was particularly divisive. But Evans won her bid for re-election amid concerns over anti-trans rhetoric voiced by other candidates. Evans' competition in the election included Shannon Boschy, a candidate who has been vocal about his anti-trans views.
Boschy was among eight OCDSB trustee candidates named as most likely to "endanger the rights and safety of trans students if elected," according to a release circulated by the progressive political coalition Horizon Ottawa ahead of election day.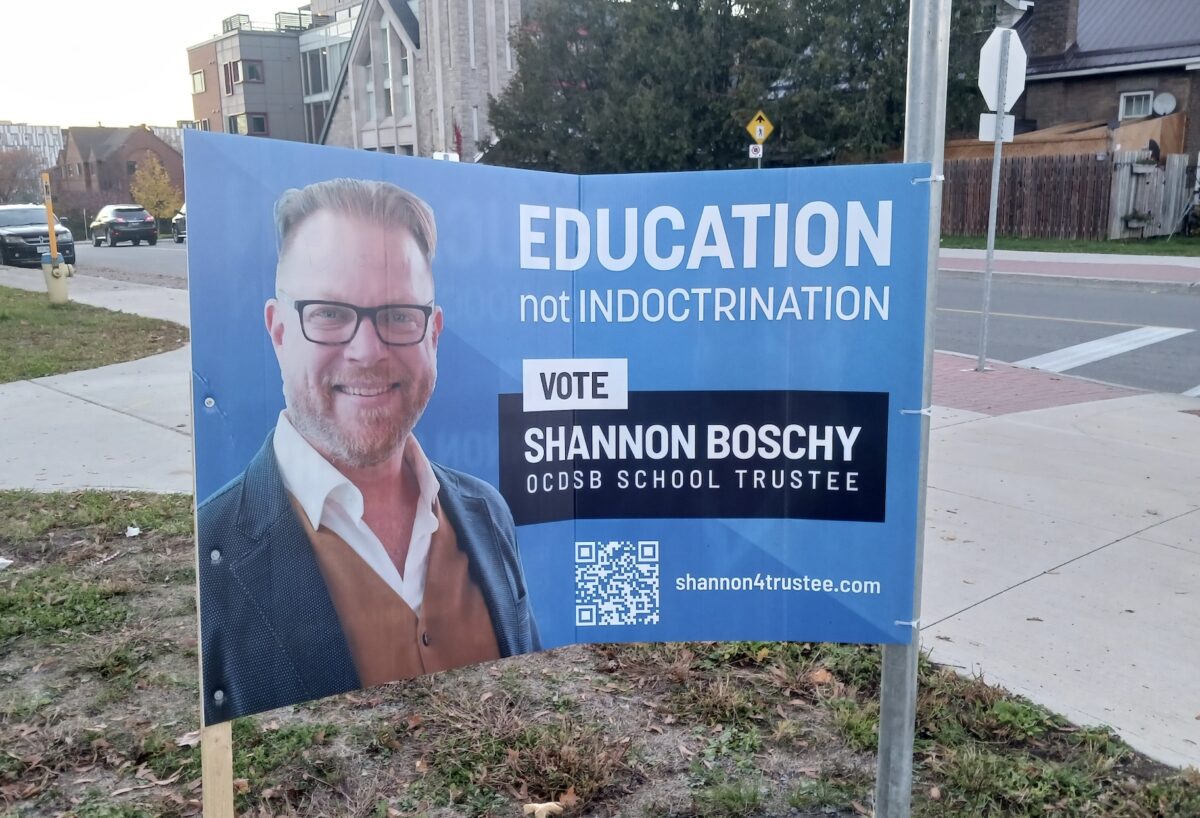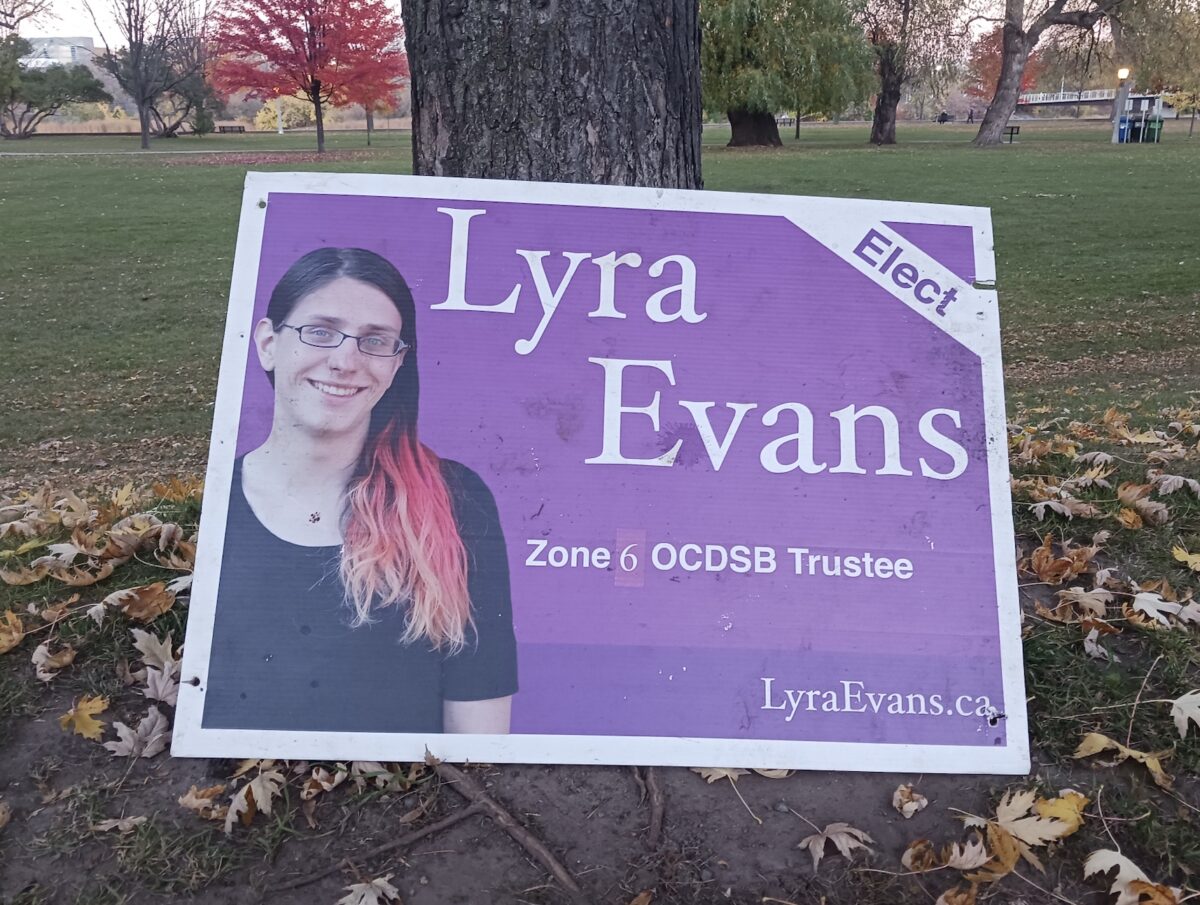 The release, which was signed by nine local organizations including the Canadian Centre for Gender and Sexual Diversity and the Ottawa Coalition to End Violence Against Women, strongly urged voters to protect trans youth by rejecting transphobia and bigotry at the ballot box.
One of Boschy's signs on Range Road in Sandy Hill was seen on election day defaced with a slur and a red-tint to the eyes, penned by someone clearly supportive of the campaign labeling Boschy and other trustee contenders as anti-trans.
Evans was endorsed by the Ottawa-Carleton Elementary Teacher's Federation in a letter advocating for "the right of 2SLGTBQIA+ students and educators to an inclusive and respectful learning and working environment, free from discrimination and harassment."
Elsewhere:
There were a number of other high-profile mayor's races across Ontario during municipal election day in the province:
MILTON: Believed to be Canada's longest serving mayor, Gord Krantz secured a 14th term in Milton, west of Toronto. Krantz ran against three opponents, but with 82 per cent of the vote in 2018, few were concerned about Krantz's chances at re-election.
LONDON: The race for mayor of London was anybody's game, after incumbent Mayor Ed Holder chose not to run for a second term, becoming another one-term leader in London's recent history. Two-term city councillor Josh Morgan edged out nearest competitor Khalil Ramal and eight others to take the city's top political post.
WOODSTOCK: In Woodstock, incumbent Mayor Trevor Birch lost his bid for re-election to challenger Jerry Acchione. Birch ran for re-election despite facing six sexual assault charges, and until recently, did not appear to be campaigning.
BRAMPTON: Patrick Brown, former MP and ex-leader of the provincial Progressive Conservatives, secured a second term as head of Brampton's city council. Brown took on the role in 2018 after stepping down as Ontario PC leader following allegations of sexual harassment, which Brown denied. In his time as mayor, Brown faced allegations of financial and contract irregularities.
TORONTO: Despite the names of 31 candidates on the mayoral ballot, the race for mayor in Toronto didn't throw any curve balls, with incumbent John Tory securing a third term as leader of Canada's largest city. Tory said he plans to focus on housing, and unlike other contenders, was in favor of using strong mayor powers to advance housing in the city.
PORT COLBORNE: It was brother against brother in Port Colborne, on Lake Ontario east of Toronto, as incumbent Mayor Bill Steele beat out his only competition, brother Charles Steele. Charles Steele had said in interviews that he hadn't spoken to his brother in decades, and only ran so that Mayor Steele wouldn't run unopposed.
HAMILTON: Former NDP leader Andrea Horwath won her race for mayor of Hamilton. Horwath, who stepped down as provincial NDP leader earlier in the year, served for three terms on Hamilton city council starting in 1997. She will be the city's first female mayor.
With files from Capital Current staff
---
More Stories