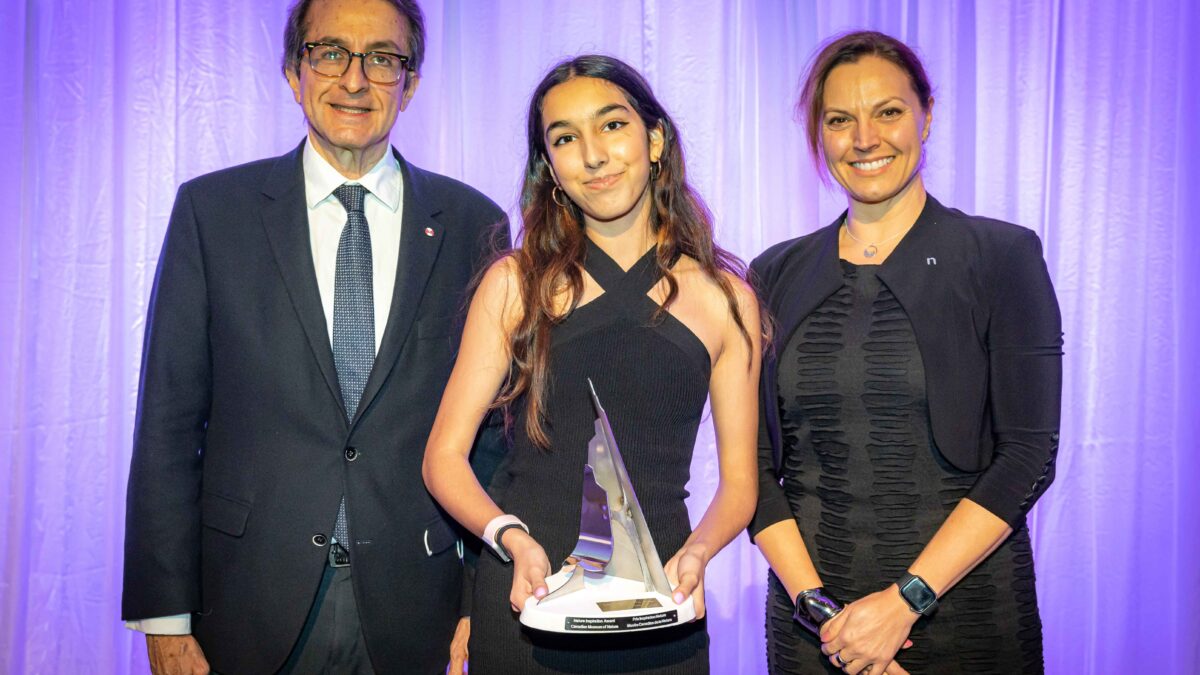 The winner of the 2022 Youth Nature Inspiration Award is 16 year old science whiz Naila Moloo, an Ottawa student who has gained national attention for her innovative leadership on projects such as the creation of flexible solar panels.
The Nature Inspiration Awards are organized by the Canadian Museum of Nature and recognize individuals and organizations that have made outstanding contributions to the environment and sustainability.
For Dr. Danika Goosney, the museum's president, Naila was the perfect fit for the youth award.
"It wasn't just one particular project or initiative that was impressive about her," said Goosney. "It was her overall contributions to nature and society through, not just her projects — being flexible and adaptable solar panels — but also supporting initiatives to support girls in STEM on her podcast, The Curiosity Podcast, or speaking appearances."
Naila has been named one of Canada's Top 100 Most Powerful Women, in addition to one of the Top 25 Under-25 Environmentalists. She was also named 2022 Woman of the Year by the Toronto Metropolitan University-based DMZ technology incubator.
And the list of achievements goes on. Naila has also won the Indigenous+Youth Innovation Challenge for her flexible solar panel project. The challenge allows Canadian youths to present solutions to local and global challenges.
In addition, Naila has spoken in multiple forums, advocating for the role of women in science.
Her Curiosity Podcast explores new technologies and frameworks to help young people discover their passion and talent.
Naila is deeply involved in environmental research, working with a lab in Toronto to create the adaptable solar panels. Her goal is to create a flexible solar energy source that can be placed on any surface. Closer to home, she is working on creating a type of bioplastic out of Duckweed with Carleton University Professor Tyler J. Avis.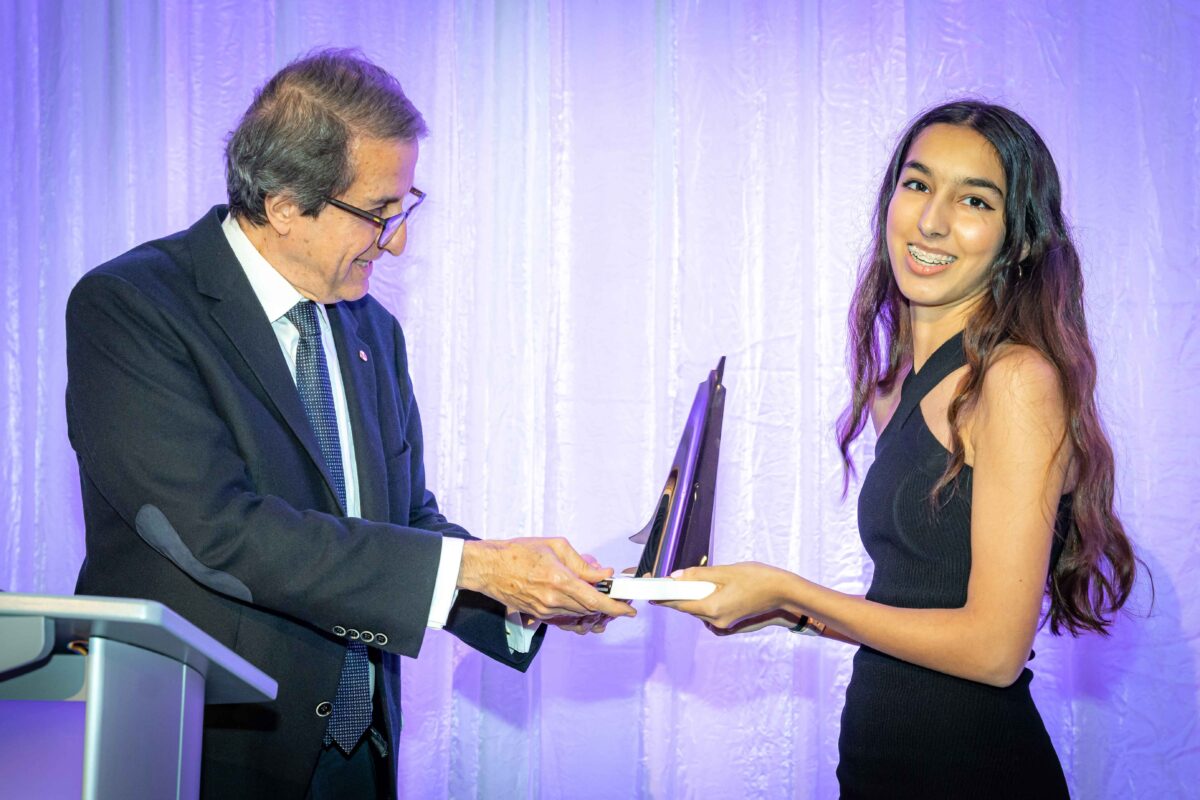 In addition to her projects in science, she is also a published novelist. She published the first instalment of her duology, Chronicles of Illusion, when she was 14. It was a No. 1 bestseller on Amazon in the magical realism category. The second instalment was published earlier this year.
"That is kind of what I thought I was always going in to, was writing, before Grade 8. I think being exposed to writing in school and really enjoying creative writing and just starting with short stories and then expanding to novels," she said about love for fiction.
Naila began her journey in Grade 9 at Elmwood School at Ottawa's Rockcliffe neighbourhood. Naila enrolled The Knowledge Society (TKS), a special enrichment program. Ian Lockhart, the director of programs at TKS, describes the program as the "leading innovation for youth in high school."
Naila received a scholarship to TKS through her participation in the Canada Wide Science Fair.
"I loved how it focused on exponential technologies and helping youth build their own projects," Naila told Capital Current.
TKS is a two-year program in which select high schoolers learn about science, technology, mindset training and problem solving. TKS also prepares participants for leading their own initiatives and helps them make connections with industry players.
"My first impression of Naila was potential, but rough potential," recalled Lockhart. "Naila did not come in as the top student by any means. She was a really talented, smart individual, but she was not some genius. What she did have, though, was curiosity."
She says she got the idea for the flexible transparent solar panels then. Naila started reaching out to people, asking about the different materials and stages of development that her project would need.
"My idea just really kind of grew. I guess over the years I did more research and then I got into a lab just this past summer, where I started building out the electrodes. And then when you get into the lab there's a lot of failure that you encounter and a lot of things that you need to change up," Naila told Capital Current.
Lockhart was Naila's coach during her time with TKS. He continues to help her in her multiple projects, including the flexible solar panels and bioplastics initiative.
"I really wanted to push her. I knew she could do something awesome," said Lockhart.
She faced many struggles, one of which was finding the right material to make the solar panel as effective as possible.
"When you have transparency, the efficiency is really low. I'm trying to get to a decent efficiency. I know there are people in the past who have created transparent cells, and they're one-per-cent efficient, which is still pretty big. I'm trying to get past one per cent."
Despite her idea evolving, the core of it remained the same. And she faced many failures and doubts. 
"I don't think I actually really thought about giving up. There were just times of doubt and there still are, but I I think I really do like love the product ideas and I'm just having fun," she said. "I feel like there's really no pressure right now because I'm just a student, so it's not like there are people relying on me to build this."
"Naila is the perfect example of someone who is willing to work hard and dedicate themselves to a subject and not back down," said Lockhart. "I have been extraordinarily proud of Naila because I saw what she came in as and I see where she is now."
Naila's second project is a lot smaller, but closer to home. She is working to make bioplastic out of duckweed, a weed commonly found on still or slow moving bodies of freshwater.
"I'm looking into a second generation aquatic feedstock called duckweed because we don't consume it and it doesn't take up land to grow so, it's really beneficial in that sense," she said.
This is the first time duckweed is being used to create bioplastic.
"Right now, I'm just working on building out the bioplastic and then I'll work on like transforming it into specific products — but that is a whole different thing," she said.
Naila has been a public speaker in multiple forums, advocating for the role of women in science. Looking at her many achievements, it makes sense that when Naila heard about the Nature Inspiration Award, she decided to nominate herself.
"My dad's colleague actually sent it to him and she said that it might be a good fit for me," Naila recalled. "I looked at it and looked interesting and I wrote up an application and ended up getting to the next round."
The award nominations are initially reviewed by a team from the McLeod Street museum, creating a shortlist. The shortlist is reviewed a panel of judges made up of external partners and contributors to the award.
The final judging is "such a tough job because they are all really impressive and all outstanding people," said Goosney.
The award includes a $5,000 prize that is meant to be paid forward to an organization of the recipient's choice.
"I was excited," Naila said about accepting her award at a November gala at the museum. "It was a privilege."
---
More Stories