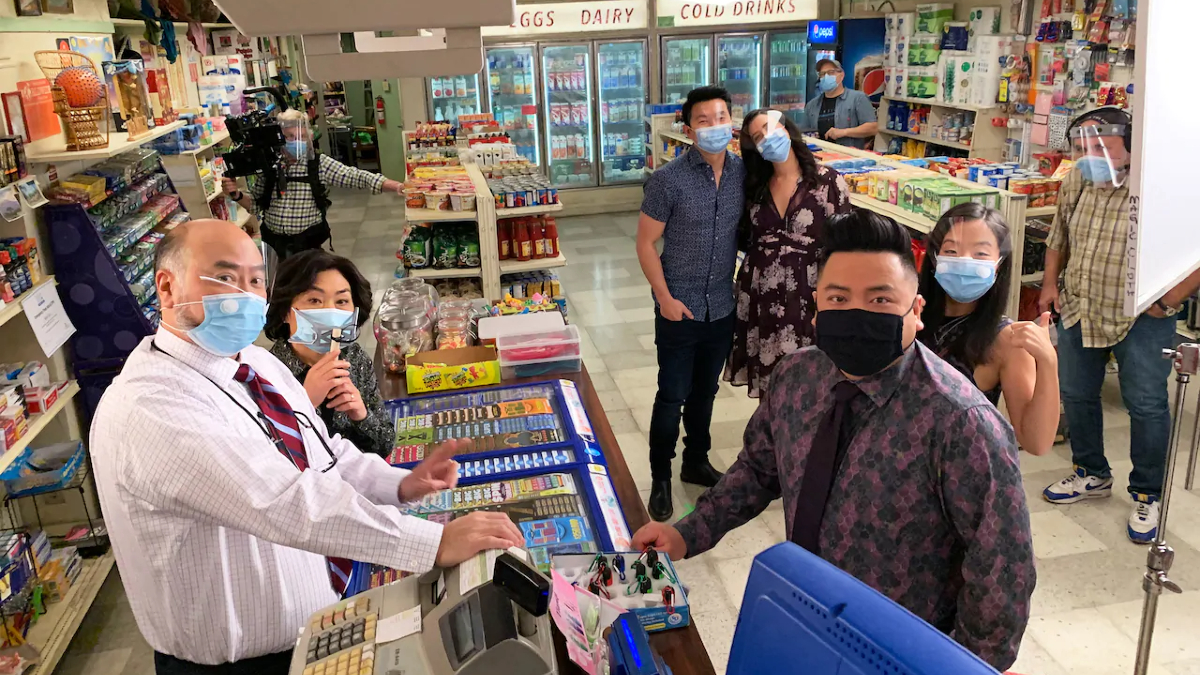 The sudden cancellation of CBC's Kim's Convenience shocked to both the show's fans and its cast. But for members of the Asian-Canadian community, the abrupt end does not erase the imprint the lighthearted sitcom has left on Canadian popular culture.
"It was a landmark show that featured an Asian-Canadian family for the first time in the history of Canadian television," said Deanna Wong, executive director of the Toronto Reel Asian International Film Festival, which showcases Asian cinema and works from the Asian diaspora community.
CBC announced the show's end after five seasons on March 8 due to the departure of the two series creators, Ins Choi and Kevin White, to other projects. The final episode aired Tuesday night.
"Given (the creator's) departure from the series, we have come to the difficult conclusion that we cannot deliver another season of the same heart and quality that has made the show so special," said a statement from the show's producers.
The way Kim's Convenience ended was shocking even for the show's starring actors. In a Twitter statement, Simu Liu, who played the family's son, Jung Kim, said that he had "fully expected to come back for (the) sixth season."
"It pains me that we will never see the Kims all together as a family, bidding farewell to the bodega that has defined their immigrant journey," Liu added.
Paul Sun-Hyung Lee, who played the family patriarch, shared the same sentiments as Liu about his anticipation for a sixth season.
"I said, 'We all need to go or none of us go,' " he said in an interview with the Calgary Herald. "We got the cast together, chatted about it and decided we were going to go for it."
But in the end, Lee said the show "died from within."
The cast members weren't the only ones mourning the cancellation. The audience that it had reached during the time it aired felt the same.
"It's a huge loss. There is no other Canadian show that features this many Asian characters. With the cancellation of Fresh Off the Boat (an American sitcom featuring a Taiwanese-American family) a few years back, it was the only one," said Wong.
The show had been an opportunity for Canadian actors of Asian descent to perform in a starring role.
Before Kim's Convenience, most Asian actors and actresses were often in minor roles or as an extra, said Hyeyoun Choi, a public relations co-ordinator for the Korean Cultural Centre Canada, an institution run by the South Korean embassy in Canada to promote Korean culture to Canadians.
Showcased challenges
Kim's Convenience also showcased the challenges faced by first-generation immigrants and their Canadian-born children. Struggling to make a living in a new land, difficulties in communicating with the younger Canadian-born generation and other obstacles portrayed by the Korean-Canadian family were part of the appeal of the show.
"It reflected the experiences of immigrant families in this country, not just Korean Canadians — immigrant families from everywhere could relate to the challenges faced by the Kims," said Wong.
Kim's Convenience is not the only recent TV portrayal of an Asian immigrant family in North America and Samantha Quang, a production co-ordinator for the Toronto-based TV company Out There Productions, says it may be part of a new wave of popular media featuring Asians, including Fresh Off the Boat.
Wong said these programs "(broadened) the range of Asian-American and Asian-Canadian stories in media."
However, Choi noted that it is important to remember Kim's Convenience only portrays one aspect of Korean culture.
"I'm sure that within (the Korean-Canadian community), there are a lot of different styles of family, different (kinds) of jobs they have — so definitely not the holistic picture of it, but one aspect of it for sure," she said.
Choi further explained that although the show does a great portrayal of one common way of living for immigrants — which is opening a convenience store or restaurant — the story does not represent the reality all of Korean-Canadian families or all Asian immigrant communities.
Wong said she believes it's important for media to reflect society, especially for Asian children who live in predominantly white or non-diverse neighbourhoods.
"Not seeing themselves in media entrenches that feeling of disenfranchisement. Representation helps them to feel a greater sense of belonging to the community at large," she said.
In the midst of a sharply increase in incidents of anti-Asian violence during the COVID-19 pandemic, the presence of Asians on screen remains an important part of normalizing Asians and diversity in popular culture.
At the very least, Wong said, the five-year run of Kim's Convenience has demonstrated that a show starring a mostly Asian cast can achieve mainstream success.
Choi echoed the same view.
"I personally think that it can be a stepping stone for more variety of Korean shows that represent more diverse aspects of Korean culture, not only a small single family running a convenience store," she said. "I just hope to see another series that portrays a different side of Koreans."
Although the show is coming to a close, Kim's Convenience isn't alone as an Asian-Canadian trailblazer in the television and film industry.
Ottawa-born actress Sandra Oh has been making waves since her breakout role as Christina Yang in Grey's Anatomy, and since then she has been leading the way for fellow actors of Asian descent.
Among her many accolades, she was the first Asian nominated for the Primetime Emmy Award for Outstanding Lead Actress in a Drama Series for her role in Killing Eve, adding to her 11 other Primetime Emmy Award nominations. In Golden Globe history, she is the first Asian woman to win two Golden Globes — and to host it in 2019.
Kim's Convenience's own Simu Liu is also set to star in Shang-Chi and the Legend of the Ten Rings, which will be Marvel's first film focused on Asian characters.
"Our talent is undeniable, and we are nowhere close to being finished," Liu said of his Kim's Convenience castmates in his Twitter statement. "If Kim's Convenience can stand for anything, let it be that amazing things can happen when you open the gates and allow more diverse and authentic stories to be told."
---
More Stories