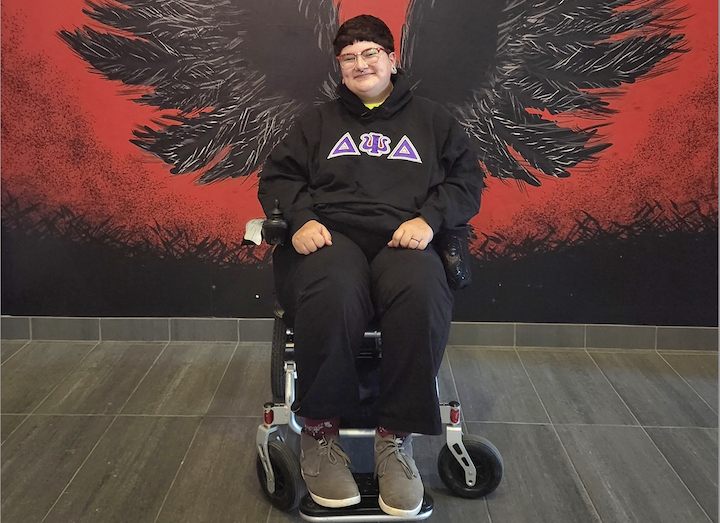 "Alpha, Delta, Phi, boom boom! We wanna go A-D-P, don't you? I wanna go A-D-P, boom boom!" blares out as dozens of young women chant while kneeling on top of one another in a triangle formation. They all look eerily alike, with their orange-toned tans and long, honey-coloured or golden-brown hair.
"Welcome to our home," they chant in unison. "We are so excited to have you."
This is just one of the scores of videos that have gone viral in recent years on social media outlets such as "Bama Rush Tok," which has made sorority recruitment week at the University of Alabama a worldwide sensation.
But the stereotypical sun-kissed blonde may not be the poster girl for North American sororities for much longer. Partly in response to the Black Lives Matter movement, fraternities and sororities have come under mounting pressure in recent years to diversify.
Many sororities are now striving to become more welcoming to Black, Indigenous, and other racialized students. But critics say this push for greater inclusion has, so far, largely ignored one of the most marginalized groups in society: people with disabilities.
A 2019 study in the Journal of Intellectual Disabilities found that students with IDD (intellectual and developmental disabilities) were less likely to participate in fraternities or sororities than those without IDD. The data, gathered from the College of Charleston and the University of South Carolina, found only 11 per cent of students who identified as having IDDs participated in fraternities and sororities, compared with 29 per cent of non-disabled students.
Social isolation
This reflects a broader trend of social isolation on campus for students with disabilities, research suggests. Students with disabilities participate in fewer social and extracurricular activities, such as clubs or on-campus events, than their non-disabled peers, according to a 2011 study in the journal, Disability Studies Quarterly.
"Higher education institutes still have a long way to go to reduce the gap in social inclusion of students with disabilities," the researchers concluded.
Cameron Jette, who uses a wheelchair, has seen first-hand how few students with visible disabilities belong to sororities.
A Carleton University alum and the former vice-president of Delta Psi Delta's Alpha Chapter at the school, Jette says, "Throughout my four years of experience in being a part of this organization, I really only encountered one or two other people with physical disabilities in other 'Greek' organizations."
"I talk to my friends of varying disabilities of different kinds, and a lot of the times they feel like they don't know if they will fit in," adds Jette.
In 2018, a George Mason University student with Down syndrome was rejected from all eight of the institution's sororities, despite the school's official commitment to diversity, according to an article in the U.S. magazine, Inside Higher Ed.
The problem persists despite a steady increase in the number of post-secondary students with disabilities in recent years.
In Ontario, the number of post-secondary students with disabilities rose by 132 per cent from 2010 to 2020, according to the Ministry of Education. By contrast, the non-disabled student population grew by 8.3 per cent during that time, the province reported.
Of the 3.7 million adults with disabilities in Canada, more than 40 per cent had some form of post-secondary education as of 2012, according to NEADS (the National Education Association of Disabled Students).
Slow to open
But many societies have been slow to open their doors to students with disabilities, critics say. Many fraternity and sorority houses in the U.S. don't even offer basic accommodations such as wheelchair accessibility, according to Jason Harris, an Ohio-based disability advocate who has autism.
"A lot of sorority and fraternity houses are not accessible in many different ways because they are (private) houses, so they can go around the ADA rules in the United States," says Harris, referring to the American Disabilities Act, which prohibits discrimination against individuals with disabilities, but does not apply to spaces owned by private organizations.
Similarly, the Accessible Canada Act applies to organizations under federal jurisdiction, but not to private venues such as sorority houses.
Jette remembers having to push beyond their physical limits "to be able to participate in certain things because, when I joined in the fall of 2019, people did not really consider accessibility.
"I remember we had a mixer that I wanted to go to, but it was at a house that was definitely not accessible, but I really wanted to go, so I said I would figure it out and pushed myself beyond my limits."
The lack of inclusiveness begins with recruitment events, observers say.
American and Canadian sororities belong to the National Panhellenic Conference, an umbrella organization made up of 26 sororities, with more than 400,000 undergraduate members across North America, according to the NPC website. Member organizations are expected to follow the NPC's Recruitment Reform Guide, which contains policies, guidelines and practices for the annual "rush." The 2018 (can you use the one for 2022?) NPC Manual of Information says these policies "reflect the combined knowledge and experience of the 26 autonomous member organizations".
Accessibility concerns
In April 2022, NPC made revisions to its Recruitment Guide in response to the call for greater diversity. Although the new Recruitment Reform Guide advises recruiters to "reconsider any required/recommended uniformity of hair, make-up, etc.", it makes no mention of wheelchair access or other accessibility concerns.
The chair of the Panhellenic Association (PHA) Accessibility Committee did not respond to interview requests, nor did the 15 U.S. and Canadian sororities contacted for this article.
Recruitment practices are critical to diversifying membership, notes Christa Bialka, an associate professor in Disability Studies at Villanova University in Pennsylvania.
"It starts with recruitment being more inclusive," says Bialka. It is important these organizations be accommodating and continually support a variety of members and their needs, she explains.
The lack of inclusion of disabled students is not necessarily intentional, she notes. Able-bodied individuals and those in a position of privilege are often not aware of the barriers present in the environment around them, Bialka says. For example, when planning recruiting events, they may not consider that people on the autism spectrum may need a quiet space they can use at some point during the event, she explains.
"You aren't thinking about the sensory environment of the space if that is something you've never had to think about before," she says.
Recruitment campaigns
Similarly, recruitment campaigns that focus heavily on image-heavy social media, such as
TikTok and Instagram, will not reach students with visual impairments, notes Katja Newman, awards program manager for NEADS, a Canadian organization that represents university students with disabilities nationally. Newman is blind and completed her undergraduate degree at Carleton University.
Organizations need to vary their outreach methods if they want to recruit diverse audiences, she says: "Depending on what platforms you are using, you are not going to find a lot of blind people on Instagram if that is your primary platform."
Recruitment is not the only problem. Disabled students who want to participate in sororities also face physical barriers, both in terms of negotiating spaces without wheelchair access or quiet rooms, and in terms of participating in the events sororities hold, some of which assume a high level of physical or other ability.
"It's hard to find spaces that accommodate, and it's the physical barriers as well as the time … involved" that make it difficult for people with disabilities to participate in events held by Greek-societies, says Newman.
In sororities and fraternities, there is a culture of pushing oneself beyond one's physical capabilities, "so this deters a lot of people from considering (these organizations)," Newman adds.
Such events can also exclude those with sensory-related disabilities, such as autism, blindness, hearing loss, and sensory processing disorder. For example, recruitment events often involve dancing, singing, jumping, or loud music – activities that can be overwhelming for those with sensory-related disabilities.
"If you have potential recruits who have some sort of sensory-related disability, that can be really overwhelming to be in those spaces and places," says Bialka.
"Taking such issues into account can be challenging," Newman adds."It is hard to organize an accessible event even when you're an accessibility organization doing the arranging. It is hard to find a space that accommodates."
While sororities may not be deliberately excluding students with disabilities, these problems reflect systemic ableism in society, experts such as Bialka say.
A 2017 article in the Journal of Postsecondary Education and Disability describes ableism as a "pervasive system of discrimination and exclusion that oppresses people with disabilities."
Ableism leads people to consider some preferred kinds of bodies or minds as the "norm," Harris says. "We don't look at disabilities as a societal issue in which we build certain things for some people and we leave out other groups of people," he adds.
Ableism is often internalized
Harris and Bialka agree that ableism is often internalized, so people are not even aware of the way it shapes their attitudes and actions.
Ableism creates a sense of stigma around disability — the idea that "there is something inherently wrong with being disabled, which there is not. It is a form of human difference," Bialka says.
As a result, students with invisible disabilities in sororities may feel they have to conceal their differences to avoid being judged or othered, Bialka says.
Prof. Fiona Whittington-Walsh, the lead advisor on disability, accessibility, and inclusion at Kwantlen Polytechnic University in Surrey, B.C., agrees.
"There is a huge stigma and attitude around disability, and it is really coming from ableism—the belief that nondisabled bodies and minds are what is normal and what it means to be really human," says Whittington-Walsh.
As the number of students with disabilities continues to rise on campuses across the country, sororities and other social organizations need to act now to overcome the influence of systemic ableism, even if that means facing some challenging conversations, Harris says.
"Talking about disability is kind of scary for people because it means we are not perfect, but that is the reality of life."
---
More Stories