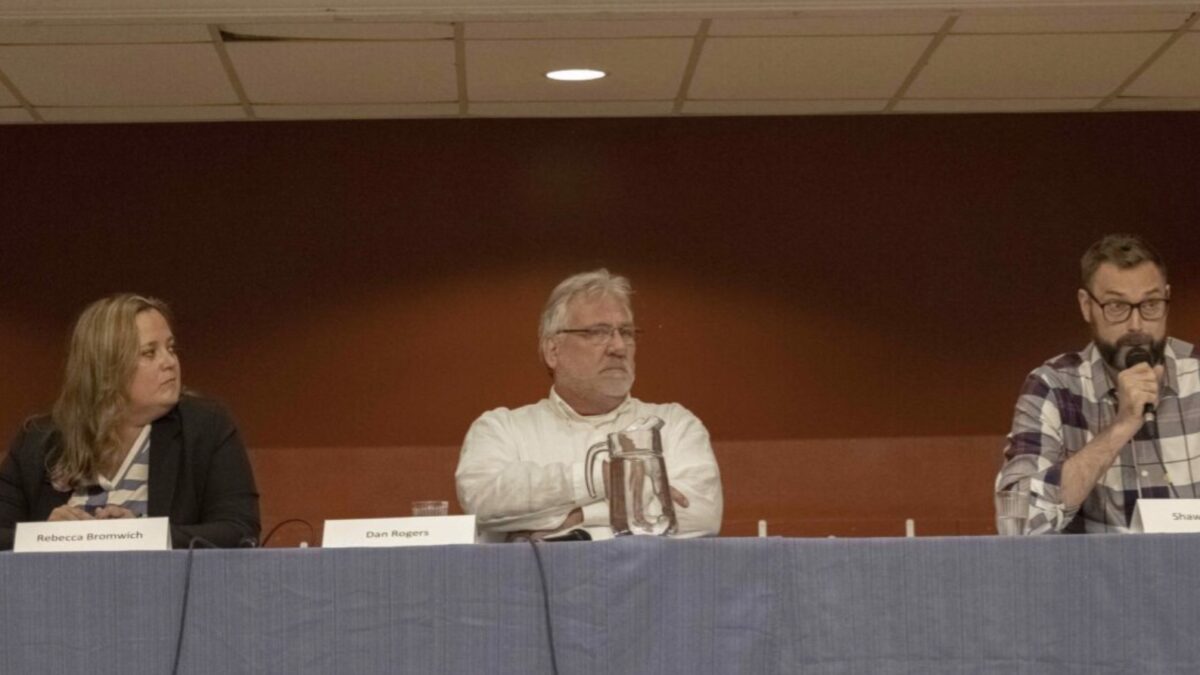 Housing affordability was the hot topic during a Sept. 22 all-candidates' debate in Capital Ward. The meeting was held at the Glebe Community Centre.
All three contenders — Shawn Menard, Rebecca Bromwich and Daniel Rogers — agreed on the importance of increasing the affordability of home ownership in the ward, though each had different ideas about how to do it.
Menard, a former public servant and the incumbent councillor seeking re-election, said he would push for increased intervention by all levels of government in Ottawa's housing sector.
"In terms of affordability and actual affordable housing, you need governments to also be in that," said Menard, who was first elected to council in 2018. "You have to have purpose-built affordable housing. I don't believe it's just going to be solved by the supply market."
Menard said he supports redirecting municipal funding from road widening projects and developer subsidies for site remediation. 
"For me, widening a road is not more important than affordable housing," he said.
Making rent more affordable in the city is also a key priority, said Menard. He touted the vacant building bylaw that the previous council had passed, saying "it encourages redevelopment, more housing, more mixed-use opportunities." 
He considers displacement a serious problem.
"We're seeing a lot of older buildings knocked down that are actually very, very affordable to rent, and people being displaced."
He proposed anti-displacement bylaw as a solution, where renters would be relocated if necessary, but pay the same rent.
Bromwich, an adjunct law professor at Carleton University who is vying to unseat Menard in the Oct. 24 election, said high housing prices are a major concern in Capital Ward. She singled out municipal taxes as a key factor undermining affordability.
It is "crucial," she said, that "people are not priced out of their homes by taxes or by other factors."
She also emphasized collaboration and consultation, including with the provincial government and the National Capital Commission, in designing the city's housing policy.
"I would have to look carefully at all the options and consult with all relevant stakeholders and work collaboratively with all levels of government to ensure we have that fresh start and that fresh approach," she said.
Bromwich said she's not averse to further residential intensification in Capital Ward. She said she also wants the area to be safer, greener and more accessible.
Rogers, the other candidate challenging Menard, said urban intensification is necessary for climate change mitigation. 
Rogers, co-owner of the Glebe Central Pub, said there is room for further residential development at Lansdowne Park and along Main Street.
But consultation with the residents of neighbourhoods slated for intensification will be required, he said.
New developments, Rogers added, cannot negatively impact the existing neighbourhoods.
"But if we're going to look at the notion of a 15-minute neighbourhood, where people can walk to get to whatever they need, then we will intensify all through the ward," he said.
Another all-candidates' meeting sponsored by Capital Ward community associations, is scheduled for Tuesday from 7-9 p.m. at the Glebe Community Centre, 175 Third Ave.
The ward encompasses a number of neighbourhoods south of downtown Ottawa, including the Glebe, Glebe Annex, Old Ottawa South, Old Ottawa East and Heron Park.
---
More Stories