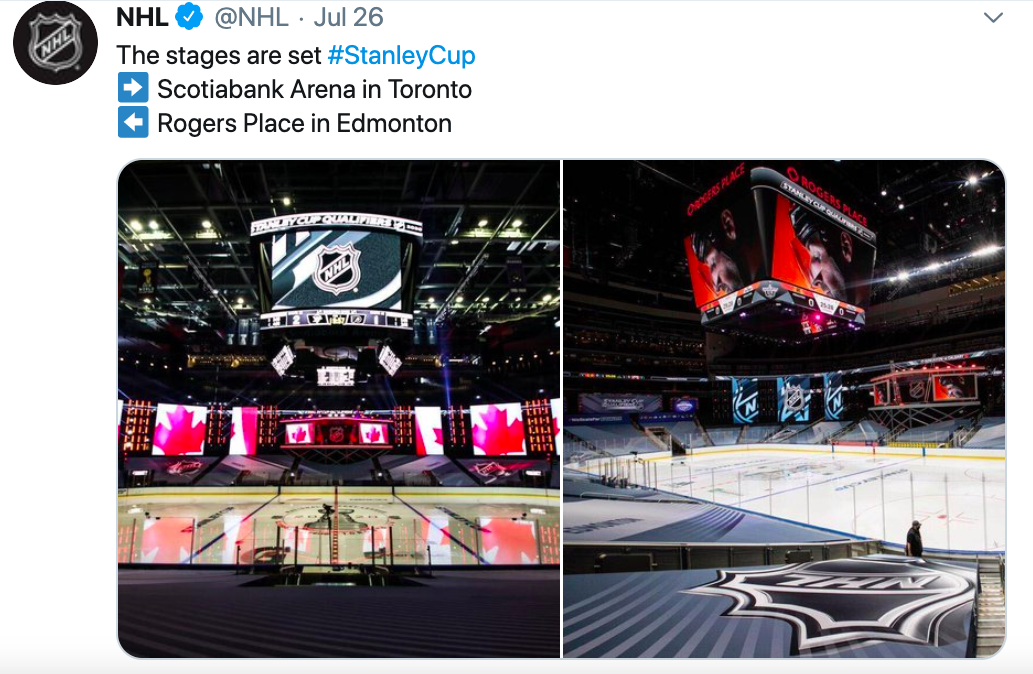 EDMONTON — The National Hockey League, National Basketball Association and the Women's NBA have created "sports bubbles" that give North America's professional hockey and basketball leagues the best chance of having a successful, safe return to play.
So what the hell is Major League Baseball doing? Pro baseball's chaotic attempt at launching its 2020 season during the COVID-19 pandemic has been all errors and strikeouts.
The NHL began its modified playoffs on Aug. 1 after a few exhibition games, and the league has managed to do right by its players and staff with a well-designed, bio-secure bubble.
Edmonton and Toronto were chosen as hockey "hub cities", meaning each will host 12 of the 24 teams that qualified for the 2019-20 playoffs and contain all players, team officials and referees in designated hotels and arenas.
Players and staff must isolate in these designated areas throughout the playoffs, which will run for about two months before the Stanley Cup is awarded no later than Oct. 4.
Now that the NHL's restart is in Phase 4 of a carefully planned series of steps, and teams have begun to play actual games, the pressure is on to keep all players and others inside the bubble, and to keep the bubble virus-free. By splitting the teams between two cities to begin with, the league is giving itself the best chance of succeeding.
Looking at Edmonton, which is hosting the league's Western Conference playoff contenders, the bubble has been sensibly constructed by creating a level of separation within the bubbles. Six teams — including the Edmonton Oilers and defending Cup champion St. Louis Blues — are staying at the JW Marriott, which is linked to Rogers Place arena by a covered walkway.
The other six teams are staying at the Sutton Place hotel, also just a short walk to Rogers Place.
To add another layer of protection against spreading any potential virus outbreak, each club is confined to their own hotel floor. Bars and restaurants have also been designated for all team personnel. And each player and team staff has been assigned their own room — and visiting others' rooms is forbidden.
With so little contact between clubs and even amongst members of any one team, the NHL has maximized its efforts to prevent a COVID-19 outbreak.
The data so far is telling. The NHL saw just two positive cases of COVID-19 in Phase 3 of its restart, but hadn't recorded any new positives between July 17 and July 25 among more than 800 players. The NHL's most recent statement on COVID-19 testing results says that, as of Aug. 3, there were no positive tests among 7,000 tests administered in Edmonton and Toronto.
The NBA and WNBA have also done many things right with their restarts. They, too, have also created secure "bubbles".
They've largely followed in the footsteps of the NHL by having their leagues isolate in Orlando, Florida at Walt Disney World and at Bradenton, Florida's IMG Academy.
However, having all teams isolating together in a single location — Disney World — poses a higher risk. While the 22 NBA teams are split up between three hotels within the Disney resort (with the top four teams from each conference having the luxury of staying in the nicest hotel) there's still an elevated risk an outbreak could spread throughout the Disney compound.
Same goes for the WNBA. Even with extensive protocols to otherwise minimize a potential COVID-19 outbreak, it would have made more sense to split teams as far away from each other as possible.
And then, way out in left field, we have Major League Baseball.
It's hard not to cringe at how things have unfolded since the season began. And the first error the league committed? It decided not to create any kind of serious system to isolate and protect its hundreds of players and associated team personnel.
The league is a now in a mess, given recent COVID-19 outbreaks that have resulted in nearly 100 positive cases of the virus as of July 24, including 84 players and 15 staff members.
It gets worse. The Miami Marlins still played a game against the Philadelphia Phillies on July 26 even though four of the Marlins had tested positive for COVID-19.
There are now 17 infections on the Marlins alone and fears about a possible outbreak among the Phillies. The league is scrambling to correct the chaos it has caused by poor planning and was forced to postpone the Marlins season pending further testing.
With extensive testing and a lengthy protocol manual, it's hard to understand how baseball has managed to mess up this much. But it looks like the league's choice not to have an isolation bubble was the critical mistake.
And given that the players are often in close proximity, whether in the dugout or on the field, the likelihood of a spread was always greater since the league didn't enforce isolation beyond the diamond.
A number of NHL players — including Travis Hamonic of the Calgary Flames, Roman Polak of the Dallas Stars and the Boston Bruins' Steven Kampfer — have chosen to opt out of pro hockey's Return to Play for personal and health concerns. But there's good reason to believe that those who chose to play will remain healthy.
Many players from the MLB have also opted out — and perhaps they had the right idea given that league's disastrous season so far.
Looking ahead, all eyes will be on the NHL and pro basketball as their respective playoffs progress. And the MLB will be under extreme scrutiny as it tries to figure out its next move — and let's hope it involves a hefty re-evaluation of the ineffective protocols currently in place.
The effectiveness of the bubble for the hockey and basketball leagues will be put to the test as teams interact over the course of the playoff schedule.
Hockey and basketball fans across Canada and the U.S. will be crossing their fingers, hoping that the leagues stay on top of daily testing and follow strict protocols when positive tests emerge.
But confidence is created by the bubbles, which should keep NHLers in both Edmonton and Toronto safe.
Here in Edmonton, outsiders are not able to enter the pro hockey bubble for now — though once teams reach the conference finals in September, players will be allowed to reunite with their families.
Fans can only hope that the NHL's bubble system keeps things track until it's time to hand out the Stanley Cup.
And perhaps pro baseball can pick up a few more pointers.
---
More Stories