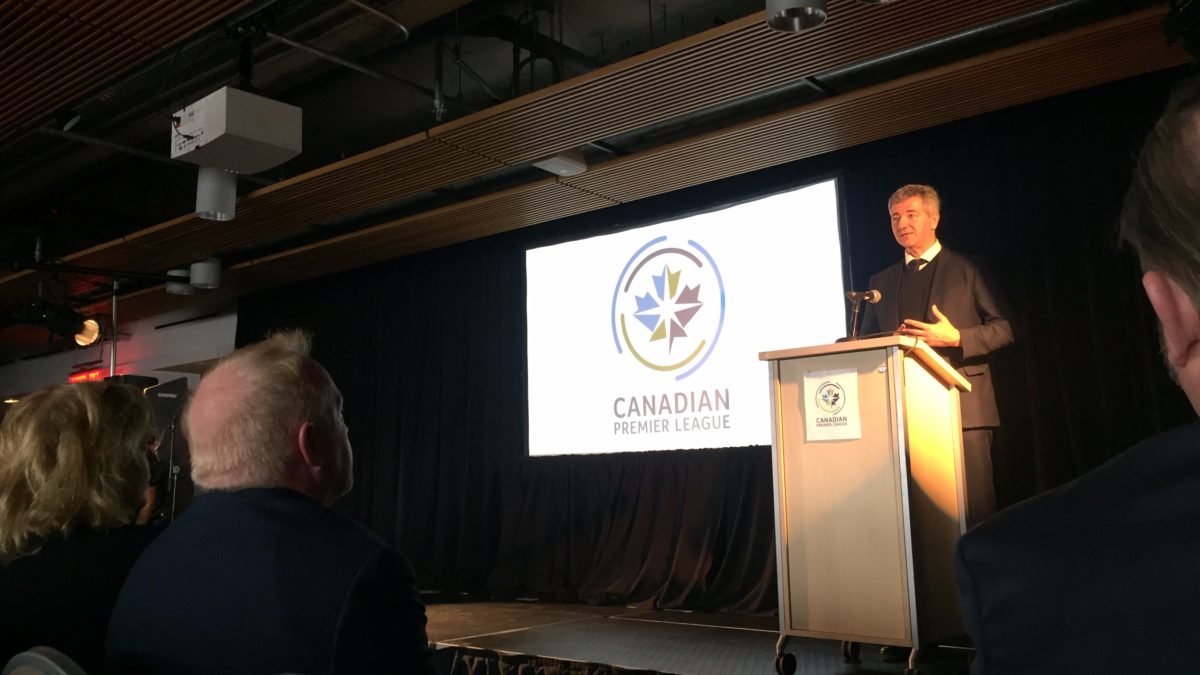 The beautiful game has bounced back in Ottawa. Not long after the Ottawa Fury folded last fall, a new franchise showed off its new name, look, owner and coach at TD Place on Feb. 11.
Atlético Ottawa is an owned and affiliated squad of the Spanish super-club Atlético Madrid. The launch was attended by Ottawa Mayor Jim Watson, Canadian Premier League Commissioner David Clanachan, partial owner Jeff Hunt and even the famous Ángel Gil Marín, CEO of Atlético Madrid.
Atlético Ottawa's badge and colours mimic the classic red, blue and white of Atlético Madrid topped by a silhouette of Parliament Hill's Peace Tower.
The reveal also included the announcement that Miguel Mista, a former Spanish international and Atlético Madrid player would be the new coach.  
"All Atlético Madrid family is used to work with passion," Gil Marín said. "We promise to our supporters here, hard work, passion, humility and to try and create a nice brand around the capital."
Ottawa Redblacks and Ottawa 67s owner Jeff Hunt partnered with Atlético Madrid to kickstart the project that will see the new team compete in the Canadian Premier League this summer – only a few months after signing the deal. 
Hunt said Atletico had been in talks with the CPL for some time and that once the Fury floundered, they settled on Ottawa. 
"The planets just lined up really. The club already has teams like this in China, Israel, India and Mexico, and wanted to have another in North America," Hunt said. "Seeing that Madrid's the capital of Spain, they saw a connection. It was the ideal marriage, a match made in heaven."
The second year of the Canadian Premier League begins in April meaning  Atlético Ottawa will have a very short window to get their team ready for their inaugural season. 
"To our supporters, we are going to learn as soon as possible the talent, just to try to create a nice brand and [see] that every Atlético Ottawa supporter feels proud of our job," Marín said.
Hunt said the partners had been working together to acquire the players they'll need to get the team ready and playing good soccer this season.
"There's a lot of work happening behind the scenes. We've been accumulating a list of players for a while so that scouting for Atlético could be that much easier," Hunt said. "Besides, a club that's been around for about 116 years definitely knows what they're doing and will take care of soccer on the field."
Hunt said he hopes the new team can create something greater than what the Fury ever had.
"Everything is in a hurry up mode at the moment, and there are bound to be some hiccups along the way, but I'm confident we'll field a great team and bring a great soccer franchise to the city." Hunt said. "I think that a brand as big as Atlético will definitely pull large crowds and bring out the very best soccer Ottawa has ever seen."
https://www.canva.com/design/DADzj95COWE/view
ATLÉTICO OTTAWA
by
Ricky Comba
---
More Stories