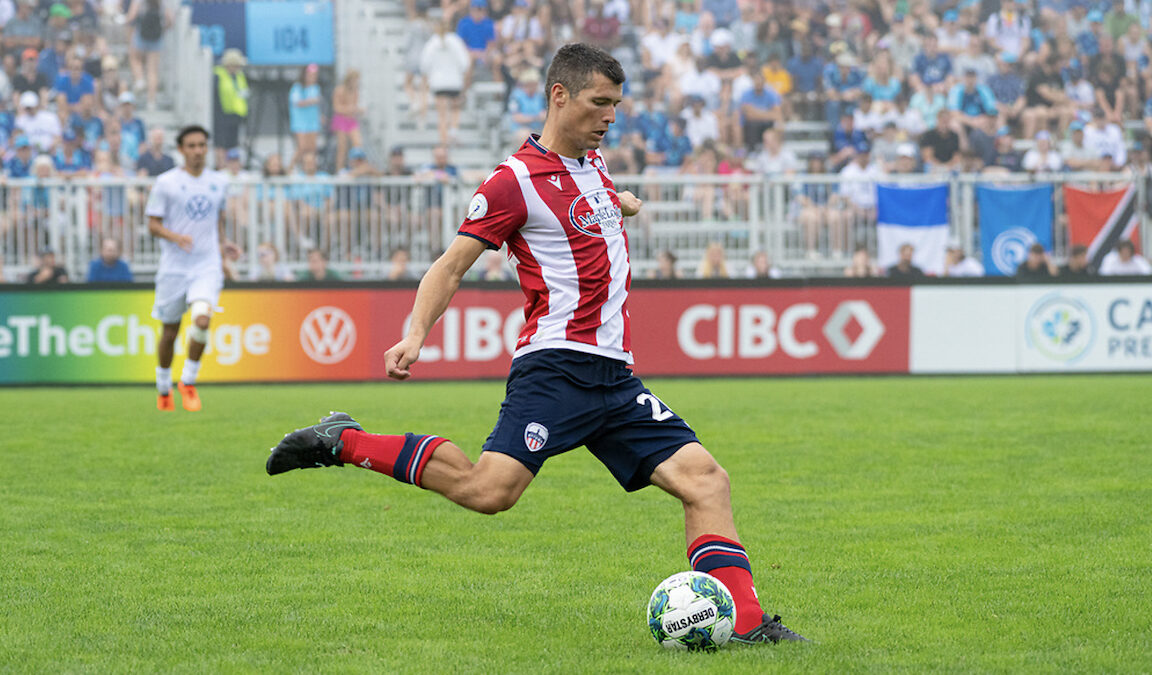 Atlético Ottawa's win streak is over.
Their three-game spell of success has been snapped by the Halifax Wanderers after a strong 1-0 performance in the Nova Scotia capital on Sunday earned them a franchise record of five consecutive home wins.
Halifax now has a win-draw-loss record of 5-7-4 (22 points). They've leap-frogged Ottawa for the final playoff spot and sit fifth in the Canadian Premier League standings.
Meanwhile, Ottawa falls to sixth place, with a record of 6-3-7 (21 points).
The Wanderers scored the only goal of the match — on the game's first shot attempt no less — in the 24th minute. Their defence shut down Ottawa the rest of the way to seal the win.
In transition, Halifax defender Daniel Nimick played a perfect long ball down the pitch that was picked up by forward Théo Collomb. Standing on the edge of Ottawa's penalty box, Collomb controlled the ball before volleying it into the bottom right corner. Wanderers 1, Atlético nil.
Halifax's early lead was reminiscent of the start of their season, when they also scored an early goal against Ottawa. Then, they couldn't seal the victory, settling for a 1-1 draw. This time, the team's strong defence secured a win.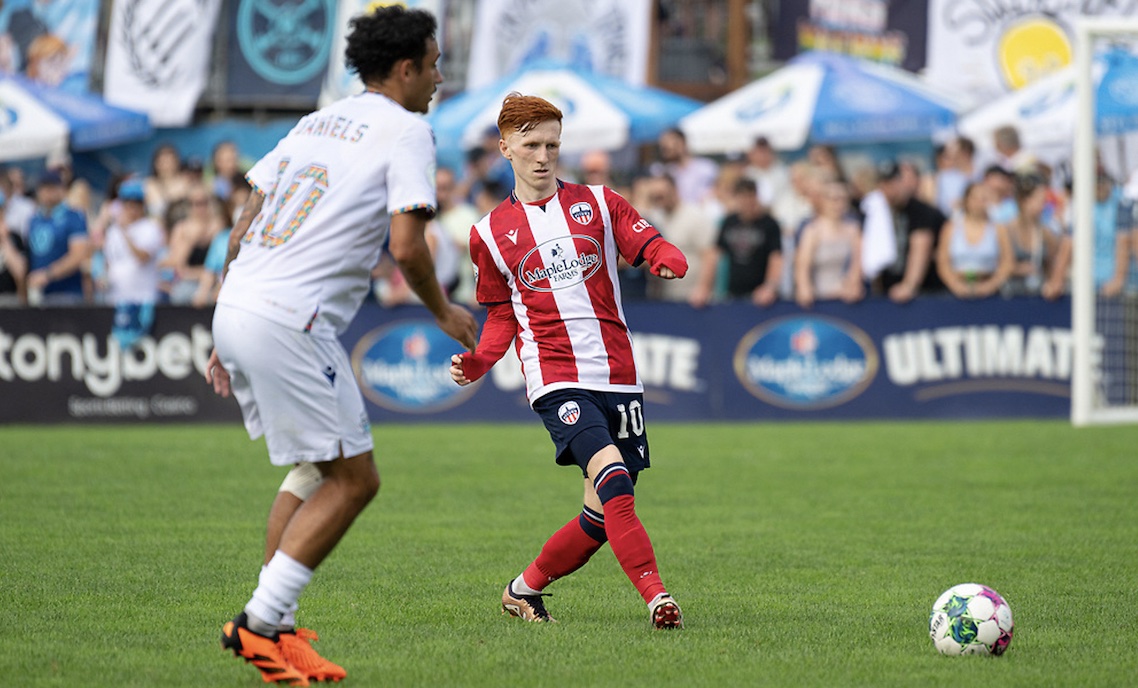 The match didn't produce many chances for either side, with both teams finishing the game with seven shot attempts, only two of which were on target. The final expected goal tally was 0.70 to 0.32 in Halifax's favor.
Atlético struggled breaking down Halifax's low block. They also spent a lot of time in their own half, and were unable to create many quality scoring chances because of that.
Ottawa didn't have much success in transition either, which is how they typically capitalize against their opponents.
Atlético's game plan was to focus on mounting an excellent defence, before using their speed and quality passing to attack in transition. Against a Halifax side that likes to control possession and play on the front foot, it should've created some transition opportunities for Ottawa.
Halifax also knew Ottawa was excellent in transition. They prepared for it and made it their mission to take possession away from Ottawa for as long as they could.
Halifax held onto the ball for nearly two thirds of the match, and their defensive 4-4-1-1 formation allowed their wingers and midfielders to drop back to defend, limiting the space Ottawa had to set up attacking opportunities, even after turnovers.
"They have some fast players, and they have (midfielder Ollie) Bassett who plays very well on the ball and makes the great decisions when they're on the counter," Collomb said post-game.
"We knew we had to take care of the ball. We knew we (couldn't) make mistakes because they'd get punished. We were trying to keep the ball as much as possible, because when you have it you don't defend," Collomb added.
When Atlético did win the ball back, Halifax did an excellent job of pressing Ottawa in their half and preventing them from building any rhythm offensively.
Halifax closed down open spaces, blocked passing and shooting lanes and crowded the box to give Atlético players little to no space for creating chances in dangerous areas.
Atlético head coach Carlos Gonzalez said his team didn't start the match the way he'd wanted them to.
"I think that Halifax (had) a spark that we didn't have in those first 45 minutes," Gonzalez said in the post-game press conference, adding that he thought it was an even match, and the deciding moment of the game was a defensive situation they can improve on.
Gonzalez thought the team improved in the second half but couldn't capitalize on their scoring opportunities.
"In the second half I thought we were a little bit better than them, but we didn't have the tools to break them down and we didn't feel comfortable enough on the field," Gonzalez said.
Most of Atlético's shot attempts, including both their shots on target, came in the second half. They finished the first 45 minutes with an expected goal rating of 0.06, one of the worst marks in the CPL this season. The lack of offensive production was also hindered, naturally, by Ottawa's minimal possession time.
Ottawa goalkeeper Nathan Ingham made it clear that you can't read into individual results too much.
"We've got three wins in a row, and then we come in with a game plan today and it doesn't quite work, and then we'll reset for the next one. Each (game) you adapt to your opponent and then you keep your own identity, and that's what we'll do for Calgary."
Ottawa hosts Cavalry — currently the CPL's top team with a 7-6-3 record for 27 points — this coming Sunday (July 30) at TD Place.
'At the end of the day, what we have to do is go home and recover.'

— Carlos Gonzalez, head coach, Atlético Ottawa
Ingham added that winning three of the past four matches is still a good stretch for the team.
"It's disappointing, we've had a lot of success coming to Halifax since I've been with the club — first time we've come here and not won. We have 12 hours to be sad about it, then we wake up in the morning, and we move on with our lives," he said.
Atlético defeated Calgary 2-0 the last time they faced each other. Ottawa will have the chance to win their fifth consecutive home match, equalling Halifax's record this season.
Gonzalez said he's prioritizing rest and recovery ahead of the game.
"At the end of the day, what we have to do is go home and recover," Gonzalez said. "After the recovery, we'll start thinking about the next game, which is going to be a tough game against the CPL leaders."
Gonzalez said getting a good result in that match will be critical to their season.
"It's going to be an important game for us, at home (in front of) our fans, so we're looking forward to a good game and recovering the good feelings so we can grab three points."
---
More Stories