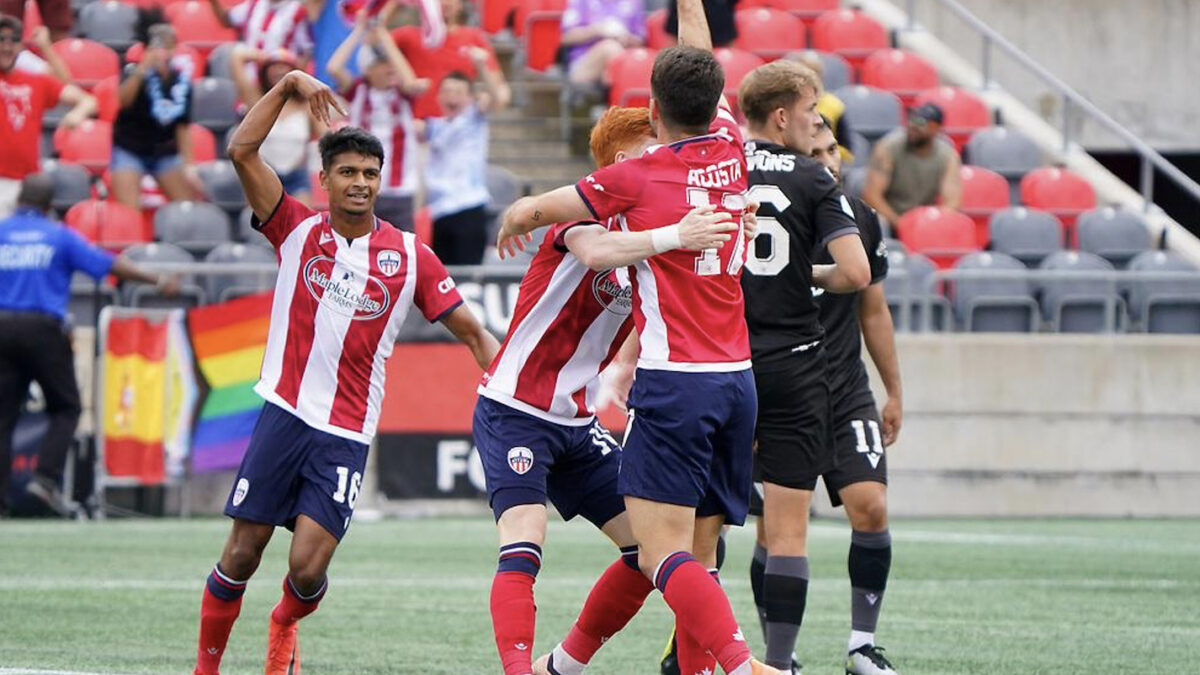 Atlético Ottawa's winning streak continues.
After three straight victories — the latest against Vancouver FC on Sunday, July 16 — the club is currently the hottest team in the Canadian Premier league and fourth in the standings. A win Saturday in Halifax against the Wanderers could lift Ottawa to third place.
Ottawa recorded an emphatic 3-1 win over Vancouver in front of a raucous home crowd of more than 4,100 fans on beach day at TD Place. It was also Atlético's fourth straight victory at home.
Before the team's 2-0 win against Valour on July 9, Ottawa was stuck at the very bottom of the eight-team CPL table. But after collecting a full nine points in their last three games, Atlético has improved to a win-draw-loss record of 6-3-6 (21 points). They sit in fourth place ahead of York United (6-3-7, 21 points) on goal difference.
Coach Carlos Gonzalez said his team played with passion against Vancouver and was proud of the effort and result.
"They were hungry, they were committed and fought hard all game," said Gonzalez, adding that he wanted to see an admirable work ethic from every player and a team that fought very hard to win in front of its amazing fans.
But Atlético didn't start the match on the right foot. Vancouver dominated early on, creating quality scoring chances in the opening 10 minutes. They came close to scoring on multiple occasions, including an absolute rocket of a shot from deep outside the box by Italian international Renan Garcia that smashed off the crossbar. If that 30-yard strike had gone in, it could well have been an entirely different game.
Vancouver FC head coach Afshin Ghotbi said starting fast against Ottawa was a crucial element of the game plan.
"We've been working on how to start better," Ghotbi said in a post-game press conference. "I felt that we needed to score first. I think if you score first against Ottawa, you have a big chance to beat them. If they score first, they shut down the game with their physical, gritty defence."
Atlético would respond quickly. After creating a turnover in the midfield, the team advanced to attack in transition. Midfielder Ollie Bassett chipped a pass to Jean-Aniel Assi on the right side of the 18-yard box.
Assi found Noah Verhoeven in space at the top of the box. His initial shot was blocked and Bassett fanned on his follow up attempt. But Miguel Acosta ran onto the loose ball in the box before firing it into the bottom right corner to open the scoring — his first goal of the 2023 campaign.
In six of their last seven matches, Ottawa has scored the first goal inside 25 minutes. In four of those matches, they've scored within 10 minutes. Gonzalez credits his team's fast starts and excellent pace to the additional depth of talent on their squad.
"One of the key points of the week was changing some players from one game to another, making some decisions that maybe in certain moments people don't understand, but were necessary in order to have high energy in every single game."
Many more chances would arise for Atlético in the half, namely a stellar run from Zach Verhoven past the Vancouver backline. He found himself clear on goal, but hesitated to shoot right away and ended up directing the ball straight at Vancouver keeper Callum Irving.
Sam Salter came extremely close to putting Ottawa up 2-0 with the ball at his feet and Irving off his line. He opened up space for a shot with Irving still scrambling, but Vancouver defender Rocco Romeo made a brilliant goal line clearance by heading the ball off the line and out of harm's way.
At the end of the first half, Atlético led 1-0 and dominated the majority of the first 45 minutes. Ottawa outshot Vancouver 13-6 and had four shots on target while keeping Vancouver to zero, despite Vancouver's early pressure.
Final third entries were even at 25 each, but Ottawa had 20 touches in the opposition box to Vancouver's seven. Ottawa's defence was well organized, quickly closed down open spaces, intercepted passes and pressed the ball carrier high up the field to create mistakes or turnovers in the midfield.
Much as they had in the first half, Vancouver started strong in the second. Less than 10 minutes in, Ottawa conceded their first goal in over 235 minutes of open play.
Reigning CPL Golden Boot winner Alejandro Diaz — who made his debut for Vancouver after joining on loan from Norwegian side Sogndal — did well to cut through Ottawa's back line and head home a fantastic cross to the back post from Renan Garcia.
Again, Atlético would respond quickly. Bassett sent a perfect cross to Salter, who would've been one on one with the keeper. Ultimately, the goal would be called back due to an incorrectly called offside.
It didn't matter much, however, as Ottawa would retake the lead thanks to a combined effort from Carl Haworth and Gabriel Antinoro, who had come off the bench only minutes earlier.
According to Antinoro, before he and Haworth were substituted on, Haworth told him to be ready, not to force too much and to take an opportunity to score when it arises. He took his chance well against Vancouver and it didn't take him long to make a difference.
Haworth dribbled his way into the box, splitting through multiple defenders, including battling with forward James Cameron on the right side of the box before maneuvering around him to create enough space to send a high cross to the back post. It was met by Antinoro, who confidently dispatched it past Irving. Atlético led 2-1 with 30 minutes to go.
Antinoro spoke about what it meant to score his first goal since his opening-minute strike against Hamilton's Forge on June 25.
"The most important thing is getting the win," Antinoro said, "but I've been waiting a long time for this. This play was very special and made me very happy."
Antinoro also spoke about how proud he is of his growth as a player and person throughout the season.
"I started the season quite well and I was playing a lot. Then I had a rough moment where I wasn't playing a lot but I stayed disciplined, maintained a strong routine, and kept believing," Antinoro said. "I enjoyed every opportunity that I had and I felt like I grew a lot physically, mentally and tactically, as well."
The visitors from Vancouver stayed radio silent for the rest of the match. Ottawa created a few more scoring chances as the second half progressed, but couldn't find any insurance until the 95th minute, when Atlético capitalized on a counterattack.
Irving couldn't hold onto the rebound after saving Ruben Del Campo's initial shot, and it fell to the feet of Haworth, who calmly slotted it home to give his team a two-goal lead and seal the victory.
Three goals, three points, and three wins in a row for Atlético. Gonzalez credits a strong defence as a pillar to the team's success.
"I feel that playing good defence and not conceding goals is a key aspect because once you concede a goal or make mistakes that make you concede, it (completely) changes the game," Gonzalez said. "When you fall behind it creates stress in the players and causes mistakes or a lack of precision in certain moments.
"Now that we're playing solid defence and maintaining the composure of the team for most of the elements of the game, the team is confident, are taking better decisions and are more calm in certain critical moments of every game," he added.
In the face of a remarkable week for Gonzalez's side, he emphasized in the post-game press conference the importance of staying focused, taking it one game at a time and not getting cocky.
"This doesn't stop here," he said, referring to the upcoming game against Halifax. "This league, we know, is so equal that if you have (a few) bad games (in a row) you're going to return to a position you don't want to be in."
It's been an incredible turnaround for Ottawa. The team started the year in last place with an abysmal 1-2-4 record. Since then, Ottleti have won five of their last eight matches, tied one and and only lost two.
Atlético rank second in the CPL in goals scored with 24, only one behind Pacific FC. This is remarkable, considering Ottawa had only scored eight goals in their first seven matches. The goals have come in bunches, as they've recorded 16 in their last eight matches. Had they been more clinical in previous matches, who's to say where they'd stand.
Gonzalez also credited the uptick in offensive production to some excellent individual efforts, smart tactics, and depth in their squad provided by two new signings. He added that being solid defensively provides the foundations of having a good attack.
"I think we are starting to be very solid defensively," he said. A strong defence, he added, is like the basement of a house. If you want to build a house, you have to do it from solid pillars. In the few first games we were wobbling a little bit, we were not as solid. Now we're starting to be solid, starting to hold onto those pillars in certain moments that we're suffering, which helps us take control of games."
Ottawa conceded 10 goals in the first seven games of the season, recording only one clean sheet. In their last eight games, they conceded nine goals, but recorded four clean sheets. Six of those goals conceded came in two matches, against Force and Pacific, which obscures the effectiveness of their overall defensive effort recently.
"I think tactically, the team is working well and we're finding the right spaces," Gonzalez added. "We have reliable players that can get us out of trouble in a moment in which the other team is making it hard on us or putting us in a tough moment."
---
More Stories