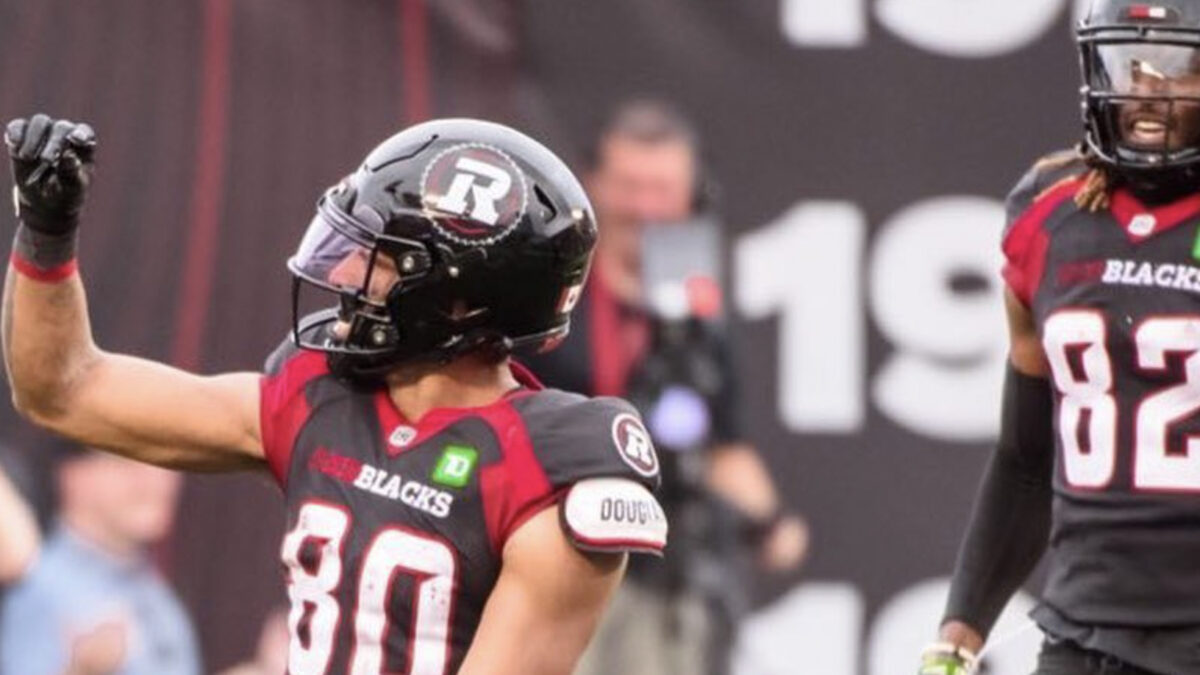 Another week, another win — and another Crumback.
The Ottawa Redblacks edged the Calgary Stampeders 43-41 on Monday in a thrilling back-and-forth affair to win their second straight game in overtime. The Redblacks victory came after the visitors from the capital made another come-from-behind surge to deeply disappoint the Stampeders and more than 21,000 of their fans at McMahon Stadium.
Ottawa improved to 3-3 on the season and now sit second in the East Division. The Stampeders fell to 2-4 and stand fourth in the West Division, despite their own thrilling OT win against the Saskatchewan Roughriders about a week earlier, on July 16.
Likewise, the Redblacks scored 16 points in the final 2:38 minutes to force overtime against the Winnipeg Blue Bombers on July 15; quarterback Dustin Crum rushed for the game-tying and game-winning touchdowns in his first career start.
This week, Crum threw a perfectly placed 23-yard touchdown pass to wide receiver Nate Behar to take a late lead before the Stampeders forced overtime with a clutch, game-tying field goal that saw Stamps' kicker Rene Paredes become the 10th leading scorer in CFL history, with 2,001 points.
The Stampeders then took the lead in overtime on a touchdown catch by wide receiver Tre Odoms-Dukes. But the two-point convert failed, which opened the door for the Redblacks to win with a touchdown and two-point convert. Crum confidently led a winning drive capped off by a three-yard touchdown run by former Stampeder Ante Milanovic-Litre, his second of the game. Behar then caught the winning two-point convert.
"I don't know how much longer my heart can take this," said a laughing Redblacks' head coach Bob Dyce after the game.
Dyce talked about how his team was able to sustain its confidence and keep fighting to ultimately earn the win.
'Dusty continues to grow . . . He did a great job taking care of the football. You can see guys have a lot of faith in his play and they rise up and lift him. Just like all of us, he has to continue to get better. But for a guy in his second start, we're quite happy.'

— Bob Dyce, head coach, Ottawa Redblacks
"What I loved about the team is everybody picked everybody up. When we were down on special teams, the offence and defence picked us up," Dyce said. "The same way you saw the belief last week vs. Winnipeg, it carried through this week. It's about everybody working together for the outcome. All that matters is the (win), it's not (about) how you did it. These guys love each other, they fight for each other, and it's something special."
After losing their first two games of the season, the Redblacks have reeled off three of their last four games. And after multiple years of struggles, Ottawa seems to be regaining their footing, even without their star QB Jeremiah Masoli, out for the year with an achilles injury.
In only his second CFL start, Crum led the team superbly, completing 23 of 29 passes for 257 yards, two touchdowns and no interceptions. He also had 63 yards on the ground, including several crucial runs to move the sticks or set the Redblacks up in scoring position.
Dyce said he admires Crum's development as a starter.
"Dusty continues to grow," said Dyce. "He did a great job in the first half with his legs, then extended some in the second half as well. He did a great job taking care of the football. You can see guys have a lot of faith in his play and they rise up and lift him. Just like all of us, he has to continue to get better. But for a guy in his second start, we're quite happy."
Behar was also full of praise for Crum, describing him as a confident leader who inspires confidence in his teammates.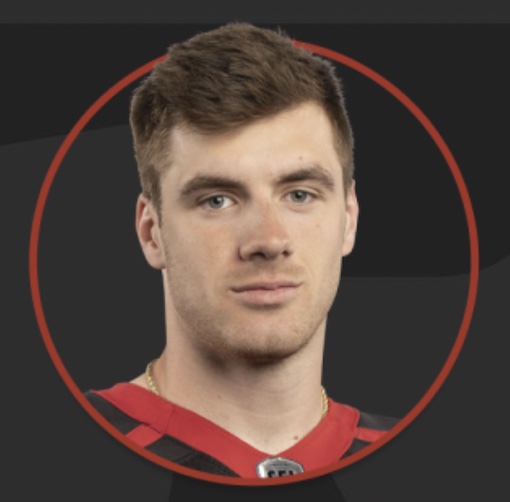 In three of their first four games, the Redblacks didn't score more than 15 points. In their last two games, with Crum at the helm, Ottawa has scored a combined 74 points.
Along with the team's growing determination to win with Crum at the helm, the new game plan also exposed some of Calgary's weaknesses. Ottawa particularly exploited Calgary's subpar run defence.
The Redblacks rushed for a total of 184 yards: along with Crum's 63, Devonte Williams had 57, Milanovic-Litre had 35 and Tyrell Pigrome had 29. Their success in the running game opened up space in Calgary's secondary for many Ottawa receivers to make big plays. Justin Hardy had seven receptions for 94 yards and a touchdown and Behar had eight receptions for 81 yards — including the late touchdown and the winning two-point convert.
"Our offensive coaches put in a new package, something they felt we could exploit," said Dyce.
"Ante's been a great runner in this league for a number of years; it was great to see him have the success he did," Dyce said, adding that his effort helped them open up the passing attack.
Meanwhile, the Redblacks' CFL-best rush defence limited the Stampeders — who've consistently struggled to get the run game going this year — to only 38 yards on the ground. However, Ottawa's secondary struggled against Stamps' QB Jake Maier, who had a stellar game, throwing for 450 yards and four TDs with two interceptions.
Maier always seemed to have an open receiver and connected on many deep passes of 30-plus yards, including two touchdown passes over 50 yards. He sliced up Ottawa's secondary in the short, intermediate and deep passing zones and was consistently able to move the ball up the field to extend drives.
The holes in the secondary, especially the ones resulting in big-chunk plays through the air for Calgary, will be an issue that Dyce and his defensive coaches need to address going forward. No team will win many games if they routinely give up 450 passing yards and more than 40 points.
The Stampeders' offensive line, which largely neutralized Ottawa's prolific pass rush and only conceded three sacks, was another big reason for Calgary's passing success. Maier had plenty of time to scan the field, go through his progresssions and find the hole in Ottawa's secondary. Ottawa's offensive line gave up five sacks.
After getting a huge defensive stop on the opening drive, the Redblacks put together a nice opening drive that included a big run from Milanovic-Litre and a leaping grab from Jaelon Acklin to set up a 33-yard field goal for Lewis Ward.
A few drives later, Stamps' rookie receiver Clarke Barnes ran behind Ottawa defensive back Deandre Lamont and Maier connected with him on a 54-yard touchdown pass.
Ottawa responded through DB Brandin Dandridge, who jumped the route beautifully, stepping in front of and intercepting Maier's throw, before running it back for a touchdown to give his team a 10-6 lead. Dandridge has recorded two pick-sixes in as many games and now has three interceptions and three defensive/special teams touchdowns this season.
On the very next Stampeders' drive, Ottawa defensive lineman Lorenzo Mauldin recovered a fumble after Dedrick Mills lost a handoff from Maier deep inside Calgary's half. Crum scrambled for a 28-yard gain to set Ottawa up inside the five yard line and on the next play, Milanovic-Litre maneuvered through a gap between the centre and right guard before walking into the end zone.
The Redblacks led 17-6 midway through the second quarter and seemed to be in complete control. Then, Calgary swung the momentum in their favour, outscoring Ottawa 13-3 to cut the Redblacks' lead at halftime to 20-19.
Maier unloaded a 33-yard pass to the end zone where receiver Marken Michel made a fantastic adjustment before hauling in the over-the shoulder throw. Calgary added two field goals in the final two minutes of the half to cut the lead to one.
The Stampeders started the second half strong, moving the ball downfield efficiently through the air before Tommy Stevens found the end zone on a 1-yard QB sneak to give Calgary a 25-20 lead.
Both teams exchanged a few defensive stops before Crum capped off an efficient drive to close the third quarter, in which the Redblacks utilized a nice mix of rushing and passing to keep Calgary's defence guessing. It ended with a 24-yard TD pass from Crum to Hardy, and Ottawa led 28-25.
After a punt single, Michel easily got behind Ottawa's secondary again and caught a deep ball in stride from Maier before taking it 95 yards to the house. The Redblacks trailed 33-28 after the two-point convert failed.
Ottawa was stopped on third and short near midfield and all looked lost. But on the next play, Maier's pass was tipped and picked off by Alonzo Addae.
The Redblacks drove all the way down the field, including converting on a massive third down to Hardy with under two minutes left. Two plays later, Crum connected on a beautiful lob pass to Behar, the former Carleton Raven, who leapt two feet in the air to secure the catch. The rest is history.
Ottawa will have the chance for a third consecutive win and revenge against the Tiger-Cats, their East Division rival, when Hamilton comes to town for a Friday night game (July 28).
---
More Stories