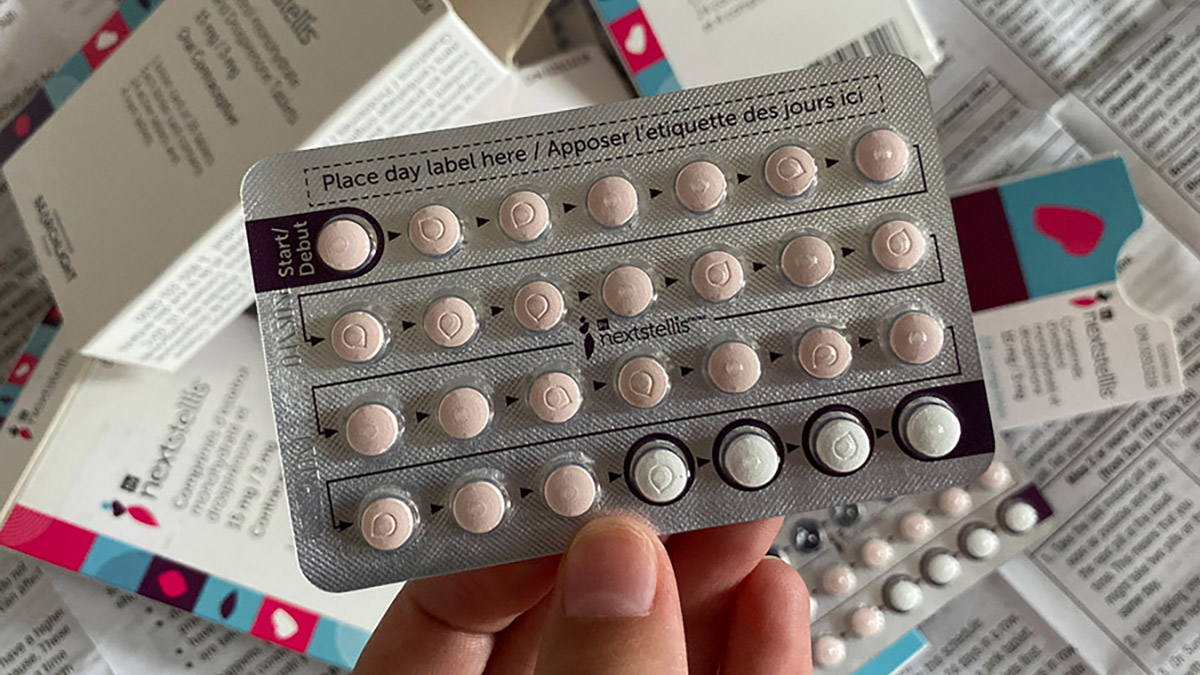 When Hannah Wanamaker's doctor was describing to her how an intrauterine device (IUD) worked over a year ago, Wanamaker shared that it felt like the perfect contraception option for her health.
Not only is it more than 99 per cent effective at preventing pregnancy but hormonal IUDs can help regulate periods. After one year, between 16 and 44 per cent of women will stop having their periods altogether while the IUD is in place. In particular, Mirena IUDs are the only FDA-approved option to specifically help address period pain.
For Wanamaker, this was great, no, amazing news. A two-in-one deal really, because she hated her period anyway.
"So I'm not constantly worrying about did I take my pill? Do I have to go pay for my pills? Do I have condoms on hand? You're just covered for like three or four years, it's really great," Wanamaker said.
What her doctor never mentioned when she handed Wanamaker the prescription was the price tag attached to her perfect birth control. Even with her parent's insurance, Wanamaker was shocked when the cashier informed her she owed over $100.
"[My doctor] didn't really talk to me about the price associated with it and that really pissed me off," she said. "I thought the reason why so many people were against getting an IUD was because of the pain associated with the procedure, but after having to go through the payment process it kind of dawned on me that accessibility is a big thing because so many people can't afford this."
---
---
For most Canadians, unless they are under privatized insurance they must pay out of pocket for any contraception options. Now that will change for residents of British Columbia. 
Starting April 1, 2023, British Columbia became the first region in the country to make prescription birth control free to its residents. PharmaCare, the province's equivalent of OHIP, will pay the cost of dozens of prescription contraceptives ranging from IUDs to emergency contraceptive pills (a.k.a the morning-after pill). 
Previously, the Fair Pharmacare plan in British Columbia provided varied levels of insurance coverage to residents based on household income. This meant that coverage depended on your annual deductible and family maximum.
When Abigale Hamilton heard that her home province would be making access to contraception free she was thrilled. A student at the University of Victoria, Hamilton has been dependent on her parents' insurance plan for health-care options since she turned 18.
"My experience with birth control has been a love-hate relationship," Hamilton said. "I first went on it at 16 to control my period. … It gave me my life back, cleared up my skin, which helped my confidence."
"But, after being on it for six years, [the pill] started having a negative effect on my mental health," Hamilton explained. "I didn't realize how much until I stopped using it."
(While a causal connection between oral contraceptive pills and negative mental-health outcomes has not been fully established, some studies have found an increased risk of depression associated with the medication.)
Hamilton wanted to switch to an IUD but after discussing it with her health-care provider, realized she could not afford one. Even with her parents' insurance plans covering some of the cost, an IUD was still not a financially viable option.
Now that the province will be providing coverage, Hamilton says that her options are suddenly wide open. She is able to consider plans that were previously out of reach, and is actively considering getting an IUD.
"I feel like this is a great step forward," Hamilton said. "I know I've definitely been thinking more seriously about getting an IUD which wasn't even an option before [the new plan]."
This move by the British Columbia government has prompted calls to action across the country, with the NDP opposition leaders in both Alberta and Manitoba promising similar plans if they are elected. Ontario has seen a significant push for free contraception in the past, and activist groups have been newly inspired by the action on the west coast.
---
---
When COVID-19 quarantine restrictions began to pinch the pockets of Canadians, Dr. Hava Starkman, a resident physician in Obstetrics and Gynecology at the University of Toronto, noticed that contraception was one of the first costs to go for many of her patients.
"That's not something a lot of people could accommodate anymore and so a lot of people were coming into appointments [saying] 'I want contraception, but what are the options? I can't afford the IUD this time.' And how do you help your patients? There's only so much you can do," Dr. Starkman said. "I can give them the prescription with my qualifications but now I would love to be able to give them more than just the prescription."
Inaccessibility to contraception led Dr. Starkman to become the Campaign Chair of Cover ContraceptiON, a grassroots volunteer-run non-partisan campaign with the goal of getting universal, no-cost contraception in Ontario.
On World Contraception Day 2020, Cover ContraceptiON released a petition for universal contraception with more than 1,000 signatures from health-care providers across the province.
Dr. Starkman explained the B.C. program, anticipated to cost $119 million over the next three years, will ultimately save the province money over time.
AccessBC, a campaign that has lobbied for free birth control in British Columbia since 2017, says there should be an annual saving of around $95 million. This is according to a 2010 Options for Sexual Health report, which estimated that each dollar spent on an individual for contraceptive support could save up to $90 in public expenditure on social support.
"[T]he cost savings over a three-year period will enormously outweigh the upfront fee of $119 million across those three years," Dr. Starkman said.
"Looking at direct health-care costs and the savings that would come from not having to undergo procedures and medical supports for unplanned pregnancies and the outcomes related to that."
She believes that an equal, if not more significant, level of saving is possible in Ontario if a similar contraception coverage plan were to be implemented. Although there are no specific numbers available for Ontario yet, Dr. Starkman says we can take from the research conducted in British Columbia to deduce what could be expected from Ontario in terms of saving.
"If we can appreciate that [the savings] will hopefully be fairly similar in Ontario, hopefully, those numbers would be even higher based off of our population distribution," she said.
Ontario Health Minister Sylvia Jones approached Cover ContraceptiON on March 8 to set up a meeting in April after stating the Ontario government was looking closely at the British Columbia plan in response to questioning by the NDP Opposition.
Dr. Starkman shared she hopes the organization will have a productive conversation with the minister about the next steps to make free contraception a reality in Ontario.
The British Columbia plan is a long-awaited breath of fresh air for Wanamaker, who said she is excited to see Canada moving in the direction of free contraception for all.
"I think coming out of COVID [quarantines] it's a really important time to address these issues," Wanamaker said.
"I mean, obviously, we knew about accessibility [issues] beforehand, but I think COVID just shone a light on it more so it kind of puts pressure on governments to change."
---
More Stories