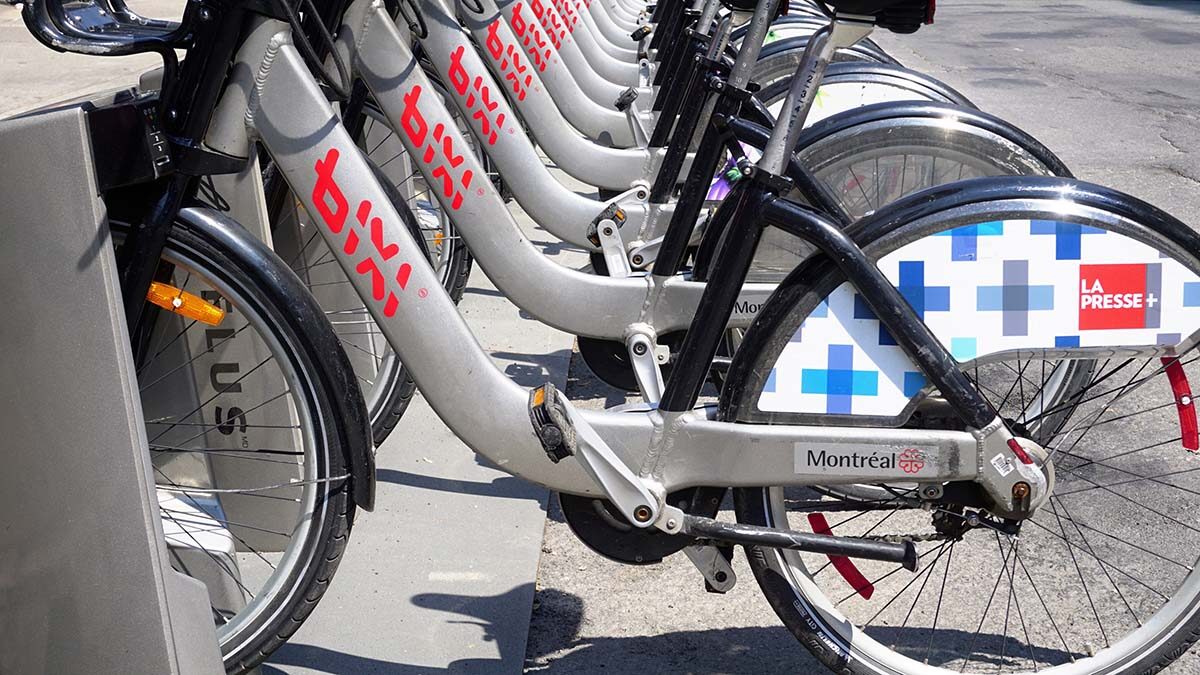 Just a few weeks after being elected, new Ottawa Coun. Sean Devine tweeted he was "looking forward to working with council colleagues" in bringing a municipal bike-rental program like Montreal's Bixi to Ottawa.
"A recent trip to Montreal showed me how beneficial a municipal bike-rental program like Bixi can be, EVEN in winter cities," he tweeted. "… A healthier & more sustainable Ottawa is possible."
Devine didn't elaborate and wasn't available to Capital Current for an interview. But the idea has long interested members of the Ottawa community.
Dave Robertson sits on the board of directors of Bike Ottawa. He said while Montreal actually shuts its bike-rental system in the winter, other cities, including Toronto, that also have municipal bike rentals, leave theirs operating "year round."
"We don't need to copy anyone," said Robertson. "But I think we can look at what other cities are doing and what they are doing well and how that might fit well for us."
Municipal bike-rental programs, also known as bike-share programs, have been a topic of conversation at city council for a few years. A bike-share program consists of making bicycles available for short-term travel for inhabitants of a city at a low cost. So far, it hasn't worked in Ottawa.
In 2020, Coun. Shawn Menard "won support to have staff investigate the potential for returning a bike-share program to Ottawa," the Ottawa Citizen reported. City staff concluded it would be too expensive to operate a bike-share program and councillors opted to experiment with e-scooters.
Shayan Hajhashemi is a Montreal resident and avid user of Montreal's Bixi.
"In the summer I use Bixi roughly two to three times a week," said Hajhashemi. "I would use Bixi in the winter if it was available."
Bixi Montreal recently said that "the number of individual users increased by 52 per cent in one year, reaching almost half a million users."
It doesn't always go smoothly. "The biggest issue I have with Bixi is the app and payment," said Hajhashemi. "There have been a few instances where the app doesn't work, and I have to pay with a debit card."
One thing that Hajhashemi said he really liked about the program is its use of electric bicycles. Bixi Montreal recently added 30 new electric stations and 500 electric bikes. The city now has access to "2,400 electric bikes and 184 electric stations."
"I would use only the electric bikes if I could," said Hajhasemi. "I just have trouble finding them."
Why doesn't Ottawa have a bike-share program as Montreal and Toronto do?
At one time, bike-share programs in Ottawa, Toronto and Montreal were run by Bixi. Each program ran nearly four years until 2014, when Bixi's parent company filed for bankruptcy protection, leaving the city of Montreal to buy it out and create "Bixi Montreal."
The City of Toronto took over the program from Bixi in partnership with the Toronto Parking Authority.
The National Capital Commission (NCC) attempted to keep the service running in Ottawa as Capital Bixi. Unlike Toronto, which marketed its service as another aspect of public transportation, the NCC anticipated profiting from it.
In 2015, the NCC sold it to U.S.-based CycleHop, and eventually the service closed.
"I think that's why bike-share had failed in Ottawa in the past ," said Robertson. "It was very profit-driven, and very seasonal."
Nevertheless , Robertson said bike-share is possible for Ottawa even in the winter.
"Bicycles operate just as well as other modes of transportation during the winter; the wheels still turn," said Robertson. "Like any other transportation service, it's got different needs during the winter."
Nate Wallace is a climate change activist and manager of clean transportation at Environmental Defence. He said the best practice for a bike-share system is to have it run directly by the city's transit agency. In Ottawa, that would mean OC Transpo.
"You [can] have docking stations that are publicly operated by the transit agency that almost operate like a feeder network to the larger transit system," said Wallace.
That would make sense as Ottawa's transit plan is to "have everyone connected to public transportation within five kilometres," said Robertson.
"If you're five kilometres away from your nearest bus stop or train stop, that will take someone walking about an hour to walk there," said Robertson. "With bike-share that trip is suddenly reduced to 15 minutes."
Wallace said people living in the capital often refer to it as "AUTO-wwa" because they are car-dependent.
"Ottawa has significant sprawling suburbs with folks who, I'm sure, would like to have more travel options instead of just being completely dependent on using their car all the time," said Wallace.
He said Ottawa can also significantly reduce transportation emissions by making sustainable forms of travel accessible.
The city's current transportation emissions are 2.09 tons of CO2e per person. (CO2e is defined as "the number of metric tons of CO2 emissions with the same global warming potential as one metric ton of another greenhouse gas.")
In comparison, Toronto's transportation emissions are 1.87 tons of CO2e per person.
Robertson said a bike-share program would reduce carbon emissions and improve the health of Ottawa residents.
"You're going to get people out of the cars, you're going to reduce greenhouse gases and air pollution. People are going to be healthier," said Robertson.
---
More Stories