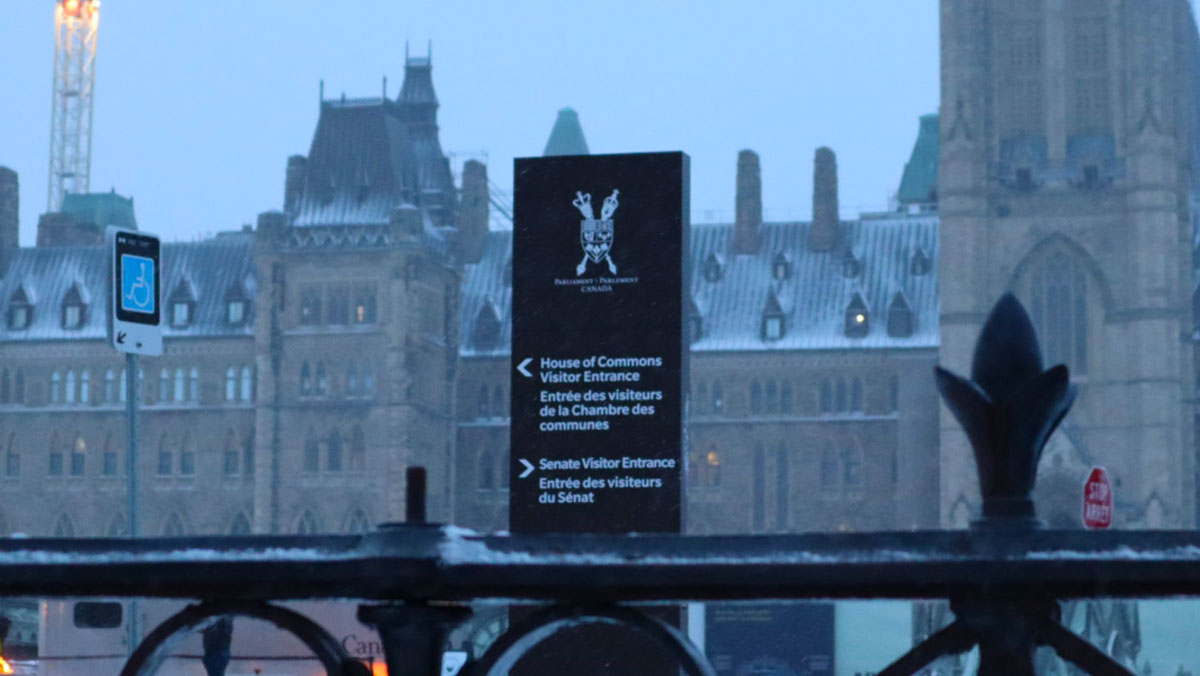 Supporters of the Uyghur Rights Advocacy Project (URAP) made their feelings known in front of the Centre Block as Parliament reopened in a bid to raise awareness about the genocide of the Uygher peoples by China.
More than 30 URAP supporters stood united while waving the flag of East Turkistan and holding photos taken from concentration camps in western China. In the crowd was Mehmet Tohti, executive director of the organization. 
"You have to understand that the Uyghur issue is a Canadian issue," said Tohti, about the reason for the protest. 
The group wore matching blue shirts all saying 'Free Huseyin Celil', who immigrated to Canada in 2001.
He was arrested in Uzbekistan while on vacation and extradited to China. In an opinion article in the Toronto Star Celil's lawyer, Chris MacLeod, says that Celil has been detained in China for 15 years because of his activism for the Uyghur people without access to a fair trial. 
For 20 years, Tohti has been advocating for Huseyin Celil and other Uyghurs imprisoned by the Chinese. His concerns continue to grow as the treatment of Uyghurs in China worsens.
Amnesty International has reported that China's surveillance and persecution of Uyghurs escalated in 2017. The organization also provided details of the Uyghur internment camps in Xinjiang, where many Uyghurs live.
Tohti left Kashgar, a city in the region when he was 26. His mother and siblings stayed behind. 
"I don't know if they are alive or dead or what happened to them because there's no way to communicate with them by any means," he said. 
The Chinese have prevented Uyghur citizens from contacting their relatives outside of the country. The last time Tohti heard from his family was in October 2016. 
According to Kayum Masimov, the group's project manager, there are no answers for many Canadian Uyghurs on the whereabouts of their relatives in China.
"It's very universal that our diaspora members cannot reach out to their family members. We simply do not know what is happening in their life," said Masimov.
Masimov, an ethnic Uyghur, immigrated from Kazakhstan to Canada in 2001. Over the years, he's witnessed this tragedy's long-term effects on the community.
"Community members suffer post-traumatic syndrome, lack of appetite, lack of attention, constant depression, migraine, lack of interest, suicidal thoughts," Masimov said.
Uyghur diaspora
Upon coming to Canada, Masimov worked for the Uyghur diaspora helping translate testimonies from refugees. These stories compelled him to continue his advocacy. Now he's fighting for the freedom of future generations.  
Masimov organizes weekly demonstrations in front of the Chinese Embassy as well as conferences featuring guest speakers. Some events have included jarring testimonies from survivors of the internment camps. 
The URAPs main office is based in Ottawa, but there are supporters across the country. Members from cities like Toronto and Montreal travel regularly to take part in the demonstrations in on Parliament Hill. 
Holding rallies in Ottawa has increased political interest. Twenty MP's from different political parties were present at the recent demonstration on Parliament Hill. Alexis Brunelle-Duceppe from the Bloc Québécois, Rachel Bendayan from the Liberals and Conservative Senator Leo Housakos were among those present. Housakos told the crowd about his bill calling for a ban on imports from Xinjiang.
"But I think the most fundamental one is that our freedom or democracy or respect for human rights and the rule of law, is what brings us all together," Housakos said. He encouraged the Canadian Government to sever ties with China amid the country's persecution of the Uyghurs.
While the organization appreciates support, such as the recent decision to not have a diplomatic presence at the Beijing Winter Olympics, Tohti says there is still more to be done. 
Masimov called the diplomatic boycott, "the least they can do," he said.
---
More Stories