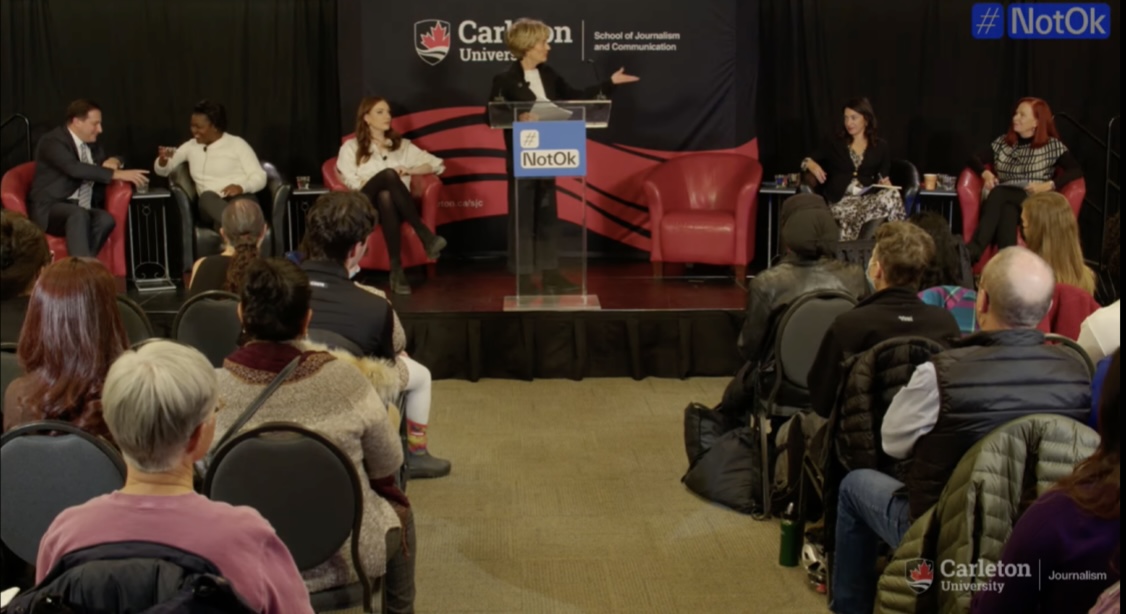 As the world grows more digitized, female journalists find themselves more and more vulnerable to intense cyberbullying.
The urgent issue and some possible solutions were explored during panel discussion on Dec. 1 at Carleton University.
The in-person and online event, titled "Journalists and Online Hate: What to do when the battlefield is everywhere," was hosted by Carleton's School of Journalism and Communication, in partnership with CBC/Radio-Canada, the Stursberg family and the newsroom safety project #NotOk.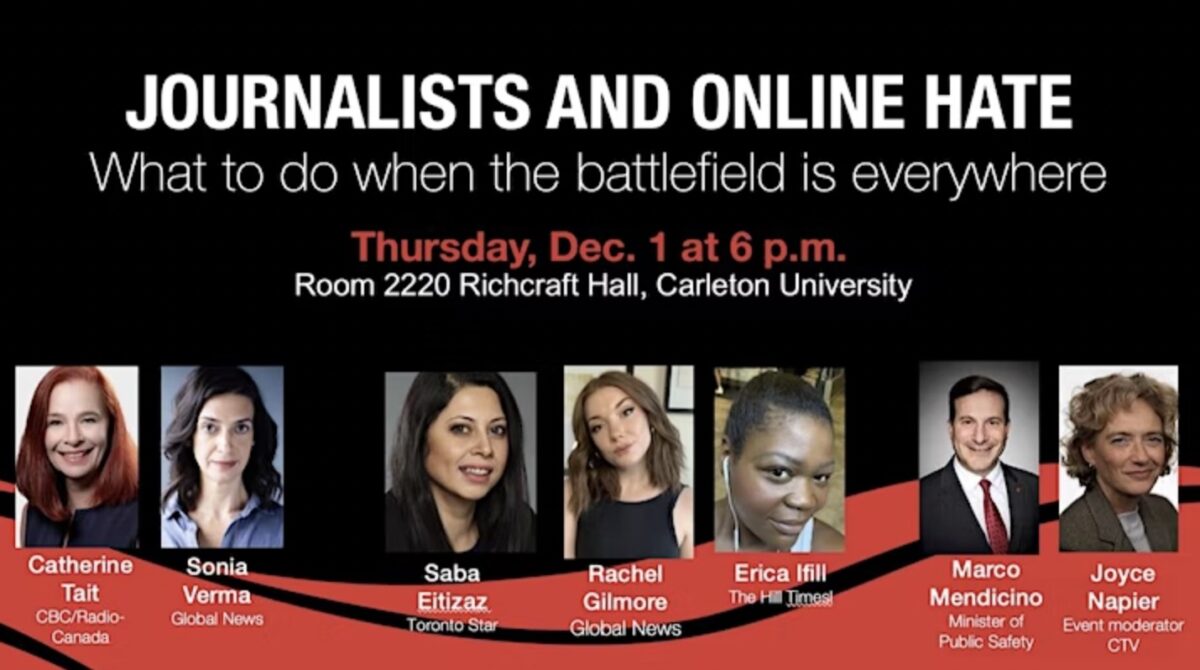 The panelists were CBC/Radio-Canada president and CEO Catherine Tait; Sonia Verma, editor-in-chief of Global News; Saba Eitizaz from the Toronto Star; Rachel Gilmore from Global News and Hill Times columnist Erica Ifill. The panel was also joined by federal Public Safety Minister Marco Mendicino.
One of the major forms of cyberbullying that female journalists face are emails that threaten to attack and sexually assault them for their reporting.
Eitizaz, a Pakistani-Canadian journalist, participated through Zoom and read aloud one of the threatening emails she has received. The language used was deeply disturbing and graphically described a threatened sexual assault and execution of Eitizaz. The virulent message was shared with the audience — following a trigger warning from Eitizaz — to clearly convey the intensity of hatefulness she and other female journalists of colour have faced. (Eitizaz's 90-second discussion of the threatening message and her reading of the emailed words can be viewed beginning at the 55:30 mark of the YouTube video recording of the Dec. 1 discussion panel.)
"Safe has now become an alien word to me," Eitizaz said. "I can't remember what safe looks or feels like, which is ironic because safety is what I came to this country for."
These kinds of threats have also escalated into violent videos that are sent to journalists.
Gilmore revealed that she had received a video in which someone pulled out a knife and threatened to kill her. When Gilmore reported the video to police, they told her it wasn't considered a threat under the Criminal Code.
In order to qualify as a threat, the words must be explicit, Gilmore was told.
"They have to tell you, 'I am going to stab you in the heart and kill you,'" said Gilmore. "So if they say, 'Oh, wouldn't it be a shame if somebody stabbed you in the heart and killed you?' That's suddenly not violating the Criminal Code."
In 2021, CBC/Radio-Canada and news partners around the world conducted an industry-wide survey about the impact of online harm on journalists.
According to the survey results, three-quarters of journalists have experienced some form of harassment in Canada. One in five are harassed online on a weekly or a daily basis. Female, Indigenous, racialized and queer journalists are attacked more frequently and viciously. 
'Social media can be as dangerous an environment as hostile, physical environments.'

— Catherine Tait, president and CEO, CBC/Radio-Canada
"Social media can be as dangerous an environment as hostile, physical environments," Tait said.
To protect the journalists at Global News, a social media team was hired. Verma explained that there is also a dedicated security person to analyze the threats that come in, which allows them to develop email filtering systems that can identify profane language in an email sent to journalists across the newsroom. The system funnels those threatening emails directly to Verma. Verma says this is done to protect the mental health of journalists at Global News.
Along with implementing stronger cybersecurity, Verma and Tait also proposed the solution of policing online hate. They are currently in the process of speaking with law enforcement agencies across the country to demand penalties for those who commit online hate against journalists.
Mendicino called on more journalists to come forward and share their experiences in order to encourage law enforcers to take swift and effective action to protect journalists from harm.
"The purpose of the law is that we enter into a basic covenant with each other about how to treat each other," said Mendicino. "If we don't follow those basic rules we agree to abide by, then there should be consequences for that."
Although there are various plans in place to protect journalists from harm, Verma recommends that journalists avoid using social media altogether.
"Your job is to tell stories, is to hold power to account, and is to focus on your work."
However, Verma and Tait said they don't have alternative solutions for promoting stories and finding sources without social media.
For now, Tait encourages current and future journalists not to back down from their jobs.
"Stay the course," Tait said. "I know that sounds contradictory, but we need fiercely, independent, outspoken journalists more than ever before."
In the coming months, CBC/Radio-Canada, in partnership with Sunnybrook Health Sciences Centre, will be releasing the results of a new survey that focuses on the mental health of journalists who have been harassed online.
---
More Stories