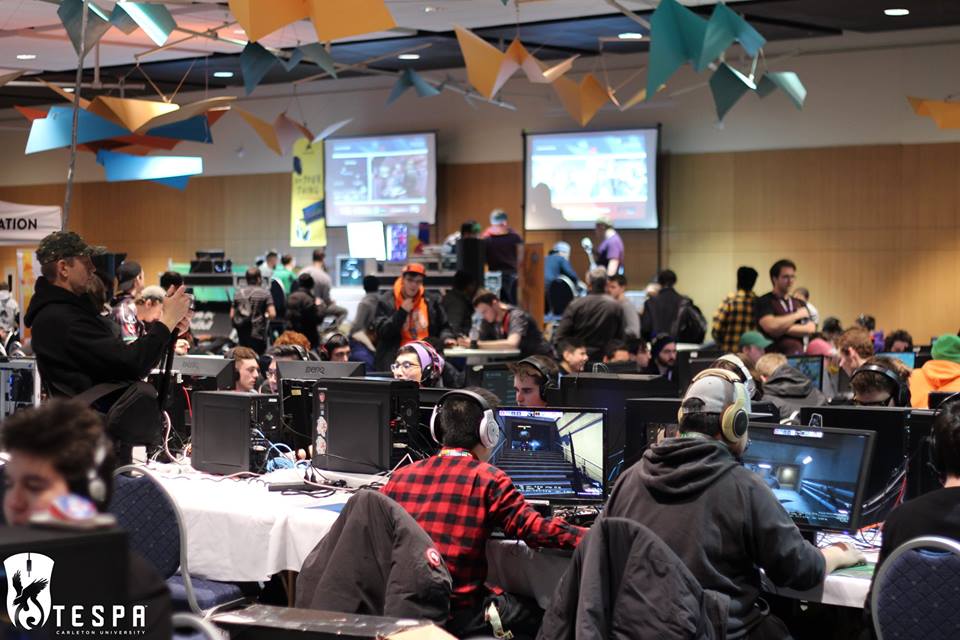 Two Carleton societies are using video games as a platform for raising money and awareness for the growing competitive video game community in Ottawa.
The Winter Charity LAN, held every year since 2011, will be held on Carleton campus March 27 and 28, and takes place over 24 straight hours in the University Center Atrium. The event will have live-streamed video game tournaments and board and card game tournaments, all with prizes.
The Carleton Student Engineering Society is working with Tespa Carleton for the event, using their combined online communities to get as many attendees as possible.
"Basically the goal of Charity LAN is to get the community together and raise money for charity, and have fun while doing it," said Kaylin Paquette, Vice-President of Social Affairs for the engineering society. "Everyone really looks forward to it, there's a lot of people that show up and we usually raise a good amount of money."
Paquette says having Tespa Carleton involved benefits both groups. "It's nice to collaborate with people because then you've got more people involved and more people come out, and it makes good relationships between societies."
It's something that Martin So, the co-president of Tespa Carleton, says helped found the Carleton chapter back in 2016.
So says that Tespa is a collegiate e-sports organization. It is affiliated with Blizzard Entertainment, a major video game developer. It helps esports chapters on university and college campuses. "In order for your school to be considered a Tespa Chapter, the school needed to have an active e-sports club. Tespa provides a network and resources to help grow a school's e-sports club," So said.
And grow they have. In three years Tespa Carleton has 560 physical members coming to events and more than 1,000 online members.
So said the tournaments they put on, most notably FrostFire, which is a two day computer game event at the Palais Des Congrès in Gatineau, have amassed a large following over the years.
He said more than 300 people were at this year's Frostfire, a number Tespa Carleton hopes to beat in 2020.
"The gaming scene in Ottawa is pretty massive and definitely growing," he said. "With established e-sports clubs at all the post-secondary schools in the city, each club hosts their own events that are open to the public which allows casual and competitive gamers to attend."
It's a notion Robert Oles, a co-founder of Tespa Carleton, supports.
"Gamers tend to get a lot of bad press," he said. "By having these communities, we can change how people view video games and show how they can have a positive influence on the people who play them and the community as a whole."
Oles says that his original hope for Tespa Carleton was to "develop a community that celebrated gaming as a positive force for bringing people together."
"Our goal was to develop programming that celebrated the diversity of our school community while putting together teams that would compete against the more established programs in tournaments."
Now, after three years of rapidly growth, So has new goals.
"One of our long-term goals has been to reach out to the athletics department for support and potentially be under the athletics umbrella at Carleton," he said. "This means scholarships for students, support from the school ranging from dedicated practice areas to academic growth. It's basically the same as a regular collegiate sports team in terms of school support but instead of competing in a field, rink or court, it's online gaming."
Tespa Carleton is already sponsored by large names like Red Bull and Corsair Components and is attracting game development companies seeking talent to work in the field.
"Big companies right now want to invest in collegiate e-sports because that's where the next leaders are for the industry, young adults who have the same passion of gaming," he explained.
---
More Stories