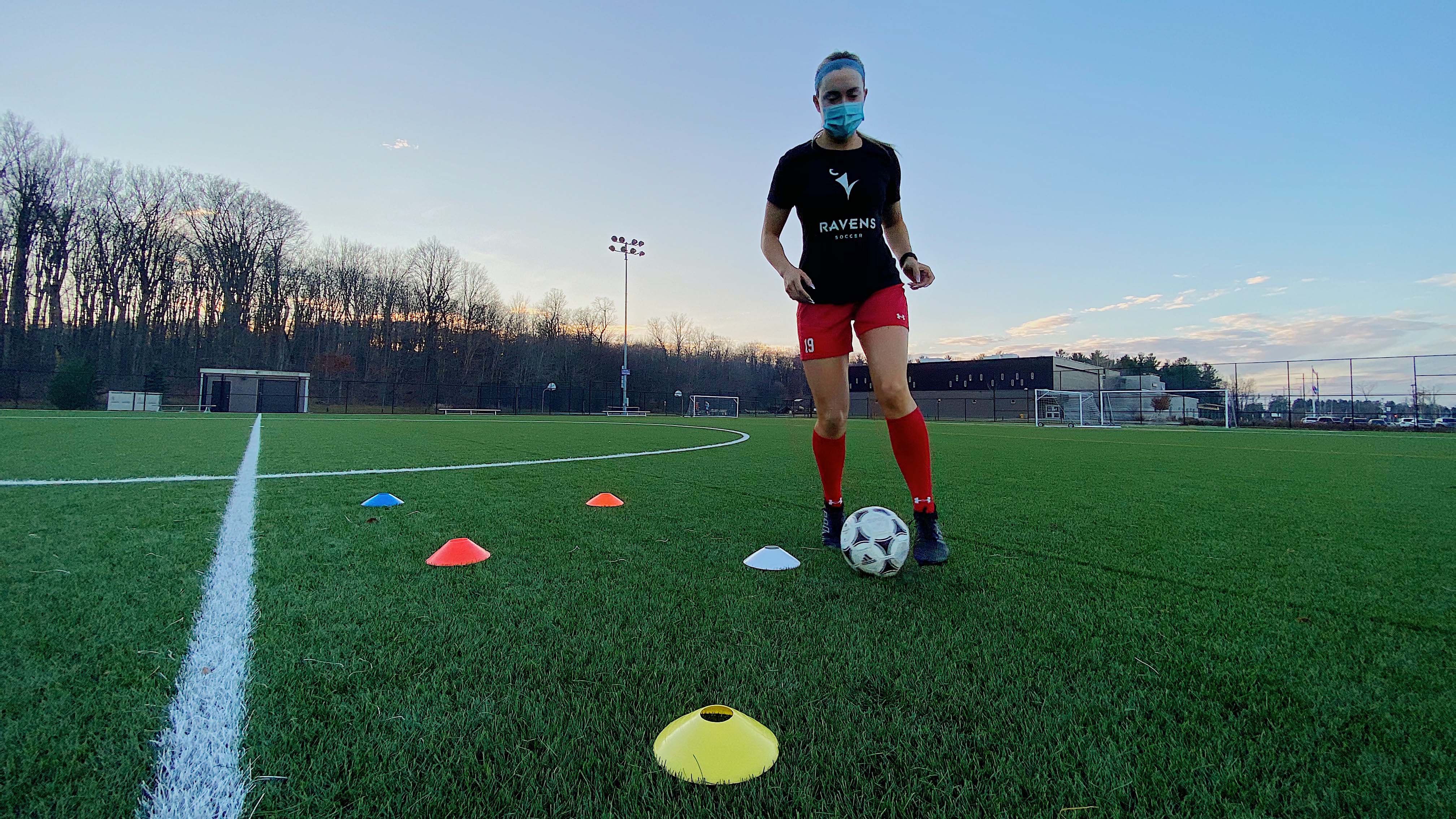 The pandemic has cancelled varsity competition this year for the Carleton University men's and women's soccer teams, a wrenching experience for the athletes as they try to chart their future in the sport.
University athletics in Canada have generally been hit hard by the COVID-19 crisis and the public health regulations imposed to curb the spread of the coronavirus.
Over the summer, the Carleton men's and women's soccer teams' involvement in the sport differed considerably.
As a substitute for the COVID-cancelled varsity season, the men's team played with a local competitive club, Ottawa South United, to keep active with high-level soccer under the OSU banner in the Premier ligue de soccer du Québec — a semi-professional soccer league.
The OSU team was created for university players living in Ottawa, and for those visiting home after attending different schools outside the city. Although Carleton players formed the foundation of the team, players from Queen's, Trent, and Laval universities were also part of the roster.
The team practised three times a week and competed in a game once a week throughout the summer. The team was in second place — with a few games in hand and a shot at first — when the league was shut down in late August.
"Playing in the PLSQ league gave us competitive games and training, so that was very positive to us," said Kwesi Loney, head coach of Carleton's varsity men's team for the past five years.
The women didn't have the same opportunity.
Under normal circumstances, the women's team would typically practise on the pitch five days a week, along with six training sessions per week in the High Performance Centre — a workout space at Carleton available to varsity athletes and the general public that focuses on strength and conditioning.
Instead, the women's team held three virtual Zoom practices per week, and online HPC sessions.
The players would meet online with a ball at their feet in their front yard or wherever they could find space, and practise technical work — such as ball control and footwork — virtually.
They followed this format through the summer, eliminating any in-person team training.
Although the virtual activity over the summer meant the women's players were not in a training environment as competitive as the men's, the coaches and players don't necessarily feel that this put them in a disadvantage.
"I don't think that playing over a couple months in the summer and then not playing for over a year is going to have a huge impact one way or another," said Jasmine Phillips, an assistant coach of the women's team. "They still trained in the capacity that they could, and they were still doing the necessary fitness, so I don't think it was a big disadvantage at all."
Shalene Denovan, co-captain and centre midfielder of the women's team, shared a similar opinion. "In comparison to the men's team — yes, it puts us at a disadvantage," she said. "But in comparison to the teams we have to play against, I don't think so at all, because no one was able to do that. So we're at an even playing field as the other teams in our league right now."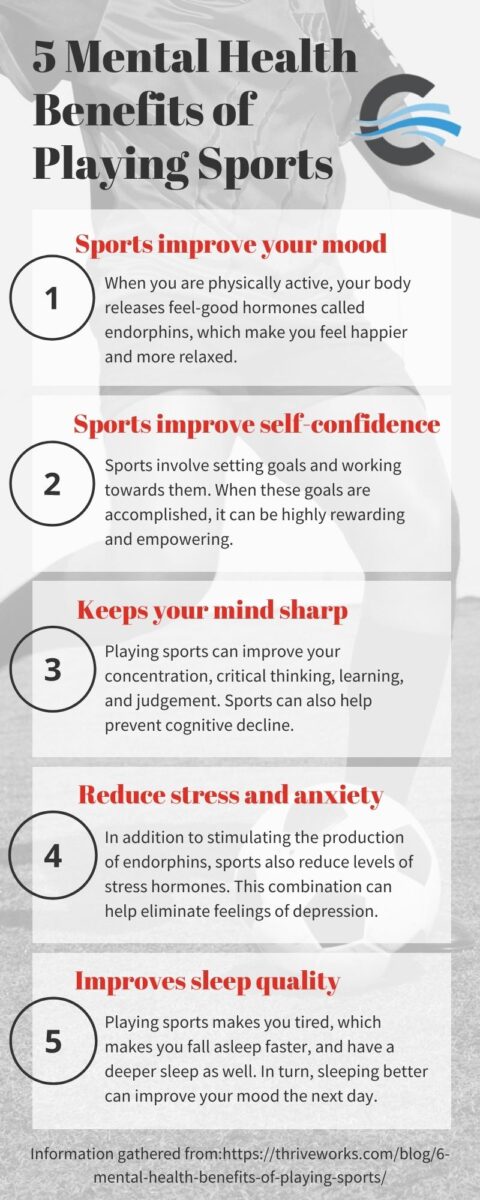 Training in the fall has continued to be drastically different. Under normal circumstances, in the fall the teams would officially be in training for the competition season, which would have them practising Monday through Friday two hours a day, training in the gym four days a week, and travelling on the weekend for games Saturday and Sunday.
This fall, the regime is much different. Players started training at Carleton in mid-September, but under strict guidelines. The players must follow physical distancing protocols outside, meaning only work on skills such as passing patterns, finishing and footwork can be carried out, with no contact or scrimmages.
"Part of the reason why we wanted to keep training as a team at Carleton is because it is a part of our daily routine every fall, so we wanted to maintain our training and use it more as an outlet for our players," said Loney.
COVID's impact ultimately cancelled the men's and women's varsity league seasons. The cancellation meant the National Championships — to be hosted at Carleton this year for the men's division — were postponed.
The men's team has qualified for nationals for the past three years, each year improving their standing in national rankings.
"We were looking forward to playing at home in front of our friends and families, and the student body," said Loney. "It would have been a great opportunity for us to put our program back on the map again."
Chris Malekos, a fourth-year centre back for the men's team, was also disappointed that Carleton would not be hosting Nationals this year.
"For me and most of the guys on the team, we've been playing soccer our whole lives. So not playing this year at Nationals — the time of the year that you look forward to the most — was really tough."
He added "We had been putting in the work and thought this year was going to be our year at nationals — it was leading up to being a very good year."
This year was also an important season for the women's team, as they had signed a lot of new first-year recruits, most of whom are not based in Ottawa.
Consequently, this left a majority of the women's players unable to train with the team at all this year, as they chose to stay home because of the pandemic. For example, on the women's team, 17 players are not based in Ottawa. By comparison, only five members of the men's team are not based in Ottawa.
"Most of . . . our first-year players that are out of town decided to stay home," said Phillips. "They didn't want their first year of university experience to be locked down in a pandemic, and we totally understand that."
With the season upended, players' mental health has been affected — especially for the women — making it a key concern for the athletics staff.
Many players not only miss playing the game, but also they miss the social side of the sport. They feel their semester this year has had less structure and is more difficult without the mental escape the sport offers them.
As a result, Nadine Smith, the head athletic therapist at Carleton, flipped her methods from focusing on physically treating the players to doing mental health check-ins online when the pandemic closed the Carleton Sport Medicine Clinic on March 13.
"When the players are training five times a week and travelling on the weekends, it's a huge social interaction for them. To go from that to absolutely no contact was quite drastic, so mental health became our key focus very quickly," she said.
"Normally the season is very hectic," said Sophie Ehlebracht, a third-year goalkeeper, and co-captain of the women's team.
"When the players are training five times a week and travelling on the weekends, it's a huge social interaction for them. To go from that to absolutely no contact was quite drastic, so mental health became our key focus very quickly."

Nadine Smith, head athletic therapist at Carleton
"You're in your classes and then you're at practice and then you're travelling on the weekend, and spending a lot of time with the team. Now my weekdays and weekends are free and I've never had that before," she said.
"It's been a big adjustment, because I'm very good at managing my time. But now I have so much time, so I feel like I have no structure anymore."
Smith has set up Zoom sessions with the team and has held check-ins with players that need it through the summer and fall. The players also have access to Carleton Athletics sports psychiatrists, psychologists and psychotherapists, and can see them virtually, as well. 
[Dr. Danielle Braidwood discusses how elite athletes mental health can be acutely impacted from their inability to play soccer due to the pandemic.]
Dr. Danielle Braidwood, the team physician for the women's team also believes that staying on top of mental health during this time is paramount, which is why she has been hosting online yoga sessions with the team throughout the pandemic.
"For a lot of the athletes, sport is a part of their identity, and also a part of their way of managing their mental health," said Braidwood.
For players like Denovan, playing soccer cleared her mind and relieved her stress.
"Surprisingly, this semester, without having a season in it, has been the most stressful and busiest semester that I've ever had to go through. I think that's just because without the season, and without regular training, I feel like there is no escape."
[Shalene Denovan discusses how this semester of school has been remarkably difficult without the soccer season.]
It's unclear how the varsity soccer teams will function in the winter months, or when players will get a clearer sense of when a return to normalcy might happen. Recent updates from the Ontario government and the Ontario Soccer Association however, have laid out a framework that could be followed based on the colour zone Ottawa is in throughout the pandemic.
In order to keep Ontario operating safely, and constructively control the impact of the pandemic, the Ontario government announced on Nov. 7 that Ontario Public Health units would move into the new COVID-19 response framework. On Nov. 12, the Ontario Soccer Association updated its status in its Return to Play Guide — which is designed to navigate organizations through the pandemic with plans and protocols.
The Return to Play Guide operates in three phases, based off the COVID-response colour zones for each region across Ontario.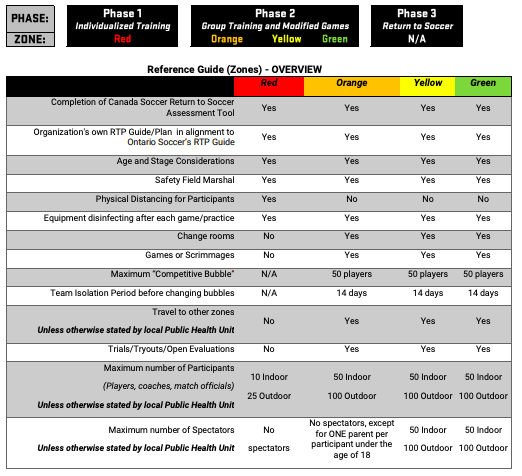 After record high case counts in Ontario, concerns about a runaway second wave continue to grow.
Ottawa is in the orange "restrict" zone, which means soccer training will continue to follow the protocols outlined in phase one of the Return to Play Guide.
"Were just really happy that all of our athletes have been doing a great job at being committed to coming out to training and doing the best they can do under these circumstances. That is all you can ask of our student athletes and they've done a tremendous job," said Loney.
"Hopefully as we move forward we have a smooth transition into the indoor training and hopefully we might be permitted to playing an exhibition game or too in the winter. I try not to think too far ahead because news is changing every day, so we are focused on taking each day as it comes and each month."
For now, as long as the weather is favourable, teams will continue to respect social distancing while training outside, as the coaches feel it is the most efficient way to maintain skills and conditioning while ensuring athlete safety.
---
More Stories