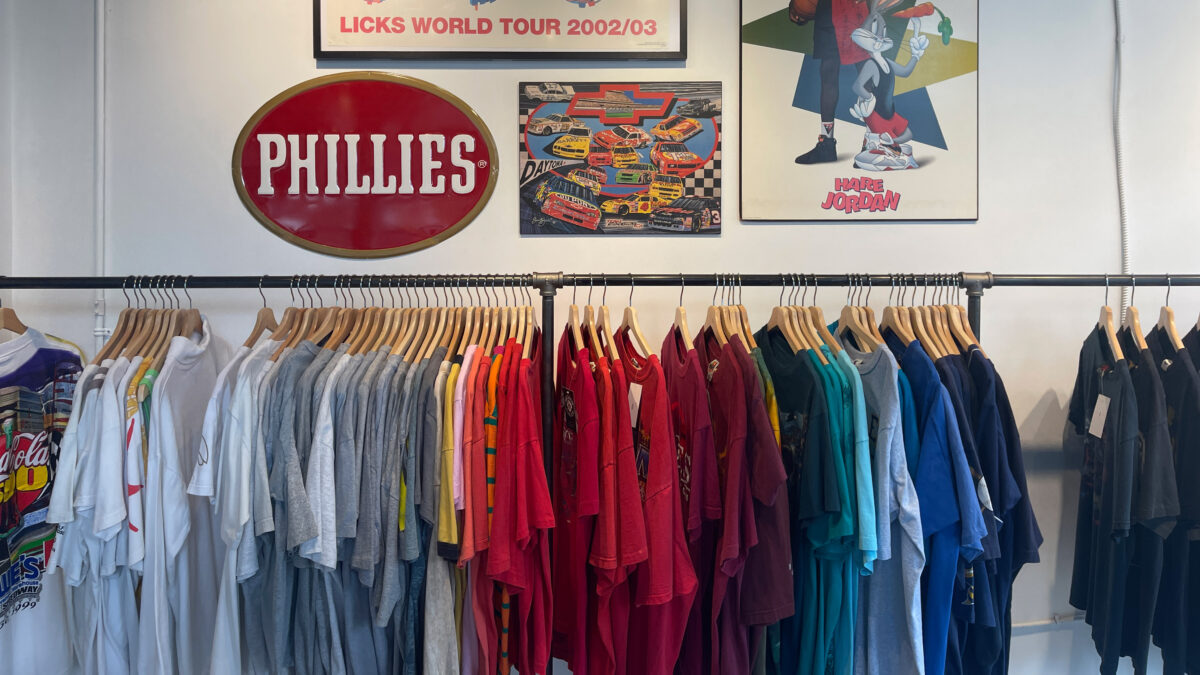 The market for secondhand clothing is booming, according to reports, which many see as a promising opportunity not only for local businesses, but also for lessening the environmental impact of the fashion industry.
Karishma Porwal is an advocate for sustainable living who uses her Instagram following of more than 25,000 to educate and amplify local activism. "We have been co-opted to think that $12 for a T-shirt is a fair price," she said. "The truth is, we need to be viewing clothing like we view furniture. We should be saving up for a good investment piece that's going to last us quite a while."
There's no perfect form of sustainable fashion, said Porwal, but she believes resale is as close as it gets at the moment.
"These clothes have already been created. There's virtually no footprint to buy something that's already been produced, used by somebody, and discarded," she said.
The 2021 Resale Report, conducted by online consignment store ThreadUp, estimates that the resale market will double over the next five years reaching a value of $77 billion U.S. The growth will be driven by two major factors: the number of sellers and the sheer amount of new or lightly used clothing that sits untouched in closets around the world. 
The secondhand market?
Carla Ramirez got into the secondhand industry by selling a few items from their own collection, before expanding their passion for clothing into a vintage resale business called Studio 222.
"I love shopping and I love thrifting, so once I gathered a few items that I knew I could sell for a profit, I figured that if I like doing this, why not make it a bigger thing?" said Ramirez.
Ramirez, 23, does most of their business through the online resale platform Depop, which was acquired last year by Etsy for $1.6 billion U.S. The site says that 90 per cent of its users are under age 26 who appear to place a high value on sustainability, affordability, and an independent or unique style.
According to ThreadUp, more than 40 per cent of young people have shopped second-hand in the last 12 months, compared to 16-30 per cent in older generations. Younger people may also be less likely to associate secondhand clothing with negative stereotypes, the company says.
Sian Richard co-owns Bad Dog Co., a consignment shop in Ottawa's Centretown. Richard distinctly remembers being bullied for wearing thrifted clothing as a child.
"I think a lot of people from different backgrounds are seeing the value in buying used, and it's becoming way more socially acceptable — as it should," he said.
Richard and his partner Luke Webster started the consignment shop to fill a gap in Ottawa's vintage market.
"Our main love is '80s-'90s vintage streetwear. We found ourselves hunting for these unique pieces everywhere, but always had trouble finding it in Ottawa," said Richard.
Bad Dog sources most of its clothing from customers on a consignment basis, "so people can always rotate their closet and use items they already own to get something new," Richard said. This is a modified form of what is known as circular fashion. 
A term coined in 2014 by Anna Brismar, circular fashion is any kind of clothing or accessory "designed, sourced, produced, and provided with the intention to be used and circulate responsibly and effectively in society for as long as possible," as Brismar wrote in 2017. True circular fashion also accounts for the biodegradation of a product at the end of its lifespan.
Is secondhand sustainable?
From production to disposal, the toll that fast fashion takes on the environment is being increasingly acknowledged. According to the United Nations Environment Programme (UNEP), the fashion industry uses 93 billion cubic metres of water a year. Just one pair of jeans can take more than 10,000 litres of water to create, depending on the production method.  
"It's not like this water can be re-used," said Porwal. "It's considered wastewater because it has been tainted by toxic dyes that can't be removed by municipal water cleaning systems. A lot of the time it's fresh water, and that's water we need being used to create disposable pieces of clothing."
Verena Erin runs the blog My Green Closet, which focuses on how to incorporate sustainable and ethical fashion in everyday life.
"There is more and more information available about just how terrible the fashion industry is. We can't ignore it, and people are realizing that there are also better options out there," said Erin.
Resale may seem like an ideal form of sustainable fashion, but Erin and Ramirez both pointed out that it's not as simple as switching to buying your clothes from resellers. Key to challenging the reign of fast fashion is consumer habits.
"I think secondhand clothing is a great affordable option, but the resale industry isn't perfect, and we still need to be consuming second-hand clothing responsibly. We can't just shift fast fashion habits to secondhand clothing," said Erin.
Porwal agrees.
"While vintage and resale stores aren't perfect by any means, they're way better than fast fashion. Let's not let perfect be the enemy of good."
---
More Stories