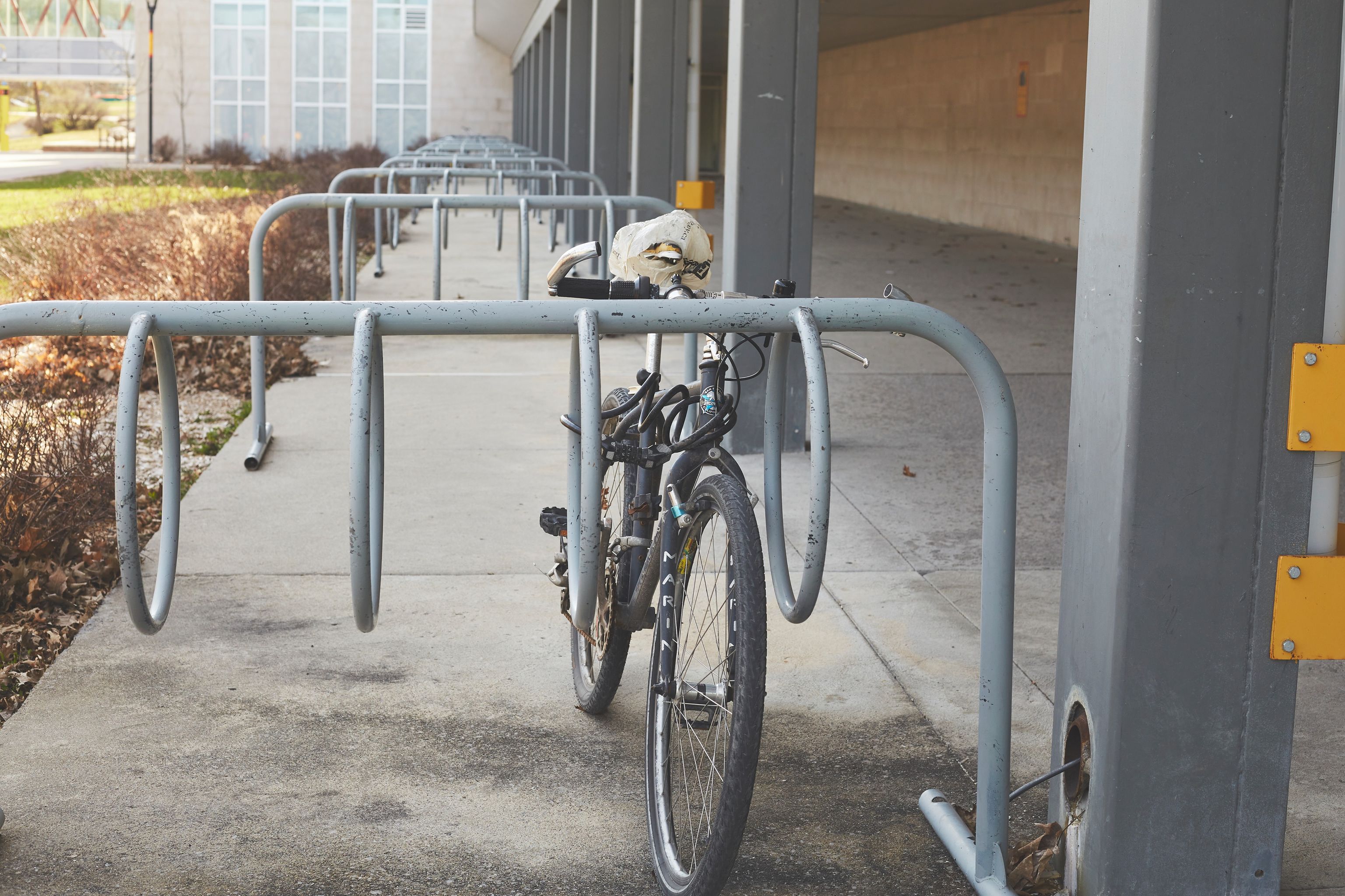 The City of Ottawa has approved a new plan to make parking your bike in public downtown more convenient and widely available in high-traffic areas.
Ottawa's LRT system and public transit hotspots have a special focus in the plan. Bike Ottawa board member Dave Robertson pushed for these new measures, emphasizing the importance of placing bicycle parking and bike shares — short-trip rentable bicycles — close to public transit stations.
"If 77 per cent of all Ottawans are going to be within five kilometres of our LRT stations, getting there by active transportation will be critical," Robertson told the city's transportation committee. "A 15- to 20-minute bike ride for those five kilometres away from a station is far different from a one-hour walk."
Bike Minds co-founder Matt Pinder agrees. The cycling advocate encouraged the city to develop greater biking accessibility.
"Ottawa doesn't have a lot of space to create more room for cars, and suffers from peak-hour congestion that can make commuting by car inefficient and maddening," Pinder said by email. "Bike infrastructure facilitates a very efficient means of expanding the capacity of our transportation network, and provides an option for people wanting to add that little piece of joy to their daily commute."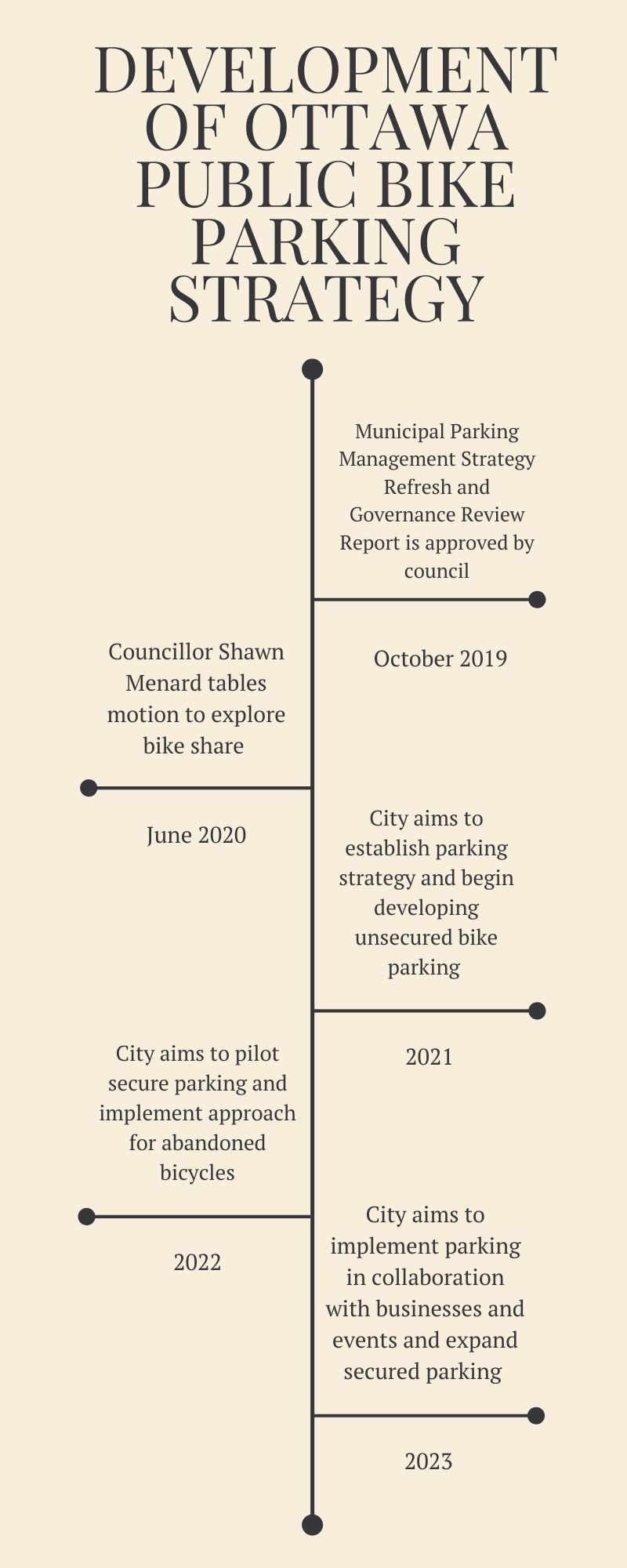 The city staff report says the new parking strategy will evolve in three phases from 2021 and 2023.
Ottawa currently provides more than 11,000 public parking spaces for bicycles. Scott Caldwell, an area manager for Ottawa's transitway and parking team, said this number can be increased through measured action by the city.
"We expect there to be more available bike parking through additional facilities, higher capacity facilities and through freeing up space by way of addressing things like abandoned bikes," Caldwell said during the April 7 committee meeting.
The development of new bicycle parking facilities will begin this year, starting with a suite of unsecured parking areas. Residents can expect further construction in 2022, with the city identifying locations for secured parking early next year.
One-stop shop
Kitchissippi Coun. Jeff Leiper applauded the project's "one-stop shop" approach to city-wide parking at the meeting. "It can be really frustrating from the councillor's office perspective sometimes to try to figure out who's going to put which parking in or maintain it, and having the single intake is going to be extremely helpful moving forward," said Leiper.
Ottawa's bike stores support the plan. Creating greater access to cycling facilities — including bike parking — should be a "top priority," said Ahmed Abou, store manager at Cycle Power on Carling Avenue. He cites "green talk and sustainability" as motivating factors for the city to push for increased infrastructure for cyclists.
Peter Kunstadt started Kunstadt Sports more than two decades ago, and the sporting goods store — with locations on Bank Street in the Glebe and three other places in the region — remains a popular source for bicycles and biking equipment in Ottawa. He also praised the city's encouragement of cycling through improved infrastructure such as enhanced parking facilities and segregated cycling lanes.
"Whatever supports bicycling, we support it," Kunstadt said. "And whatever makes bikers' lives easier, we're happy to see it. Absolutely."
While city council is generally unified in support of increased and improved bike parking, the idea of a bike-share program is not as popular because of high costs and uncertainty caused by the pandemic.
Bike-sharing programs have been available in Ottawa, but the costs of a relaunched system outweigh the potential revenues, the city report concluded. A bike-share program would typically use a model relying on bikes stationed at hotspots around the city, such as Parliament Hill, Lansdowne Park and City Hall.
Scott Caldwell says the estimated start-up cost of $4 million, the financial pressures caused by the pandemic and the existing framework for an e-scooter service as reasons to delay the development of a city-run bike-share program in 2021.
Kunstadt said he considers Ottawa's focus on bike parking and other infrastructure a promising sign of the city's forward-thinking approach to cycling.
"I think Ottawa is an example of a perfectly maintained biking infrastructure," said Kunstadt. "When you tell somebody from some other countries that we have bike trails in the middle of the city that are actually maintained after a snowstorm — I mean how much better can it get? I think Ottawa is uniquely kind to the biking public."
---
More Stories