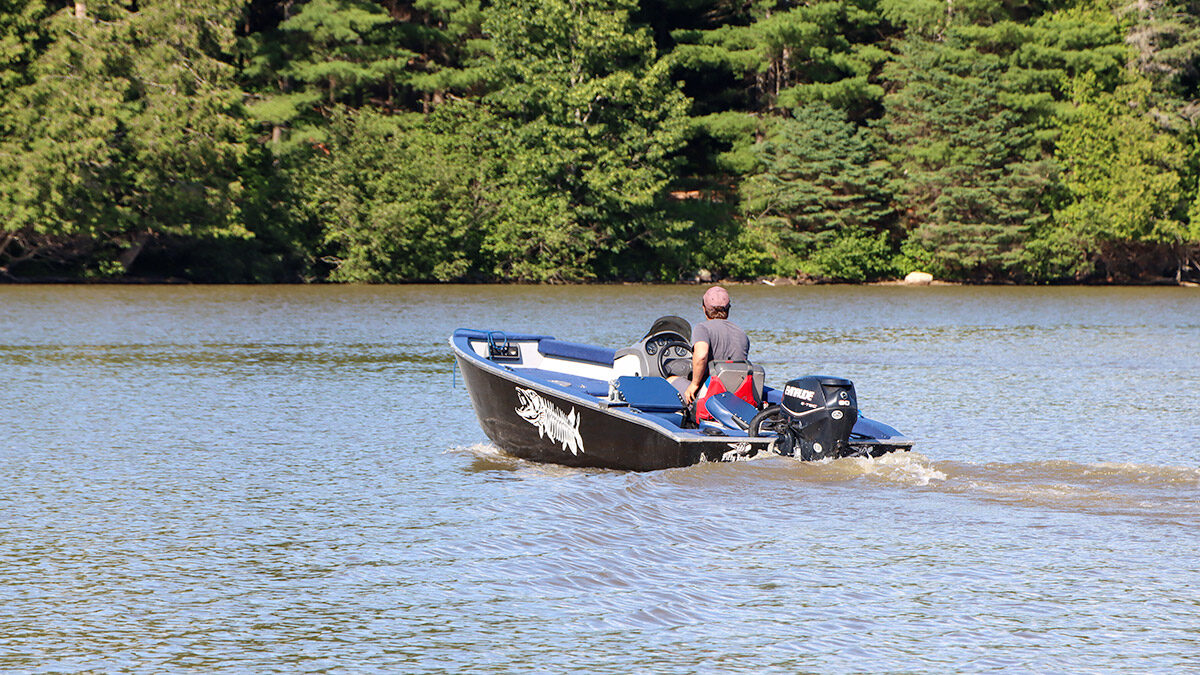 The number of swimmers, paddlers, and boaters on the Gatineau River has drastically increased over the past few years.
As a result, the congestion and waves caused by motorboats are becoming a safety and environmental hazard.
In response, the Friends of the Gatineau River, a non-profit volunteer organization that works to protect and improve the Gatineau River, is collaborating with the MRC des Collines-del'Outaouais to address the issues in a section of the river approximately 20-kilometres long, stretching between Wakefield's covered bridge and the Rapides-Farmer Dam.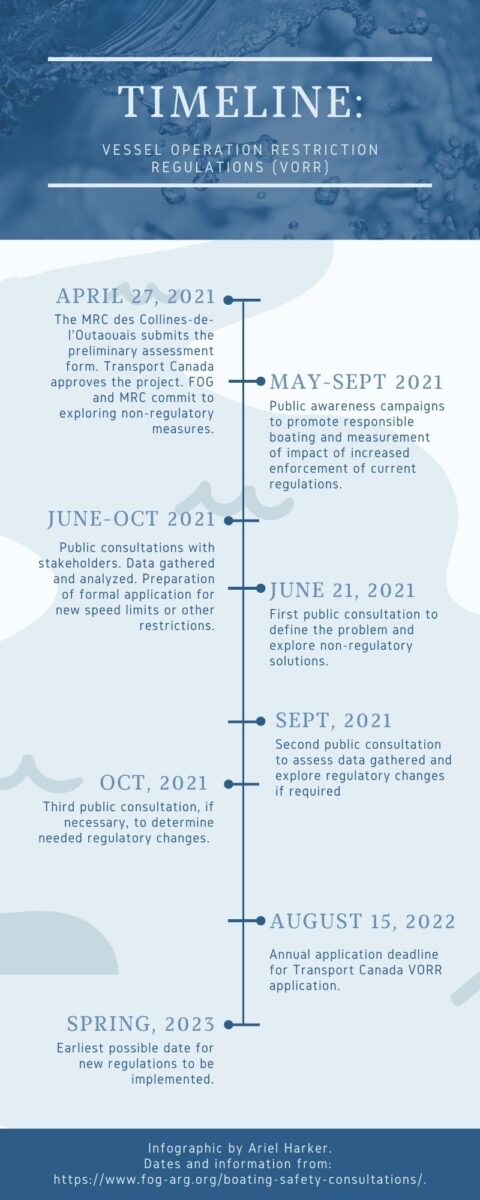 Rita Jain sees the problem almost daily when she sits on her dock next to the river's boat launch.
"The waves smash against the shoreline and my dock," said Jain, who has been the president of FOG's volunteer board of directors since 2019. "I see the groups of young boys with five jet skis decide that they're going to start spinning around."
To address the issue, FOG and the MRC have applied to Transport Canada's Vessel Operation Restriction Regulations program, which allows any level of government to request restrictions on the use of pleasure craft on bodies of water. Regulations could include speed limits in specified areas, plus restrictions on the power rating of motors, types of engines, towing activity or types of watercraft.
On April 27, the MRC des Collines-del'Outaouais submitted a preliminary assessment as the local authority with the jurisdiction to make requests for vessel restrictions. Transport Canada approved the preliminary assessment, meaning FOG and the MRC must follow a rigorous process implementing non-regulatory strategies before new rules will be considered.
Until September, FOG and the MRC will promote responsible boating through public awareness campaigns and measure the impact of increased enforcement. FOG and the MRC will also hold public consultations, gather and analyze data, and prepare formal applications for new speed limits if necessary.
If it's determined new regulations are required, the soonest they could come into effect would be spring 2023.
Why is boat traffic and wake a problem?
The current speed limit on the river is 10 kilometres per hour within 30 metres of shore and 55 kilometres per hour beyond 30 metres from shore.
Much of the Gatineau River is less than 300 metres wide, which doesn't give boat wake time to dissipate before it hits the shoreline. Wake damages docks, boats and road banks; erodes the shoreline; and stirs up sediment, lowering the water quality and disturbing aquatic plants and animals.
There are 600 private docks in the area, and thousands of swimmers and paddlers, according to FOG. Powerboats present a safety risk to others who use the river. Wake can swamp swimmers and paddlers.
In a survey conducted by FOG earlier this year, 52 per cent of respondents said the river is very dangerous given the current speed limits, while 35 per cent said it's moderately dangerous, and 13 per cent said it isn't dangerous.
Michael Cooper, a retired schoolteacher, got a lesson on just how hazardous the river can be when he left his rowing and sailing dinghy at a friend's dock on the Gatineau River last summer.
"The first thing I learned was that if I didn't do something clever, the boat would be dashed to pieces against the dock … because of the waves from passing powerboats," Cooper said. "The second thing I learned was, of course, not to try and go out in it on a Saturday or a Sunday, because the powerboats would be upending me."
Cooper, who has lived in Wakefield for 40 years, said he was shocked and disappointed by how much motor traffic there is on what used to be a quiet little river. When he realized how bad the boat traffic and wake had become, he joined FOG as a volunteer co-ordinator.
Public consultations with stakeholders
FOG's first public consultation was held virtually on June 21.
"What became clear is that not everyone's experience is the same, depending on where they live on the river or where they use the river," said Jain.
Some of the forum attendees said they haven't noticed an issue with powerboat wake, or cited other issues, like wind wake.
However, others highlighted the exact problems FOG is trying to reduce. One canoeist said she's had a least five encounters where she would have been hit by a motorboat if she hadn't stood up in her canoe and screamed to get the boater's attention. Another attendee said motorboats intentionally try to knock her 11-year-old child over with their wake when he's paddling at the Cascades Club.
Jain said FOG has been approached by people with similar stories, and that's why they took on the process of fighting for change. However, talking about these near misses isn't enough, she said.
"It's good to have it on the public forum, but it seems like the police are not aware of these incidents, and neither are the municipalities," said Jain. "People really need to make sure that these incidents are known to others, to the people in power."
MRC police have the authority to enforce all regulations. At the public consultation, Jain noted it's difficult for police to catch speeders on the river.
Data collection and monitoring; raising awareness
To fulfill Transport Canada's data collection requirements, volunteers will monitor river traffic from their own property throughout the summer, counting the number and types of vessels that pass by, including motorboats, sailboats, canoes, kayaks, paddleboards, and inflatables.
"We should have quite a bit of data that never existed before by the end of the summer," said Cooper.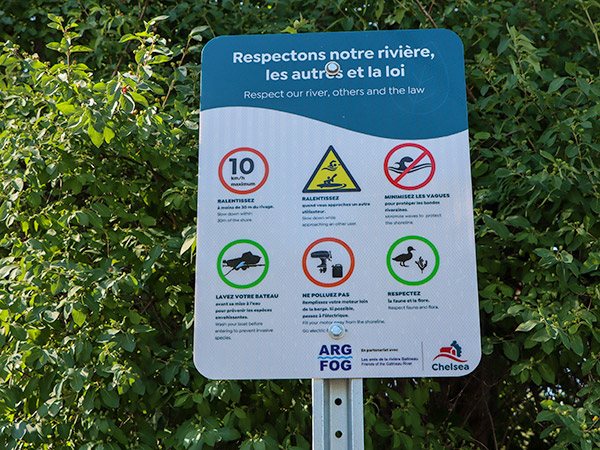 On weekends, volunteers will head to Farm Point boat ramp to count boats being launched and give users brochures and information about speed limits, preventing pollution and protecting the river's ecology.
That's how Cooper spent his Canada Day. He volunteered at Farm Point boat launch for three hours on July 1, talking to boat owners about their frequency of use, whether they lived locally, and the purpose of their trip, whether it be fishing or just going for a ride on the river.
"All of them were polite, and a lot of them were interested in the process of what we were doing and agreed that there was beginning to be congestion in the narrow points in the river," Cooper said.
Educating people coming to the river is key, said Jain.
"Everyone is welcome to come and explore the beauty of the Gatineau River," she said. "But it's important to understand and respect how you use it."
---
More Stories