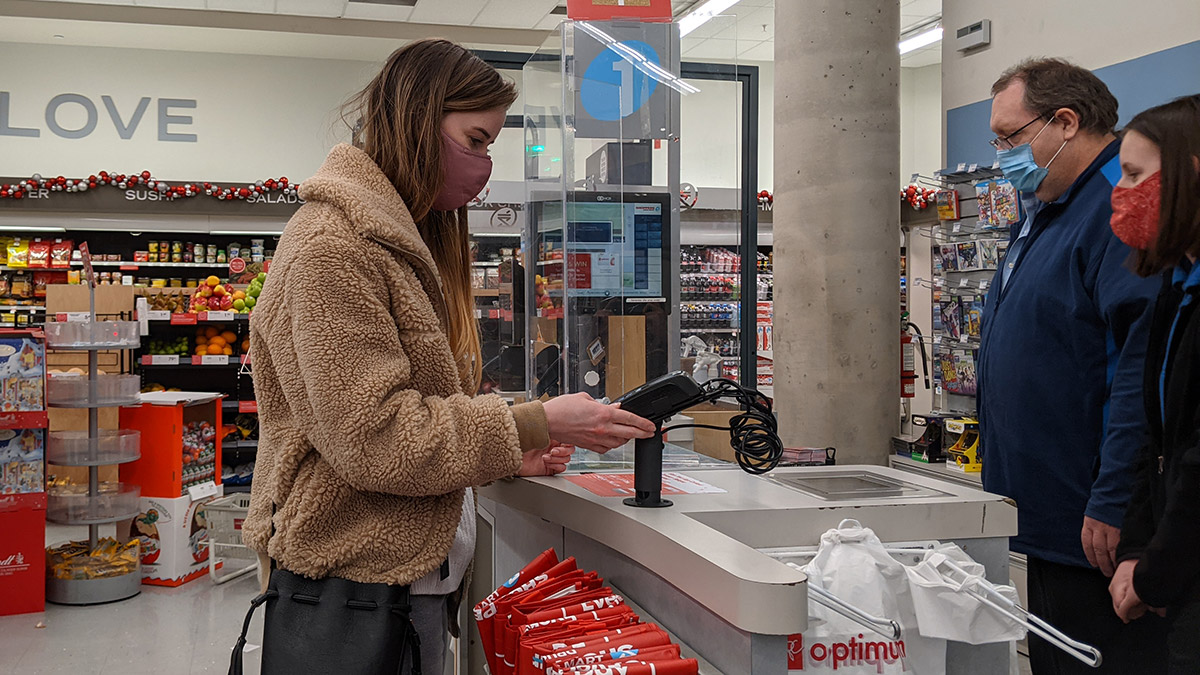 Anne-Marie Côté, 26, is having an unusually long conversation with the cashier at an Ottawa Shopper's Drug Mart.
The cashier is making sure Côté isn't the victim of a scam. On the glass counter is a pile of Shopper's gift cards: 62, to be exact.
As they chat, it eventually becomes clear that Côté isn't a victim — quite the opposite. She's buying a gift card for each of the beds at the Cornerstone Women's Shelter in Ottawa, thanks to a government-funded grant program.
"I was just thinking of a way that I could give back to the community for the holidays," says Côté. "And so I decided to make a bit of a gift to the Cornerstone Women's Shelter, which is an emergency shelter for abused women, refugee women, women who can't pay rent.
"So I'm just purchasing some gift cards, and I'm hoping to also be able to make some handmade cards and pass them out around Christmas."
#RisingYouth Community Service Grants are helping young people across Canada receive up to $1,500 to do good in their community. Côté's holiday gift initiative is among the projects receiving funding from the program. TakingITGlobal, a Toronto-based non-profit, administers the federally funded grants.
Apply by Dec. 31, 2020
Hopeful grantees can apply through #RisingYouth's website before Dec. 31.
"It's just a cause that I care about," Côté said. "I know that with COVID it's an even more difficult time for this population. I can only imagine on a regular day, being forced out of home and not having a roof over your head."
She says she hopes to give out the cards and gift cards purchased with her $750 grant to the residents of Cornerstone on Christmas Eve.
Côté works with an unrelated project at TakingITGlobal. #RisingYouth says most people with a credible idea who apply for the community service grant receive approval, so Côté was fully eligible. Anyone between 15 and 30 can apply for a grant of $250. To apply for grants with more financial weight, $750 or even $1,500, #RisingYouth says applicants must be a participant in one of one of their many partner programs.
In Ottawa, that means collaborating with an organization such as Youth Ottawa or Inuuqatigiit Centre for Inuit Children, Youth and Families, to name a few.
Tangit Nagra, manager of Grantee Administration and Grant Support with #RisingYouth, says the program has funded a range of projects such as podcasts, virtual art nights, and others.
"We try and say yes to everyone," Nagra said. "As long as the project is eligible or close to eligible, we try and provide enough support to get a youth's project across the finish line."
Since last April, the organization has given out more than $1.6 million in grants, according to Nagra. The money comes from the federal government under the Canada Service Corps initiative.
"Almost 80 per cent of them are COVID-19 response projects," Nagra added. "We've been very successful in having youth apply to our grants."
Another project to receive funding from a #RisingYouth Grant is A Rising Tide's "Paddling the Rideau" project. Anika Smithson and others embarked on a canoe trip from Kingston to Ottawa, making several stops to host community garbage clean-ups. She accessed the program through a conservationist organization called Ocean Bridge and received a $1,500 grant.
"We called it Paddling the Rideau, and it ended up being paddling from Kingston to Ottawa. I had two other Ocean Bridge ambassadors join me on the paddle. And we were able to run three different events ─ garbage cleanups along the way."
---
More Stories