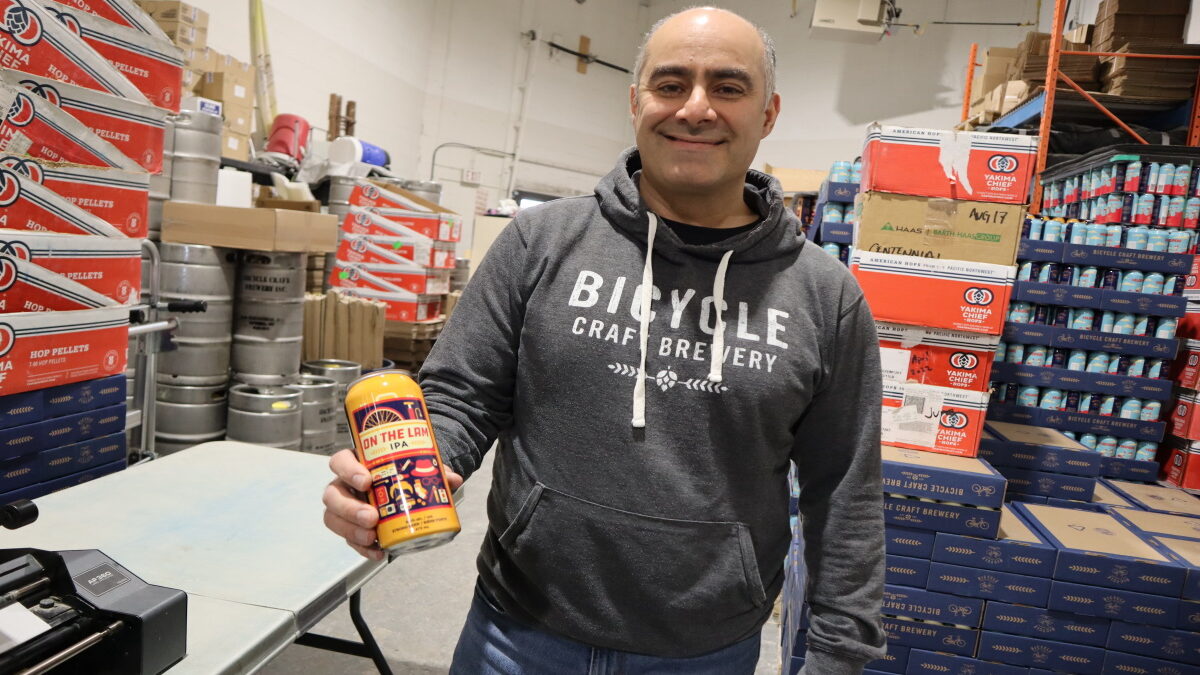 With data showing more Canadians are cutting their consumption of beer (and wine) and seeking healthier options, some microbreweries are tapping into demand for low and non-alcoholic beverages that offer the taste and enjoyment of a 'regular' ice-cold beer.
"It's diversifying your portfolio," said Fariborz Behzadi, co-owner of Bicycle Craft Brewery on Industrial Avenue. "You want to have something for everybody."
Behzadi and his partner Laura Behzadi are working to produce their first non-alcoholic beer since the brewery launched in 2014.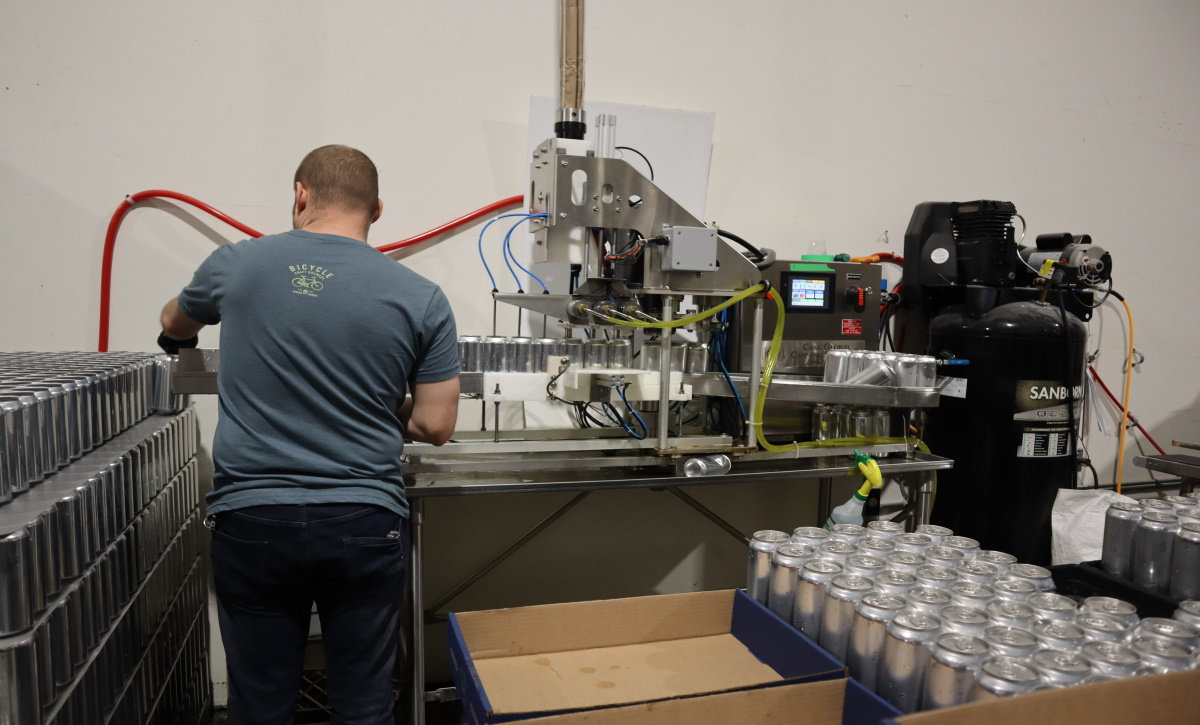 "Producing a non-alcoholic beer is a whole different ball game," said Behzadi, explaining how the desirability of a regular beer is hard to replicate.
There are two main methods to produce alcohol-free beer: a brewer will either restrict the formation of alcohol or remove it after fermentation.
Both methods have advantages and disadvantages ranging from additional equipment requirements to operating costs and will produce different tastes and colours. Additional ingredients can also be added to improve the final product's flavour.
"You can bring it as close as possible [to alcoholic beer] and give the impression that you have that many hops, you have that much flavour in it," said Behzadi.
"But it's not really the same thing."
Some industry analysis predicts solid growth for non-alcoholic beer and other beverages and Behzadi is optimistic his non-alcoholic beer will be successful.
"There is a demand in the community and to be honest, a lot of people may try it just because it's made locally," he said.
While his brewery occasionally produces lighter varieties of beer, some as low as 4.2 per cent alcohol by volume (ABV) along with their new non-alcoholic beverage that will be ready in the coming weeks, Behzadi says he will continue to develop beer with alcohol levels of more than 5 per cent to appeal to his existing customers.
Roderick Phillips, an alcohol historian at Carleton University, says the enthusiasm for non-alcoholic beer is "really quite new," but, historically speaking, there have been other beverages on the market.
"Water is the obvious one," said Phillips. "But you have tea, coffee, chocolate and then more recently, fruit juices."
Fruit juices gained popularity in the late 19th century when Thomas Bramwell Welch, a Methodist minister and founder of the popular fruit snack and juice company Welch Foods Inc., discovered a way to prevent grape juice from fermenting.
"He didn't believe in alcohol, and wanted to be able to produce grape juice for religious purposes rather than using wine," said Phillips.
The modern notion of non-alcoholic beverages didn't exist until recently, because of the popularity of pasteurized fruit juices and other alternatives.
"There was just no demand for it because the people who didn't want to drink wine or beer or spirits for religious reasons or for health reasons just didn't drink," said Phillips.
Fruit juice may have satisfied the 19th-century consumer's thirst for an alcohol-free beverage, but what did people reach for when they only wanted a little buzz?
Light beer
As it turns out, not much. Low-alcohol beers, which Phillips says have only been around since the 1980s and '90s, are starting to grow in popularity as well.
According to the Beer Store, light beer contains between 2.6 and 4 per cent ABV, while 1.1 to 2.6 per cent ABV beers are designated extra light.
Dayna Guy, co-owner of Tooth and Nail Brewing Company in Ottawa's Hintonburg, said her brewery recently made a 3.5 per cent ABV Irish dry stout for St. Patrick's Day.
"People tend to drink a little bit more on St. Patrick's Day," said Guy. "So, it's nice to have some lower alcohol options on a day like that when people are having a few more beers because they're feeling social and want to be out longer."
But the Tooth and Nail Brewing Company doesn't only produce light beer for holidays.
"We have a number of summer beers that are in the 3.5 to 4.2 per cent range," said Guy. "I imagine we will build more of those into our year-round program."
Guy says she has found only minimal demand for non-alcoholic beer, but says that light beer allows customers to have a fun night out while drinking in moderation.
"People want that balance of still enjoying something without going all in and then feeling like garbage," said Guy.
The average beer is between 4 and 6 per cent ABV but can reach more than 10 per cent ABV depending on the ingredients and strain of yeast used for fermentation.
Guy's 3.5 per cent ABV options aren't much lower than other craft beers or even mass-produced industrial beers, but they still satisfy customers' thirst for a lighter drink that offers the quality and taste of a craft beer.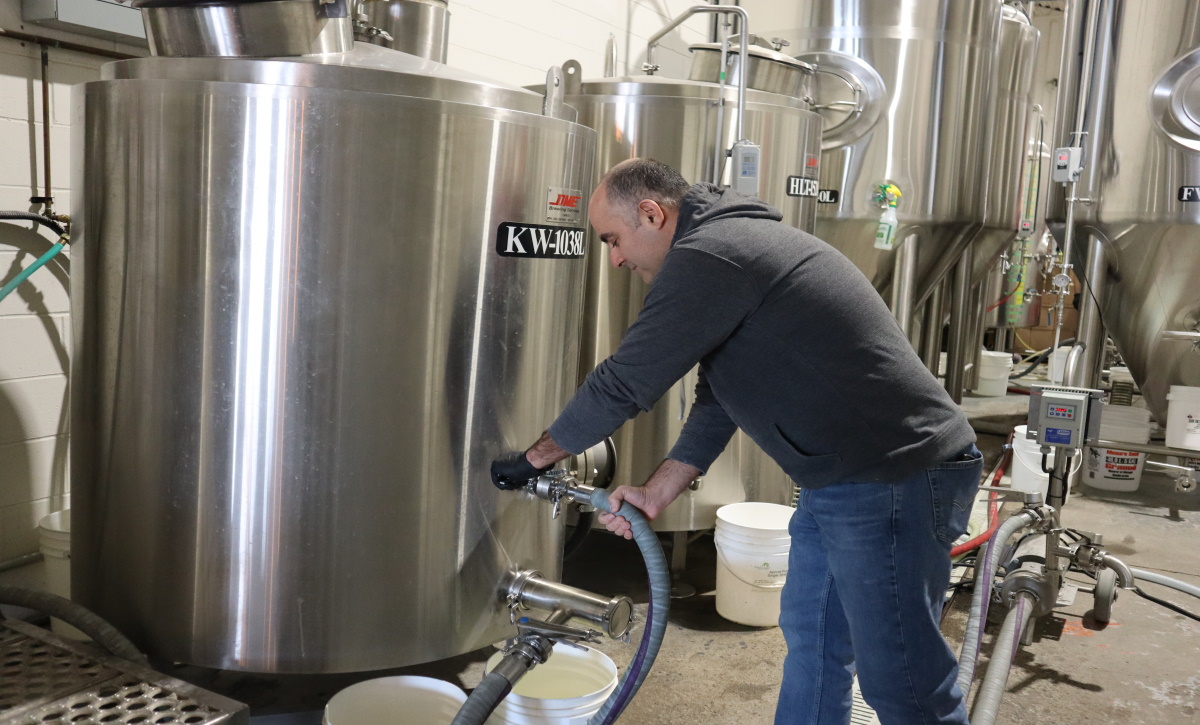 A spokesperson for Brew Donkey, which provides "curated regional adult field trips," says they're experiencing an increased demand for non-alcoholic options – so much so that they've started offering discounts for patrons not consuming alcohol (with code NoBooze4U on their website).
Brew Donkey has been offering interactive tours of Ottawa's craft breweries in their iconic black-and-beige bus since 2013 and now that COVID restrictions have lifted they are back on the road.
Many of the breweries Brew Donkey visits offer non-alcoholic options as well.
Recent alcohol consumer guidelines
A recent Canadian Centre on Substance Use and Addiction report, which warned about alcohol consumption because of the health risks, may further encourage low and non-alcoholic beverage consumption, but Phillips says it'll be difficult to know how these drinking habits may change.
"We really don't have a good handle on consumption patterns," he said. "One thing we often know is the average consumption per person, but we didn't know how that's distributed until fairly recently."
The report recommended that on a weekly basis, one to two standard drinks is considered low risk; between three and six is moderate risk; and seven or more is increasingly high risk.
Among the highlighted health effects associated with alcohol use are at least seven types of cancer, with the most recent data showing 7,000 alcohol-related cancer deaths each year in Canada.
"Cancer's probably new to a lot of people," said Phillips. "Some people may be very skeptical, and others may be shocked and resolved to drink less."
According to a recent Ipsos study, 73 per cent of surveyed Canadians said they are unlikely to change their alcohol consumption following these new guidelines.
Behzadi says he isn't worried about the new guidelines affecting his business, saying that he doesn't think his customers tend to overindulge.
"The beers we produce are so flavourful and enjoyable that we don't expect people just to sit down and get drunk," he said. "They're the beers that are consumed less compared to some other beers that somebody might purchase and drink a lot of just to get the buzz."
By the numbers
Recent data suggests Canadians may already have been cutting alcohol intake even before the new suggested guidelines were released.
Data from Statistics Canada found some historic declines in the volume of alcohol purchased in the year ending March 31, 2022.
The agency saw the first decline of alcohol in general since 2013/2014 and the largest decline in over a decade.
The report also saw the largest drop in wine volumes since it started collecting that data in 1949. Canadians also purchased the smallest volume of beer per person of legal drinking age since 1949.
Meanwhile, nearly a third of Canadians said they had previously purchased or consumed non-alcoholic beer, according to a 2023 survey by Narrative Research and the Logit Group.
Rising costs
Alcohol is also becoming more costly. The Statistics Canada study found that inflation drove the cost of alcohol up by nearly three per cent in 2021/22, as compared with the year earlier. And taxes on alcohol are set to rise on April 1.
Phillips says the hike is making headlines for being the largest alcohol tax increase in 40 years, but he points out that it won't significantly raise the prices.
"It's a very small increase on a bottle of wine," he said. "It's a fraction of a penny."
However, the excise duty doesn't apply to beverages containing less than 0.5 per cent ABV.
Whatever impact all of this will have on consumer behaviour, Behzadi says he will stay focused on using local ingredients to bring the community together.
"It's really the story you put behind it," Behzadi said. "You're telling a story, making a beer and making a statement."
---
More Stories