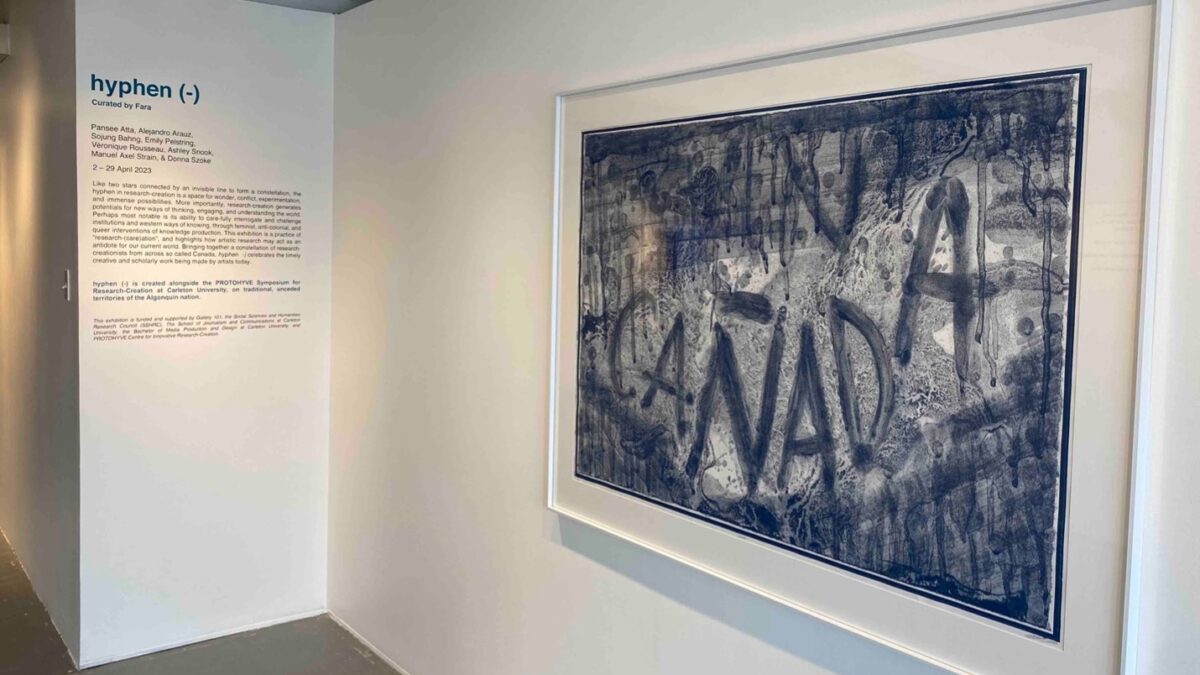 Carleton University is bringing artistic expression together with academic inquiry to join an emerging revolution in scholarship.
The focus of this effort will be the brand-spanking new Centre for Innovative Research-Creation that opened officially on April 1.
The mission for the centre also known as PROTOHYVE is to foster "a constellation of artists, curators, scholars and professionals to generate new ways of understanding and framing research-creation in so-called Canada."
PROTOHYVE's inaugural research symposium and art exhibition April 1-2.
The Social Sciences and Humanities Council of Canada, which is a leading funder of academic research in Canada, says research-creation is an "approach to research that combines creative and academic research practices, and supports the development of knowledge and innovation through artistic expression, scholarly investigation and experimentation."
PROTOHYVE's first symposium consisted of a two-day conference with round-table discussions and the opening of a month-long group exhibition at Gallery 101 on Catherine Street in Centretown.
Discussion topics included research-creation and ethics; student support, curriculum, and supervision; funding; and working within institutions.
The exhibition taking place at the artist-run Gallery 101 is titled "hyphen (-)" and brings together North American research-creationists. The exhibition is described as one of the first of its kind.
'I think it's important for research-creation to be understood as a legitimate vehicle for knowledge and a legitimate way of expressing your knowledge.'

— Ashley Snook, interdisciplinary artist and PhD student, Western University.
Hyphen (-) highlights how artistic research can serve as a form of healing justice and care. It is showcasing and celebrating the timely, scholarly work being created by artists today.
For Pansee Atta, PROTOHYVE is making strides to support and uplift research-creationists.
Atta is an Egyptian-Canadian visual artist, curator and researcher who recently graduated with a PhD in Cultural Mediations from Carleton. She examines themes of representation, migration, archives and decolonization using a variety of new media.
Atta's work Earthenware is part the hyphen (-) exhibition.
Earthenware is a video creation that combines six animated segments and, according to Atta, "considers questions of collection and colonization, 'High Art' versus 'craft', and the histories of the deeply fraught objects in the collection (of the Montreal Museum of Fine Art) and the sites of their creation."
PROTOHYVE, said Atta, "is really valuable because it helps establish these best practices for institutions to support this inter-disciplinary, multi-disciplinary, non-disciplinary kind of work.
"It's really finding new grounds in a way that up until now even really well-meaning funding bodies, academic or art organizations I think in some ways still haven't grasped how they can support work like this and what is needed by the folks that are doing it."
Ashley Snook, another research-creationist whose work is on display at Gallery 101, said: "I think it's important for research-creation to be understood as a legitimate vehicle for knowledge and a legitimate way of expressing your knowledge."
Snook is an interdisciplinary artist and researcher nearing the completion of her PhD in art and visual culture at Western University.
Snook has shown her work nationally, including in exhibitions such as "Come Up To My Room" at Toronto's Gladstone Hotel in 2018, as well as the recent exhibition "GardenShip and State" at Museum London in 2021.
"We can only gain so much from reading textbooks. Knowledge comes from experiences and what better way to experience something than through art?" said Snook.
She described her creations as tools to think through ideas within her research "that can't be articulated into words."
"The experiential quality of the artwork is really important to understanding the scope of my research," she continued.
PROTOHYVE director Dr. Stéfy McKnight, an assistant professor in the Bachelor of Media Production and Design at Carleton University, said the symposium was also an opportunity to practise "research-(care)ation."
"Research-creation has a history of rethinking tradition in the academy and centres social justice and activism," they said. "However, as we know, institutions continue to privilege whiteness through the marginalization of queer, Black, Indigenous and People of Colour scholars and artists."
McNight added: " 'Research-(care)ation' thinks about how we can create care-full art that disrupts the institution."
Reflecting on questions of care — or "research (care)ation" — Atta said that one of the most powerful things about research-creation is that it's a way of accessing, incorporating and validating the place of subjectivity in academic practice.
"There's much more room for thinking through one's own body."
'Research-creation has a history of rethinking tradition in the academy and centres social justice and activism.'

— Dr. Stéfy McKnight, PROTOHYVE director and assistant professor, Carleton University
"That itself is important to a decolonizing methodology," Atta added. "That it challenges the idea of 'The Researcher' as an objective creator of knowledge in a vacuum, leaving space open for care and community and interconnectedness and for intertwinedness is really critical."
Hyphen (-)'s curator Fara, an art historian and international PhD student at Carleton, said the hyphen in research-creation is a space for wonder, conflict, experimentation and immense possibilities.
"Research-creation generates potentials for new ways of thinking, engaging, and understanding the world," Fara said.
In Atta's Earthenware, each animation works in relation to a specific object in the MMFA's collections and archives.
All of the animations give life to and find connections between and among the objects that now reside in ill-fitting collections that serve to satisfy the categories created by Western consuming audiences, according to Atta.
"Finding poetic resonance between the idea of these objects that have been separated from their place of origin and diasporic communities, reimagining the museum collection as being a kind of diasporic community as well," Atta explains.
For Atta, she says that research-creation came naturally as a result of having a problem-solving centred approach to her work.
"When I am trying to tackle all kinds of social, cultural, historical, political questions … it has to address the different factors at hand and because of that I have never felt really comfortable staying in one lane so to speak," she said.
"I have felt like it's required an ability to juggle multiple different ways of talking about and visualizing solutions to these problems," Atta added.
Imagining a new way forward on our planet and with our co-habitants, Snook's practice, broadly, has examined the interconnectivity between human and nonhuman animals, as well as botanical life.
Currently, Snook's research-creation is focused on examining notions of animality.
"I look at (animality) within the historical scope of how it's been used and misused in the past to really look at the division it's created between human and nonhuman animals and species," Snook said.
"To me, is also contributes to the distancing of our own positionality on this planet as animals," she added.
Snook's work at the exhibit, A Body Within A Body Within A Body, is a three-piece video installation that utilizes sight, sound and scent with eucalyptus, pine and cypress to engage her audience.
"Animality as a concept is at the root of our being," Snook says.
Through this three-channel video installation, Snook plays with and investigates themes of animality, kinship and interconnectivity with our earth, Terra.
On one screen a cast made of soy wax and beeswax of a human skull rotates and melts away, the mold of an animal's skull does the same on another, both revealing plant matter that slowly falls from underneath the wax to the surface and slips down onto the platform below as the skulls melt to nothing.
On the third screen, a compilation of videos mesh into one another while soft narration and ambient music shine through.
The installation is situated in the Chthulucene, a conceptual place in time that focuses on living and dying together on irreparable earth, where there is an opportunity to look, think and be different. Snook aims at de-centring humanness and offers space for contemplation, grief and imagination through A Body Within A Body Within A Body.
By exploring the concept of animality as a holistic notion that restructures and ameliorates relationships among humans and non-human species, the work seeks to reframe current perspectives in exploring possibilities of mending socio-cultural relationships and supporting environment remediation. This exhibition is a practice of "research-(care)ation", and highlights how artistic research may act as an antidote for our current world, according to exhibit curator Fara.
Hyphen (-) features research-creation works by Afuwa, Alejandro Arauz, Sojung Bahng, Emily Pelstring, Véronique Rousseau, Manuel Axel Strain and Donna Szoke.
Hyphen (-) is on exhibit at Gallery 101 until April 29.
---
More Stories