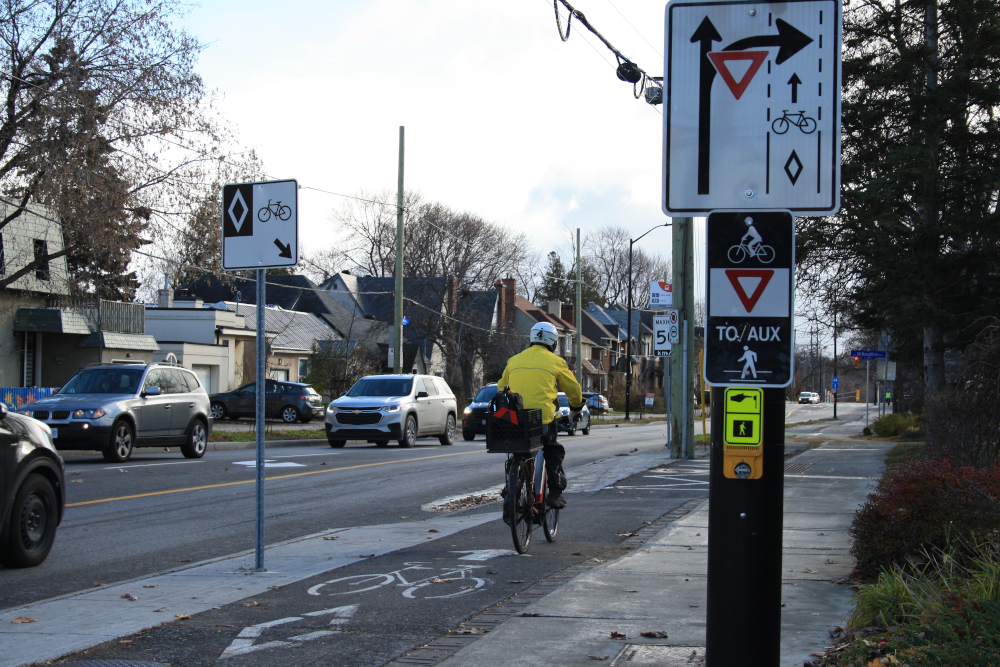 As the City of Ottawa takes a renewed interest in developing cycling infrastructure as part of its draft budget for 2022, cyclists like Veronica Carvalho remain concerned about what she feels is a lack of focus on developing pathway connections.
The draft budget includes more than $26 million for active transportation infrastructure, up 25 per cent from budget 2021's investment. Only $1.2 million of that total is allocated for addressing missing transportation links across Ottawa.
For Carvalho, a Carleton University student, traffic congestion and underdeveloped cycling infrastructure are key concerns when biking in the city. She says, as a result, she feels unsafe on Ottawa's roads despite years of cycling experience.
"Most of the [streets] I've been on don't have proper bike lanes," Carvalho said. When streets do have bike lanes, Carvalho said drivers often ignore the lane or don't check for cyclists.
Ottawa Mayor Jim Watson said when the draft budget was tabled that $11.5 million of the active transportation budget would be allocated for developing and maintaining cycling and pedestrian pathways throughout the city.
But, when asked if the $11.5 million would develop new infrastructure or maintain existing infrastructure, the response was unclear.
Capital Ward Coun. Shawn Menard said in an email to Capital Current that the proposed funds for active transportation aren't enough to address the city's needs.
A city press release has said that an additional $13.4 million would be allocated for existing pedestrian and cycling facilities, a group of eight projects dedicated to maintaining active transportation infrastructure throughout the city.
Menard also said he believes $60 million proposed for roadways will not solve traffic congestion. He says when roads get bigger to accommodate traffic, traffic levels rise to fill the increased capacity.
Because of congestion and poor connections between bike paths, Carvalho prefers to ride on side streets and dedicated cycling pathways disconnected from roads, such as along the Rideau Canal.
Building infrastructure connections like the ones Carvalho prefers should be the No. 1 priority for the city, says Denise Inglis, the co-ordinator of the free bike-share program Vélo Vanier and a former cycling safety instructor.
"What I find with the infrastructure is that [the city] build[s] great infrastructure, and Main Street is one example of that," she said. "When you're going north, towards the canal, it just kind of ends. What they've built is great, but it's not connected."
For Inglis, such connections are important. With Vélo Vanier, Inglis helps novice cyclists who may have never ridden a bike feel safer on the roads.
"It's too bad that [the city] can't just invest more at once and connect it all," Inglis said. "There's a lot of hesitation to build the bigger segregated infrastructure. That's what's going to get those more timid cyclists to actually use cycling not just as a form of recreation, but also as a form of transportation."
Draft budget 2022 is set to be approved by city council on Dec. 8. Ottawa residents can voice their concerns by contacting their ward councillor and filling out the budget survey on the City of Ottawa's website.
---
More Stories