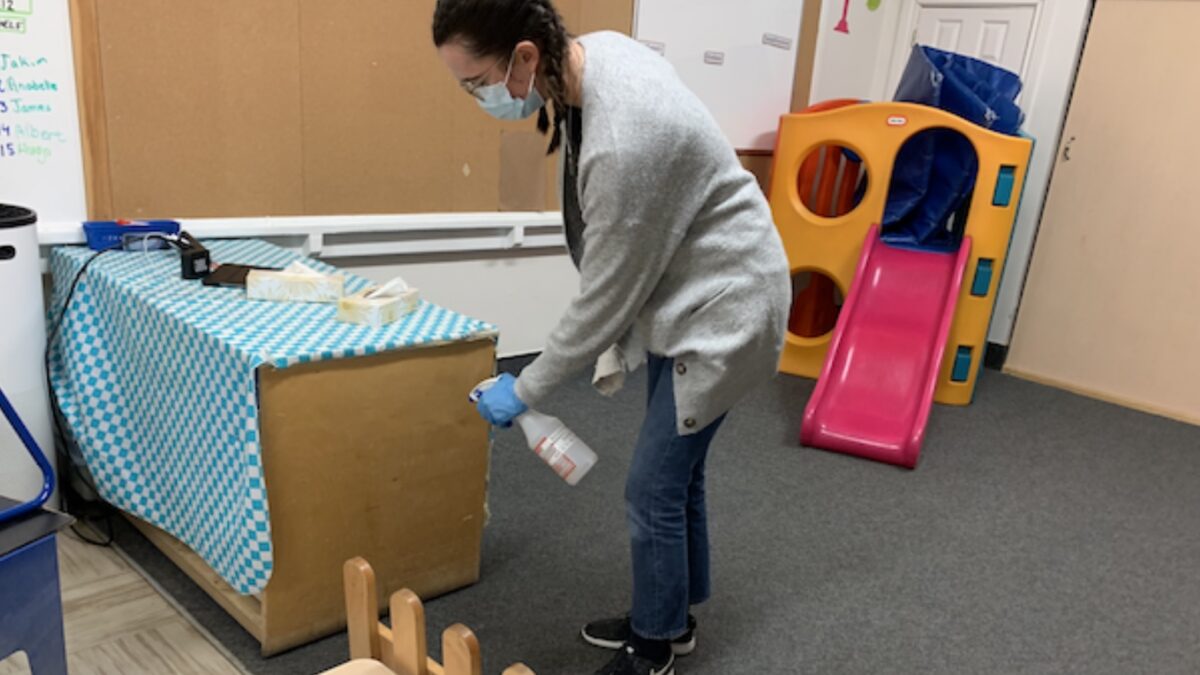 While pandemic restrictions are easing and vaccination rates among qualified age groups are high, childcare workers in Ottawa continue to face exhausting sanitation routines while looking after children too young to be vaccinated.
Dalhousie Parents Daycare, located in the heart of Ottawa's Little Italy neighbourhood, has not closed during any lockdowns since the pandemic was declared in March 2020 because it is exempt under the category of "childcare services for essential workers."
Staff members have been working tirelessly throughout the pandemic and it has not been easy with heightened screening, PPE requirements and extensive cleaning required for all surfaces touched by the children.
Caline Tetteh, a qualified early childhood educator who's worked at Dalhousie Parents Daycare for several years, says the pandemic has profoundly affected the atmosphere and daily routine.
"Teachers having to wear masks all the time limit the kids seeing our faces and expressions, which makes them confused about the differences between happy, mad, sad," she said.
"Primarily the children are high risk because they can't get vaccinated. And also they're interacting with each other, especially in daycare — where they don't wear masks, like school-agers," said Tetteh. "And they oftentimes put things in their mouth, they share toys. And teachers are forced to work overtime because we're having to clean, do extra cleaning. And we're having to have masks while doing our job — while singing, while talking."
More than 90 per cent of Canadians more than age 12 have received at least one dose of a vaccine, and close to that many people have been double vaccinated. About 50 per cent of Canadians five to 11 have also been vaccinated since it was approved in late 2021.
But no vaccine has been approved for the two million Canadian children under five and not currently protected against COVID-19. As a result, children are more likely to contract the virus than the vaccinated adults who take care of them.
Victoria Bathurst, a teacher in the Junior Toddler room at the daycare — which teaches children between 16 months and two-and-a-half years — said: "When kids come into the daycare with masks on, they take them off within 10 minutes. They get frustrated and annoyed at the material or upset that they can't be heard properly through the mask."
Many children need constant assistance or attention because of their age and ability to help themselves. Teachers and support staff work very closely with these children, which puts the adults at a much higher risk of contracting COVID-19.
When one child tests positive, all children in the same cohort have to isolate until they can get a COVID test or wait 10 days until they can return to the centre. Teachers and staff who interacted with the children in the room also must be isolated until they can get a negative PCR test before returning to work.
As a result of the high transmissibility among the unvaccinated children, it creates a risky environment for the teachers and support staff who work with these young children.
Bathurst noted once the pandemic slows to endemic status and young children can get vaccinated, a lot of pressure and stress will ease for daycare staff.
"I think that would cause the job to be a little less stressful and ease parents' minds, the employer's minds as well as the educators who are working on the floor," she said.
---
More Stories