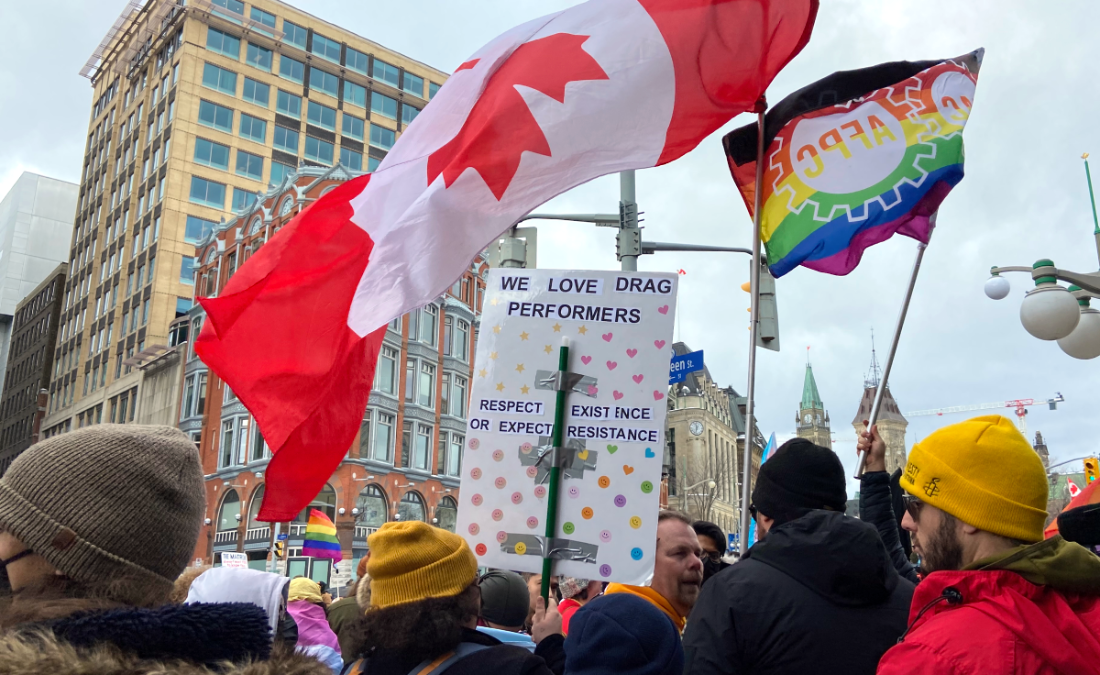 It was a high-profile clash in the culture war raging across North America when a group of angry, intolerant protesters gathered to shout down a Drag Storytime event recently at the National Arts Centre.
They were confronted by a much bigger crowd of counter-protesters who rallied for "love" in downtown Ottawa and claimed an overwhelming victory for inclusivity.
As cheerful music reverberated, hundreds of supporters raised pride flags and banners, shielding families with children from the storytime opponents and allowing their safe entry into the venue.
Capital Pride hosted Drag Storytime on Feb. 8 as part of its Winterlude programming. These family-oriented events cater to children and families, where storytellers — who just happen to be in drag — read books to children in libraries.
The NAC storytime featured drag performers China Doll and Cyril Cinder with music by Monkey Rock Music.
A year after the convoy occupation of downtown Ottawa, far-right hatred in Ottawa had left members of the local 2SLGBTQ+ community weary and angry. Drag storytimes across Ontario and elsewhere across Canada and the U.S. have been cancelled or disrupted in recent months because of threats against performers and the venues choosing to host them.
'Drag doesn't sexualize children. It teaches them inclusivity. It teaches them empathy for people who look different from them, and that is something worth protecting.'

— Alexandra Nichols, counter-protester at the NAC's Drag Storytime event
The alt-right group 'Save Canada' announced its plans on social media to shut down the event. Opponents of drag readings have argued they are dangerous and that costumed storytellers could "indoctrinate or sexualize" children.
Capital Pride announced in a statement ahead of the event that Drag Storytime would proceed and encouraged community members to show up with their support.
"We will not be intimidated," the statement said. "Together we will make sure that love is louder than hate."
Alexandra Nichols, an ally at the counter-protest, said prejudice hurts children, not drag queens.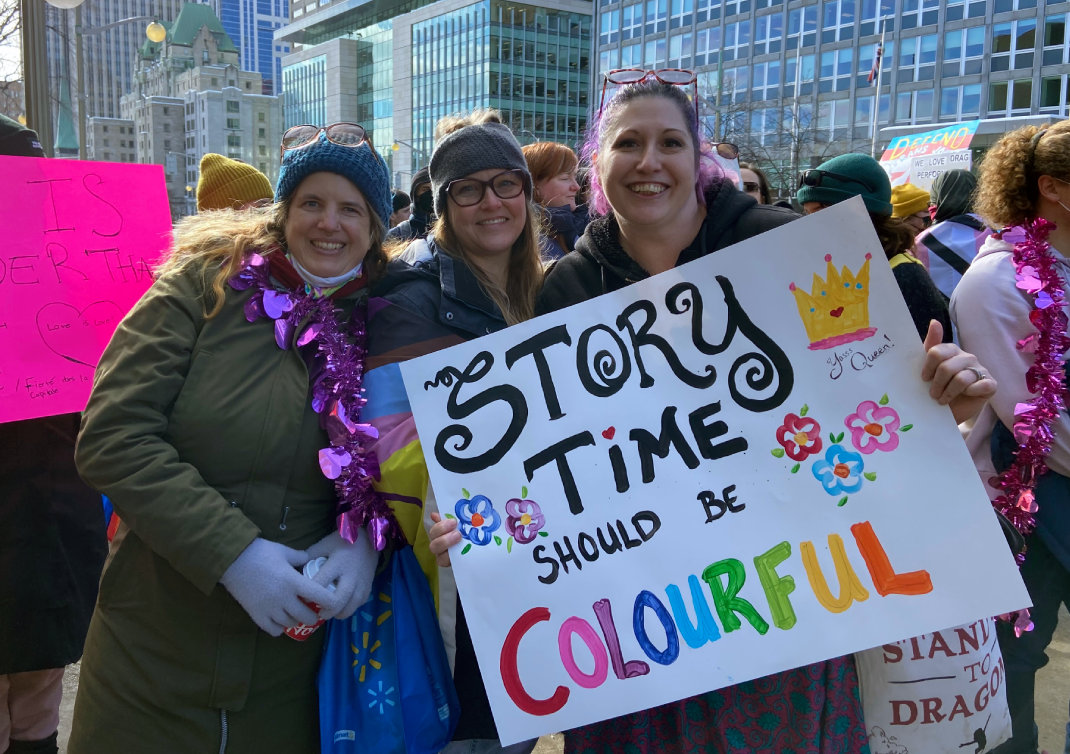 "Drag doesn't sexualize children. It teaches them inclusivity," she said. "It teaches them empathy for people who look different from them, and that is something worth protecting."
Drag performers are not inherently transgender, but the false narrative that they all are has driven protests of drag events and defamed members of the 2SLGBTQ+ community as "indoctrinating children".
"I'm sure that in their minds they're wanting to protect children, but from what?" Nicholas said of the protesters. "It's coming from a place where they want everyone and everything to be the same. Diversity is our strength."
Protesters were seen waving Canadian flags and quoting the Bible at counter-protesters through megaphones. Ottawa police confirmed four arrests, all released with no charges laid.
"I think people are trying to create a problem that doesn't exist," said Bella Du Maurier, 2021 Capital Pride Drag Royalty and supporter of Drag Storytime. "It's predominantly white men here who have decided to take their anger out on an innocent community."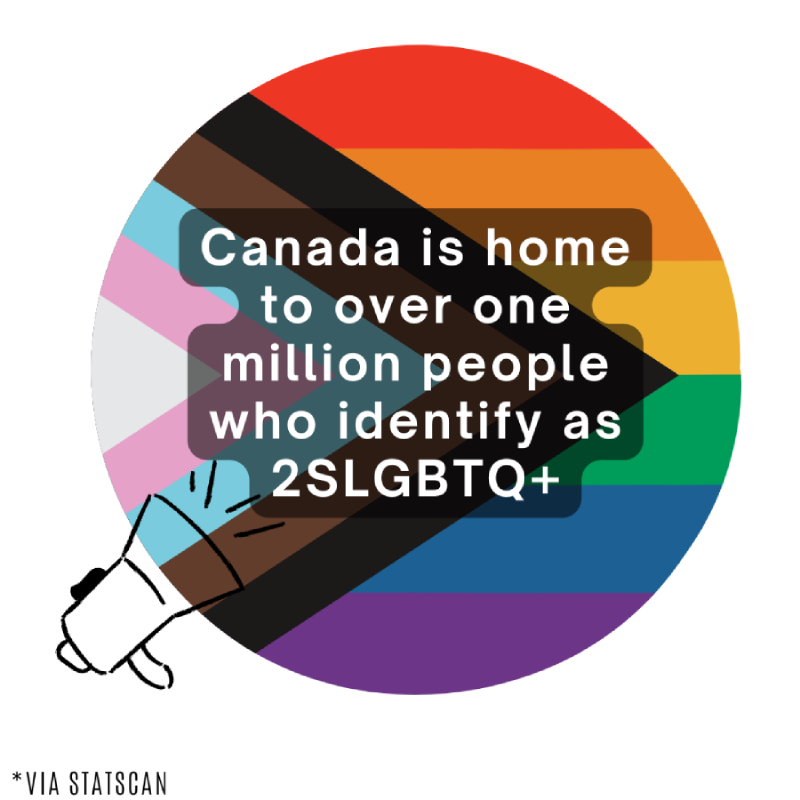 For queer and racialized people like Du Maurier, the threat of violence is all too real.
Reports from 2019 show a 41 per cent increase in hate crimes targeting people for their sexual orientation in Canada.
Du Maurier said during the counter-protest that they believe the City of Ottawa could be doing more to protect members of the queer community.
"People always say what's happening in the States won't happen here in Canada, but look around," they said, gesturing to the protesters. "There are people right there who want to get rid of us."
After parents and children left the building after the event, performer Cyril Cinder addressed a crowd of cheering supporters in a powerful speech.
Drag is "an art form that has existed for centuries," said Cinder. "Just like theatre, just like film, just like music. … Not all of it is appropriate for all ages, but Drag Storytime is for everyone!"
"This isn't about preaching identity," they added. "We don't want straight kids to be queer. We don't have the ability to make that happen! We just want queer kids to be safe."
Cinder said they look forward to a future where the queer community could spend all of their energy celebrating instead of defending themselves.
"Let them (protesters) scream into the void if they want to," Cinder said. "This is a win for our community. We showed them that our love is stronger and will always be stronger than hate."
---
More Stories