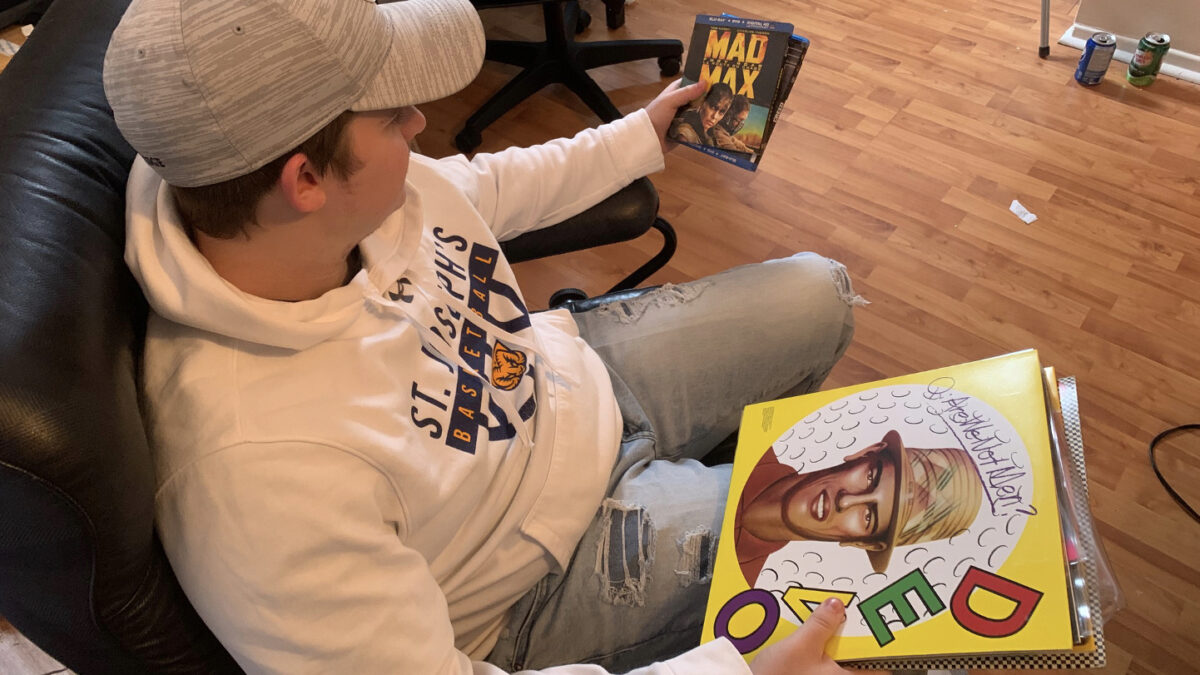 Day after day, the folks at Glebe Video International can watch a steady stream of costumers enter the Compact Music store a few doors down on Bank Street. As vinyl record sales continue to explode — driven in part by the pandemic — Compact Music is flourishing while Glebe Video has recently relied on GoFundMe donations to stay afloat.
Both businesses offer retro entertainment options, but Glebe Video is one of the few surviving video rental shops in the city, while there are 13 dedicated record stores in the Ottawa area. Consumers are emphatically supporting physical music, but not physical video.
At least not yet.
A collapsing economy during the COVID-19 crisis, a lack of disposable income among many consumers and surging streaming numbers did not stop vinyl record sales from reaching their highest point in 30 years in 2021.
Sales of LPs were up 21 per cent in Canada last year, and the week ending Dec. 23 saw the most worldwide sales of vinyl records of any week since 1991, according to industry watcher MRC Data.
There is clearly a societal itch that vinyl is scratching. It's an itch so intense that an analog-era retail sector that should be failing is, in fact, thriving in the digital age.
Walking through the doors of a record store feels like entering a portal into music history. Compact Music covers its walls with colourful albums, memorabilia and photos. Every step smacks customers with a dose of nostalgia for a time many didn't even live through.
In 2019, 42 per cent of vinyl buyers were under the age of 34, according to statistics.com.
There's a mystique that draws some younger collectors to the store. Musician and record collector Ben Boone, 21, says: "There's a magic around certain eras of music. The idea of the free-living '60s and rock and roll — putting on a record for me is just trying to press pause on the world and travel back."
The idea of going back in time is key to Toronto therapist and vinyl collector Mitch Evans. "There is an element of nobody's really comfortable in 2022, they just want to be anywhere else," he said. "Who wants to live in the current reality of the world? I think you see young people romanticizing the past, and older generations wanting to relive their youth."
"There's a magic around certain eras of music. The idea of the free-living '60s and rock and roll — putting on a record for me is just trying to press pause on the world and travel back."

— Ben Boone, musician and record collector
What is nostalgic is constantly changing as people age. There is a nostalgia arms race in all forms of media, from Sex and the City's "And Just Like That . . ." to Spider-Man: No Way Home — television and movie reboots that are drawing big audiences.
James Boyd, co-owner of Compact Music, predicts a rise in CD sales given the current trend.
"Kids growing up in the 2000s, they'll be showing CDs as cool," he said.
The year 2021 marked the first time since 2004 that there was an uptick in CD sales, according MRC Data, a compiler of music industry sales figures.
If walking through a music shop is like going to a rock and roll museum, a DVD store is like walking through film archive. Glebe International Video has long grey cabinets filled with DVDs and Blu Rays piled on the shelves.
Physical video sales have dropped from $6.1 billion in 2011 to 1.2 billion in 2021, according to Wired.
Canadian actor Chris Makepeace, star of the 1979 film comedy Meatballs and 1986 comedy horror Vamp, said he still enjoys collecting DVDs and Blu-Ray discs and attributes much of his success to the rise of home video.
"When I was really making movies (in the 1970s and 1980s), I was making these mid-budget movies that just aren't being made today. Home video gave the studios more ways to get their money back."
Still, Makepeace said he doesn't expect physical movies to make a comeback like vinyl.
"Movies are pretty nerdy. Movie collecting isn't really a thing to show off — it's almost something to hide."
Evans echoed this saying he collects records because "there's a cool factor that CDs and DVDs can't replicate. Seeing the record spin and the size of holding it in your hands are what make it popular."
---
More Stories