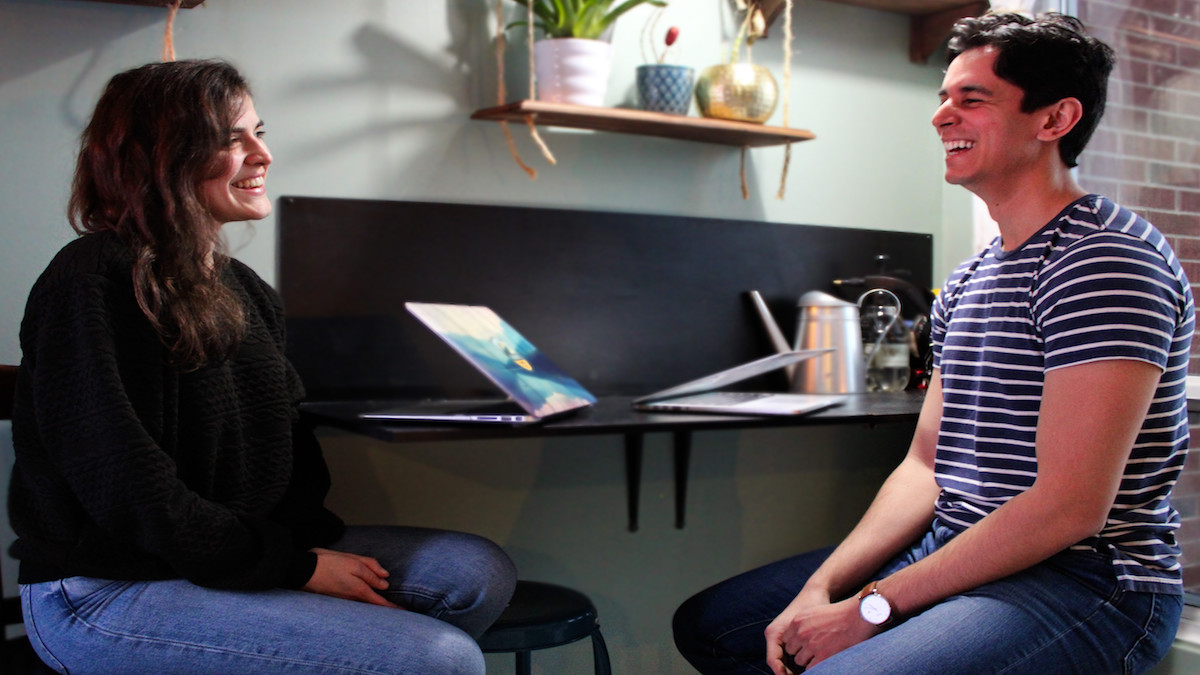 Nader was going on a blind date with a bit of a twist. Not only was there a mystery woman, but a mystery location as well. He didn't speak to his date and didn't even know her full name until 24 hours before the date.
That's because he was using Wandure — a new dating app designed by an Ottawa company.
"It throws you under the fire to go on a date with someone," said Nader. The 31-year-old pharmacy technician, who asked that his last name not be published, used the app for two weeks after being fed up with the "nonsense talk and repetitive chatter" of other dating services.
With their motto being "a match = a date," Wandure is slashing the long texting cycle that commonly occurs on Tinder, Bumble and other popular dating apps. According to the Pew Research Center, one-third of people who have used online dating have never actually gone on a date with someone they met on these platforms.
One of the developers of Wandure says the whole point of the app is to get people to follow through. "You download a dating app to go on a date and so we want to be that app where you know you're going to get what you're paying for," said Ismail Bembarek, who co-founded Wandure with Ali Kazal, Chelsea Sauvé and Luis Anacona.
Wandure launched this December and now has about 2,000 users between Ottawa and Montreal, with plans to expand into other parts of Canada. It's free to download but users must pay a $5 matching fee for each blind date they want to go on and those revenues go to the Wandure team.
The app chooses the date based on the interests, budget and availability listed in the user's profile. Instead of the typical coffee date, users get to paint mugs, hike in the Gatineau Hills and try to find their way out of Escape Rooms.
People aren't notified of the date location and can't speak to their match until 24 hours before they meet. "We don't want people to get caught up in that chatting … we don't want virtual penpals," said Sauvé.
Cheryl Harasymchuk, a psychology professor at Carleton University who specializes in the study of relationships, said there are advantages to waiting to meet someone in person. She said that some people tend to be "uncertain and nervous about crafting clever messages" but in person, "that pressure is off."
While Wandure promotes more face time, it doesn't perform criminal background checks on its users, according to its terms of service. Sauvé said Wandure would do these checks "only in situations where a problem arose. We want it to be a smooth user experience."
One of the ways the app attempts to ensure safety is through its "no catfishing feature," explained Sauvé. Catfishing is a term used to describe people who upload fake photos of themselves. On top of the six pictures users are required to upload, they must also take a selfie on their cell phone camera.
The app checks if the person in the selfie matches the person in the other pictures. Wandure also references that the person's profile and credit card names are the same, to avoid use of pseudonyms.
Wandure's terms state that users are fully responsible for everything that happens during their date. Sauvé said the app developers don't feel they should take responsibility if something goes wrong because the app is "responsible for facilitating the meeting and planning the date and the rest is up to everyone that's participating."
Sauvé said the 24-hour chat window can also be a safety measure that can help people get a sense of the person they're meeting. But she reiterated that Wandure is designed for a "confident soul" who's willing to take a risk and meet someone they barely know.
The co-founders aren't opposed to expanding the chat limit if it seems as if that is something users really want, Sauve said. So far, the Wandure team said it hasn't received any complaints or concerns from users.
Nader said he had a good experience with the app and has a second date in the works.
---
More Stories