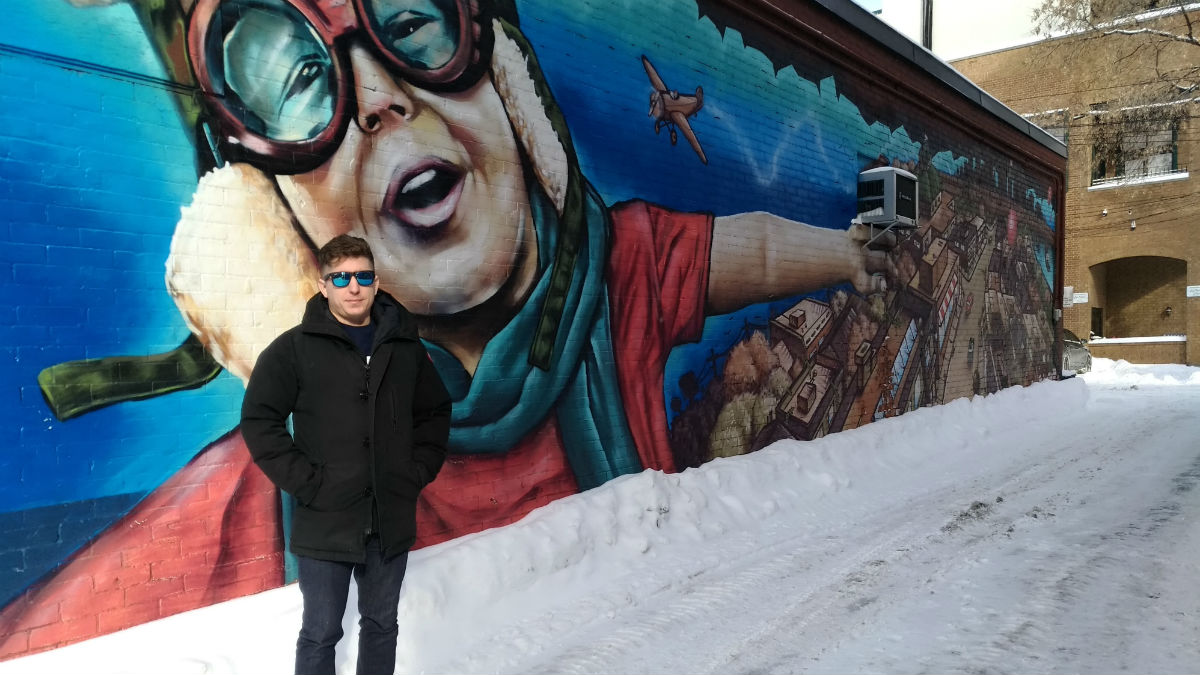 Dan Metcalfe has a few ideas he's thinking about for the Glebe Business Improvement Area's annual mural project. The Ottawa-based artist and designer hopes to get his proposal submitted for the Feb. 6 deadline, but does worry the BIA will pass over him because he's already worked on five walls in the area.
The BIA wants the murals to show off the neighborhood's identity, among other goals. Although many of the artists aren't from the Glebe, the BIA's communications officer Trevor Greenway doesn't see this as a problem.
"I find that artists really put a finger on the pulse of the community if they spend some time there," he says. Artists are required to submit a package that includes a design sketch, maintenance plan, and other background information on themselves and their plan for the mural.
Metcalfe did grow up in the area. However, he says he takes a similar approach whether his murals are in the Glebe or elsewhere.
"For the most part, for my public art I don't really try to do anything that's too edgy or too political," he says. "You want to make it a little more general so it can appeal to more people."
Metcalfe estimates that about a third of the people who hire him discover him in person as he's working on other murals, a unique benefit to the medium. The Glebe BIA also has taken advantage of the public nature of murals. In past years they have had artists paint ceramic tulips live on Bank Street for the Canadian Tulip Festival.
The BIA also hopes the murals will encourage more people to come to the Glebe.
"I think it brings people here. Especially the Instagrammers," says Greenway. "It's like 'oh, there's a new mural in the Glebe, let's go check it out, let's take a photo'. So they come here and maybe they'll come and get a coffee or maybe they'll get hungry and they'll get a sandwich."
Amanda Watkins is a manager at the Wild Oat, which has a mural painted on the side of its building. Although she is unsure of the precise impact murals have on businesses, she does appreciate the bright atmosphere they provide.
"I can't say it's had a huge effect on our business but it's great for the Glebe," she says.
Deterring graffiti is another rationale for the murals. According to Greenway, there is an unwritten rule among street artists and taggers that you do not paint over another person's work. Metcalfe adds that "you don't paint on someone else's mural, regardless of that person's background. So let's say they're someone who's a fine artist and they get into murals, and they have no 'street cred' as a graffiti artist. Graffiti artists will still respect that."
Because of this mindset, businesses such as JD Adam, which previously had problems with tagging, immediately eliminated the issue after having a mural painted on their wall.
But some business owners still associate the murals with graffiti and need some convincing before allowing murals on their property. Both Greenway and Metcalfe have at times had to convince owners of the benefits of murals.
Despite the hesitance, Metcalfe has witnessed first-hand the positive effects of his murals. He describes an experience he had shortly after painting a mural on the side of Octopus Books.
"I heard this kid pulling his dad, kind of being like 'come on, come on, let's go see this wall.' Little things like that you don't even consider," he says. "There's this little kid who actually really wants to see this wall that I painted."
---
More Stories