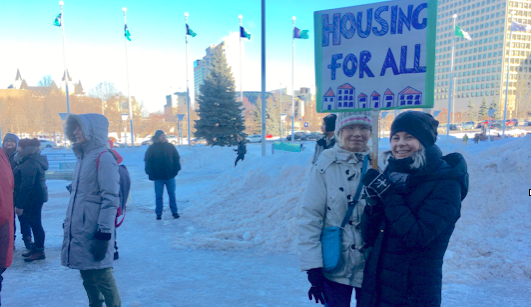 Ottawa city council declared a housing and homelessness emergency on Wednesday.
A vote in city council passed unanimously, with all councillors supporting the motion asking for the housing situation in the city to be deemed an emergency.
Earlier in the day on Wednesday, people gathered in the cold outside Ottawa City Hall to pressure councillors to support a motion asking for the declaration of a housing emergency.
"Ottawa is a caring and compassionate city," Somerset Coun. Catherine McKenney told the crowd of about 300. "But we have an emergency on our hands."
McKenney, who is the council liaison for housing and homelessness, tabled the motion.
"We have a moral and ethical obligation to end this emergency," they told the cheering crowd.
The motion, released earlier online, asked the city to declare a housing emergency, a key step in tackling homelessness and a lack of affordable housing in Ottawa.
There's also an online petition asking city council to pass the motion. As of Wednesday morning, the petition had nearly 8,000 signatures.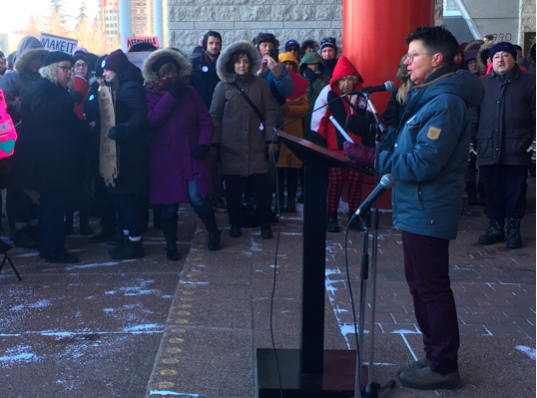 The concerns around housing affordability and homelessness come as the housing market in Ottawa and Gatineau has seen house prices soar, pushing many people out of the market, McKenney says.
The wait list for subsidized housing in the city can now be five years or more, according to the Social Housing Registry of Ottawa. To qualify for subsidized housing, an individual or household must be spending over 30 per cent of their monthly income on rent.
Vivienna Bartlett, who attended the rally, said she hopes that other councillors will support McKenney's motion.
"I'm really concerned about increasing numbers of homeless people in Ottawa," she said. "I live downtown and I see an increasing number of people on the street."
Barlett also said that she's concerned about affordable housing decreasing, and pointed to gentrification, as well as the widespread emergence of Airbnb, as possible reasons for this trend.
The rally featured speakers who had first-hand experience with homelessness, and who shared their difficulties with finding housing in Ottawa.
In addition to McKenney, several other councillors were also in attendance, including Shawn Menard, Mathieu Fleury, Jeff Leiper, Theresa Kavanagh and Rawlson King.
King had already seconded the motion put forward by McKenney, and spoke to the crowd at the rally as well.
He emphasized the importance of having the municipality declare a housing emergency, and pointed to how 500 people who are in shelters are dealing with chronic homelessness.
"This has to be addressed," he said.
On Tuesday afternoon, Ottawa Mayor Jim Watson got in on the act releasing a memo calling for an urgent investment in affordable housing by all three levels of government.
McKenney also mentioned "mental wellness" when they spoke to the crowd, as some of the speakers talked about how a lack of safe housing can contribute to mental health struggles.
Wednesday also marks the annual Bell Let's Talk day, an initiative sponsored by Bell Canada that encourages people to openly discuss mental health challenges.
The rally lasted for about 30 minutes, after which the councillors went inside city hall to prepare for the upcoming meeting where they would debate the motion.
"We are going to do that for the 1,100 people who slept in a shelter last night, for the 716 children across this city who are living in motel rooms," McKenney told the crowd before they left the stage.
"We are going to tell every one of those people who need us that we see you," they said.
"You are not invisible. We care."
RELATED: Panel discussion explores affordable housing and sustainability