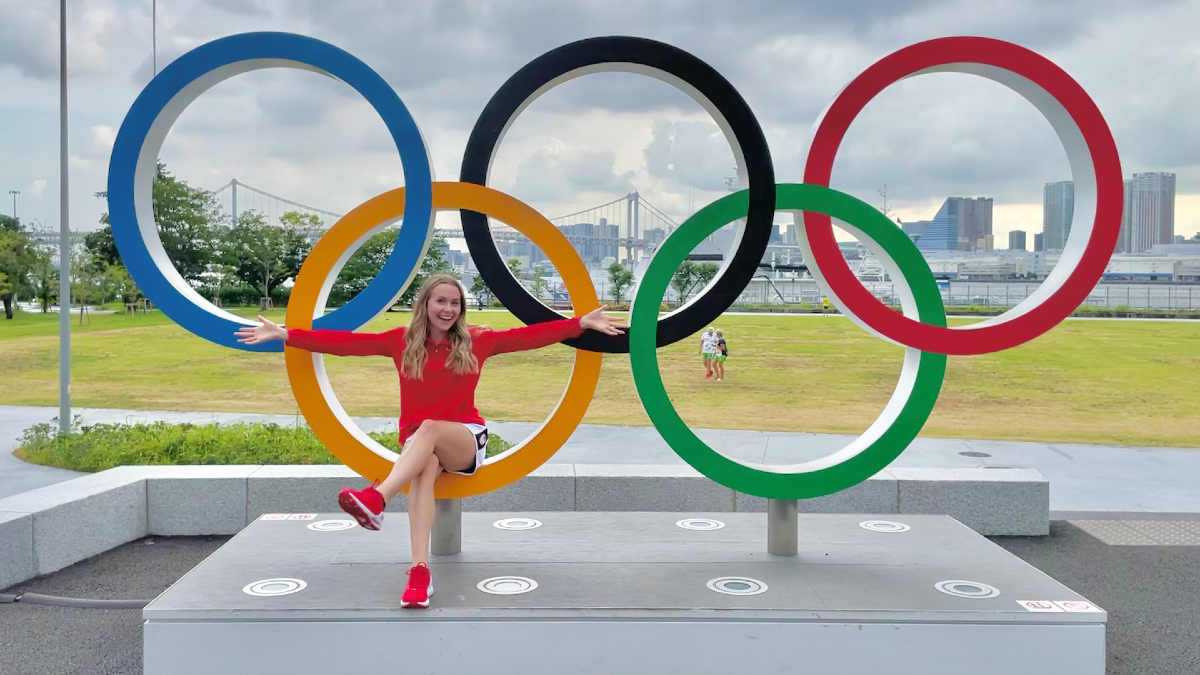 Lauren Gale describes herself as a "realistic dreamer". 
The New Brunswick native is competing in her first Olympics, running the 4×400-metre relay on Aug. 5 at the Tokyo Olympics.
Although the Olympics has always been a dream for the 21 year old, who runs for Colorado State University, she says it was a lot of work for it to become a tangible, realistic goal. 
The key moment was at the NCAA West Preliminary Rounds at E.B. Cushing Stadium in Texas this past May, when Gale ran a 400-metre personal best of 51.96 seconds – an achievement she says made her realize her dream could "become reality." 
"It's always been a dream in the back of my mind. … But I'm also a realistic dreamer. So if I'm not running the times that are close to the Olympic standard, if it's not within reach, then it's kind of hard to be like, 'this is what I want to do'," says Gale. "But when I started running faster times and started hitting 52 (second) lows and stuff like that, I started to realize that, oh, it's putting me in the top of the candidates."
Ottawa is her 'track home'
To look at the trajectory of her running career before being named to Team Canada in early July, it is important to first start in Ottawa, Gale said.
Although she moved to Colorado in the 10th grade with her parents, Gale considers Ottawa her "track home" – particularly after starting her career with the Ottawa Lions Track and Field Club. 
"The Lions took my track and field career off to a whole new start. I was running before a little bit, but just their program and how they trained me escalated my performance a lot. So, I'm very grateful for them," says Gale.
"I think Ottawa was where I kind of fell in love with the sport and it was just a lot of fun going to practice every day with the Lions. … I definitely claim [Ottawa] as my track home, even though I wasn't born there." 
Loyalty to the Ottawa Lions
Richard Johnston, director and head coach at the Ottawa Lions, takes pride in calling Gale one of the 17 Olympic athletes from their club – a not for profit community-based athletics club offering programs in track and field, cross-country and road running. 
Gale returns to train with the Lions in Ottawa during the summer, Johnston­ says – a loyalty that he says is incredible to see from a world-class athlete.  
"It's great to see the longevity of her commitment and dedication with the Lions (and how it is) carried over even though she trains full time in Colorado with her academic program and coach. … It just speaks volumes to how much (our program) had a role," says Johnston. 
"She's always a pleasure to be around and she brings a good energy to the track and obviously everybody's eyes focus on her when she's racing because her performances are world-class."
He notes that Gale's Olympic debut is also inspiring for the the next generation of athletes – young kids who cheer for Gale alongside two other Ottawa Lions alumni, Melissa Bishop-Nriagu and Tim Nedow. 
"Better believe that we're all fixated on the television," says Johnston with a laugh. "This is the exciting part. And we'll see this carry over… After the Olympic Games, you usually see a nice little boost and interest in track and field. And Lauren being on that team, that's going to add a little more attention on Ottawa."
Taking in her first Olympic moment
Johnston and the Ottawa Lions community will not be the only ones tuning in Thursday. Gale says her family, friends and teammates around North America are planning several watch parties to watch the relay team compete at 6:25 a.m. ET.
"My teammates are going to have a watch party in Colorado and my family just moved to Virginia, so there's going to be a watch party there. I know my second family back in Ottawa is going to be watching too and then all my extended family in Nova Scotia. We're all over. …There's going to be a couple different time zone watch parties for sure," chuckles Gale. 
Although her goal for the event is to complete a good race, she says she is also focused on "taking it all in" and enjoying her first Olympic moment.
"Just getting to experience it, because it is my first Olympics…(and) just being able to perform and run well, that's the ultimate goal," says Gale.
"Even though it's on a bigger stage, I still have to execute to perform well, so I think I'll be going into it like every other meet. And there's going to be no fans, so it might be a little weird. But it's still the Olympics and it's still exciting… so I'm ready to run… Go Canada!"
---
More Stories