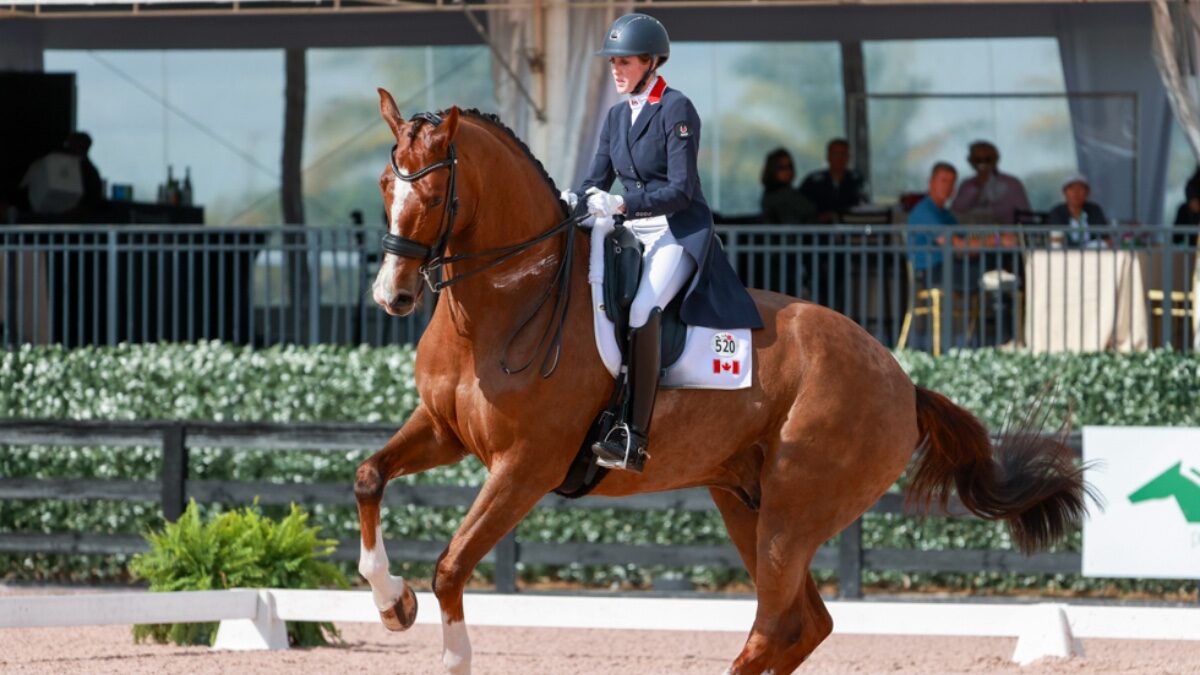 Brittany Fraser-Beaulieu looks back on her Olympic debut as a dream.
Born in Nova Scotia, the 32-year-old equestrian and her equine partner All In, a 16-year-old Dutch Warmblood gelding, made their first Olympic appearance on Day Two of the Tokyo Olympics Dressage Grand Prix Team and Individual qualifier event.
Fraser-Beaulieu's final score of 71.677 per cent from the judges, combined with that of teammates Lindsay Kellock and Chris von Martels, placed Canada 11th in the team competition, just below the top eight cut-off needed to move on to the Grand Prix Special on July 27.
After the team event, Fraser-Beaulieu and All In sat were just outside the top 18 who were moving onto the Dressage Individual Grand Prix Freestyle event. Although they did not initially qualify, on the morning of the freestyle on July 28, the United States' Adrienne Lyle and her horse Salvino withdrew allowing Fraser-Beaulieu and All In back in the finals. 
Fraser-Beaulieu notes she went in considering the event "a bonus," an opportunity she simply wanted to "take in" and enjoy. 
"I was so thrilled that I was able to perform my freestyle at the Olympics, but I reminded myself that, you know, I'm here to enjoy my horse, enjoy the moment, and we did," says Fraser-Beaulieu.
A record-breaking performance
Not only did the team enjoy the moment, but Fraser-Beaulieu also broke the record for highest Canadian score in the Olympic freestyle. Placing 18th, with a final score of 76.404 per cent, the duo broke the previous mark of 71.450 per cent set by Fraser-Beaulieu's coach, Ashley Holzer, at the Beijing Olympics in 2008.
"The overall experience was incredible. … All In and I have such a strong partnership. My grand prix ride was probably one of the best feeling rides. Unfortunately, my score was not a personal best, but the feeling that I had, it was the same thing as a win for me. (All In) went in to canter down the centreline like he's been in that ring 100 times. And he gave me everything. I was so proud of him for that."
Timing is Everything
Fraser-Beaulieu notes that although this experience has always been a dream, "timing" has everything to do with getting this kind of opportunity.
Although her and All In's timing worked out for the best, she notes that with horses, there can be a lot of unknowns.
"If you try to stick to one plan with horses, it never seems to work out," says Fraser-Beaulieu. "Because when your horse is ready, it might not be perfect timing for everything else that you have going on in your life."
Equine sports rely heavily on balancing the partnership with a slew of other factors, says Ruth Koch, a dressage coach in Ottawa. Koch trained Fraser-Beaulieu for about 10 years in Ottawa before seeing her move to the U.S. to train under Canadian Olympian, Ashley Holzer. 
"It's not an easy thing to peak at the right moment," says Koch. "For a human athlete, it's more straightforward because the human athlete has themselves and their conscious effort. But the horse can't really conceptualize the rider's Olympic goal… So, it's difficult because there are two athletes involved in the sport."
"It's a partnership between the horse and the rider, and then it even goes further into the support system of the veterinarian who is caring for the horse, the blacksmith who is shoeing the horse. It goes on and on to the coach and the trainer, it's a whole unit."
Koch is however not surprised it all worked out for Fraser-Beaulieu. Coaching her as a teenager and junior rider, she says she showed a unique kind of potential and responsibility. With All In, she says her skills have culminated in them being an ideal "unit", one where you "don't know where the rider ends, and the horse begins".
"Brittany always displayed what I call the right mix," says Koch. "She had a very good work ethic as a young teenager, and she had natural talent for the sport. She showed maturity, responsibility for the welfare of horses. So, these elements, together, create a partnership between the horse and rider. And she obviously has demonstrated this for her first Olympics, she did amazingly well."
Following her Olympic debut, Fraser-Beaulieu returned to her home in Saint-Bruno, Que. where she runs a clinic, lesson and training business for eager riders looking to level up their skills. Although she says she would love to compete at a World Cup with All In in the future, she is playing it by ear.
"I still think (All In) has another year of competing, because he's giving me no signs he wants to retire just yet, but when he does give those signs, he'll be retiring with me," says Fraser-Beaulieu. "All In doesn't owe me anything. He has exceeded all my expectations."