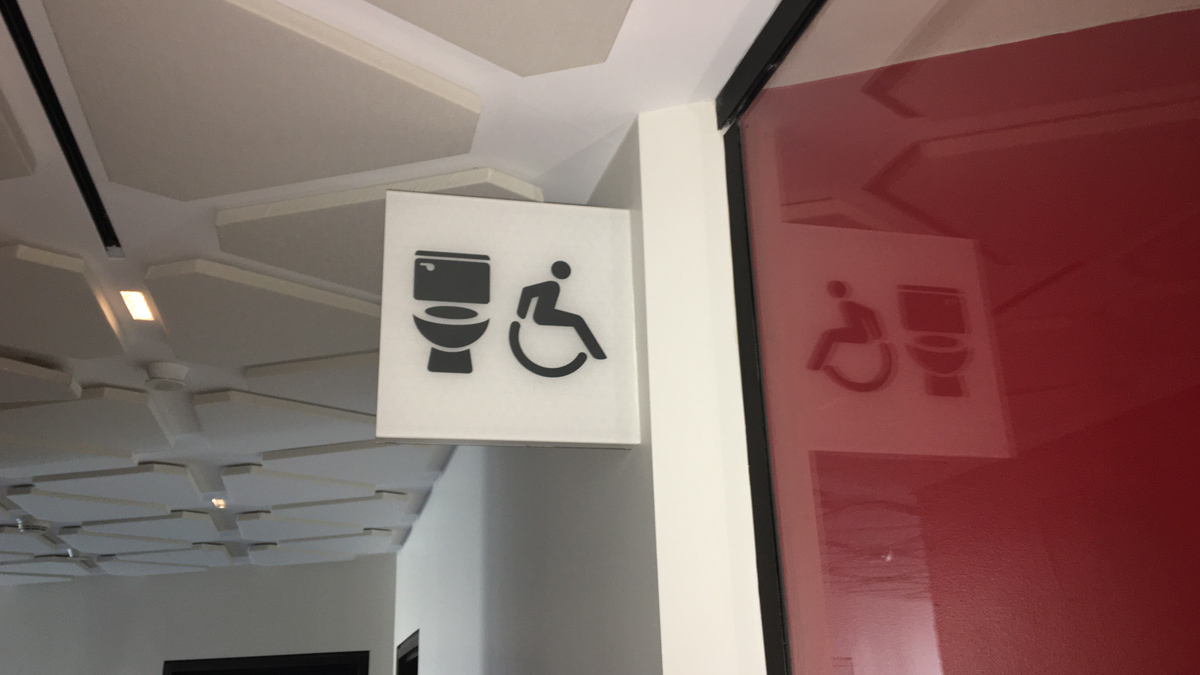 Alexis Knox was surprised when she heard that the Confederation Line features no genderless washrooms. Knox, 16, a young trans woman and an Ottawa-Carleton District School Board student, says that it could be "one of those things that maybe just wasn't thought of."
Genderless washrooms are intended to welcome all people, regardless of identity. They are usually found as single-stall rooms, but can also be a space with multiple stalls.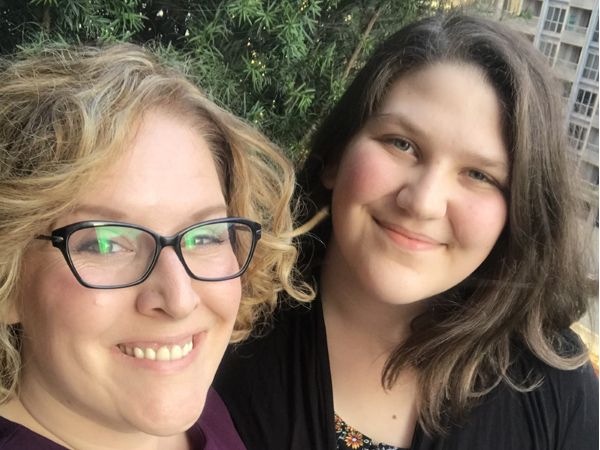 When asked how many genderless spaces she has seen in Ottawa, Knox said: "Not enough."
Her mother, Amanda Jetté Knox, an advocate for trans issues, says the lack of genderless spaces in LRT stations, and in new public spaces in the city, is a concern. 
"If you have thought it through and decided on gendered washrooms, why? What is your reason? Is it based on facts or is it based in fear or ignorance?" asked Jetté Knox. "If you make these spaces accessible to everyone, it just makes everyone more comfortable."
When her daughter transitioned in middle school, Jette Knox said that the lack of washroom spaces made it "extremely hard."
The school offered the staff washroom, but Alexis still had to leave her classroom and walk to the opposite end of school to use it. Teachers or office staff would also constantly question or outright stop her.
The school Alexis currently attends does have a single-stall genderless washroom. However, she says she looks forward to when genderless multi-stall washrooms are a more frequent choice.
Jetté Knox also says that genderless washrooms aren't only for the benefit of trans and non-binary people. People with disabilities, single parents with young children of a different gender and people requiring assistance also all benefit from these spaces.
In Ottawa, the lack of genderless washrooms is common. The subject has been discussed since the washrooms started to become more common appearances in public institutions, but many people have still not accepted their inclusion in public spaces.
Bay Ward Counc. Theresa Kavanagh is also the city's first women and gender equity liaison. She says she is open to further implementation of genderless bathrooms.
"I think [people] have to understand that there are people who are not wanting to show who they identify as, and they need to have a feeling of just being able to go to the bathroom without making a big decision about it," says Kavanagh. "Gender-neutral bathrooms give that opportunity to not make it a big deal. Especially for youth, that's when you're starting to feel your identification, and you shouldn't have to struggle with that."
However, some people are against their inclusion. The "predominant fear" many have is that cisgender women would be made more vulnerable, says Cara Tierney, a visual arts professor at the University of Ottawa who uses they/them pronouns. But Tierney says the fear is unfounded.
What's in a name?
Genderless washrooms can come under a plethora of titles, including "gender-neutral", "gender-inclusive", "family washroom", "mixed-sex", and "universal", but what is the difference?
According to Robyn Gilchrist, senior director of visitor experience at the National Arts Centre, "universal washrooms" can be summed up in one sentence: "Any person can use it regardless of abilities." They are under strict building code requirements for construction and can have gender designation or not.
On the other hand, the term "gender-neutral" can be controversial and even make people "uncomfortable," said Cara Tierney, a professor at the University of Ottawa.
"Generally, gender neutral washrooms … [indicate] one of the two binary genders, in terms of who gets to use that space," says Tierney. "Gender is not a binary system, and continuing to use binary signs reinscribes a particular power structure that favours some and restricts others."
Similarly, Gilchrist says that "half man, half woman" signs are "totally offensive." As a result, when designing the new signage for the NAC, Gilchrist's final design was relatively simple.
"We ended on the side picture of a toilet, which is universally recognized as being a toilet, and a sign for accessibility," says Gilchrist. "You're building a bathroom. There's nothing different from building any other bathroom, the only difference is what you are sticking on the door."
"Those uneasy feelings that grow in an instinctual way have more to do with social conditioning than with awareness and knowledge of a reality," said Tierney. "I think to make that transition the best thing we can do is to have as much conversation and communication so that no one is put into a position of vulnerability where their integrity is compromised."
Common fears include sexual assault in genderless bathrooms. Some say that any cisgender individual could freely go inside to inflict harm. The fear, which has led to several anti-trans 'bathroom bills' in the United States, is almost entirely unfounded, according to a 2018 report by the Journal of the American Academy of Psychiatry and the Law.
In reality, Tierney says that trans people are actually the ones most put in danger when spaces for them are not available.
For instance, a 2018 analysis by the Public Service Affiliation of Canada reported that almost 70 per cent of trans people have experienced a "negative experience" in gendered bathrooms. In Ontario alone, 57 per cent have chosen at least once to avoid bathrooms altogether.
"The research clearly shows that the only people being attacked are trans people," said Tierney. "The trans community are historically the ones that are made vulnerable to this. They are the ones with the most investment in this. But it's beneficial to all of us."
In a similar vein, Jetté Knox believes that the risk cisgender women may face is a "non-issue that we make into an issue."
"We make it a bogeyman," says Jetté Knox. "Normalization is really important and it has to start somewhere. I think as we see more of these washrooms, we're going to see a lot of that fear and discrimination fall away."
While some public spaces are choosing not to have genderless washrooms, the National Arts Centre (NAC) included them during its renovation. Robyn Gilchrist, the NAC's senior director of visitor experience, says that "it was not as big of a deal as we thought it would be."
In the NAC, having men and women in the same line for the bathroom creates "interesting conversations," she said, adding that she is not aware of anyone being very uncomfortable.
The idea of adding more genderless washrooms in the city is still new, but for Kavanagh, it can be discussed with the public.
"I think there's definitely a desire to have that," said Kavanagh. "It's something going forward that is being implemented. It's always harder to put it into buildings that already exist, but in new buildings, it can be considered for sure."
In the end, Tierney says they believe that the integration of genderless washrooms into the public has to do more with education.
"Those uneasy feelings that grow in an instinctual way have more to do with social conditioning than with awareness and knowledge of a reality," said Tierney. "I would encourage people to educate themselves."
Where can I find a genderless washroom in Ottawa?
Genderless facilities in Ottawa are found on the Carleton University, Algonquin College, and University of Ottawa campuses. The downtown area also features several locations, notably the Rideau Centre, the Ottawa Art Gallery, City Hall, and the National Arts Centre.
Below is a map displaying several locations in Ottawa (public institutions are marked in purple):

For the NAC in particular, three of its washrooms are universal, barrier-free washrooms that do not have gender designation and one includes a changing station. Its other genderless space is a multi-stall bathroom, with an accessible stall as well.
Notably, several key areas in the downtown core still lack genderless washrooms, including the Confederation Line stations, several federal government offices, and various museums.
What bylaws or guidelines support genderless washrooms?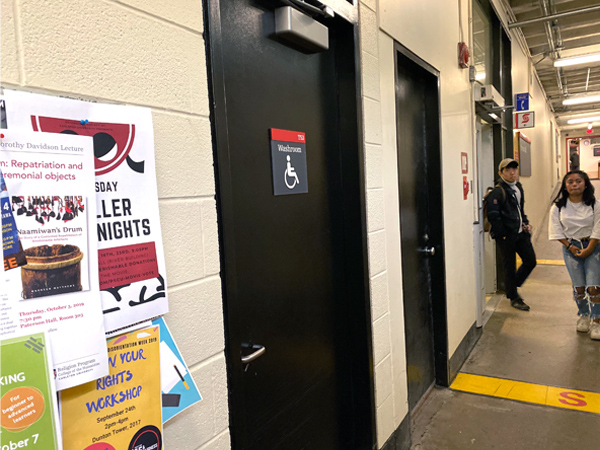 Following a 2014 report by the Ontario Human Rights Commission stating that "trans people should have access to washrooms, change rooms and other gender-specific services and facilities based on their lived gender identity," Ottawa has begun slowly implementing gender-inclusive facilities throughout the city.
Three years later, Bill C-16, dubbed the Gender Identity Bill, was officially passed in 2017, which changed the Criminal Code and Canadian Human Rights Act to include "gender identity and expression" as a recognizable group that needs to be protected from discrimination.
---
More Stories