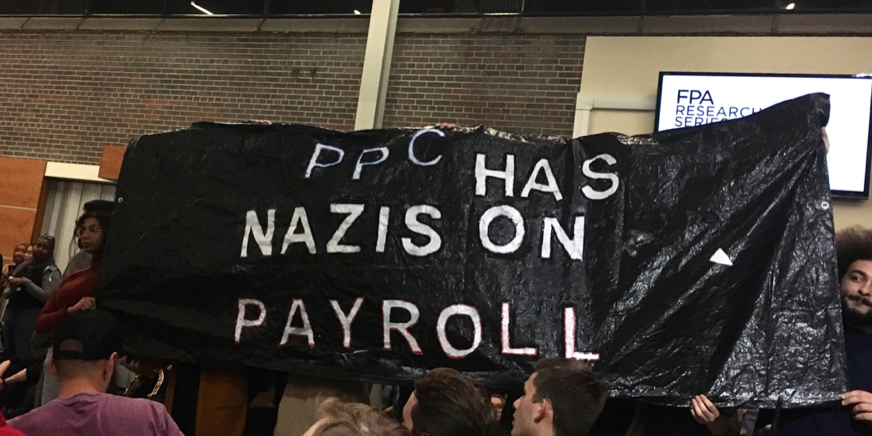 Two candidates in Ottawa Centre say they are facing unfair obstacles when trying to reach potential voters.
And a Carleton University political scientist says that the exclusion of some candidates from advertised "all-candidates" debates ahead of the Oct. 21 vote has raised a thorny.
Several Ottawa Centre candidates were not invited to a recent Carleton University debate, while the People's Party of Canada candidate was nearly forced to withdraw from the event because of pressure from Carleton's Graduate Students' Association.
There are 11 candidates running in Ottawa Centre, but only five were on stage at an all-candidates debate Oct. 2 at Carleton. Present were the Liberal incumbent Catherine McKenna, Conservative challenger Carol Clemenhagen, Green candidate Angela Keller-Herzog, the NDP's Emilie Taman and — despite the GSA's calls for her exclusion — PPC candidate Merylee Sevilla.
Candidates not invited were Shelby Bertrand of the Animal Protection Party, Independent Chris Jones, Marie-Chantal Leriche of the Christian Heritage Party, Stuart Ryan of the Communist Party, Libertarian Coreen Corcoran, and Independent Giang Ha Thu Vo.
Ryan attended the debate, but only as a member of the crowd.
"How am I going to know if people know about me if I'm not invited to these debates?" he asked.
Ryan has run in the riding since 2004, and said that this is far from his first time facing exclusion from a candidates' meeting. Ryan was also not allowed to participate in the Glebe Community Centre debate held on Sept. 25.
However, Ryan said he was invited to participate in an Oct. 7 Rogers TV debate for Ottawa Centre candidates, along with Independent Chris Jones and Libertarian Coreen Corcoran.
Ryan was visibly upset about not being able to participate in the Carleton event.
"I had an opening statement ready, but I was not allowed to go up," he said.
Instead, he and members of his campaign handed out pamphlets to the audience.
The Carleton University Students' Association and Carleton Academic Student Government organized and moderated the debate. A CUSA spokesperson said official candidates were contacted in the summer, so parties who had not chosen a candidate by then were not invited.
However, Ryan said that when he asked why he was not allowed to participate, CUSA told him there was not enough room on the stage.
The issue is being played out across the country in the current election campaign, and has been a feature of previous campaigns.
Before Green party leader Elizabeth May gained a seat in Parliament in 2011, her party was left out of leaders' debates. In a recent letter to Maclean's magazine, May explained that she's been facing various forms of exclusion since 2008 and that this is "anti-democratic".
May and PPC leader Maxime Bernier (who was elected as a Conservative in 2015) were not invited to the French-language federal leaders' debate held in Montreal on Oct. 2 because of their parties' lack of seats in Quebec.
An invite was not initially sent to Bernier for the English-language leaders' debate, but that decision was later changed after he appealed to the federal electoral commission.
A PPC candidate from London, Ont. was denied an invitation to a debate last week. Salim Mansur, the PPC candidate for London North Centre, was not permitted to participate in a debate held at the London Muslim Mosque. Salim said he was offended by his exclusion, while the mosque said the decision was political, not personal.
The criteria determining which candidates should participate in debates can vary depending on the riding, the host of the event or even the chosen location. A common argument for limiting participation to candidates from the major federal parties is that debates become chaotic if too many candidates take part, limiting the amount of time voters can hear from leading contenders.
Sevilla, the PPC candidate for Ottawa Centre, faced a different problem at Carleton. While she has been invited to most debates in the riding, there was a strong backlash against her participation at the university.
The Carleton GSA released a statement two days before the on-campus debate condemning Sevilla's invitation. The GSA stated that it upholds Carleton's commitment to diversity and inclusion and claimed the PPC has had links to white supremacy, homophobia, and racism.
"The Peoples Party of Canada has former and current links with white supremacists groups," the GSA said in its statement. The party is widely known for its controversial stance on immigration, multiculturalism and climate change.
Debates provide a public platform for candidates to address issues that are important to voters, said Scott Bennett, a political science professor at Carleton.
"If serious issues and options are not discussed publicly, they will be decided behind closed doors — often in a manner more horrifying than any right or left wing politician would propose," he said. According to Bennett, it is better for parties to talk publicly about their potentially controversial views instead of these conversations brewing behind closed doors.
"If one applies very broad ideas of how individuals and parties are connected to past racist statements, there would be a lot of empty chairs on debate platforms," Bennett said.
Sevilla said she did not know about the GSA's statement objecting to her participation until the day of the debate. "I heard they were going to protest," she said. "My first concern was safety."
Sevilla said she had previously been in contact with CUSA over safety concerns.
"At the end of the debate, when I realized there was a protest, my fellow candidates were actually the ones who told me to not go down, to stay on the podium with them until it was safe," Sevilla said.
There were loud chants from the crowd as the GSA quickly revealed a large black tarp with the statement "PPC has Nazis on payroll" written in bold lettering. Sevilla was escorted to the exit immediately after stepping down from the stage.
The uproar at the all-candidates debate prompted Sevilla to withdraw from another on-campus debate about social issues the next day.
"To not take away from the event, I will step out," she said she told the professor organizing that event.
Sevilla also chose to withdraw from another community debate, she said, fearing that potential protests could become dangerous.
Sevilla and Ryan said door-knocking was the most effective way for them to campaign because they could not rely on candidate debates to gain exposure.
---