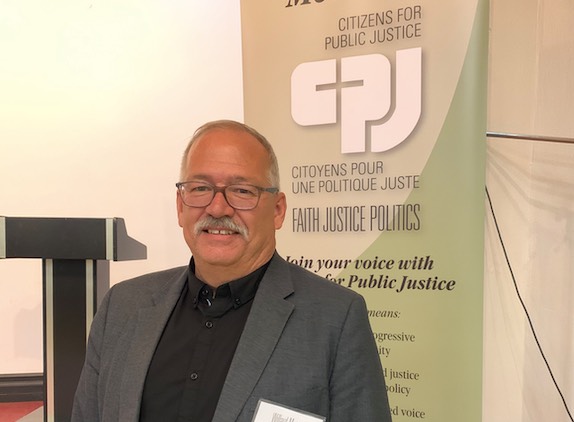 With Ottawa voters preparing to cast their ballots in the Oct. 21 federal election, an advocacy group for public justice recently held a lively discussion on key issues Canadians are concerned about.
A fall tour organized by Ottawa-based Citizens for Public Justice — a faith-based group focused on climate change, refugee rights and poverty eradication — included several meetings in cities across Canada since Sept. 10, including Surrey, B.C., Edmonton, Calgary, Regina, Winnipeg, Montreal, St. John's, Halifax, Waterloo and Toronto.
The Ottawa event was held at St. Joseph's Church, near the University of Ottawa in Sandy Hill, on Oct. 8.
The advocacy group says it strives for justice by engaging in open discussions among citizens and federal candidates.
"Right now, where I see the most optimism and opportunity is the public concern around climate change and that we need to do something," said CPJ executive director Willard Metzger.
Metzger said engaging with communities across Canada, regardless of individuals' political perspectives, allows CPJ to hear their concerns.
He said CPJ meetings provide a framework for citizens to discuss key concerns and push for political justice from all candidates of all parties.
Inspired by faith, the group says it aims to have communities and governments all contribute to the common good for society through open discussions.
"Faith brings you an important grounding that conditions you to be concerned not only about yourself but also about others," said CPJ executive director Willard Metzger.
Throughout the event, CPJ facilitators addressed policy issues in relation to the group's core policy areas.
"I think CPJ is well informed. The three main issues they talked about are comprehensive and give a grounded approach to understanding what citizens are concerned about," said Michelle Sorenson, a resident who attended the event.
According to CPJs annual report from last year, the advocacy group has about 1,500 "petitioners" and 15 directors across Canada.
CPJ describes itself as non-partisan. "It's the most compelling and unifying way to mobilize people in a social movement," said CPJ communications coordinator Brad Wassink. "If we had political allegiances with a certain party, we would automatically alienate people."
Left to right: Karri Munn-Venn, analyst on climate justice, Willard Metzger, CPJ executive director, Stephen Kaduuli, analyst on refugee rights and Darlene O'Leary, analyst on poverty in Canada.
As the group addressed its three main concerns, Wassink said he does not view them to be three separate issues.
"It's the intersections between those three separate issues. When we talk about climate change we need to be concerned about people who are working in the oil and gas sectors and their economic well-being," said Wassink. "When we talk about poverty, it's not just about income, it's about social exclusion and who feels social exclusion more than refugees and newcomers who face language barriers, cultural barriers and employment barriers?"
Throughout the tour, said Metzger, the biggest concern he's noticed among audience members has been the issue of climate change.
CPJ has indicated what actions it wants from the federal government to take against climate change. These include eliminating fossil fuel subsidies, continuing to increase the price on emissions and invest in a just transition to a green economy.
Liberal leader Justin Trudeau has campaigned that his party plans to end "inefficient" fossil fuel subsidies and protect a quarter of Canada's natural land and ocean habitats by 2025. In addition, the Liberals plan to create an agency for clean water and ban some single-use plastics, and has promised to plant two billion trees over 10 years.
Conservative leader Andrew Scheer says his party would replace a policy of taxing heavy emitters with requirements that they invest in clean technology or research. The Conservatives also say they are aiming for agreements that allow Canada to get credit for producing technology that helps achieve emission reductions internationally.
NDP leader Jagmeet Singh says his party wants to cut Canada's greenhouse gas emissions to 450 megatonnes by 2030 as opposed to the Liberal and Green parties pledging net-zero emissions by 2050. The NDP says it also plans on retrofitting buildings and creating a "climate bank" to encourage investment in renewable energy and clean technology. The party says it wants to introduce a single-use plastics ban by 2022 and to boost the support fund for communities hit by natural disasters.
Green leader Elizabeth May says her party promises to ban fracking, end imports of foreign oil and oppose fossil fuel projects. The Green party has also said it would end fossil fuel subsidies within a year, pledging that all electricity would come from renewable resources by 2030.
Among other public issues, Wassink said he is personally upset about Quebec's Bill 21, which bans certain public servants from wearing religious symbols while on the job.
"I would say, personally, the thing that is driving me crazy this election is Bill 21 in Quebec. I would like to see federal leaders stand up and talk about that" he said.
During the federal leaders debate on Oct. 7, Trudeau asked Singh why the NDP leader has not indicated he might intervene to oppose Bill 21 if he were to become prime minister. Trudeau has stated that he is open to launching a federal challenge to Bill 21 in the event other ongoing court challenges fail.
Metzger said as citizens come close to making a decision about who to vote for, events like the CPJ gathering in Ottawa can help them connect their personal values to the key issues of the day.
"I think it does provide a good framework to ask all candidates of all parties some critical questions," he said. "and I think how they answer those questions will help guide Canadians in voting along the lines of their shared values among other Canadians."
---
More Stories