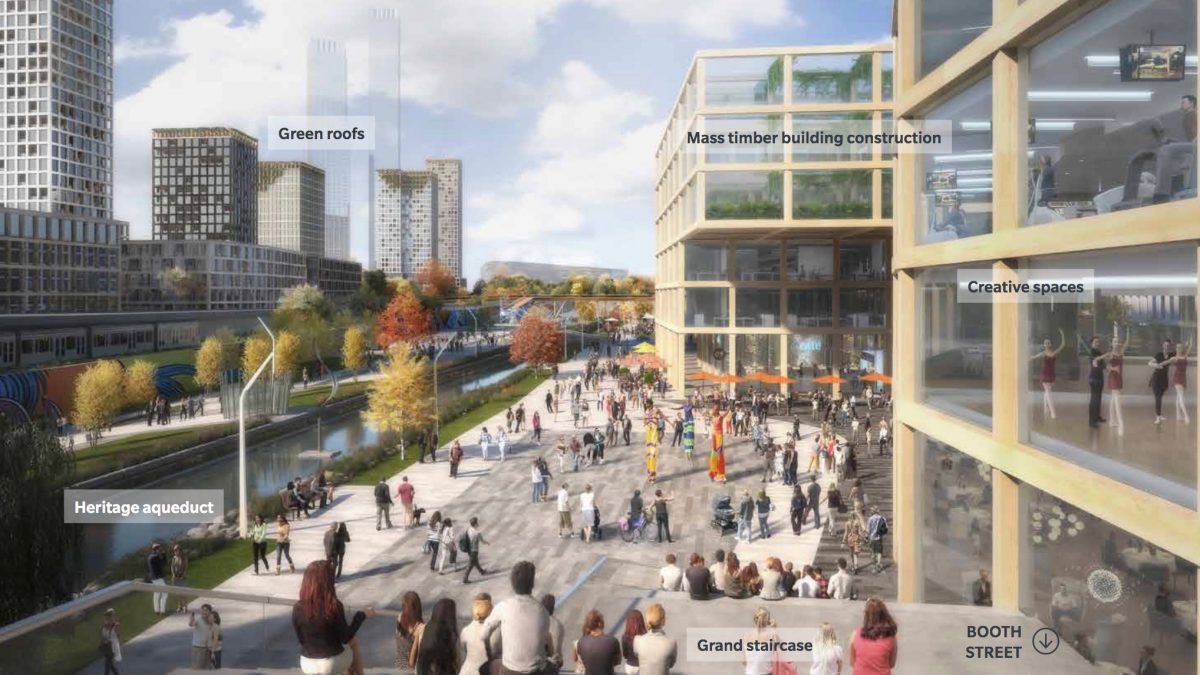 Sustainability and a reduced carbon footprint are at the forefront of the newest plan for the LeBreton Flats redevelopment. The plan priorizes sustainability and the National Capital Commission states that "by setting a bold carbon-neutral standard," it will guide the upcoming 25 to 35-year development of the 55-acre area.
This plan follows the dramatic collapse of the previous proposal — Illumination LeBreton — which featured an NHL arena as its showpiece. The new design's focal point is a park that takes up a third of the space.
In November Ecology Ottawa Tweeted about the new plans, indicating that the early reviews seemed positive.
It's early days, but a new concept plan for LeBreton Flats is out and reviews seem positive.

Promising ideas include #greenspace, outdoor community areas and focus on "complete community" design – where people live, work and play.

What do you think? https://t.co/Mxk0qy1S7c

— Ecology Ottawa (@EcologyOttawa) November 22, 2019
The LeBreton Flats preliminary Master Concept Plan, approved by the NCC's board of directors in January, outlines a mixed-use space with park land, housing and commercial areas. The preliminary plan went through multiple rounds of public consultation. The developmental targets include 4,000 housing units with an estimated population of 7,200 people and 137,000 hectares of retail and office space. Planners estimate the area will sustain up to 6,500 jobs once construction is finished.
"I am excited about the entire plan," says Katie Paris, leader of the Building LeBreton project at the NCC. "All of it really has sustainability embedded within it."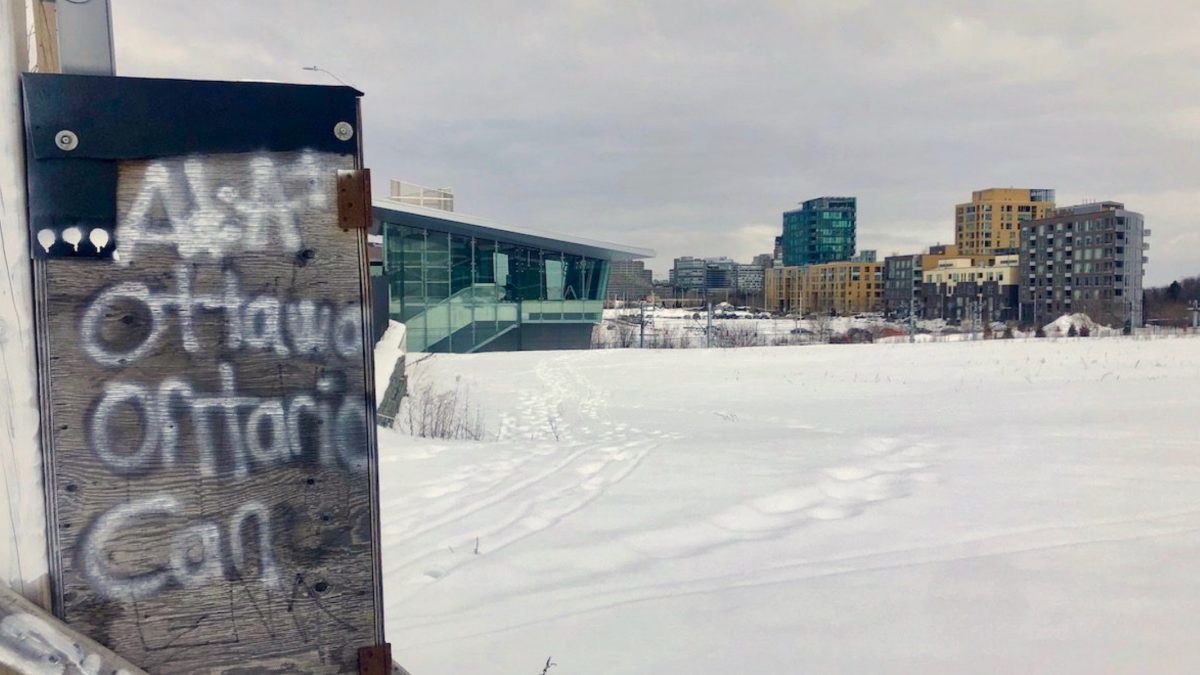 Parisian inspiration
"I was particularly inspired by a development in Paris called Clichy Batignolles," says Paris.
Clichy Batignolles is an eco-district in Paris, France that began development in 2015.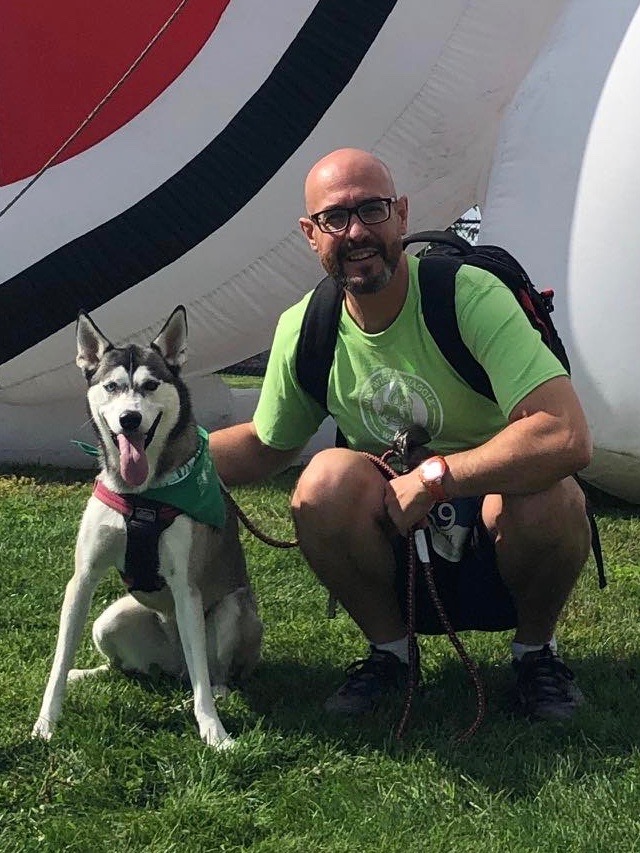 The Parisian development focused on solar energy, geothermal heating and low-energy buildings to keep carbon emissions down. It also implemented a method of water re-cycling, pedestrian and cycling paths and rooftop gardens and green spaces, features planned for LeBreton.
In the plan, nearly half of the area is reserved for parks and open spaces. In part, this allows developers to avoid excavating areas that used to be landfill and which have contaminated soil beneath the surface.
"We have virtually eliminated the need for a large scale excavation and trucking away those materials," says Paris. "This will not only minimize the trucking impacts [CO2], but minimize the costs."
Andrew Childerhose, his fiancé and dog live in a Claridge Homes condo building in the eastern portion of LeBreton Flats, which has already been developed. The two buildings are eight and 13 stories high. Childerhose says he and his fiancé were attracted to the location because of the promise of future development of the area.
He says he has also been active in the community feedback and development process. "The NCC really did ask the community about their ideas," he says.
The need for green
Some exciting #Sustainability features in the new @NCC_CNN draft Master Plan for #LebretonFlats 👏

Check it out https://t.co/h0aNx6CSU1 👉comments open until Dec. 6th pic.twitter.com/5dH2mBTv97

— Carbon 613 (@carbon613) November 28, 2019
Some of the most common feedback during the public consultation period was a request for green spaces, according to the NCC.
Former Ottawa-area cabinet ministers John Baird and John Manley even suggested in 2019 that the development should be primarily a public space, while the earlier Illumination LeBreton proposal was oriented towards commercial and residential development.
"I know a lot of people don't like that more than 40 per cent will be green space," says Childerhose. "But I like it."
He says he's also excited for the development to be friendlier for walkers and cyclists.
"Since moving downtown, I don't drive anywhere," he says. "I love the green space and walking paths because I walk everywhere."
The plan outlines a transportation network that would give residents options for sustainable everyday travel. The LRT already passes through the Flats at Pimisi and Bayview stations and many Centretown locations would be walking distance for most.
Paul Johanis, chairman of the Greenspace Alliance of Canada's Capital, says he agrees with the NCC's decision to incorporate housing and commercial properties while preserving a substantial amount of open space.
Johanis also says the plan encourages building compact communities where people can access the services they need without driving.
"We call these '15-minute neighbourhoods,' where everything is in reach, I think that's what the NCC is trying to achieve," said Johanis.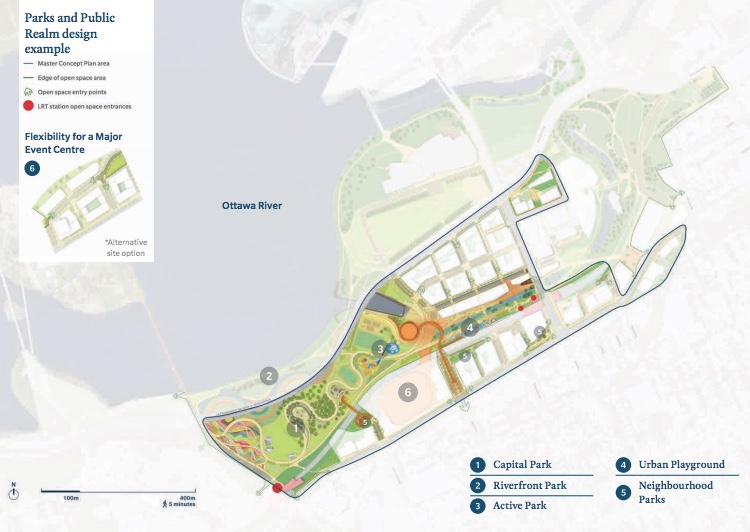 Johanis says green space is an important line of defence against the effects of climate change. Johanis points to the NCC's plan for green roofs and vertical canopies as effective great way for cities to incorporate green space.
"There is a lot of concrete and asphalt so there is a lot of heat," he says. "Green space will help mitigate that and keep things cool."
The plan also includes green roofs with native pollinator plant species and community gardens.
Going carbon neutral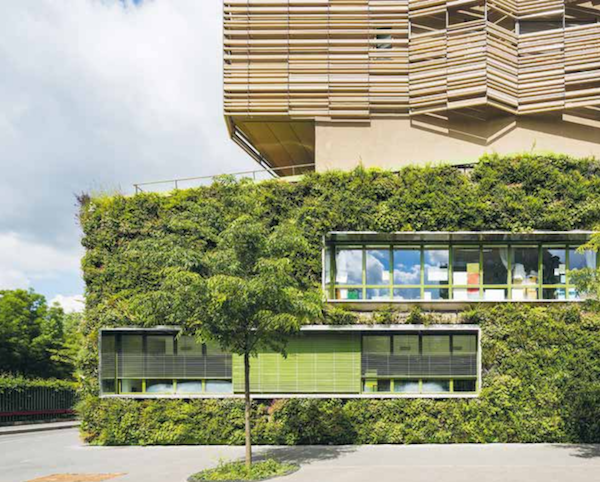 In terms of the NCC's proposal for aiming towards a zero-emission community, Johanis says it is a realistic goal. "It's about thinking sustainability and how to improve design to face the climate emergency we're in right now."
According to Paris, a more detailed plan to reach the NCC's zero-emission goal will be established in the implementation phase.
Since the term "zero-carbon" has different definitions and standards around the world, the plan will describe the NCC's plans for the Flats in more detail. Typically, zero-carbon cities aim to use only renewable energy and reduce carbon dioxide emissions to an amount that can be reabsorbed by the area's greenery.
This could include requirements for things like transportation, building design, businesses, and pavement, to ensure they're operating as sustainably as possible.
"In the course of the next half-year, we're going to be really diving into what the boundaries are for this net-zero approach," says Paris.
Paris says the NCC will look at a site-wide storm management strategy to help conserve and reuse water.
"If the strategy recommends that we need to use permeable pavers or pavement, then we can consider that," she says.
Permeable pavement allows water to pass through be reused instead of sitting on the surface, potentially causing flooding in the summer or turning into ice in the winter.
The NCC may also develop criteria for how sustainable businesses in the new development must operate, but have not committed to any requirements yet, according to Paris.
"I think that we want to make sure that the businesses are sufficient to serve the community, but we may have criteria for certain environmental spaces," says Paris.
Johanis says he hopes LeBreton Flats becomes a showcase of sustainable development in the capital, "in a way that will inspire other communities to do the same."
---
More Stories